In 2004, if you didn't have Motorola Razr flip phone, then you were already severely handicapped in your quest of becoming the coolest kid at school. Over 12 years later, Motorola have something to brag about once again: With the introduction of the new Moto Z and Moto Z Play, the company now boasts both the thinnest premium smartphone and the fastest charging smartphone battery.
Also introduced along with the two new models are four new Moto ModsTM: These Mods consist of a collection of interchangeable backs that transform your mobile including a super zoom camera, battery powerhouse, big screen projector and boombox.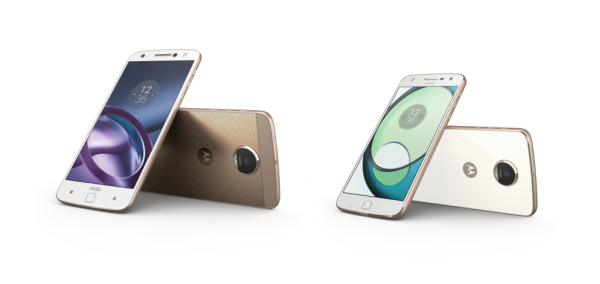 Moto Z:
---
---
The Moto Z (pictured on the left) is the superior of the two models. The phone is just 5.2mm thin (The new Iphone 7 is 7.1mm) making it the world's thinnest premium smartphone. However, Motorola claim that despite it's razor thin appearance the mobile is in fact extremely durable – due to it being made from military aircraft grade aluminum and stainless steel.
The Moto Z features a 14 cm 5.5" Quad HD AMOLED display and a Qualcomm® SnapdragonTM 820 processor that is coupled with 4GB of RAM. Additionally, the Moto Z comes with a high- resolution 13MP, f 1.8 camera with optical image stabilization and laser autofocus and water repellant coating.
While it's little brother the Play is the battery king, the Z still boasts a 2600 mAh battery that gives up to 24 hours of mixed usage battery life. Then even when the battery goes low, get up to 7 hours of power in just 15 minutes of charging with TurboPowerTM. And for those of you who don't mind the odd selfie, the Z also features a front-facing 5MP camera with an extra front flash and a wide angle lens.
The Moto Z is available in 64 GB of internal storage options and also supports additional space up to 2TB2 via a microSD card. Cost is $999.
Moto Z Play:
The Moto Z Play (pictured on the right) comes with the fastest charging smartphone battery in the world: It's massive 3510 mAh battery that supports TurboPower charging allows you to get up to 8 hours of use in just 15 minutes of charging. This is also Moto's longest lasting battery ever, giving up to 45 hours of mixed usage of battery life – that's essentially an entire festival.
The Moto Z Play also features a 14cm (5.5") 1080p Full HD Super AMOLED display, 2.0 GHz octa-core processor, 3GB of RAM and a 16MP laser autofocus camera with wide-angle, front-facing camera with LED flash. Cost is $699.
---
---
What's really cool about the new Moto models though, is the modifications or 'Moto Mods' that accompany them. Motto have introduced four Moto Mods that magnetically attach to both the Moto Z and Moto Z Play, transforming the devices and adding advanced functionality. The Moto Mods include:
JBL® SoundBoost Speaker.
The SoundBoost speaker attachment gives your smartphone a boost with a powerful stereo sound. The JBL audio is high-quality and once attached the speakers play instantly –meaning you do not need to pair the device. The SoundBoost Speaker also contains a kickstand and a built in battery allowing you to listen for 10 extra hours without using your phone's battery. Cost is $159.

Instashare Projector.
The Instashare Projector allows you to turn any flat surface into a 70″ big screen meaning you can project photos and watch videos or watch movies virtually wherever. The projector is ultra-thin, allowing you to take it anywhere and there is an integrated kickstand to project at any angle. The Instashare Projector will also provide one extra hour of screen time before using your phone's battery. Cost is $429.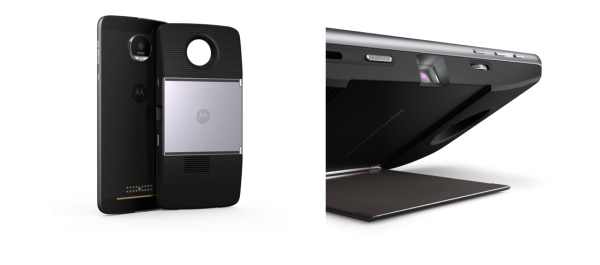 Hasselblad True Zoom Camera.
This attachable camera allows you to capture shots you wouldn't normally be able to do with a standard smartphone camera. It comes with 10x optical zoom, xenon flash and shoots in Raw format. Also, because the True Zoom is attached and essentially one with the phone, the photos are easy to share. Cost is $399.

Incipio offGRIDtm Power Pack.
---
---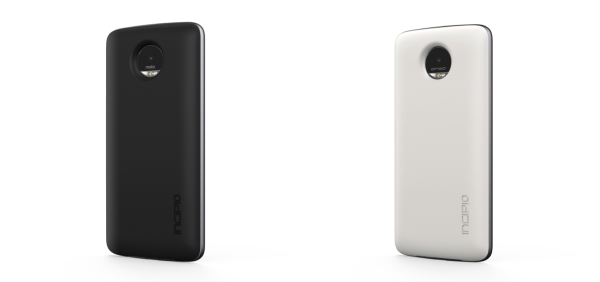 The last Moto Mod is the The Incipio offGRIDtm Power Pack. Although it might not be the most exciting modification, it is however perhaps the most helpful. The Power Pack allows you to add up to 22 hours of battery life to your phone without adding bulk. It comes in Espresso Black or White and Espresso Wireless Black or White. Cost is $119 and $139 respectively.
Moto Z, Moto Z Play and all Moto Mods will be available at Harvey Norman, The Good Guys Stores, Officeworks and www.motorola.com.au starting 13th October.