I'll be honest, to start with, 360 degree content capturing seemed to me like a bit of a gimmick.
Two things bothered me initially. Firstly, who would have access to the required set-up? The technology behind 360 degree video cameras – until recently – hasn't been too available, let alone up to scratch for the average consumer to be interested in paying a sizeable amount of money for it. Secondly, what application does the content actually have? Cool, you filmed a 360 degree video, but now what are you going to do with it?
Interestingly enough, both of those dilemmas have since been rectified come 2017. So when Samsung gave us the opportunity to experience their new Gear 360 cameras, we thought it was about time to experiment ourselves in none other than the poster boy city of California – San Francisco.
---
---
I'm no filmmaker, which is why I was eager to review this product. Samsung are clearly targeting the accessible, youthful market that are keen on capturing head-turning images and video, but are free of the convoluted set-up and production considerations that may come with professional uses of a 360 device.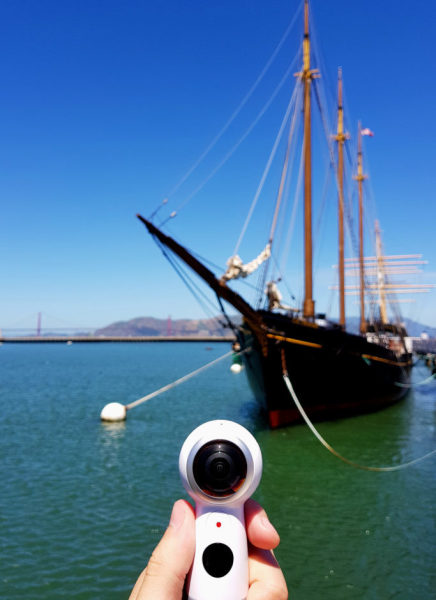 Enter the Gear 360. It's small, sleek and can easily slide into any pocket when on-the-go around town. I wasn't keen on taking anything more than necessary out for the day in San Fran, not even a backpack, and that wasn't an issue at all. This is really the most important aspect of any new camera tech for average consumers – are you actually going to use it more than a couple of times if it's too difficult to transport around with you? Or sync with your phone? Or share it immediately on social media? Pair the 360 with a small tripod and you'll never look back.
Your next logical train of thought is probably trying to figure out how this small camera actually works. It's two cameras, actually, with the domed lenses sitting either side of the spherical device, exactly opposite each other, both capturing 190 degree vision. The extra 10 degrees are overlapped with each lens' opposite 10 degrees to stitch together a unique 360 degree view of the world in real time.
The Gear 360 can be used on its own, but it's highly likely you'll be pairing it with the infinity edge Samsung Galaxy S8. This makes tweaking settings, view finding and downloading your images straight to your phone to be ready for social media sharing surprisingly achievable to any level of technical ability. Here you can also set up live streams to your Facebook account or YouTube channel, with the option to save or delete your stream afterwards.
There are not one, but five reality-twisting angles you can experiment with post-capture, each offering their own interesting take on what would normally be standard footage. 'Round view' is easily the most enjoyable option, giving you the opportunity to warp your footage from a birds eye perspective, the side, or from below (see video above). What's handy is the ability to decide this after the fact – simply capture your content and play around with it later. The '360 View' is optimal for live streams or static capturing, while the 'Dual View' allows each camera to operate independently, perfect for capturing your subject and yourself simultaneously.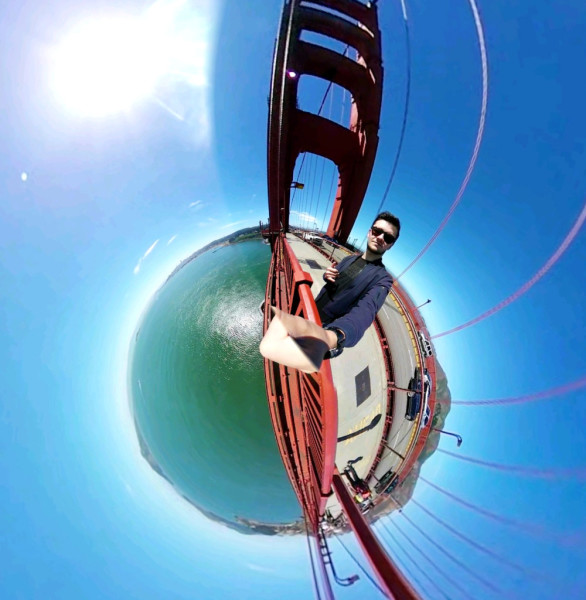 Unlike action sports cameras, you don't require the perfectly mounted camera to get the shot necessary. I may have gained a second look from intrigued bystanders, but I simply held it in my left hand as I wandered the streets of San Fran. Using the CyberLink Action Director supplied with the Gear 360, a quick 20 minutes after returning to my hotel room I had put together a 30 second edit – despite not being nearly as professional as it could have been – to throw up on my Instagram. If it's a still shot you're after, you can easily capture a full-resolution frame from your video and save it to your phone.
If you're out to use the Gear 360 seriously, its hassle-free set up and compact design make it a no-brainer, but now even the average person keen on capturing a form of content that has been relatively untapped on the social media landscape, can now also dabble in the mesmerising world of 360 degree video themselves.
---
---
If you've already got a Samsung phone, the Gear 360 is definitely one to consider for those looking to really get creative with the way they capture their content. Selfie sticks are long gone, it's time to get ahead of the game and try 360 degree video out for yourself.
Video track: Panama – The Cat Empire