The Samsung Galaxy Tab S7 series is a love letter to efficiency. Whether it's for the insatiable creative or the free-flowing professional, the latest evolution for this lauded line of tablets afford the ultimate balance between creativity and calculated productivity, acting as both a window and a tool to push creatives and professionals alike to perform at their best, no matter where they find themselves.
With all this talk of the hybrid workplace, having something from the Samsung Galaxy Tab S7 range will give you that extra edge over any traditional process, ensuring you're not anchored to any static setup. You'd typically have to contend with a smartphone or a laptop during this limbo period, neither of which can match the fluid process of whipping out the Galaxy Tab S7 and bringing your inspiration to life with features built specifically for your device.
The Samsung Galaxy Tab S7 FE represents a happy medium in the highly customisable S7 series, offering seamless and intuitive features along with a large and immersive 12.4-inch screen, superior processing power, and applications which have been refined, tweaked, and designed especially to assist both the professional power user and the casual creative in expressing themselves efficiently.

To illustrate the effectiveness of the device, it's worth looking at how two vastly different users maximise the S7 range to broaden their capacity to create on the go.
---
---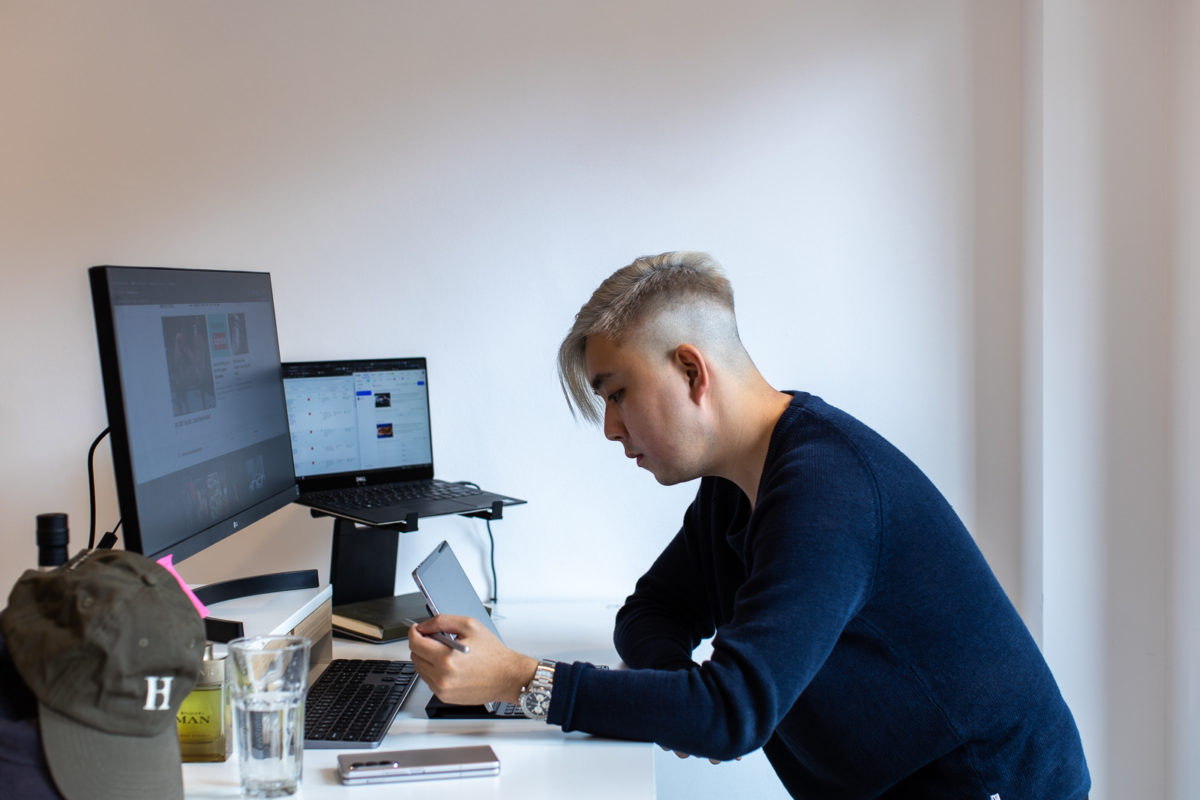 On one hand, you've got our News Editor, Garry Lu, who has settled into a nice little groove with the Samsung Galaxy Tab S7 FE to constantly keep him connected to various sources of inspiration. The device allows him to consume content at a whim on a large and engaging display while also managing the BH website, typing on the detachable keyboard and scribbling with the compatible S Pen. Most importantly, Garry can simultaneously take care of our social media channels in a way that flows coherently and doesn't knock him off his train of thought.
"My life – both professional and otherwise – is all about curation. My day-to-day consists of keeping a finger on the digital pulse, scouring for breaking news and the next trend; as well as consuming as much content as humanly possible to try and drum up inspiration for my articles. When I'm on the move, a smartphone generally does the trick, but there's always a lingering desire for something more. I'm not really keen on pulling out an unwieldy, oftentimes clumsy, laptop and wait for it to boot up whenever the job requires. I need something more instantaneous and convenient."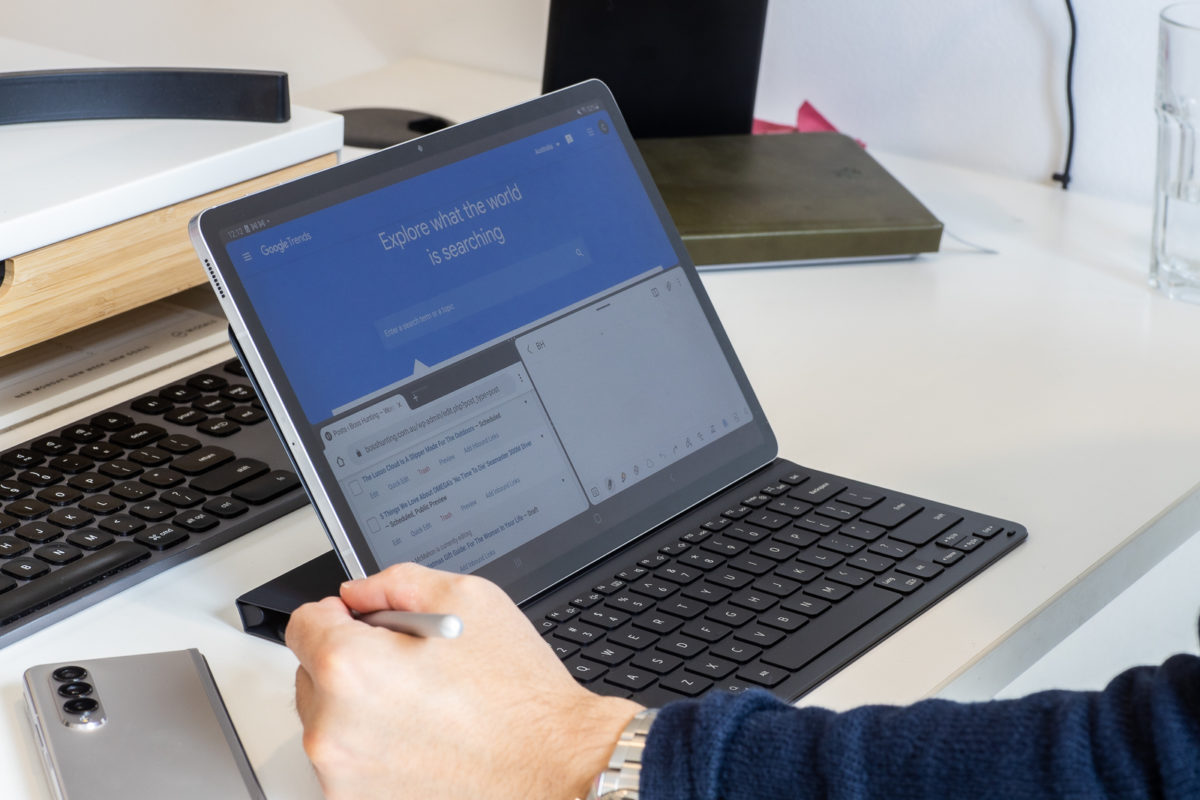 "I've learned there's a right way to multitask and a wrong way to multitask. As for the Samsung Galaxy Tab S7 FE, it's the perfect solution to what can sometimes be an overwhelming sea of opened tabs and constantly switching between active projects. Using the Multi-Active Window, I can open and use three apps at once – that's been a game-changer for me; it's like a digital decluttering so I can focus on what really matters to my job and give everything the attention it deserves."
There's really a right way to multitask, and the Samsung Galaxy Tab S7 FE is the perfect solution.
When it comes to hardware and how it can facilitate creativity, immersion counts for a lot. Garry requires an excellent multimedia experience to really absorb the multimedia. Being able to see stories, videos, and images come to life with the exceptionally vibrant and colour-accurate 12.4-inch display works nicely with the cinematic AKG sound, built up by dual speakers and Dolby Atmos to really wrap him into whatever content he is jumping into at the time.
With a sizeable 10,090mAh battery (enough for 13 hours of video streaming) coming standard in the Galaxy Tab S7 FE, Garry doesn't have to worry about whether or not he charged the tablet overnight before making his morning commute. While he's travelling to the office, he is able to draw out the S7 FE's full power to plan his day effectively so when gets to the desk his to-do list runs that much smoother. Although if he did need a quick charge, the tablet is compatible with 45W Super Fast Charging (45W charger sold separately) which juices from zero to hero in around 90 minutes.
A close friend of the BH team – Sydney-based tailor Remy Ghougassian – is another frequent user that's been harnessing the best of his Samsung Galaxy Tab. As a relentlessly busy professional, Remy has a fast flow of high-end clients moving through his Sydney studio, all expecting near-perfection for their made-to-measure garments.
---
---
Being able to accurately translate a client's dimensions from the measuring tape to a digital record with the S7 FE and its intuitive S Pen is a tremendous help in streamlining his operation each day.
"My team and I use our Samsung Galaxy Tab S7 to annotate second and third fittings of our clients in their garments so that the workshop understands the changes that need to be made on each piece."
"We also use it to change the details of suits as well as various casual wear items that we produce and develop with our suppliers so we can collaboratively work towards a perfect outcome for everyone. Visual understanding is everything in our business, and there's no better option than a tablet such as this."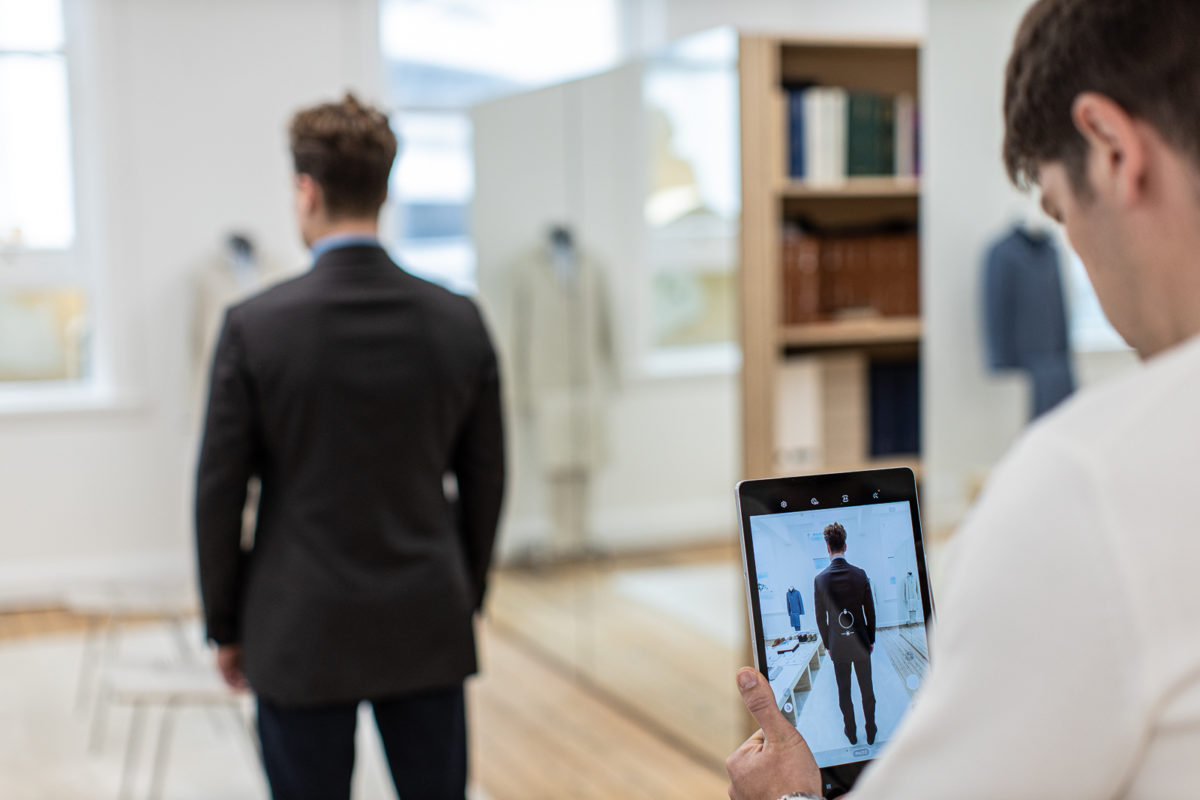 For an industry that has traditionally been quite analogue, being able to mock-up drawings, scribble down notes naturally and easily turn them into legible text with Samsung Notes is a god-send for guys like Remy.
Alongside the advanced design features offered by the S Pen and native applications of the Galaxy Tab S7 range, Remy, much like Garry, has seen plenty of traction with the Multi-Active Window application, allowing him to browse for inspiration, jot down ideas, and project his work to the client all on the same screen right there in the studio.
"The lightweight and slim form factor also makes it easy to take with me on the go, make changes as they come through, and communicate with both clients and the workshop when I'm away from the office."
As a client comes through the door, passing them a sleek Galaxy Tab to walk them through potential inspiration is infinitely better than if I was passing around a tiny phone or clunky laptop."
The beauty of the S7 series is that if Remy needed a bit more power than the already impressive Snapdragon 750G chipset in the FE 5G model, he could easily opt for something more intensive like the top-of-the-line Galaxy Tab S7+ which bumps the processing power up with the high-end Snapdragon 865+. Really pushing the tablet with specialist software would be a game-changer that could even prompt the end of using laptops for Remy entirely.
---
---
Even with the FE variant, Remy is in great hands. Using a MicroSD card, he is able to expand storage up to 1TB, which helps take a great deal of worry out of the equation so he can store all the necessary lookbooks and applications to enhance the day's workflow. Pair that up with the smooth Android 11 operating system and up to 8GB RAM and Remy has an exceptional digital assistant that never fails to deliver.
Doing everything you can to declutter your digital experience is increasingly pragmatic in industries that rely on a constant connection to the outside world. For Garry, it's all about curation and using the Samsung Galaxy Tab S7 FE as a window to let inspiration flow, whereas with Remy, using the tablet is primarily focused on transferring a physical process into a digital representation so that all parties involved in the made-to-measure experience are clear on every detail.
"Using the Galaxy Tab S7 FE has allowed me to streamline aspects of my daily work without me having to worry about interrupting the workflow before, during and after the day's appointments. It's multitasking done right," said Remy.
Whether it's as a gift for the creative, the professional, or even as a general asset for the modern household, the Samsung Galaxy Tab S7 range is a tech-savvy hack deserving of a place in anyone's daily repertoire. The S7 FE comes in four colours – Mystic Black, Mystic Silver, Mystic Green, and Mystic Pink – and can be specced in a choice of either Wi-Fi only, or 5G connectivity.
Grab your new Samsung Galaxy Tab S7 FE this Christmas from only $799.
This article is proudly presented in partnership with Samsung. Thank you for supporting the brands who support Boss Hunting.