For this Samsung QN900B review, let's take a look at what the South Korean company are betting will be its most suitably high-end Neo QLED 8K TV to date – part of Samsung's 2022 TV lineup and a sequel to last year's very well-reviewed QN900A.
It's getting increasingly difficult to pick apart the failings of modern smart TVs in 2022, with HDMI 2.1 becoming the standard, a renewed focus on trying to deliver the best sound possible and a pathological level of work thrown at making panels as thin and bezel-less as possible.
Truly, there has been some stunning work across the board in the past few years, with massive efforts taken to expand the scope beyond OLED – which fast became the gold standard for home cinema thanks to its superior contrast when compared to the brightness-loving likes of an LED.
---
---
Such nitpicking is even more difficult when you're confronted with something as impressive as the 75-inch Samsung Neo QLED 8K smart TV. Again, it's part of the South Korean company's 2022 TV lineup and the latest high-end model to try and elevate the range of Neo QLEDs that have been rising in popularity over the past few years.
Although before we really dip into our Samsung QN900B review, here's a bit of a top-line of what QLED is, just in case these acronyms are meaningless to you. Just know that it's all to do with how light – hence picture – is produced.
Samsung QN900B Review – Table Of Contents
---
OLED vs QLED – Which Is Better?
The differences between QLED (Qantum Dot LED TV) and OLED (Organic Light-Emitting Diode) deserve a separate article, but in case you're not already familiar just know that Samsung favours QLED while brand's like LG and Sony are better known for OLED. QLED is closer to an LED LCD, just with quantum dots added so these little microscopic molecules can emit their own coloured light when hit by an LED backlight.
Generally speaking, this means that QLEDs are better equipped for brightness levels when compared with an OLED, which, as above, is known as the best choice for contrasting those deep, inky blacks with bright areas to make colour pop better. QLED's also come with virtually no risk of burn-on, while this is always a concern – although not much of one – with OLED.
I write that to write this – Samsung seems to have addressed the shortcomings of QLED technology by using the powerhouse Neural Quantum Processor 8K to calibrate a new Shape Adaptive Light technology. This can analyse lines and shapes for more precision control over the backlight system, milking both maximum brightness and contrast while upscaling the sharpness of objects on the screen, focusing on details for a more immersive viewing experience. This combined with some of the other features results in what is easily one of the best 8K TVs I've tested. And yes, I've tested quite a few over the years.
---
Samsung QN900B – Is This The Best 8K TV For You?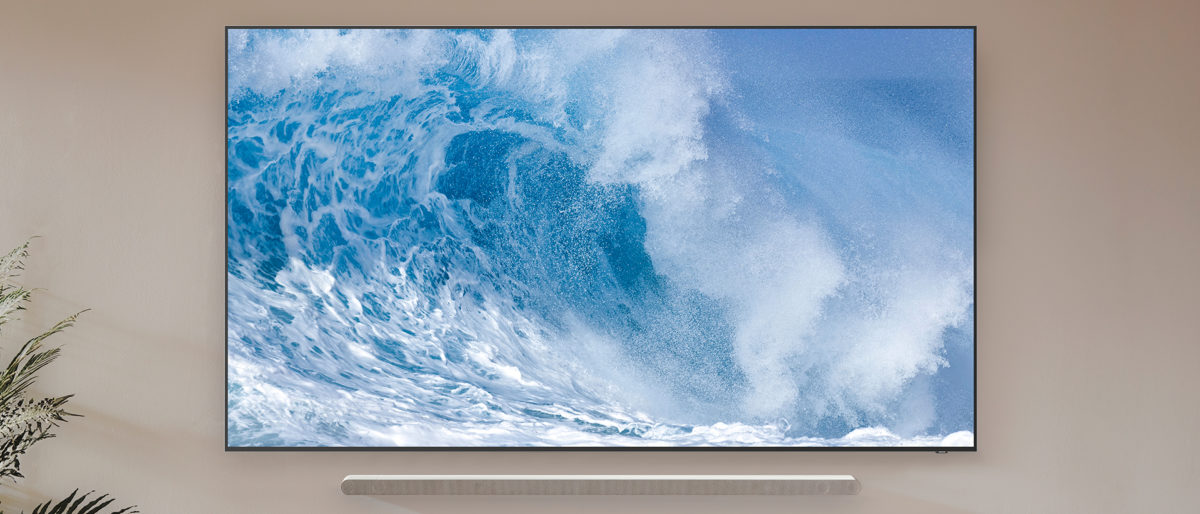 An investment in an 8K TV is really just a play on future-proofing your home cinema. There is still a notable lack of native 8K content out there when compared with 4K, which is only now beginning to ramp up when it comes to accessibility. When this changes it's less likely your 8K TV will feel dated, which if you have the disposable dosh necessary, means investing in one of these high-end bad boys could be worth considering if you're home cinema needs to be taken up a notch.
So is the Samsung QN900B the 8K TV you want compared to everything else that's on the market right now? While it's always going to be debatable since there's such strong competition out there, the company has clearly gone to great lengths to punch up the smaller details, with the most noticeable improvement being in the way the Samsung QN900B sounds. As well as how it functions as a beastly gaming TV when used with a current-gen console like the PS5 or Xbox Series X.
---
---
That latter one is big for Samsung. To date, LG and Sony have been at the forefront when it comes to gaming TVs, but Samsung's current top-tier TV uses Motion Xcelerator Turbo Pro to offer a Variable Refresh Rate up to 144Hz. If you don't know what that means just know that it adds to the hyper-fluidity required by current games like Elden Ring and Horizon Forbidden West.
But let's address gaming a bit further down here. First, it's important to understand what Samsung is clearly trying to do with the design of the Samsung QN900B Neo QLED 8K TV.
---
Samsung QN900B – Design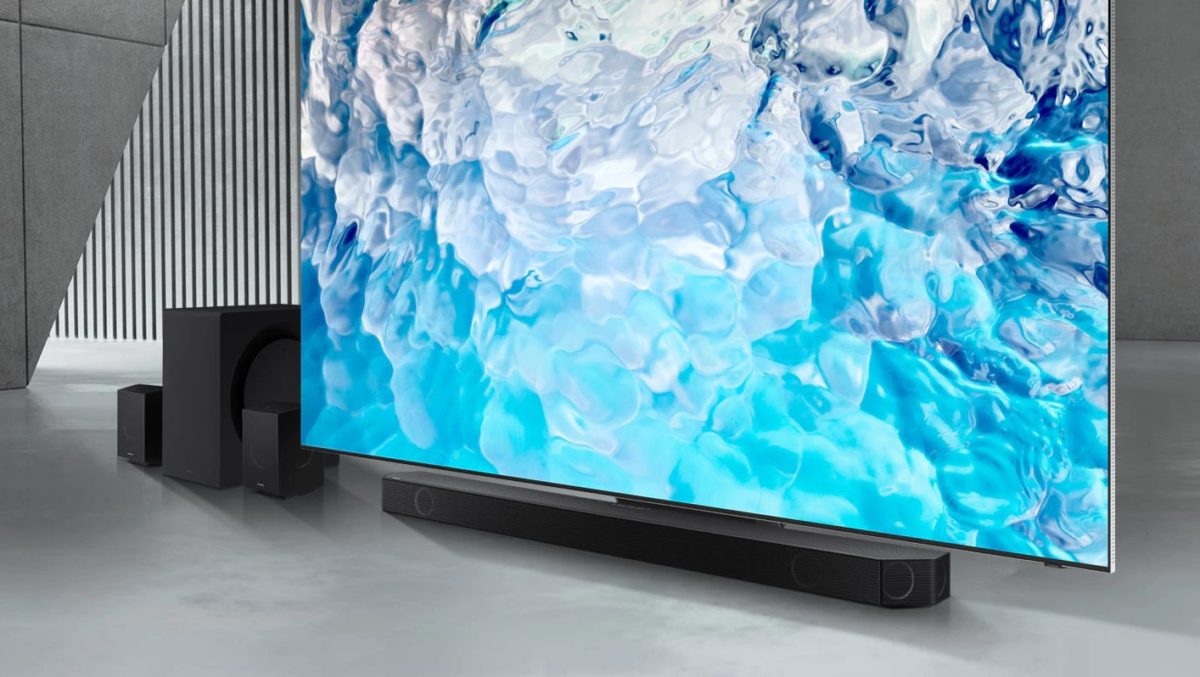 Samsung, like all other major TV manufacturers, wants to give you as thin a panel as possible. This is great for those who love to fix their TV to a wall and the QN900B really plays into this desire. Samsung has come up with what the company calls an Infinity One Design which works in a depth of 15.2mm to 18.1mm for a paper-thin panel without compromising on the backlighting.
I've experienced the TV both as a standalone and as a wall-fixed unit (we have one in the office) and the panel is postured perfectly for both. If you've got it against a wall, the TV can sit almost flush without any inconvenience to connectivity considering Samsung has paid considerable attention to the new I/O port breakout box that's now wider and thinner while using a clear One Connect cable that connects it to the TV. If cable management is important to you – which it should be, especially for gamers – then this is a valuable feature for the new Samsung TV.
This breakout box is important considering it houses not just the four HDMI 2.1 ports (all capable of up to 144Hz for gamers), but also the power transformer, no less than three USB 2.0 ports, optical digital audio out, ethernet and other electronics necessary to help the TV be as flexible and adaptable as possible for a wider use case. The panel is thin because of this, so none of these ports needs to piggyback off the display.
The only thing missing here is a WiFi 6 adapter. The onboard tuner is capable of the current standard WiFi 5, which is more than fast enough if you want to stream in high resolution without any annoying jumps, but it would have been nice to bump up to something a bit more future-proof considering 8K content is going to chew up a whole lot of bandwidth when it's more common.
---
Samsung QN900B – Picture Quality & Performance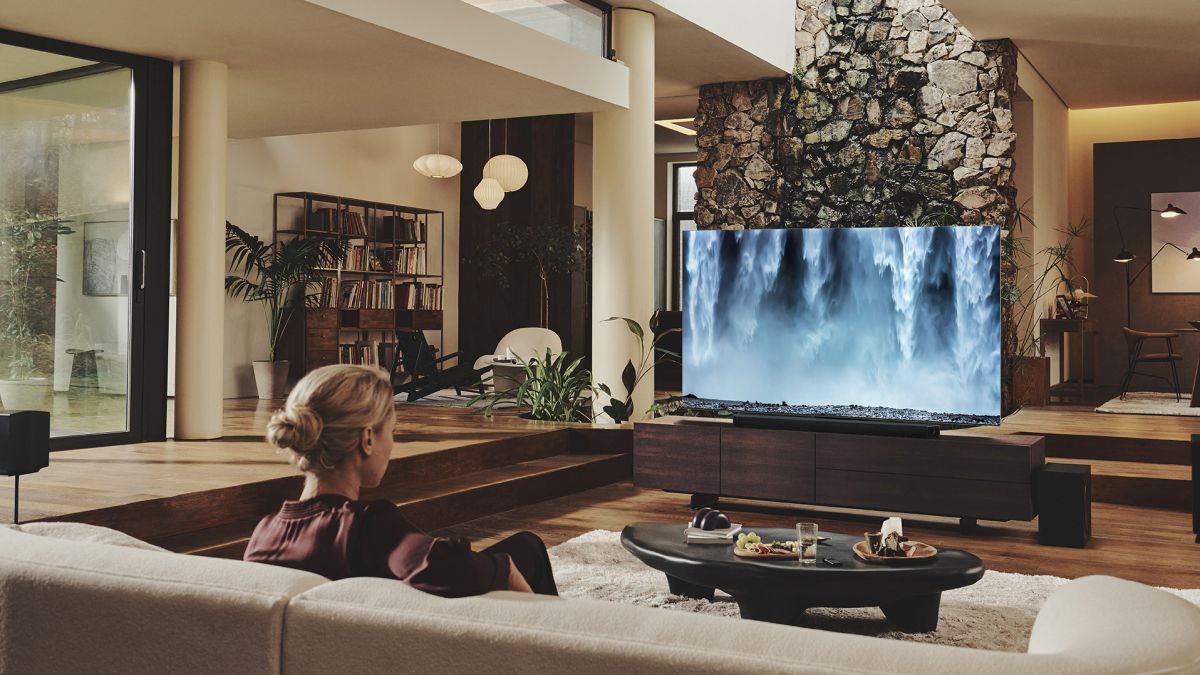 Although there's no support for Dolby Vision, the QN900B supports HDR10, HDR10+ and HLG and only the most nitpicky of viewers would take issue with the image quality presented here. The colour is great. Samsung has obviously found an ideal layout for the quantum dots and the mini-LED backlight which worked to achieve a maximum brightness of 2,000 nits. Picture quality is impactful here, with realistic textures and well-balanced colours that are uniform and speak to an exceptional contrast considering this is a QLED.
Great contrast and no risk of burn-in? I'm sold. Although I should slow down here. It's not the best contrast I've tested – that still falls to an OLED panel.
---
---
Again, only the most nitpicky of viewers would find reasons not to think this picture quality was higher than is standard. Although Samsung's various pre-set picture moves aren't as impressive as some I've tested out on Sony's BRAVIA TVs or something like the LG CX. Watching through the neon-washed action film Only God Forgives on Stan, I switched between the several modes that Samsung has calibrated, the best being Filmmaker Mode which seemed to dial up the contrast to help make textures pop a bit more.
What is impressive, though, is the upscaling of lower-resolution pictures and 4K UHD content. And if you're investing in an 8K television, despite the fact that there isn't too much native 8K content out there, this is exactly what you want. Previously I thought no one could really beat Sony when it comes to upscaling, but the QN900B is thoroughly impressive in the way that it can make standard 1080p content on YouTube, for example, look much more impressive.
Then again, I'm relying on memory. I don't exactly have the scope to watch various TVs side-by-side as there are very few TV reviewers out there that would.
The easiest way to judge a TV's picture quality is to look out for the artifacts when the background is pitch black and there are a lot of colours elsewhere on the screen. Pick any movie in space and you'll see what I mean. Watching through something like Gravity can often bring about slight auras or blooming effects on lesser TV panels, and considering there was none of that on the QN900B speaks to how well Samsung has worked the mini-LED backlighting and its numerous dimming zones.
Samsung's new Neural Quantum Processor 8K is obviously working quite well and that's more than enough reason to pay closer attention to what the company will be doing in the future when it comes to muscling its way to the top of the hyper-competitive market against Sony, LG, TCL and Hisense.
But if the company wants to compete properly; it really needs to reconsider the onscreen user interface. It's fairly intuitive and easy to navigate – much easier than a Hisense – but a Samsung TV is still a bit messier and more difficult to navigate than the minimalism of Google TV or WebOS TV. Accessing settings, for example, is an annoying press of too many buttons whereas it should just easily be accessed via the remote.
And speaking of the remote. It's a bit too minimal. The lack of a settings shortcut has really irked me, but there's also not much input selection and a number of other keys that should be there, aren't there. This makes it a bit tedious to navigate the TV between actually consuming content. I'd actually go so far as to this is one of the least convenient remotes to use, limited also when it comes to shortcuts to steaming services with only Netflix and Amazon Prime having their own dedicated buttons.
---
Samsung QN900B – Sound
I always suggest considering a soundbar if you really want to elevate the viewing experience. Even though TV manufacturers have come a long way with native speakers, you're always going to be selling yourselves massively short if you're relying on a TV's speakers to really push out sound in any way comparable to a cinematic experience.
---
---
Samsung has included Dolby Atmos and repositioned the speaker system so you've got drivers all around the TV, along the bottom, on the sides and at the top for a 6.2.4 channel 90W set-up. The soundstage is wide and has a great deal of presence, helping with immersion and impact for blockbusters like Pacific Rim and Godzilla vs Kong. Using Object Tracking Sound Pro really does make a difference here, but still, you're not getting the proper Dolby Atmos experience like you would with a Soundbar.
The main issue with TV speakers – that I have at least – is always intelligible dialogue. I'm either throwing on the subtitles or rewinding scenes constantly to see what I've missed. Soundbars always fix this by bringing the dialogue to the front of the mix when need be, solving both issues. TV speakers are notoriously bad at doing this and shuffling the mix to constantly maximise sound based on the context.
There's no exception here, but the QN900B's grasp on clear and precise audio represents a substantial step-up for TV speakers in general.
---
Samsung QN900B – Gaming Performance
I should touch on gaming performance here since gamers are usually better served by these bigger and more expensive TVs than most other types of consumers. Samsung has paid attention here. Whenever you switch over to a console like a PS5 and Xbox Series X, the TV automatically brings up the Game Bar 2.0 feature which gives you easier access to controls over aspect ratio that are essential to dialling in the most immersive gaming experience possible.
On a 75-incher, something like Elden Ring looks and plays impressively grand and fluid. Again, that's thanks to the new HDMI 2.1 standard that's capable of the most fluid adaptive refresh rate possible with Motion Xcelerator Turbo Pro. Consider this along with the speaker system, and in particular the woofers for that bigger bass hit, and you've got yourself a great gaming TV with virtually no input lag, even for the latest games.
---
Samsung QN900B – Impression & Value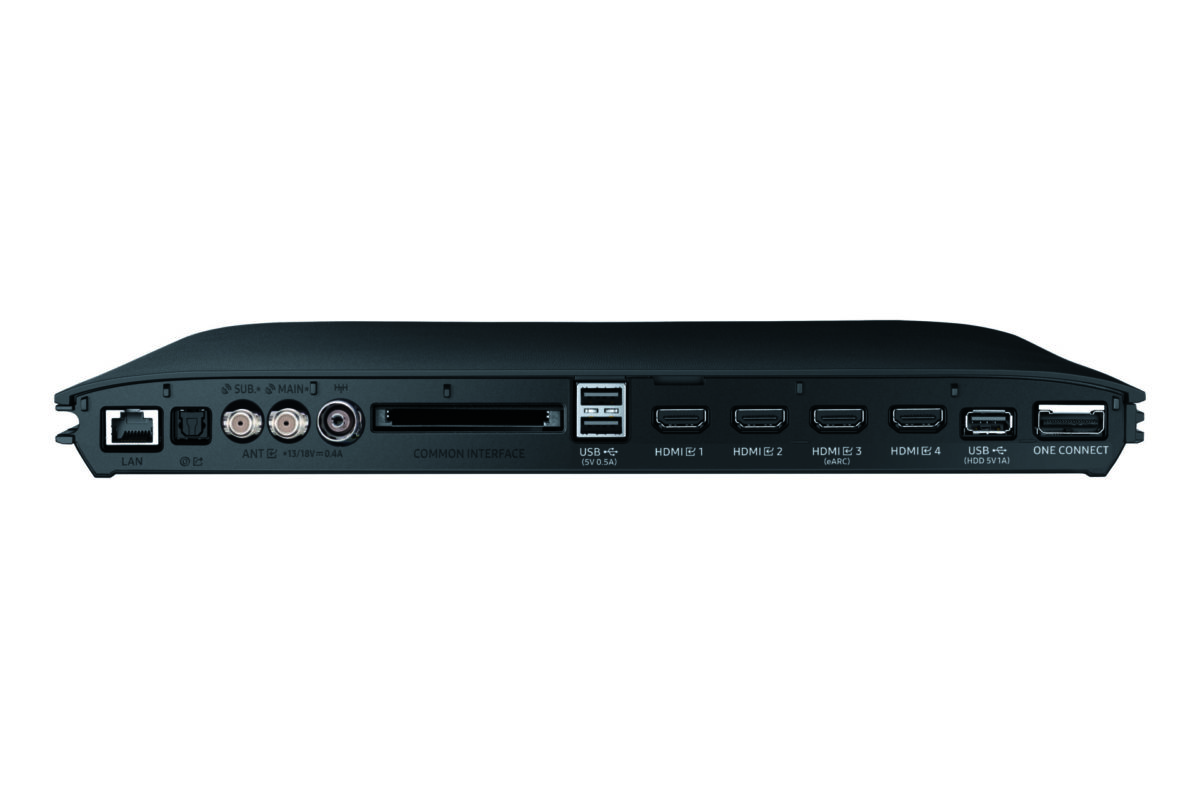 Better resolution, more screen real estate, superior upscaling and some truly impressive non-soundbar sound. That the Samsung QN900B is amongst the best 8K TVs you can buy right now is no surprise. But it is expensive.
You're looking at $7,000 if you want to get your hands on this TV. You could go slightly cheaper and opt for a 65-inch, but the way the QN900B performs makes the 75-inch size much more viable for those really looking to maximise their home cinematic experience. The only benefit of going smaller would be to save money for all the necessary supporting devices you'd need like a soundbar or a proper surround sound set-up.
The biggest advantage Samsung has over other TV brands here is the breakout One Connect box. This media receiver is genius and a genuine game-changer for those who like to wall-fix their TVs. This kind of simple solution is available with other Samsung TVs though, but the redesign is definitely welcome, as long as you've factored in enough space to store to One Connect box separately to the TV without the single cable getting in the way.
---
---
---
Samsung QN900B – Frequently Asked Questions
What sizes are available to the Samsung QN900B 8K TV?
The Samsung QN900B is available in 65-inch, 75-inch and 85-inch sizes.
Is the Samsung QN900B worth the money?
You're looking at a high price tag for Samsung's newest high-end 8K TV but what you get is stunning picture quality with high brightness and great contrast, as well as superior cable management with the One Connect Box and a really good native sound system.