Given the success Sennheiser has had with truly wireless earbuds across the past few years, it was no surprise to see the reputable audio brand revisit the Sennheiser Momentum True Wireless series. And yet as always with this incredibly overstuffed scene of active noise-cancelling earbuds – one so bursting at the seems that even LG has gotten involved with a series of surprisingly decent self-cleaning buds – it's getting increasingly difficult to make an actual choice in this market. For this Sennheiser Momentum True Wireless 3 review, I'm going to to help you dial in a good decision – should you go with these premium ANC earbuds, or is your money better spent elsewhere?
Truth be told. I'm fairly exhausted by this market. I've been popping in and out all kinds of ANC earbuds over the past few years, and most of them have been rather same-same. Middling battery life, a Bluetooth connection that jolts on occasion – and sometimes leaves one bud connected while the other is silent – and a design that starts irritating the ear after a good few hours of listening to music.
Don't even get me started on the call clarity.
---
---
And that's not even giving mention to the audio mix, which is often too zealously tied to bass performance without regard for the mids and highs. Even some of the most reputable brands can fall victim to these pitfalls, but Sennheiser has always been one of the more reliable when it comes to avoiding the aforementioned cons.
And yet, Sennheiser buds have never been the best. Samsung, Sony and JBL have especially been solid when it comes to earbuds lately, so can the Sennheiser Momentum True Wireless 3 restore a bit of glory for the German audio company. Yes, but also no.
Sennheiser Momentum True Wireless 3 Review – Table Of Contents
---
Design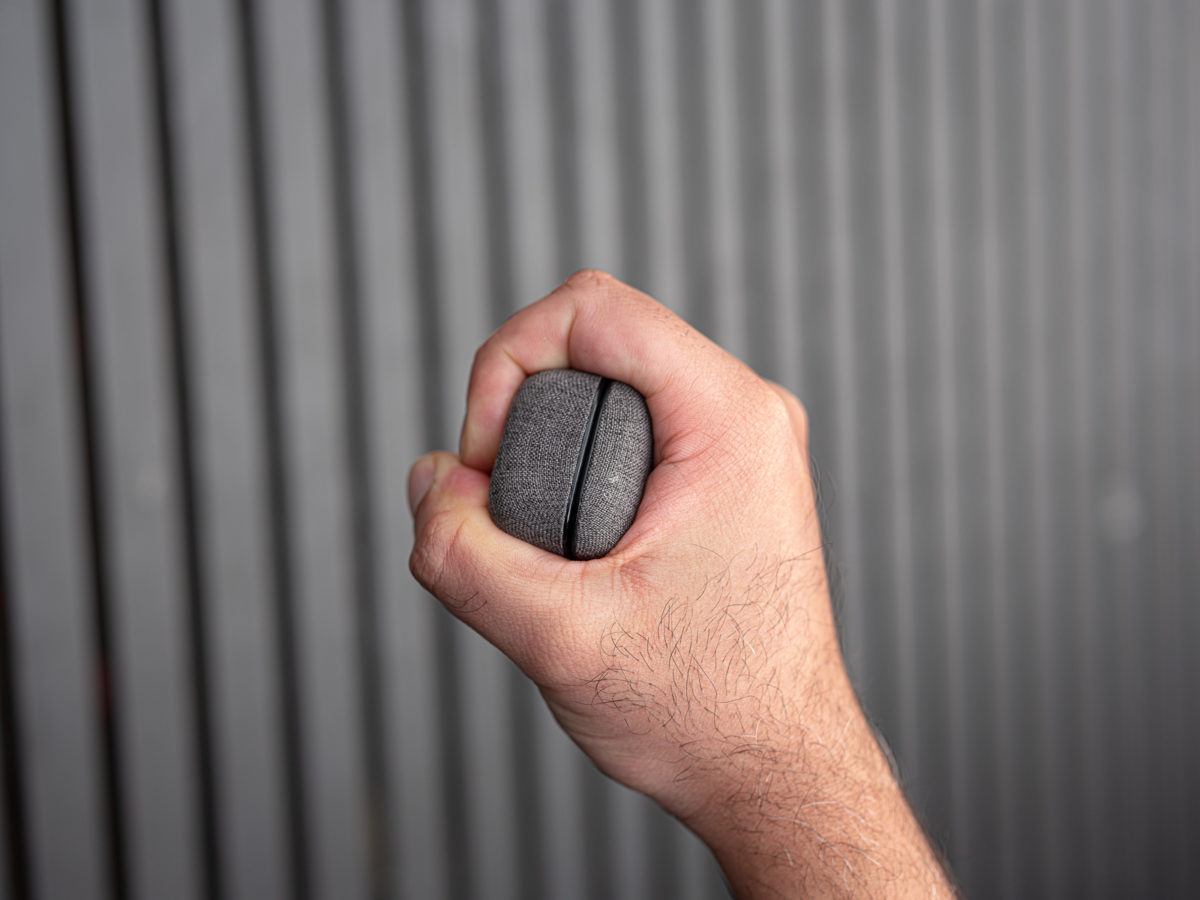 Sennheiser has always been about functional design and there's no exception when looking at the way to Sennheiser Momentum True Wireless 3 earbuds present. The overall result is not too much different from the MTW2s, but there's an obvious attempt to make these earbuds look a bit more sophisticated and stand out a bit better amongst the competition.
Let's get the big issue out of the way first, and I realise how niggling it can seem in the grand scheme of things. But I want to start with the charging case. It's perfectly fine as far as pocketable cases go, but it still feels rather bulky when compared to some of the competition for the latest generation earbuds coming from the likes of Sony and Apple.
Wrapped in an attractive tweed fabric, the case feels solid and very protective. I've got no worries about dropping this and watching my buds fly out, like I would with carry cases from Skullcandy or Apple. The case flips open with a solid hinge and fits both earbuds snugly with a magnetic pull, boosting the charge by a total of 28 hours on top of the initial 7 hours.
At least that's the promise. While I'm easily getting over a full day's use out of the earbuds, they don't seem to be near the ambitious total of 28 hours – it's more like 23-24 hours as far as I've experienced.
Chunky case aside, Sennheiser has successfully slimmed the overall look of these earbuds and made them align with some of the more stylish ones out there like the Sony WF-1000XM4 and the Bowers & Wilkins PI7. These aren't spherical anymore, with something more of an oval shape that looks a bit more discreet once fit into the ears.
---
---
The most important part about the design of any earbuds is how lightweight and comfortable they feel so you can get prolonged use without feeling like your ear is being pinched. Sennheiser sees great success here. These are amongst some of the most comfortable earbuds I've tasted in the past 12 months, not protruding far into the ear or looking like they are built for an awkward blocky look.
As should be standard with all earbuds now, the MTW3 earbuds ship with three sets of silicone wings and it's always worth taking the time to see which ones fit your ear the best. This isn't just because it helps the earbuds stay secure in your ear, but it's also to get as close to a perfect seal as you can to help with passive noise cancellation and the overall audio performance.
Sennheiser has used a small rubber lip on each bud to help them remain secure when you're bouncing around, but I wouldn't go and consider these sports earbuds that could replace more appropriate buds like the Bose Sport Earbuds or Jabra Elite Active 85t. These are lifestyle earbuds better suited for when you need ANC on a flight or any kind of commute, or just for walking to and from the office.
Another reason you wouldn't take these to the gym with you is the paltry IPX4 rating, which is the most bog-standard water resistance rating available. You can expect the buds to do well with mild splashes but not much else. Although do note that the Apple Airpods Pro is also rated IPX4, so if you're fine with that, you'll be fine with this.
---
Features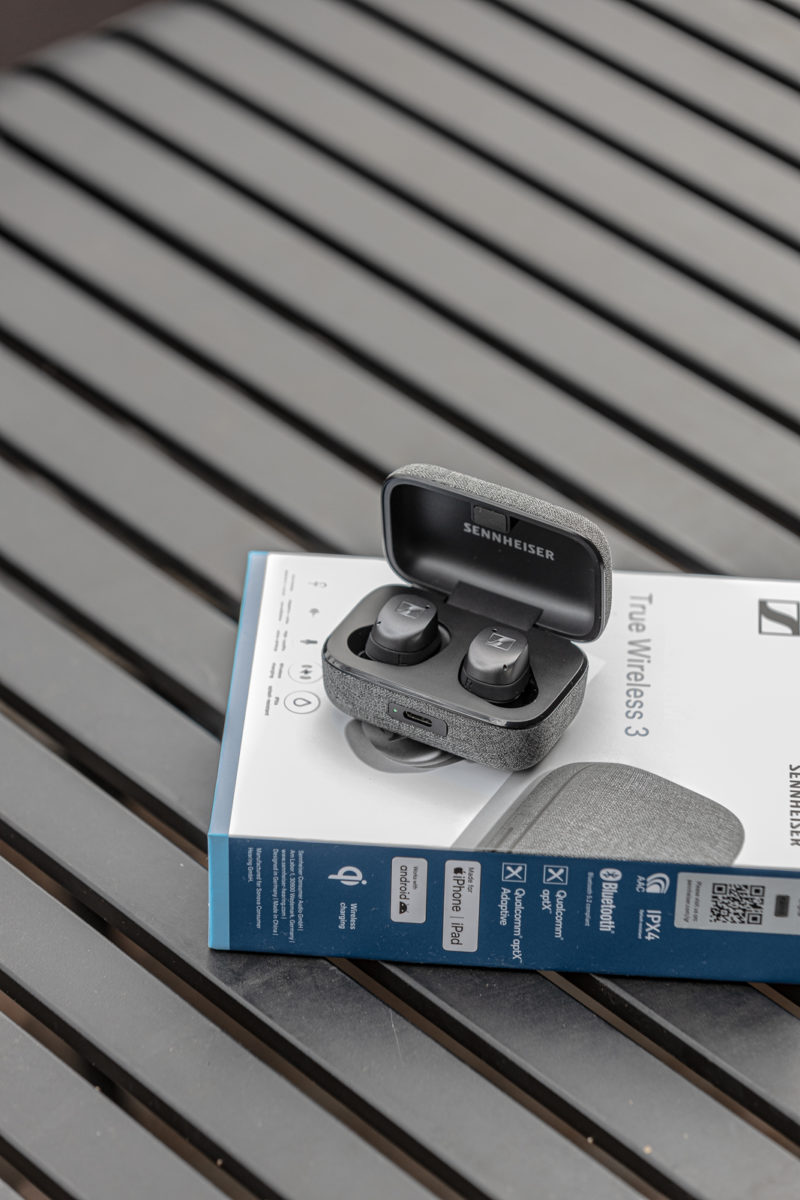 In case you couldn't tell by now, this is an iterative update over the MTW2 earbuds. Sennheiser hasn't really done much to improve upon the feature set here, but they have refined the design which has allowed for a few nuanced changes.
Most of the improvement is seen in the better Bluetooth codec support, which is more up-to-date with current standards and plays nicely amongst the competition. Where the previous pair had aptX, the MTW3 buds sport the newer and more stable aptX Adaptive which allows for transmission of up to 24-bit files to not only lower latency (the sync issue you'd often get when watching Netflix) but also maintain a stronger overall Bluetooth connection. And yeah, it's noticeable.
The MTW2 were some of my favourite earbuds of that generation, but the lag issue when pairing them with my LG CX was often a bit too much. I no longer have the LG CX but tested the MTW3s with Netflix on my iPhone 13 Pro – no issue.
The standard Bluetooth 5.2 is used with universal SBC and AAC formats, so aside from aptX, you're also getting what really should be standard across any headphones at this price point by now. Gamers should be satisfied with the lower latency.
---
---
Sennheiser also offers better control over the sound profile with this third-gen model. I've always admired the intuitiveness of JBL's EQ adjustment which I still think is miles ahead of most other brands, and Sennheiser has really stepped it up here to make the sound adjustment (via the Sennheiser Smart Control App) just as easy, quick and, importantly, effective.
The coolest part in all of this is the ability to create specific triggers called 'Sound Zones' that are tied to location. In a way, it's similar to Focus Modes on an iPhone, in that you can trigger a specific EQ profile and dial in the desired noise isolation level depending on your location.
For example, I can work it so that when I leave the house for a run, noise cancellation turns off without me needing to manually toggle the function, and then toggles back on when I'm home. Similarly, the sound profile can favour thicker bass when I head to the gym and turn on full ANC, meaning that most high-pitch sounds will be cancelled out.
That oppeness to more customisation also extends to the onboard touch controls. Truth be told, I much preferred the circular touch pad on each ear bud of the MTW2s, but there were times when I felt the touch controls were a bit overly sensitive because of the surface area. The oval shape lends itself to a much tighter touch area, where you can easily control playback via the expected tap and tap-hold gestures as well as switch between Adaptive Noise Cancelling and Transperancy mode and wake your phone's voice assistant.
---
Sound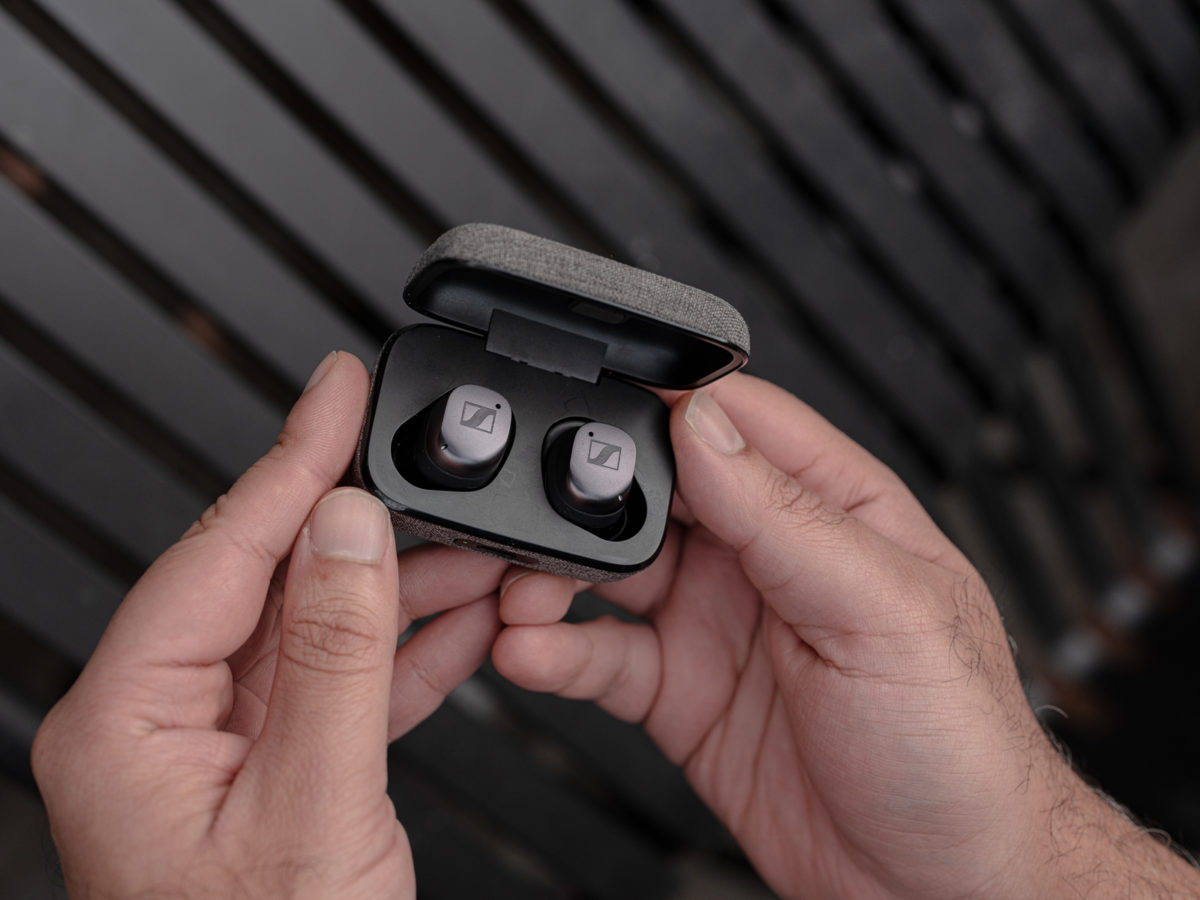 The sound profile is generally sophisticated and naturalistic with a lot of balance between the lows, highs and mids. But then again, I really wouldn't expect much less from Sennheiser's latest flagship earbuds. I was largely disappointed with the cheaper Sennheiser CX Plus earbuds, so it's at least good to know that there's a substantial bump to make up for the increase in price.
Much like the MTW2s, there's a great sense of clarity here that I wouldn't get with more bass-forward competitors, making the MTW3s ideal for a crowd that enjoys a wider variety of music. Vocal performance, for example, is damn near pristine. Something like Sam Cooke's 'Bring It On Home To Me' would sound crispy and articulate, detailed enough that you'd pick up those vinyl-level crackles in the production.
Unless you're playing around with the EQ, out of the box bass isn't quite as strong as you'd expect from brands like Sony and JBL. There's a lot of punchiness when it comes to the more general low-end, but these buds don't deal nearly as well when it comes to the sub-bass in something like Clipse 'Mr Me Too.'
If I had to sum the sound profile up with one word, it'd be clarity. Play an instrumental song by someone like Max Richter and you can hear the piano come through incredibly clear with a great sense of spatial audio that's dynamic and exciting. This says to me that Sennheiser has intentionally shuffled the mids and highs to be a bit more forward in the mix. There's nothing wrong with that, because the bass doesn't suffer too much as a result, even at max volume.
---
---
Although that being said, those who prefer the bass to be a bit forward may want to look elsewhere. Sure, you can dial it in with the EQ and the changes generally work really well, but it's not quite as natural-sounding as the default sound signature.
The other side of sound performance has to do with call clarity. It's more than likely your listening session will be disrupted by a work call at some point in your commute, so it's useful to have a pair of earbuds that are nifty enough to both cancel out background noise when you're on a call, and help lift your voice so that it sounds isolated and clear amongst whatever is going on around you.
That's at least the ideal for bluetooth earbuds, but even some of my favourites to date – Sony WF-1000XM3, Jabra Elite 7 Pro and Samsung Galaxy Buds Pro – tend to fall short of good call quality. Sennheiser is sadly no exception here. The MTW3s are much better on a call than the previous model, but my voice would still – according to feedback anyway – sound slightly robotic and distant to whoever is on the other end of the call.
One of my colleagues has also been testing a pair and sometimes his don't even answer the call properly when he uses touch. He'd have to pick up his phone and answer it as usual. Not good.
A pair of ANC earbuds wouldn't mean as much if the Adaptive Noise Cancelling wasn't up to scratch. The MTW2s had sub-par noise-cancelling and while the third-generation has notably improved, I wouldn't really get the same level of impressive noise cancelling that I'd get with Sony or Bose flagships. I suspect this has more to do with the internal mics than the actual software, seeing as call quality – as mentioned above – isn't great either.
---
Verdict & Value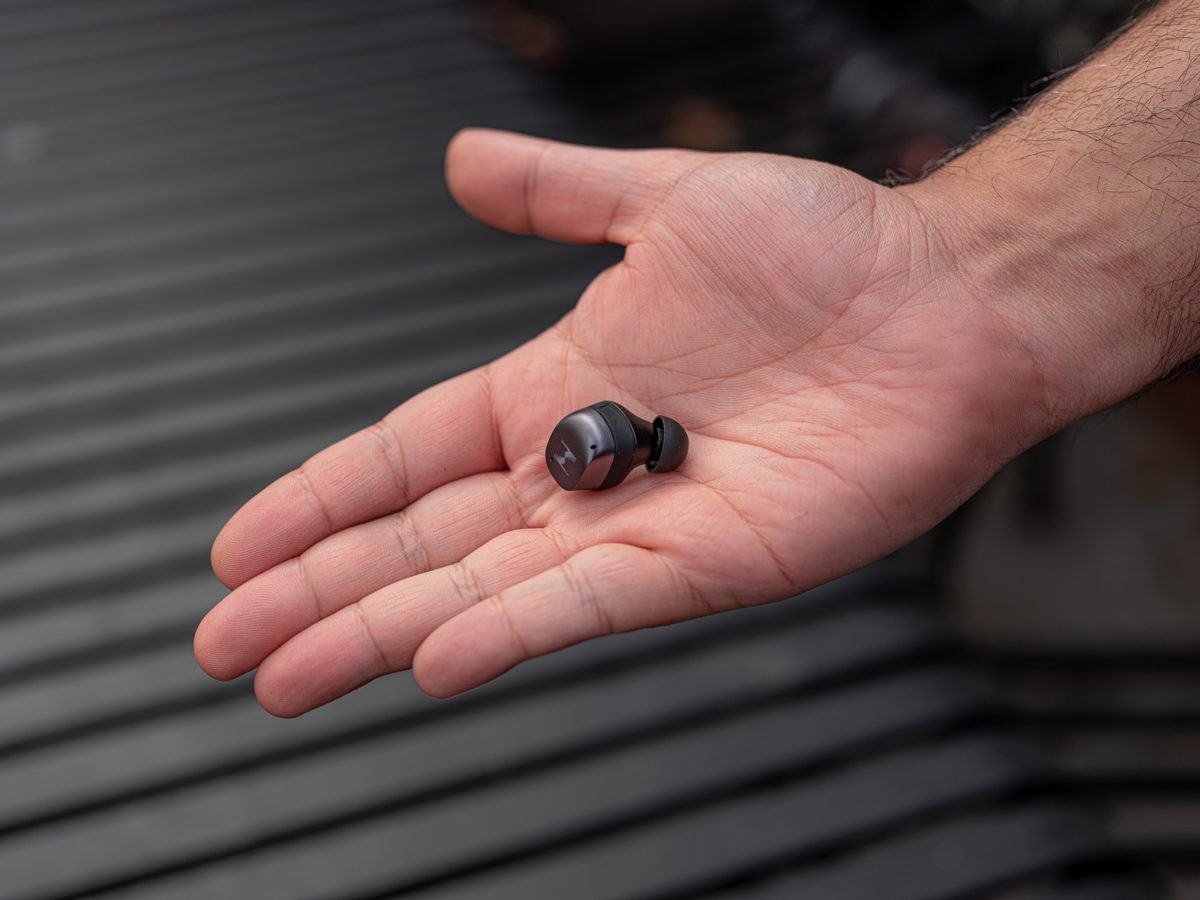 They're smaller, more reliable when it comes to battery life and have a more stable Bluetooth connection when compared to the second-generation Sennheiser Momentum True Wireless earbuds. This third-generation may be an iterative improvement, but it's an improvement nonetheless and Sennheiser has clearly worked hard to earn the $399 price tag.
But that's if you just consider the MTW3s in isolation. Let's not forget that every brand putting out earbuds nowadays is doing so in one of the most – if not the most – competitive markets in the world of modern technology. There are slightly more expensive earbuds that do an even better, smarter job when it comes to manipulating ANC and finding ways to make listening to your music as frictionless as possible.
But there are others that are also more expensive which pale in comparison with the MTW3s. This puts Sennheiser in a reasonable position and should win more than a few new fans over with the smaller, more comfortable design.
---
---
Having a better EQ set-up and the ability to customise 'Sound Zones' certainly helps bring Sennheiser forward in the ongoing debate about the best wireless earbuds on the market today. But letting the brand down is relatively weak Adaptive Noise Cancelling that, while impressive, falls behind slightly more expensive competitors. If you've got a very noisy commute, sadly it'll still be a bit noisy when these earbuds are in.
Again, it all really comes down to what you think of the overall look. If it's something you prefer over the smoother look of the more recent Sony flagships or the recognisable pure white aesthetic of the AirPods Pro, then, by all means, $399 is a reasonable price to pay for what Sennheiser is offering. These truly wireless earbuds may not be the best out, but the MTW3s are certainly up there.
Sennheiser Momentum True Wireless 3 – Frequently Asked Questions
Are the Momentum 3 Earbuds worth it?
For $399, Sennheiser offers a pair of flagship true wireless earbuds that sound incredible and sport a better design than their predecessors. However, Adaptive Noise Cancelling while solid is nowhere near as good as it should be, and call quality isn't the best.
What is the sound like on the Sennheiser Momentum 3 Earbuds?
Sennheiser has really gotten the sound right this time, making the Momentum 3 True Wireless Earbuds some of the best on the market if you're looking for exceptionally balanced sound.
How much are the Sennheiser Moment 3 Earbuds?
The Sennheiser Momentum 3 True Wireless Earbuds retail in Australia for $399.