4.3 secs to 100km/h | 272kW, 465Nm | RWD, Loud, German | $100k
That's pretty much all you need to know, but this car deserves more. More words, more time and more respect.
We recently spent some time behind the wheel of the 2018 BMW M2, a car which the notorious Jeremy Clarkson named his favourite to ever roll out of the Munich power broker's factory. The M2's release in 2016 sent the worldwide motor journalist cohort into a deranged frenzy, foaming at the mouth with gospel of BMW's messiah-like return to form. Naturally, I hopped into this car with curious scepticism – surely it can't be that good?
Enough fluffing, here's the punchline: it's really good. What we've got is a 2 Series with as many M3 and M4 parts squeezed under the skin as possible, so much so that it's literally bursting with aggressive performance engineering. The engine is a detuned straight six from its bigger siblings with one turbo lopped off, producing 272kW and 465Nm (500Nm on overboost) and captained by a 7-speed 'M' double-clutch or 6-speed manual transmission. However, the M2's success catalyst is its light weight and girth, allowing all that grunt to be put onto the road with sublime precision and agility.
---
---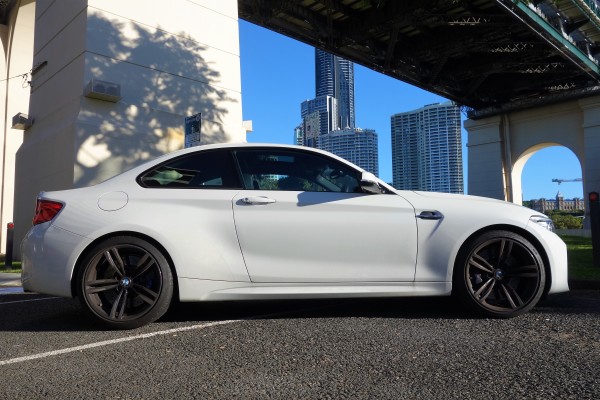 The brakes, unchanged from the M4, are so potent that it feels like you can turn into a corner after you're past it. That's what you get when you have 15-inch discs (bigger than a whole wheel on your mum's Kia Rio) on the front and 14.5-inch discs on the rear of a 1.5-tonne car. The 19-inch wheels are rudely thick and coupled with flared arches give the M2 a staunch stance like a pugnacious bulldog keeping guard.
The mellifluous choir note escaping the quad exhaust tips is resonant and completely addictive. The M2 fires to life with an obedient bark at the press of the start button, a noise that will bring a smile to your face and scare anyone else in the parking lot. Also in its sonorous bag of tricks is the trademark M exhaust 'burble' when you take your foot off the accelerator in sport mode – a guttural bubbling from the pipes that gives the impression the car is angry you're slowing down.
The M2 comes with three personalities, operating behind the monikers of Comfort, Sport and Sport+ mode. Throttle response, steering weight, traction control (the nanny), suspension and exhaust note are all manipulated as the car goes from traffic navigator to track animal. Sport+ mode has its limited uses on public roads, especially with its relaxed traction control and stiff ride.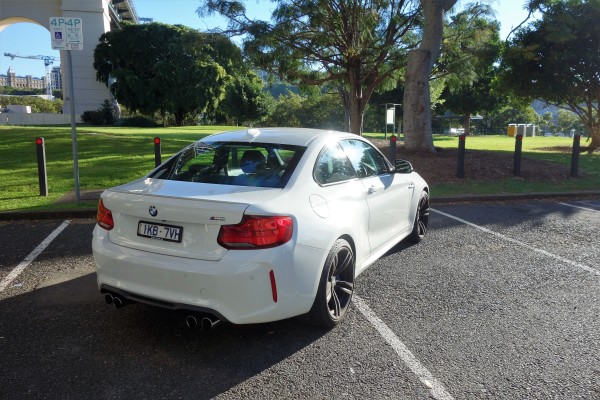 So how does it feel? The M2 dances across asphalt floors to its own orchestral tone, weaving and gliding on the edge of physical limits. Jail-worthy speeds are reached hastily with a depressed peddle, and thanks to the lake of torque available (1,400-5,650 rpm), the BMW pulls hard even at low revs where naturally aspirated varieties are still in hibernation.
The DCT (dual clutch transmission) offers a surprising kick up the arse on the upshift, auto-blips the throttle on the downshift, and will get you to a century in 4.3 seconds with launch control activated. In the corners, lateral acceleration of 1g is enough to rival its all-wheel-drive competitors (and without the understeer), although the sheer pleasure of easily-controlled oversteer is there for those who want it, which is everyone.
The baby M's looks have divided some. The adaptive LED headlights and aerodynamic body contours, married with the alpine white paint job and jet black alloy wheels on our tester offered an awfully good visual punch. The M2 does turn heads, but chances are you'll hear it coming first. The interior makes the car feel bigger than it is and is well appointed, dressed in naked carbon fibre, leather and Alcantara. The iDrive system does take some getting used to, but it's a dream if you commit and promise it your love. Bangers are delivered via a sublime 12-speaker Harman/Kardon system.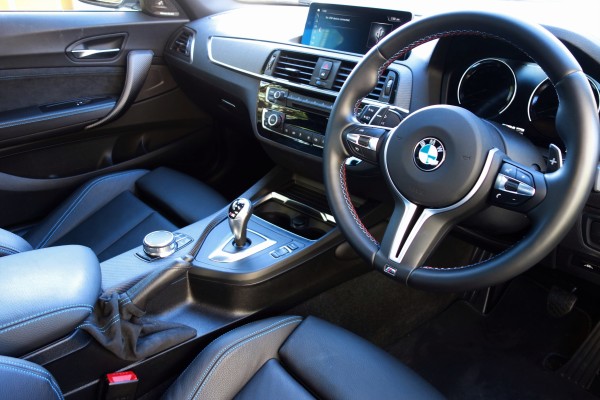 That brings us to the short con list. At the sight of rain clouds you can hear the insurance company biting their nails – the lack of rear wheel traction under power in the wet will leave you questioning if you activated 'hovercraft mode' by mistake. Fret not though, BMW's dynamic stability control system is nothing short of exceptional.
---
---
Another minor gripe, although not an uncommon one for dual-clutch transmission cars, is the jerkiness at low speeds. But I suppose if you want a comfortable ride then buy a Hyundai, because the M2 is built for high-performance. Other niggles are the synthesised engine noise pumped into the cabin and the lack of Head-Up Display.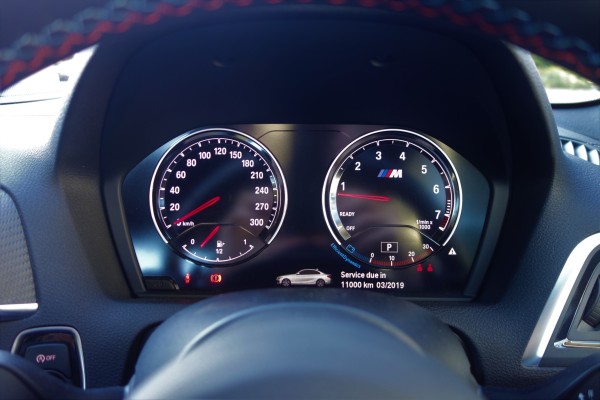 A glance at the competition shows the M2 exists in a niche between price brackets. Below, you've got the Audi RS3 and Mercedes-AMG A45 – both down on cylinders, price, acceleration to 100 km/h, and boasting all-wheel-drive, but consistently slower around a track than the M2 and unable to shake the boyish hatchback stigma. For a few dimes more, you may be tempted into a Porsche Cayman 718 or an AMG C43 Coupe.
It's been wildly popular since its local release, selling over 550 units in 2017, but it's worth remembering that some cannibalisation is at play with M4 sales almost halving during certain periods. This does makes sense though, as the M2 is only a fraction slower (i.e. 0.2 secs more to 100km/h) but around $60k cheaper. Clarkson even stated:
"It's a much better drive than the M4. It's so good that in a few bends I was actually dribbling with joy".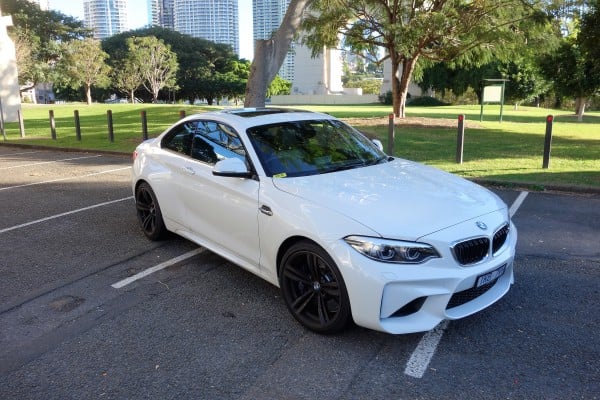 The M2 has earned itself a seat at the big boy's table simply by getting the basics right. At $100k, it provides great value for its performance, signature BMW luxury touches, and is accessible to most of the lads reading this. Would I buy this car? Damn right I would. Head over to BMW Australia for more info and keep a lookout for the up-specced M2 Competition hitting our shores soon.
2018 BMW M2 Coupé
Price: $99,900, plus on-road costs
Engine: 3-litre six-cylinder turbo
Output: 272kW @ 6,500rpm
---
---
Torque: 465Nm @ 1,400-5,650rpm (500Nm on overboost)
Transmission: 7-speed M double-clutch or 6-speed manual
Fuel Use: 7.9L/100km