In our eyes, the Audi R8 has always been timeless. Tony Stark's 2008 example, one of the earliest in the badge's history, still looks just as good today as it did when we watched it scream the Pacific Coast Highway on screen as teenagers.
With the right boxes ticked, the 2018 R8 still looked just as good, though I couldn't help but cringe slightly when it was put up against the phenomenal 2018 TT RS. The automaker's trophy car simply had to look better than its $140,000 little brother. But in all honesty, in 2018, it never did. That was until the 2019 Audi R8 landed in my inbox this morning.
Finally, the bodywork an Audi R8 deserves. Along with an aggressive, more chiselled exterior, the 2019 Audi R8 boasts more power (though it's yet to be confirmed exactly how much), new and bolder colourways, along with a completely re-vamped rear end. Similar to the RS6, the new R8 features oval-shaped tailpipes as opposed to the previously boxed exhausts, though only one photo of the new rear has been officially shared.
RELATED: RS6 vs. RS4, half a million bucks worth of Audi wagons
Aside from the hammerhead front intakes and all-around more angular design, we're also frothing the black pack on these examples, in particular, the blacked badge and grilles.
The two new colours you see here are 'Kemora Grey' and 'Ascari Blue.' Aside from the staggering new looks, it is also said the steering and suspension have been sharped and optimised respectively. The engine will remain as the 5.2-litre naturally-aspirated V10 engine shared with the Lamborghini Huracan. We'll keep you updated with new levels of power claimed to come from the 2019 Audi R8.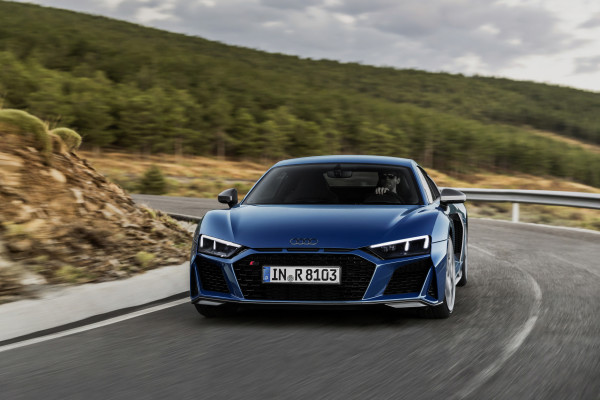 RELATED: Our Audi TT RS review