As technology has improved, we've seen cars push further into the realm of the 'all-rounder'. The prospect of a car that can be comfy, spacious and drive like a racecar is all too tempting for manufacturers and buyers alike. We haven't quite reached the perfect expression of the concept (see: sports SUVs), but the BMW M3 has been pushing physical limits and luxury standards for years. It's an accomplished, express jack of all trades. The German brand has a long and lauded history as the benchmark in the four-door performance arena, but this latest G80 iteration has never worn the crown more comfortably.
The design of the M3 has been its most 'debated' feature. It seems odd to me that members of the motoring press, armed with a journalism degree and a 25-year stint at the Rockhampton Chronicle, consider themselves the omnipotent evaluators of vehicle styling. I certainly wouldn't be looking to old mate from Wheels R Us – who doesn't know his Windsor knot from his four-in-hand and sports Julius Marlow jester shoes on the regular – for advice on which $185,000 German sedan looks sexier.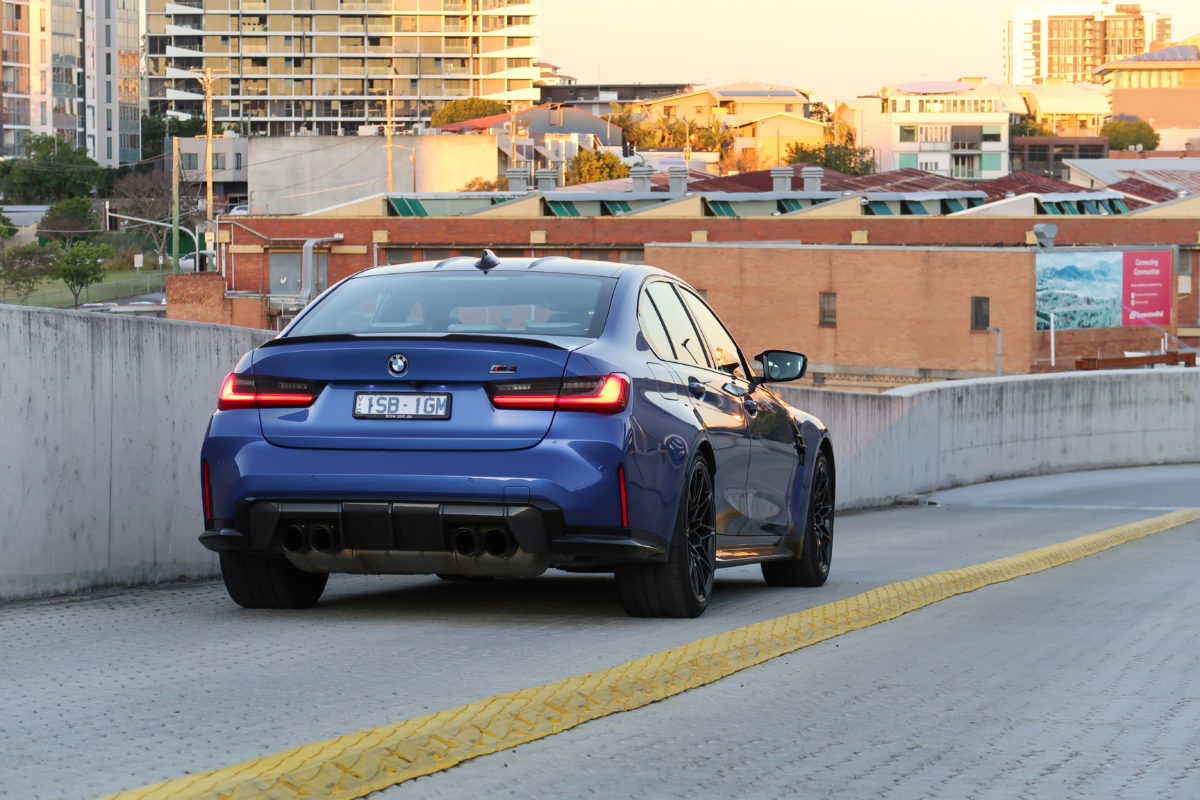 I'm past my Tarocash days and my two cents is that this car has some powerful angles. All of the natterings about the grille has taken attention away from aspects of the M3 that deserve it wholeheartedly. The rear end is a perfectly proportioned, visual treat to stand back and take in. Flared wheel arches, a jutting carbon fibre rear diffuser and huge front air intakes are all staunch reminders that the new M3 means business. The Portimao Blue our tester was dressed in is dashingly handsome, particularly when set against its black double-spoke wheels and gold brake callipers.
---
---
Under the hood is BMW's new(ish) S58 power plant. It's a 3-litre straight-six making 375kW and 650Nm – plenty of juice for a rear-wheel-drive machine. The 0-100km/h sprint is dispatched in 3.9 seconds, which tells us that rolling acceleration is matching all-wheel drive cars with much lower sprint times. You'd better be holding on when you hit the accelerator because this thing is angrier than a mosquito in a mannequin factory.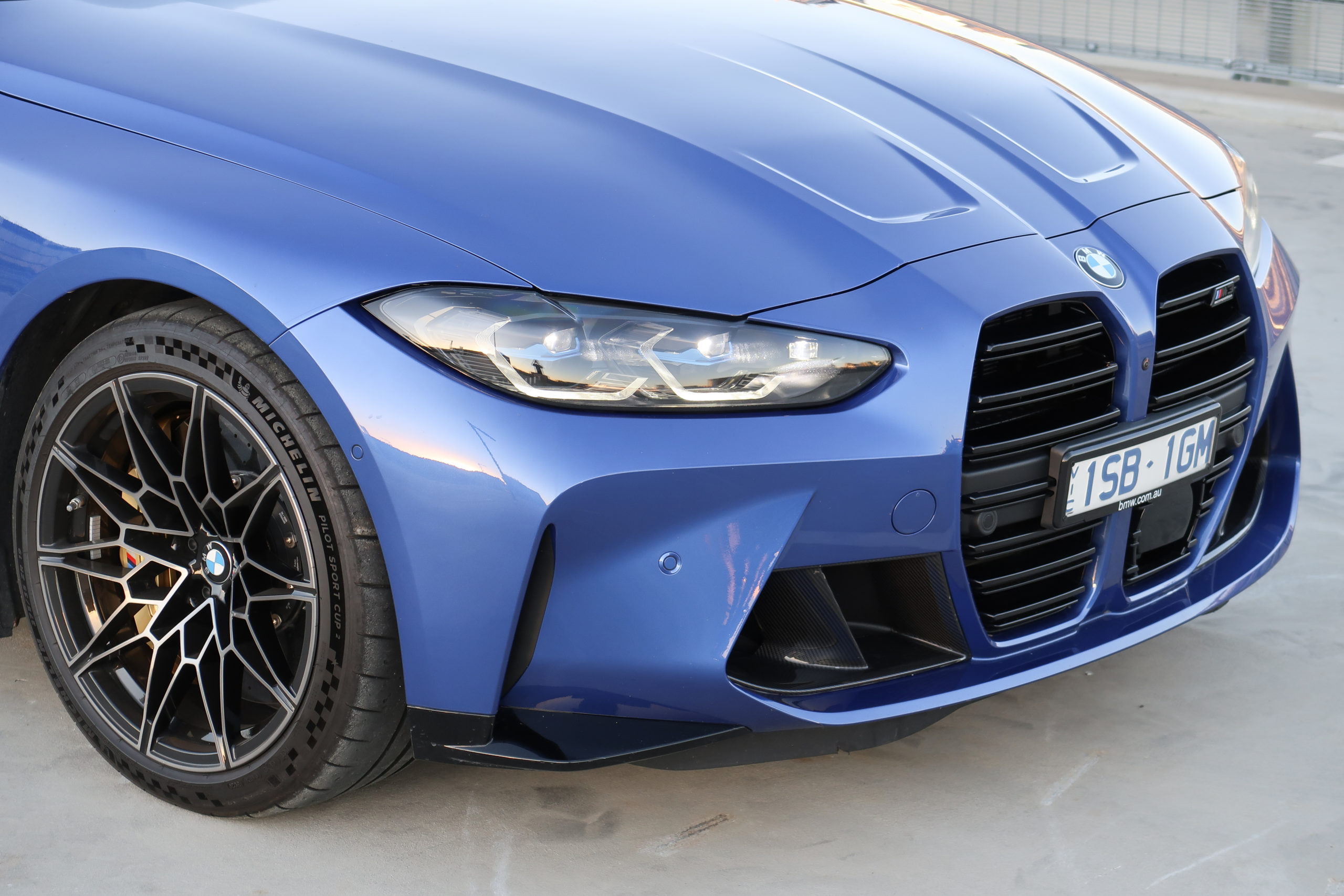 Amidst all the chaos, you can tell that BMW has applied their minds to ensure power is delivered smartly, unlike the last M3 which relished the idea of spinning itself off a cliff with a large drop. The traction control technology is masterful in its design and application. There is enough power to torch some rubber with reckless abandon, but, when needed, the system is gentle in its control. Rather than fully cutting power and causing axle trample as the car tries to throttle itself into a more legal angle, the M3 brings you back into line politely and unobtrusively.
Let's talk about the increase in weight. I'd hazard a guess that BMW has beefed up the M3 and M4 to provide some distance from the M2, which got dangerously close to the previous generation. At roughly 170kg heavier than its predecessor, this new model should feel rather rotund according to its spec sheet. Except it doesn't. The M3 is clinical in its balance and precision, feeling not 1kg overweight. Driven hard, it communicates and approaches the limit linearly, letting you know exactly where you are and what else it can do for you. It never feels unsettled or snappy, just composed and progressive. In short, it's absolutely brilliant.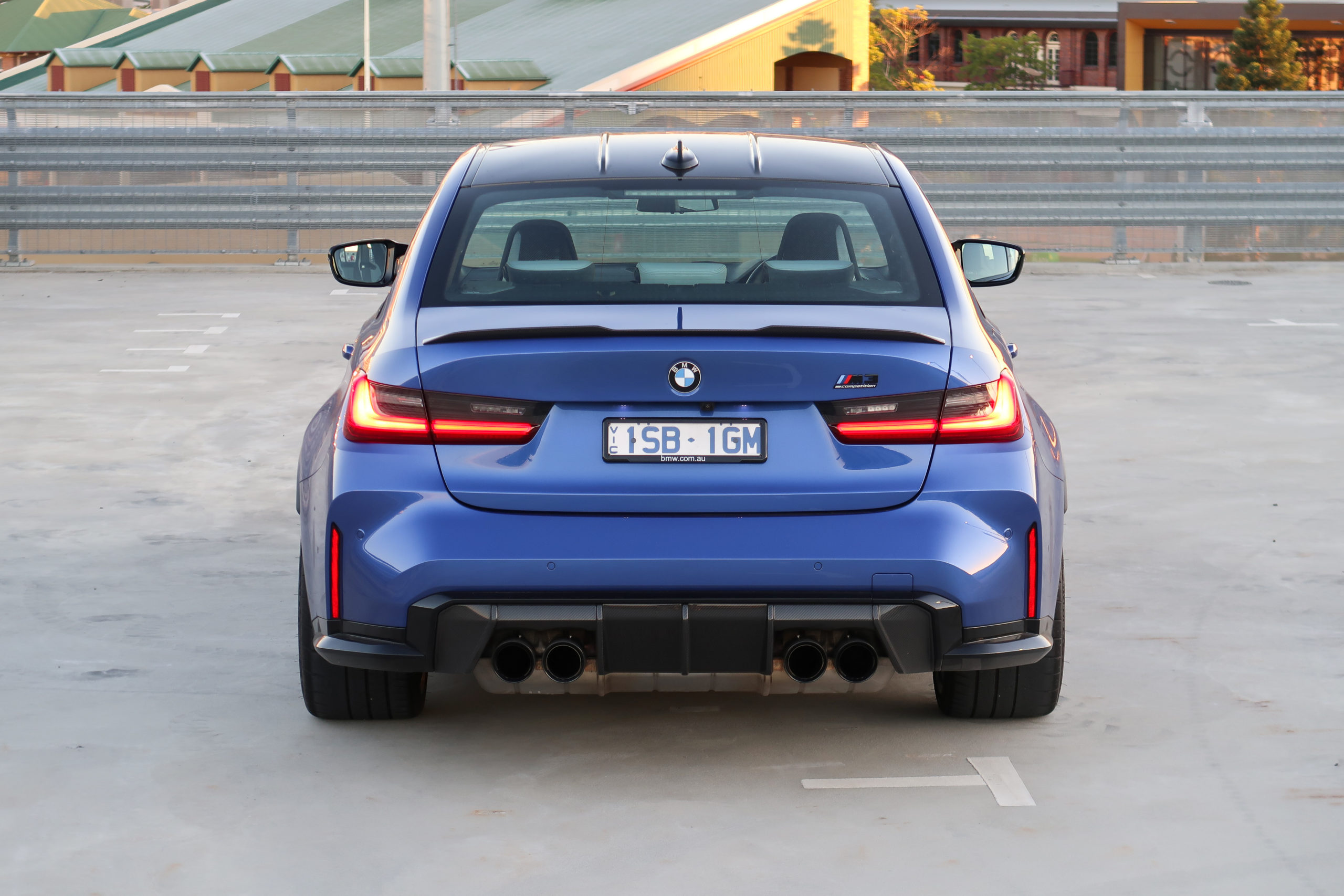 This car illustrates how important the engineering magic underpinning that poster power figure is in the mixture to create a quick car that's also fun to drive. I was lucky enough to drive a manual M2 CS – the apparent holy grail of driver's cars – some months ago and, rather blasphemously, I found myself enjoying the M3 more on the limit. Maybe it's just more confidence-inspiring.
Perhaps the only missing puzzle piece here is sound. The M3 lacks an exhaust note to truly create sonic pleasure, which is a shame considering how beautifully the straight-six revs. Clarkson artfully describes the new wave of reduced-emission cars as sounding 'like something you'd find on the back of a fridge'. The BMW isn't there yet, but I'd like to see a change in trajectory. And to clarify, it doesn't need the Gold Coast melodrama of burbles and digitised cracks, just some extra volume.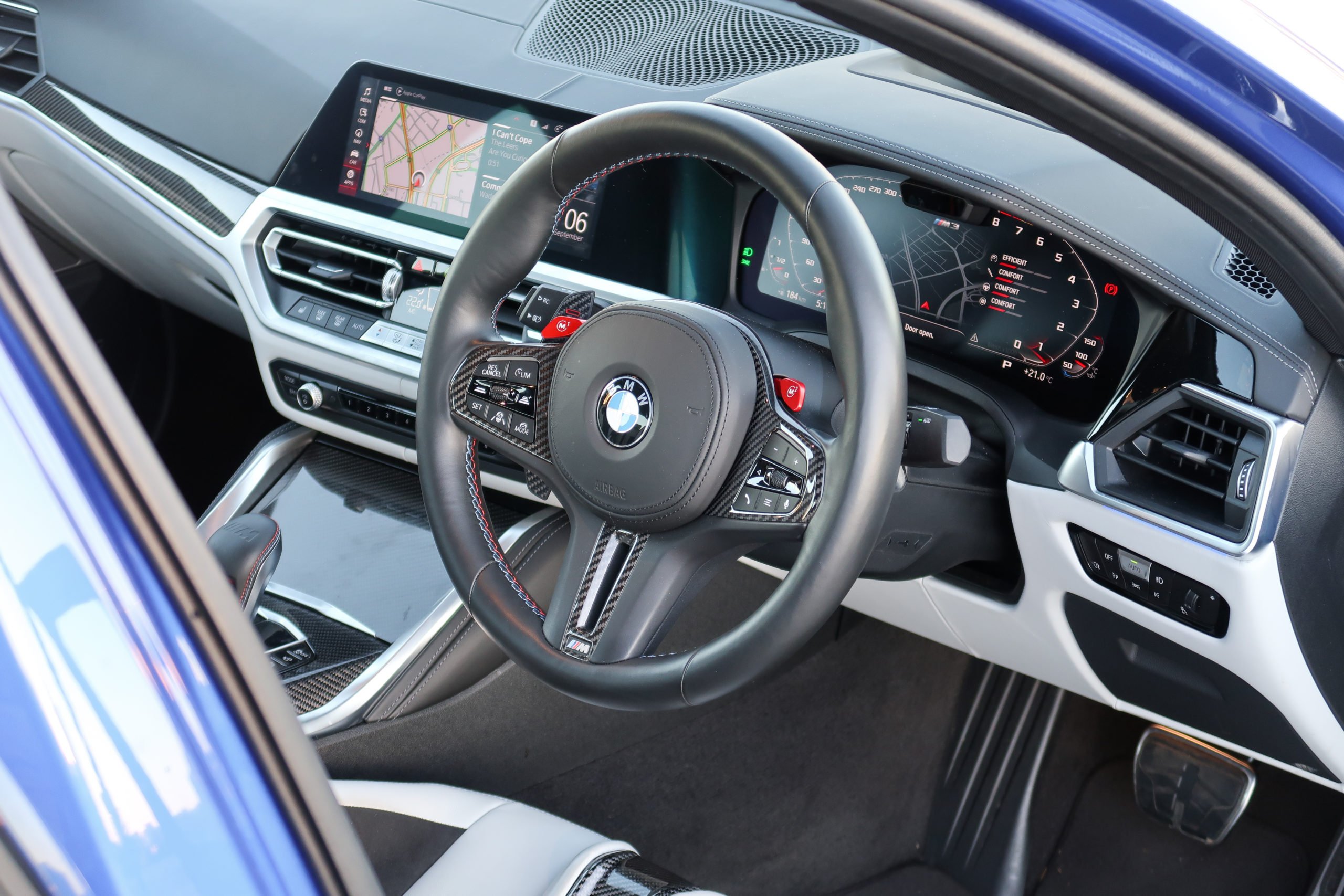 The ideology underpinning the bold exterior styling flows into the cabin. It mixes the long-serving simplicity and elegance of the BMW cabin with racy, youthful elements. The cockpit doesn't evoke any emotions, and nor should it. It's a blend of function and form that leaves you wanting for nothing. I still believe BMW's iDrive 7 is a class-leading infotainment system, rivalled by few in terms of layout, features, ease-of-use and visual quality. The Silverstone white leather upholstery seen here is crisp and beautiful beyond measure, although as always I have to question what it will look like in a few years.
Our tester was fitted with the $26,000 optional Carbon Pack, which gets you carbon-ceramic brakes, bucket seats and a number of carbon fibre cosmetic upgrades. The seats were a highlight of this car – I thoroughly enjoyed their focused looks and snug feel. It's evident that BMW is looking to capture a more youthful demographic by stepping further into the domain of racing equipment.
---
---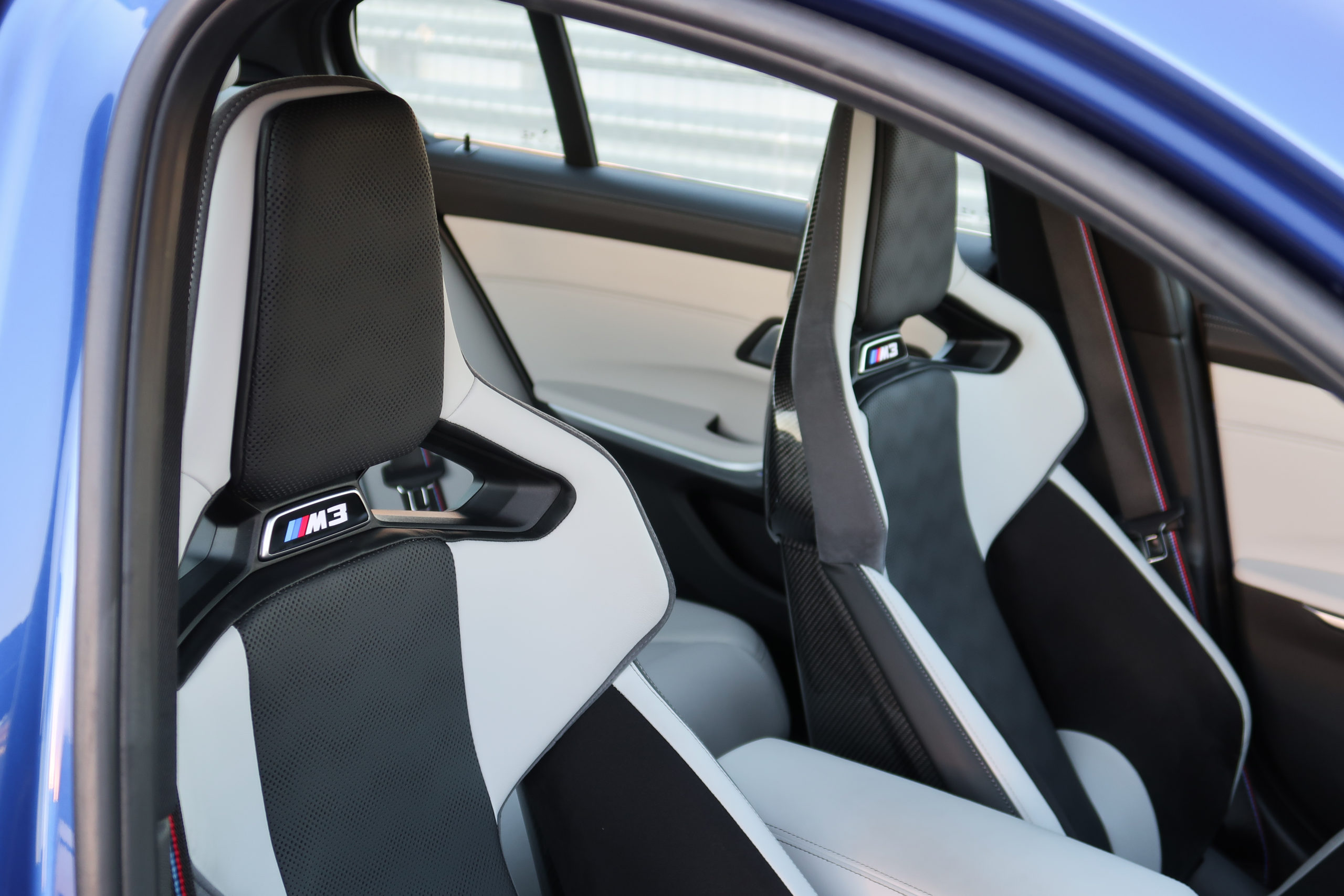 Cruising to and from work during the week, the M3 proved its ability to perform day-to-day duties in comfort. A full suite of safety technology, parking assistants and an Assisted Driving feature leaves the driver feeling as useless as a screen door on a submarine. Ambling around town with the engine in Efficient and the suspension softened, you'd think you were in a regular 3 Series if it were not for the M badges dominating your peripherals.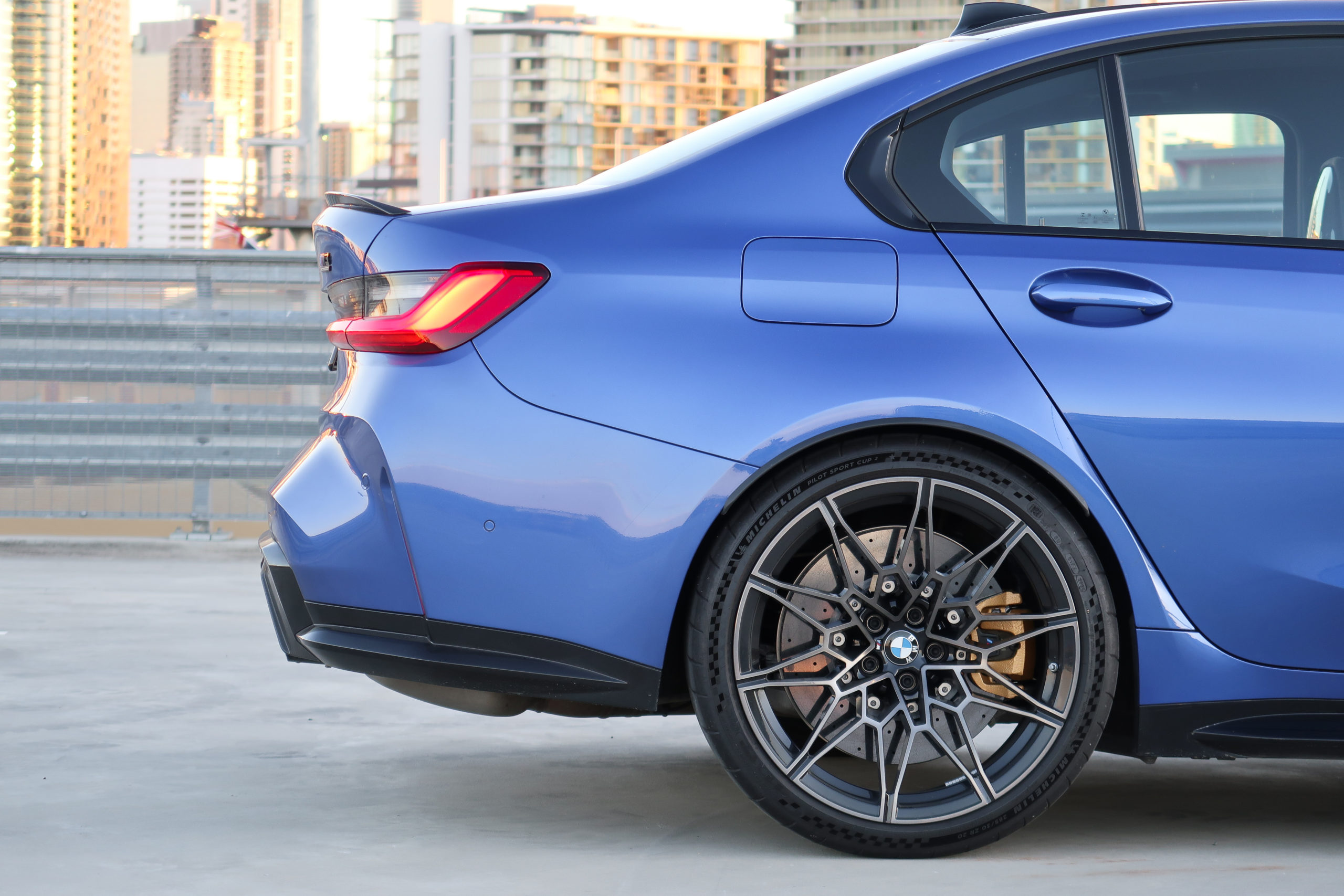 The M3 Competition starts at $154,900 before on-road costs and options. For what you get, there's value for money to be found here. The burning question, though, is what else is out there. The Mercedes-AMG C63 S is the obvious opponent, bringing its wild V8 and muscular frame. It will ultimately come down to personal taste, but it's worth noting that the near-identical M4 towelled up the Merc in a recent track test. The Alfa Romeo Giulia Q also asks some large questions – it's cheaper and just as quick, but lacks the tech and refinement of the BMW.
Looking ahead, the end of 2021 will see the all-wheel-drive examples of the M3 and M4 arrive. Fitted with the xDrive system seen on the M5 and M8, the pair should bring sprint times down significantly and offer a unique driving experience. Rumour has it that there are also CS and CSL versions in the works.
From its beginnings in 1986, the M3 has evolved in shape, size, performance and technology into what we see here. What has not changed, however, is its ability to thrash around a racetrack at supercar-scaring speeds, then drive you home in comfort. This latest iteration is sewn up into a better package than ever, bursting at the seams with the combination of features that earned it the world's love all those years ago.
RELATED: BMW's M2 CS Is The Car You'll Want To Be Driving 10 Years From Now