After winning the inaugural UEFA Nations League mini-tournament earlier this month with Portugal, Cristiano Ronaldo is finally taking some time off before the Serie A season kicks off with Juventus in August. So how does a multi-millionaire football star spend his free time? Sliding down a three-storey waterslide with his family on an AU$318,000-per-week superyacht on the French Riviera, of course.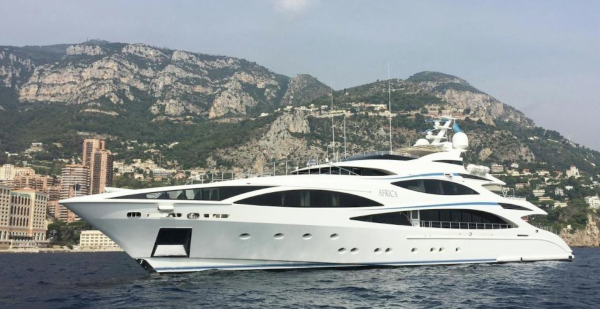 The Juventus star, his girlfriend Georgina Rodriguez and four kids are living the high life on the luxury Benetti yacht, Africa 1. The 154-foot superyacht contains a crew of nine and six bedrooms that can sleep up to 12, meaning everyone in the Ronaldo clan gets their own digs.
The luxurious interior of this state-of-the-art yacht is designed by French outfitters Zuretti and the exterior styled by architect Stefano Natucci. Africa 1 also includes a full-beam master suite, sundeck jacuzzi, al fresco dining area, a bar, outdoor cinema and a fully equipped gym for the workout-obsessed Ronaldo to keep his rig in shape.
A huge range of recreational toys is also available, including two jet skis, wakeboards, water skis and snorkel equipment, although as depicted on Ronaldo's Instagram account below, he and his kids prefer the huge inflatable slide.
But it's not all sun and fun for the five-time Ballon d'Or winner, with The Sun reporting Ronaldo had to take time out from riding the giant slide to meet with new Juventus coach Maurizio Sarri. It's a tough a life.
RELATED: Cristiano Ronaldo's Next-Level Workout Is All About Explosive Power