Talk of Mercury Marine introducing something big this year was fervent, however, I don't think many in the boating industry would have predicted this. The Brunswick Corporation's stalwart engine brand, Mercury Marine, has gone ahead and launched its most powerful outboard engine to date: the beastly 7.6 litre, Mercury V12 Verado, offering a mighty 600hp.
You don't need to read that twice to know it's now the most powerful, and largest, outboard engine currently in production.
Mercury Marine is expecting to sell thousands of these newly produced engines, either as twins, triples, or quad installations – tapping into the unquenched appetite for 'more is more' aesthetics and streamlined maintenance.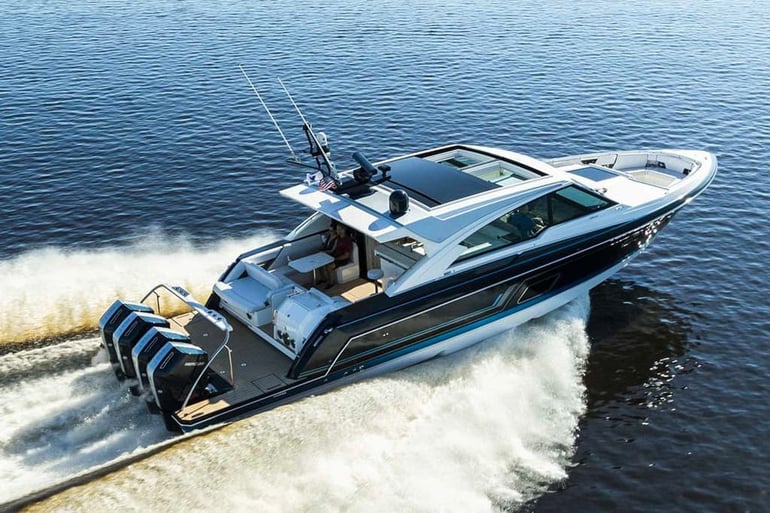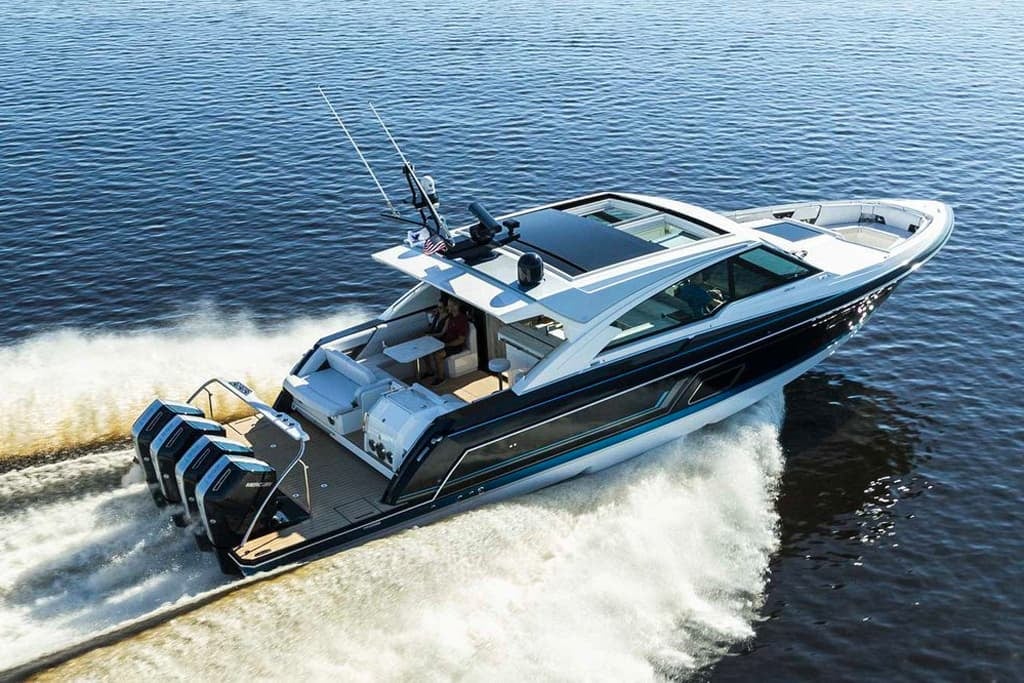 The Mercury V12 Verado will even come with a brand new digital throttle for boat owners, with an integrated digital display sporting new features like active trim control, accessed via a simple push-button. The display will feature a comprehensive and intuitive layout for key engine data to better integrate the experience between using the engine and monitoring it.
This industry-first outboard also sports a number of efficiency innovations, including an independent gearcase that allows the engine to remain stationary during steering, all while the lower unit rotates 45-degrees. This should theoretically allow for a much more seamless experience while docking and dodging large vessels on the water.
Other benefits of the new Mercury V12 Verado include the first-ever automatic two-speed transmission and a 7-blade contra-rotating dual propeller that utilises a smaller torpedo than even a standard single propeller. Mercury is offering a new line of propellers as a result, with options up to 18-inches in diameter for deeper power and much more torque, while still maintaining a very low noise profile no matter the output.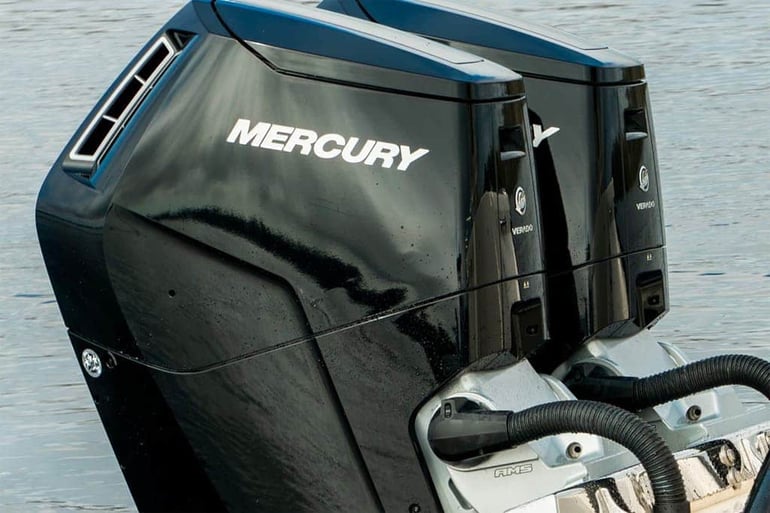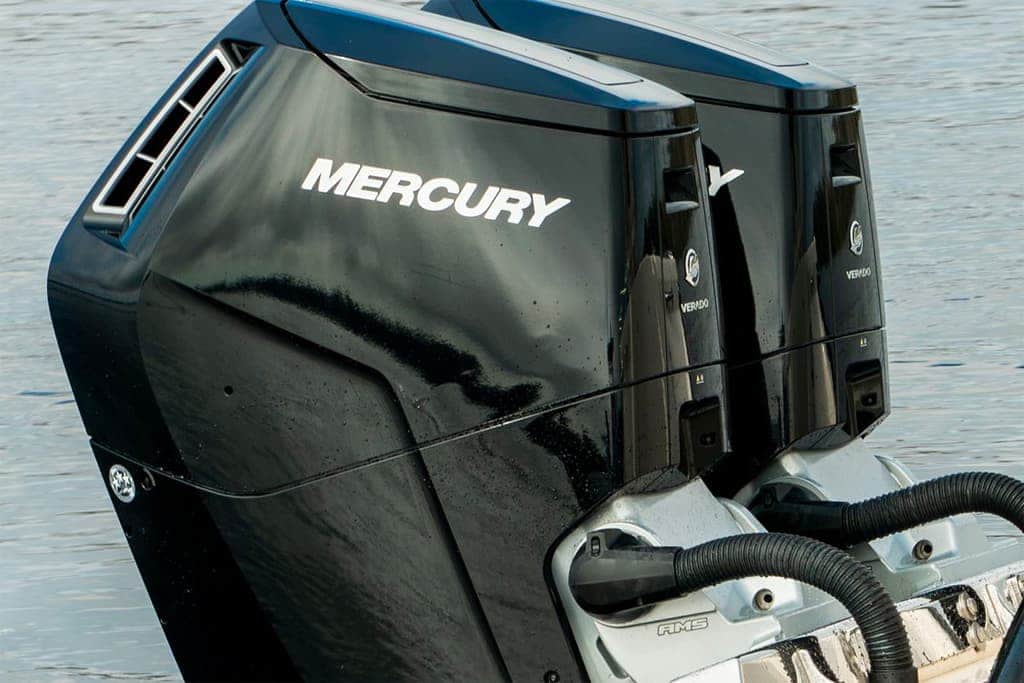 Because the engine is fixed there's also significantly more transom space for boat manufacturers to work with, which should lay the ground work for better efficiency in construction and more options for multi-engine rigging.

The naturally aspirated V12 Verado is equipped with quad cams, 4-valves per cylinder and indirect injection, indicating that cleanliness and a smoother ride were as much in the brief for Mercury Marine, as pure power was.
Of course you've got a two-speed automatic gearbox as well, with around a 20% difference in positioning between the two. Accelerating onto the plane should be child's play, even for those bigger and thicker boats. And in the water, the engine bites down hard, optimised for maximum speeds of up to 70 knots.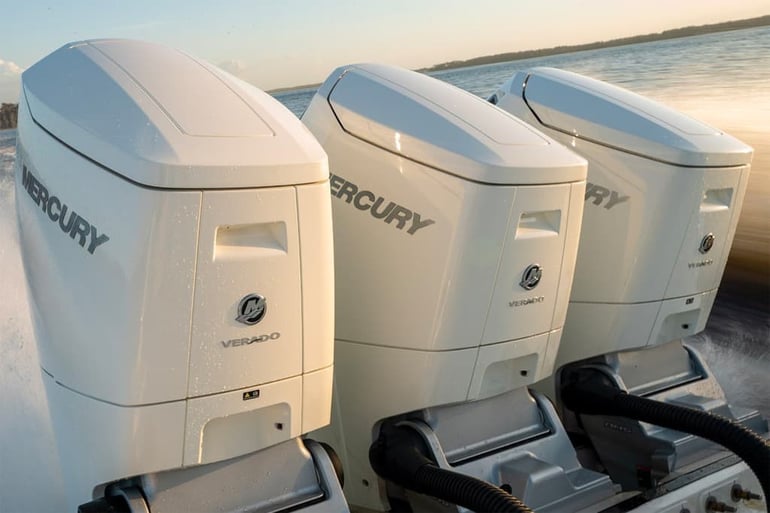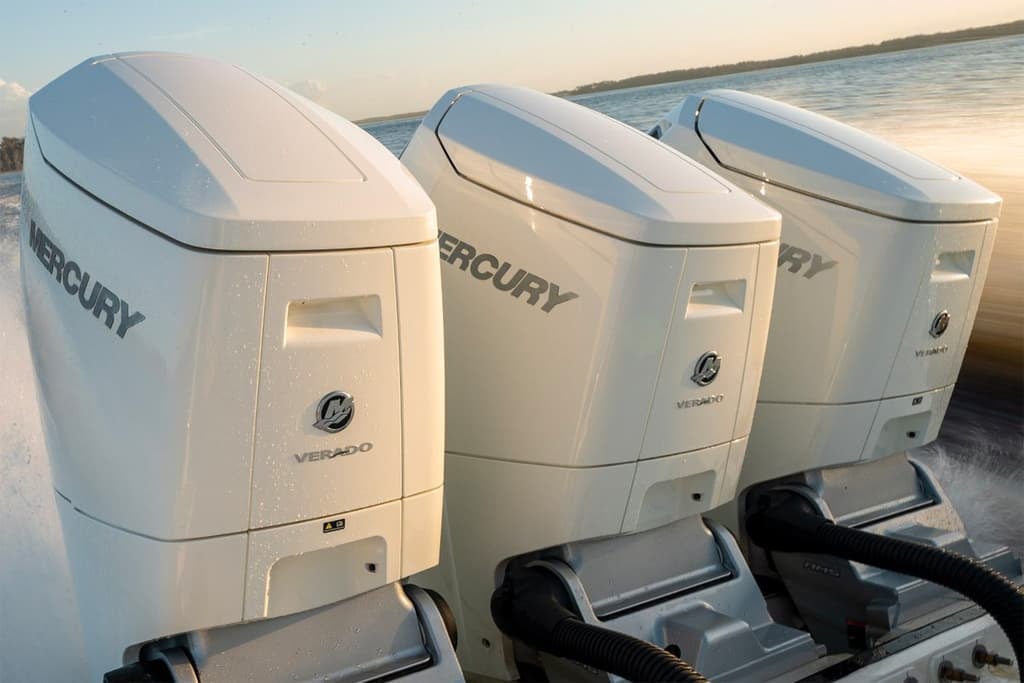 Max output will depend heavily on propeller and boat set-up, but general figures place the output between 5,600 and 6,400rpm.
As far as weight goes, the V12 clocks in at 544kg, boasting a power-to-weight ratio of 1.1hp per kg. Compare this to the 450hp supercharged V8, which has 1.44hp per kg. From that figure alone you can tell how efficiency was prioritised in the design and engineering of this formidable, unobtrusive engine.
Here are the full specs:
600 hp 7.6 L V12 – highest power rating in a Mercury outboard
7.6-litre displacement pushes heavy vessels easily and gets on plane quickly
Transient spark technology for "slingshot torque and acceleration"
Advanced hydrodynamic contra-rotating dual prop (4 blades in front, 3 in rear)
4 colour options: Phantom Black, Fusion White, Cold Fusion White, Pearl Fusion White
Servicing intervals extended to 200 hours of operation plus 5 years/1000 hours for additional maintenance
Flip-up cowl hood for easy access
150 amp alternator
Intuitive joystick and handling features including Next-Gen Digital Throttle & Shift Technology, Joystick Piloting, VesselView monitoring, and Skyhook advanced controls
Digital display shows engine position/angle in real-time
Improved fuel efficiency- full performance on 87 octane with closed-loop fuel system
Advanced Range Optimization calibration adjusts fuel delivery for efficiency while cruising
Needless to say, this could be the engine that positions the boating industry on a new course, elevating it to levels not previously seen. Price has been speculated online at US$77,000 (~$AU99,000) although official and local pricing for the Mercury V12 Verado has not yet been announced. Initial delivery is expected for European summer 2021.