Shot on the GoPro Hero 5 Black & GoPro Karma grip
I'll be straight up. I wasn't the greatest fan of the latest M4 coupé from BMW at first.
To be fair, I'd just spent two weeks with the Ford Mustang. Comparing the two is about as appropriate as comparing apples and oranges, I'm aware, yet there was a lot to take in when rolling out of the BMW HQ in South Sydney, and a lot not to like.
I'll drop the (surprise?) bombshell now – my opinion did change after 7 days. So when reading the next few paragraphs don't call it a day and miss the part where I actually say good things about this car.
They are stunning cars the M range. The M4 in particular retains that sleek, swept back style while exuding a menacing profile owing to its M lineage, specifically the old E30 M3's of the 80's and early 90's. It's low, wide (but not too wide) and considerably longer than its M2 brother, making it a more appropriate ride for someone like myself who prefers bigger vehicles.
The first take away I encountered with this car was its attempt to balance the requirements of an 'M' badged performance BMW with the consumer need for a similarly compatible daily drive. This attempted fusion, which I had been warned was not a usual characteristic of 'M' cars previously, is the major point of difference in the 2017 M4 that had me seriously contemplating whether I actually liked the car or not.
I'll be clear, when all the 'M' features are engaged, the M4 goes incredibly well. I'll extrapolate on this later, but to convey my initial thoughts from my first 48 hours with this vehicle, let me start with everything that caught me off guard.
German cars love their tech. This is great for safety and handling, but not so much that it took me 10 minutes to figure out how to put the vehicle in 'Park.' Laughable, perhaps, but even a friend of mine who has owned 4-Series BMW's for at least a decade, couldn't figure it out either. I'd consider myself a pretty tech-savvy bloke, so I'm being genuine here when I say that this should have been much easier than it was.
There is no 'P' on the gimmicky gear stick, not even a button anywhere in the car, nothing. It was only after literally pushing everything I could that I accidently put the vehicle into park by pressing on the brake and turning the car off simultaneously. The owner's handbook, which is built into the car, didn't say a word about this either. Not the smoothest start.
Before turning on all the fun features (which felt like it was achieved through a PlayStation 1-style cheat code unlock), the lower gears on the M4 in automatic almost sound like you're driving a diesel. I made an effort to get second and third opinions on this thought, and I wasn't alone. In a few cases the car would even rev higher than 5000 rpm in second gear and I would have to step in to manually change it to third on its behalf. Not exactly ticking the box of a smooth daily drive, if that was what BMW were trying to achieve.
The infotainment system is minimal and easy to use after a bit of familiarisation, though the Bluetooth connectivity with my phone decided to connect on some occasions, and simply refuse to on others. The auto stop-start feature – which you'd expect in a daily drive, not a performance sports car – has to be turned off manually each time you start the vehicle. There was no permanent way to shut down that feature, so if you're not a fan, bad luck, every time you get in the car you're back to square one.
Okay, rant over. Oh, and also we had to look up how to shut the bonnet on YouTube, which involved a very forceful and surprisingly odd method which anyone who's responsible for a $160,000 vehicle would be apprehensive to try. The fact that someone has actually made this video, speaks for itself. Okay, I'm done.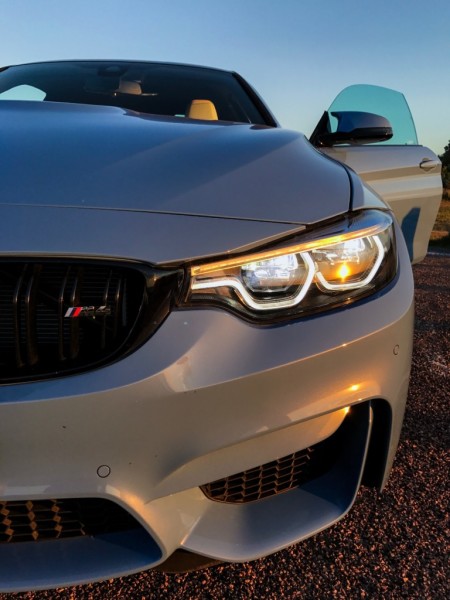 After piecing together what seemed like a never-ending puzzle, the M4 was ready for us to enjoy. And enjoy it we did.
If you're after some serious eye-candy, our immaculate white leather interior was enough in itself. Stepping outside the vehicle, the baby blue finish was cringe-worthy at first, but I warmed up to it rather quickly. Unlike the Ford Mustang (last comparison, I promise), the M4 is indeed a comfortable four-seater car. Even with a tall guy like myself behind the wheel, you can argue that this is one of the roomier coupé's on the market.
Once the settings were tweaked and all my 'M' features were programmed into the toggle button on the steering wheel, the 3.0 litre twin-turbo inline 6-cylinder engine opened its heart up to some serious love. The rev metre can be projected onto the heads up display, so all your concentration can be focused on the road ahead. The turbo lags a little longer than average if you're not in 'M' mode, though the 550nm of torque can propel you to 100km/h in 4.1 seconds – again, if you're managed to decipher the drive settings.
It sounds brilliant, the whistle of the turbo and roar of the engine always worth putting your windows down for a listen. World-class safety and handling features give you some piece of mind, the M4 hugging the road very well, but also knowing when to let you go if you're after a bit more fun.
BMW have attempted to find that balance between a daily drive and an M performance vehicle with this latest M4 coupé. It's in our opinion that they haven't exactly hit the mark with the latter, but are still exceptional with the former. In a nutshell, that 'X-Factor' just isn't quite there.
And this isn't just me being picky, or whinging about a few design flaws. Put simply, it shouldn't be such an effort, especially when paying for a $160k plus sports car, to feel like you're driving a sports car. The excitement and impressiveness of the M experience was kind of lost in the convoluted process to get the car at that stage. Once there, you'll have an unreal time – I honestly didn't want to give it back when the seven days elapsed – so it's important you don't discount this car entirely.
However, you should just be clear on where your priorities lie, as for the price-point, the M4 is close, but no cigar.
2017 BMW M4
Price: Starts at $160,000 plus on-road costs
Engines: 3.0 M TwinPower Turbo Inline 6-cylinder
Power: 317 kW @ 7300 rpm
Torque: 550 nm @ 5500 rpm
Transmission: 7-speed M double-clutch transmission