In preparation for Gumball 3000, an annual British motor rally that takes place internationally, Team 46 unveiled the amazing Aston martin DBS with a unique UV formula that makes the car glow in the dark.
Customised by Hamish Scott from Nevana Designs, a global award-winner for STARPATH and other incredible UV innovations, the incredible glow in the dark paint charges its juice during the day and shines at night for approximately 10 hours.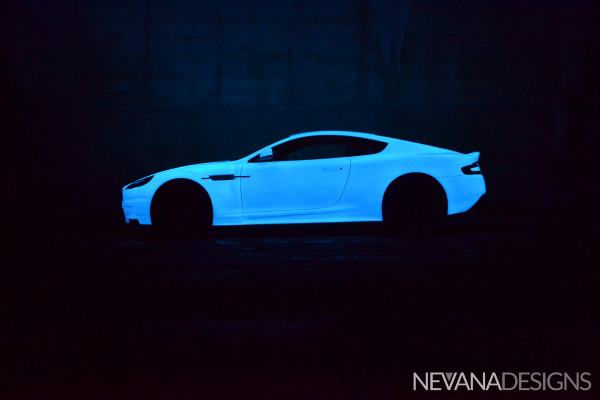 David Morgan (Team 46), owner and driver of the Aston Martin DBS who is setting off from Stockholm on the 24th May and heading to Las Vegas, said: "Personally, I wanted a car that would stand out among the collection of supercars and what better way to do it than make it glow? Hamish Scott rose to the challenge and the car will definitely turn heads around the globe. It is positively mind-blowing and feels like touching glass, smoother than regular car paint, whilst aesthetically something futuristic and completely out of this world – it is spectacular, day or night."
---
---
The paint's active ingredient, strontium aluminate, stores sunlight to reflect at night, which seems especially useful in thinking about the rigorous daily demands of Gumball 3000.
Hamish Scott: "I have now invented a material that can be applied to any surface including bikes, bike helmets, boats, safety equipment on the water's edge, fire extinguishers, floors, walls, ceilings, yachts, kitchen counters, trees, spectacles. You name it – I can make it come alive at night".
"Should a car break down on a dark road or motorway, or indeed a boat be stranded at sea, the UV coated surface can be seen from miles away and after it is charged during the day remains luminescent for at least 10 hours during the course of the night," he explained.
"Once people view the product it almost consumes them and they think of more and more ways the product could be used."
During the day:
At night: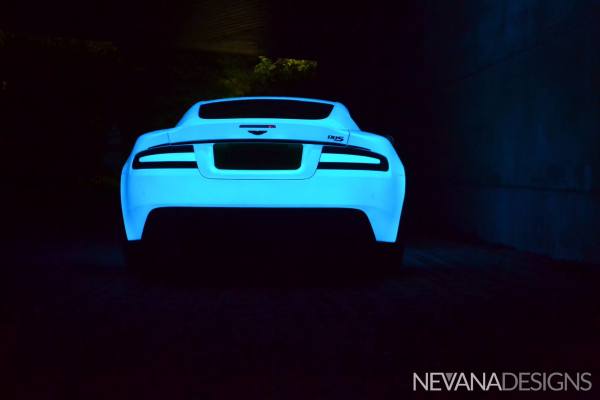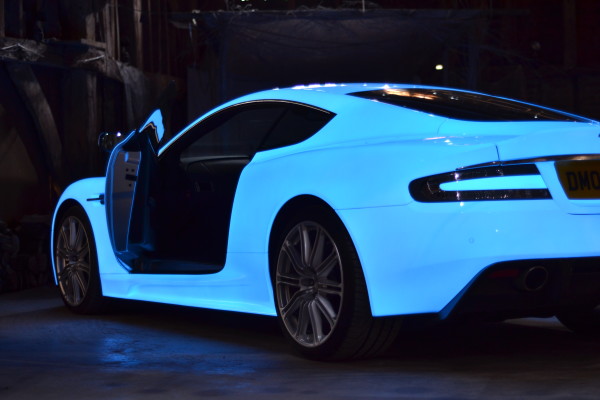 The Aston Martin DBS was re-introduced in 2007 after a 35 year break since 1972 as the GT version of the famous DB9, with a more aggressive front end and better internal specifications. The DBS has a 6 litre V12 and produce 510 bhp and a top speed of 307km/hour. It was the car for Bond in Casino Royale, that he flipped 20 times and crashed during a highway chase scene.
---
---
DBS itself is of particular importance for being the predecessor to the current in-line Vanquish V12.
Team 46 will drive this special-edition vehicle around the world for this year's rally, so be on the lookout for this bespoke ride in international cities this summer.