Wednesdays don't get much better than a day around Sydney Motorsport Park's Grand Prix circuit with Audi's red-hot 2017 sport line-up. At our mercy were the incredibly all-powerful RS6, RS Q3, RS7 and the thrilling Audi R8 V10 Plus models.
I'll be straight up, I appreciate things that go fast and look cool, but I'm no particular rev head by any means.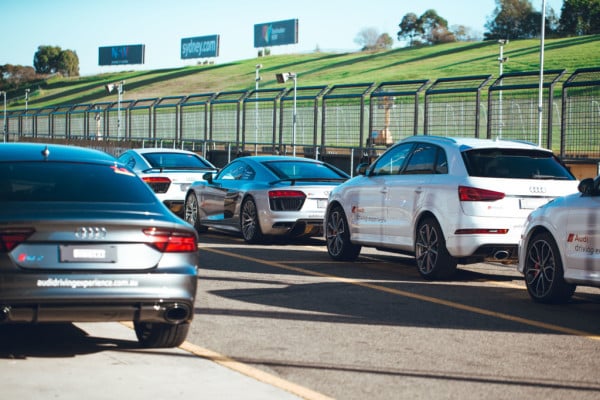 Rather than attempt to spin my take on just how each of the 610 horses behind the R8 machine played a vital role in my novice laps around the track, I'll be breaking down the pure thrill of each car and what it felt like for an average bloke to let these beasts take him for a ride.
RS6 Avant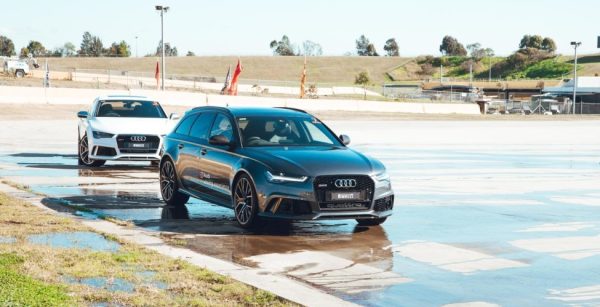 The world's wildest wagon, the Audi RS6 Avant packs a tremendous amount of punch for what could be passably overlooked as a soccer mum's daily drive. It is anything but. It boasts a 0-100 km/h split time of 3.7 seconds; and a modest German assessment at that. Under the hood you'll find a twin-turbo V8 engine locked down by an eight speed tiptronic transmission, using quattro all-wheel drive technology for maximum grip around any corner you throw it into.
From the outside in, robust air intakes sit behind a fierce honeycomb grill cornered by two mean looking daytime running lights. The interior's carbon fibre inlays and funky leather stitching give the RS models an elevated luxury, the flat bottom steering wheel hinting at a slight influence from F1 design.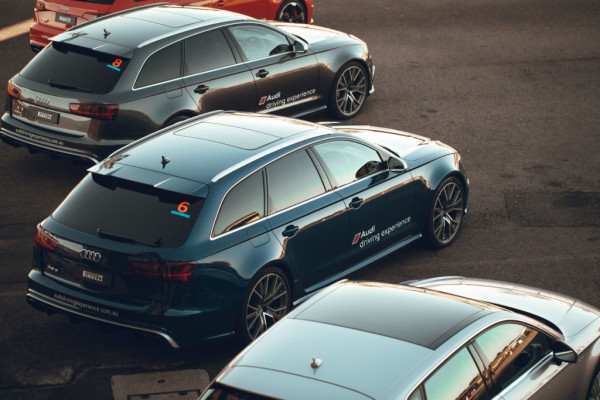 To be perfectly honest, the RS6 was a bit more intense around the track in comparison to its lighter and lower profile RS7 & R8 counterparts. What it did handle exceptionally well, however, was the advanced driving skills, including the sudden lane changing and wet surface oversteering exercises.
RS Q3 Performance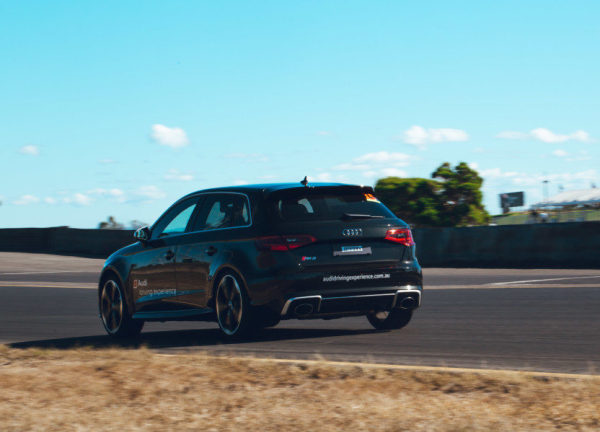 Just when we thought the sport wagons were coping surprisingly well, Audi's answer to the popular SUV question that often confronts luxury sports car brands smashed them out of the park. This four and a half second SUV brings a little more comfort and spacial freedom to the RS range, while nonetheless roaring to the occasion with its distinctive 2.5 litre turbocharged engine. It's sturdy, nimble and a very playful car to drive.
RS7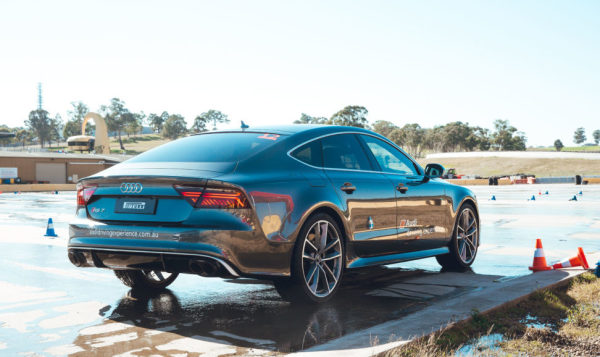 Sharing many similar traits to its RS6 sibling, the slick Audi RS7 sportback is about as powerfully close you can get to supercar madness while still looking executive, suave and exclusive. The guts of the car mirror the RS6, though the coupé-inspired, tapered rear is a personal favourite, a reverence to Audi's grand touring days.
The RS7 certainly felt more aggressive when pushing into hard corners. It took the Audi team a lot of effort to create an environment where the car would actually oversteer for our training exercises. Even with Electronic Stability Control (ESC) turned off and a flooded skid pan, they were just all too good at hugging the tarmac.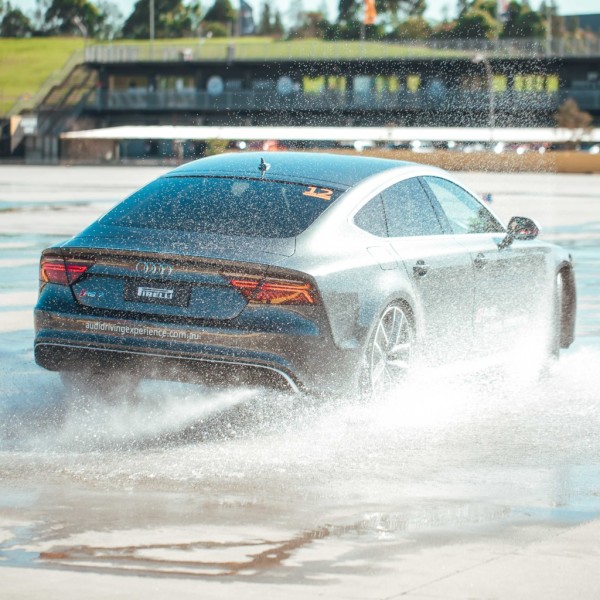 The purr and occasional sputter of the exhaust reminded you of its dominance every now and again and how hungry it was to be let loose. This would hands down take the cake for a daily drive just short of that supercar overkill.
R8 V10 Plus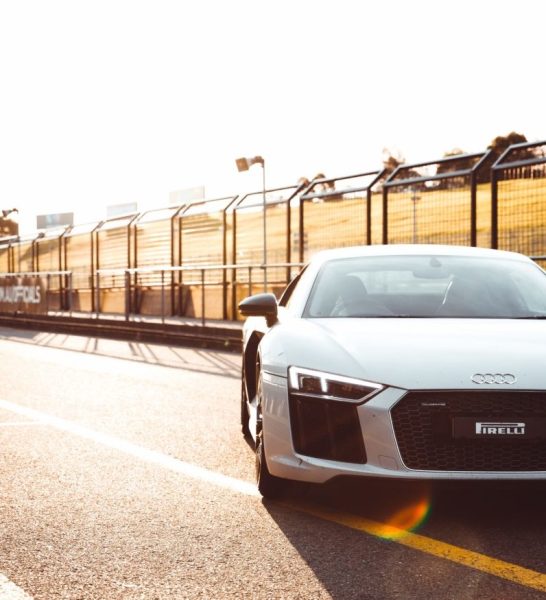 What a weapon. Ever since watching the first Iron Man film, driving a brand new white Audi R8 has been a sought after goal. It took us a while to comprehend that Audi had so simply just given us the keys to the prized pinnacle of their impressive road fleet.
The horrendously fast German supercar shares around 50 percent of its DNA with its R8 LMS GT3 race car cousin. Aerodynamics are the noticeable visual standout, the hard, fearsome lines channelling air within like a fighter jet, propelling the car to 100 km/h in an eye-scratching 3.2 seconds.
Being the only supercar I'd ever taken round a track, the R8 produced head spinning bodily reactions I didn't even know were possible. The focus and concentration levels were high, as to put one of these into the wall would be a hefty half a million dollar mistake. It wasn't until the end of the day when we had the privilege of riding along with the immense talent of professional race car drivers who opened them up to their full potential. Shotgun down the straight at 255 km/h is nothing short of eye-watering happiness in its rawest form.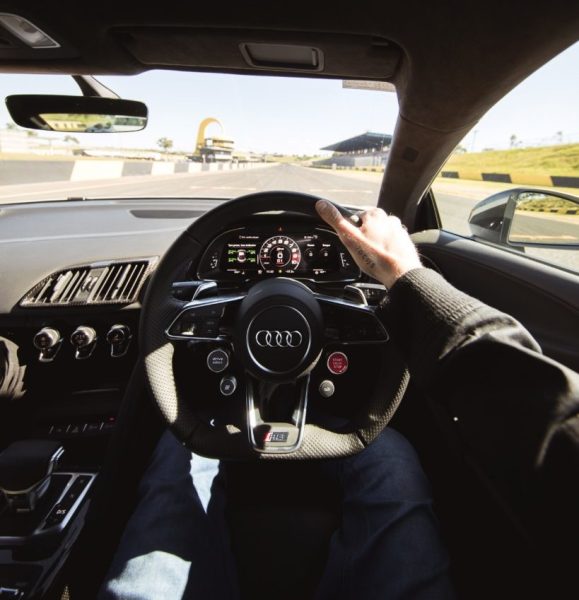 For more information on the full Audi range and to book your own track day like ours, head over to Audi Australia.
Photography by Audi Australia & Sam Evans.