When a car company offers you a new car to drive around for the weekend, you generally have a reasonable understanding of what to expect. But when the team at Fiat Abarth Australia offered to loan me an Abarth 124 Spider for the weekend, I was truly going in blind.
A quick Google search of the car before I received it gave me the impression that I was to be driving around in what is essentially a tweaked Mazda MX-5, and in saying that, I'm not wrong, the 124 Spider is fundamentally an MX-5 that has been overhauled by Abarth.
But what a job Abarth has done.
First are the looks. The two toned black and white paint job that we had, coupled with the quad exhausts and the elegant side profile means that you will turn heads wherever you go. You can judge for yourself by the photos, but over the course of the weekend driving the 124 Spider, I had no less than five people stop me as I was getting in and out of the car to ask me what kind of car it was, what exactly an Abarth is, and that 'it looks expensive'.
Having answered the first two questions, all of the enquirers were taken aback when I told them the 124 starts at $43,500 drive away. To be fair, I was pretty taken aback myself after I got behind the wheel of the little pocket rocket.
Sliding down into the low bucket seats, you're immediately aware of the Italian influence on this car with red and black leather trim throughout, a big Abarth badge smack bang in the middle of the steering wheel, and a surprisingly easy to use in car entertainment system.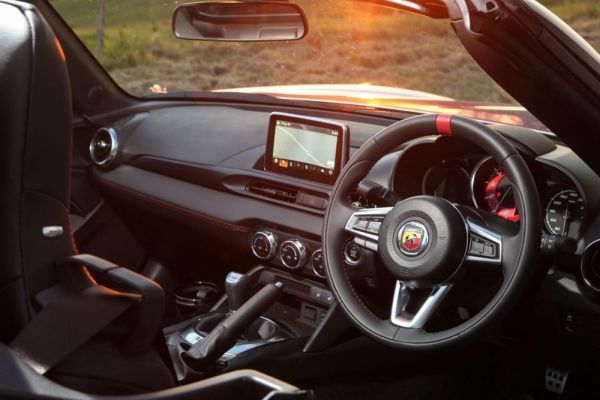 Press the start button (ours had keyless go) and you're greeted with a beautiful little roar from the 1.4L 170 bhp engine which propels the 1,060kg whippet to 100 in less than 7 seconds. Down low the engine gives plenty and sounds brilliant too. Although you might be a little disappointed with the top end power, it might be a little much to ask from such a small engine, and with the speed limits in this country being as they are, it's not often you'll get that fast anyway.
Through corners it's just a matter of aiming where you want to go and the long bonnet follows effortlessly, and if you give it a squirt with sport mode engaged, you can get the back end to slip out a bit as well.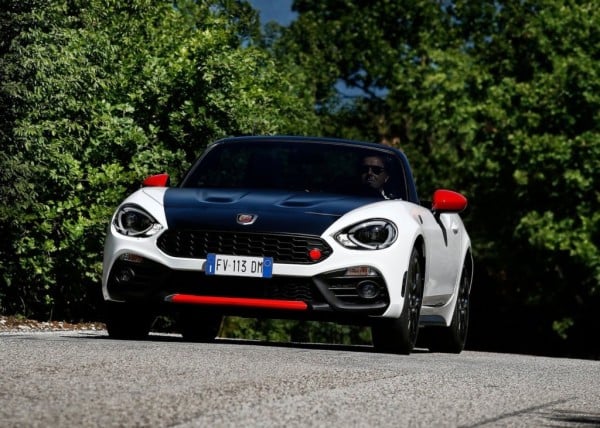 Add to this one of the easiest soft-top mechanisms in the business and you've got a cracking weekend car on a budget that will appeal to just about anyone.
The Abarth 124 Spider starts at $43,500 for the manual and $45,500 for the automatic. To find out more visit the Fiat Abarth website.