Snow weekends. It really doesn't get much better, does it? Queen's Birthday usually marks the traditional opening of the Aussie ski season, where enough snow has fallen to get a nice base on the ground and city folk ready to migrate to the alpine regions of Victoria and NSW on most weekends. This year, we thought we'd celebrate the opening of the Aussie season by putting together the Ultimate Boy's Weekend, all hosted by QT Falls Creek. But what's a snow weekend (or an Ultimate Boy's Weekend, for that matter) without cruising up to the Victorian high country in style, mixed in with some serious off-road action? Luckily, we had Jeep Australia hook us up with their latest top-of-the-line luxury off-roader that's just hit Australian shores, the beastly Grand Cherokee Trailhawk, to get us up, back and slightly sideways along the way.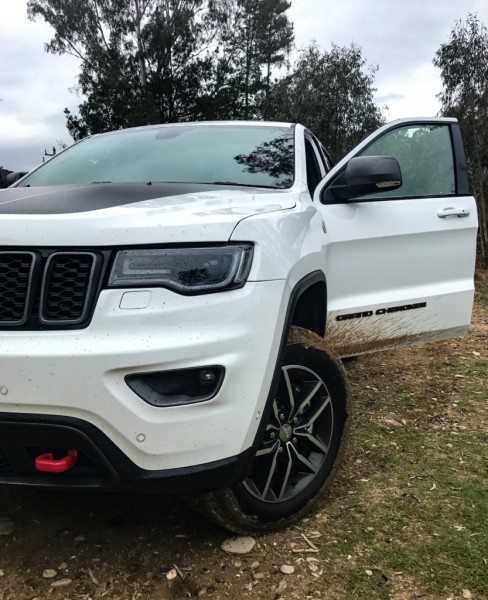 Picking up the Trailhawk on the Friday, the first thing that grabbed me was its appearance. Set in a crisp white, its daytime run lights menacingly staring back at me like the watchful eyes of a bird of prey, the model features a matte black bonnet decal that offsets the body colour perfectly and is aimed at reducing glare in off-road conditions. Subtle but classy matte red tow hooks and red lining across badges (paired with embroidery inside the car) complete the Trailhawk's stylish but aggressive exterior, setting it apart as the chief off-roader in the Grand Cherokee range.
"Despite riding on chunkier all-terrain tyres and coming kitted out for some serious adventuring, the Trailhawk's on-road performance is arguably what impressed us most."
Inside, the model is fully kitted out with ventilated Nappa leather and suede seats for maximum long-range comfort, a punchy nine-speaker sound system capable of handling any snow-bound playlist plus a heated steering wheel for those early morning sub-zero starts. Navigation built in to the 8.4-inch Jeep-powered touchscreen ensures the Trailhawk is as range-topping inside as it is out.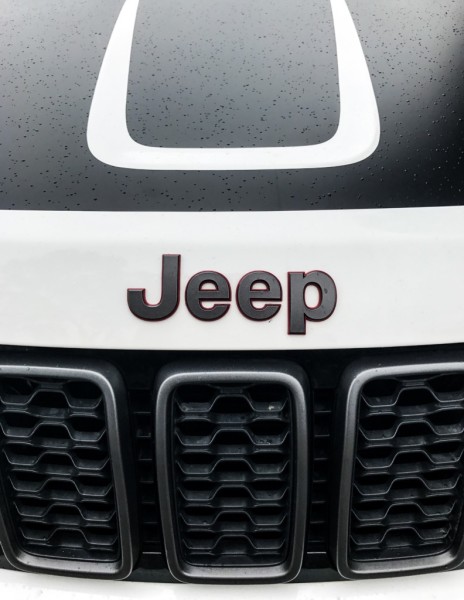 But it's not just presentation that makes the off-road hero that little bit more special among its peers; beneath its skin is a 3.0-litre V6 turbo diesel delivering a tourquey 570Nm rush from 2000rpm, endowing the ability to eat up everything we threw at it on the slushy fire trails en route up to Falls Creek. As well as chunkier underbody protection to help us get down and dirty, the smarter Quadra-Drive dual-range four-wheel drive system highlighted the model's all-terrain breeding, intelligently apportioning more drive to the wheels with traction through the muddier sections between Bright and Myrtleford. Assisting in these tricky portions was the Trailhawk's air suspension setup, boosting ride height from 205mm to a towering 260mm at the touch of a button and ensuring we never found ourselves too far outside our comfort zone.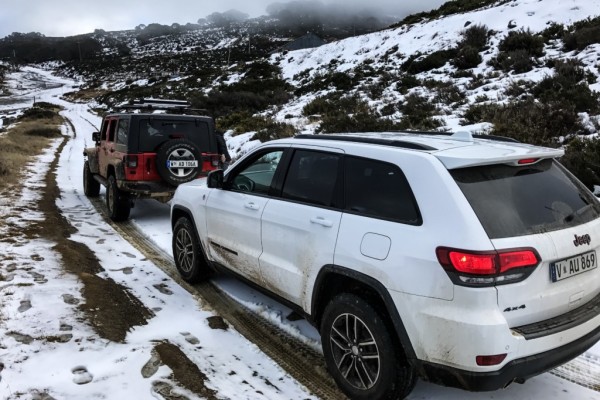 Despite riding on chunkier all-terrain tyres and coming kitted out for some serious adventuring, the Trailhawk's on-road performance is arguably what impressed us most. Its ability to balance off-road ruggedness with a comfort and confidence in regular conditions, from navigating bumper to bumper Melbourne traffic to highway driving up the M31, made us move it from the "let's test it for the weekend" category and into the tier of "I'd genuinely consider buying this." Its 8-speed auto, while set at a slightly shorter ratio to ensure the punchy torque needed in tighter spots while off the beaten track, seamlessly shifts across modes to keep the car poised and ready to go, wherever we found ourselves. While Australia will only (at this stage) be getting the Trailhawk in a diesel iteration, we see the logic as it offers significantly greater touring range, durability and toughness than its US-offered petrol brother.
On appearances, the spectrum of capability may seem slightly skewed more towards the on-road side of things in the Trailhawk but, after a weekend putting it through its paces in just about all conditions, its clear to see the all-terrain breeding truly makes up the fabric of the hero off-roader of the Grand Cherokee Range.
To find out what went down on our Ultimate Boys Weekend, check out our edit above or head over to our full report.
2017 JEEP GRAND CHEROKEE TRAILHAWK
Price: $74,000, plus on-road costs
Engines: 3.0-litre V6 turbo diesel
Power: 184kW at 4000rpm
Torque: 570Nm at 2000rpm
Transmission: 8-speed auto, four-wheel drive
Fuel use: 7.5L/100km