Take a step back for a minute and remember being eight years old. It didn't matter if you had a stick or a LEGO set – your imagination would run wild. You'd spend hours upon hours building your dream toys in the anticipation of the adventures you'd have with them. From the wild west to outer space, the possibilities were endless.
Over the past couple of months, the Brand-New Mazda BT-50 Thunder we've got parked in the Boss Hunting garage has been giving us the eyes. You know the ones. Daring us to imagine. What would we do with it, where would we take it, what amazing, off-the-beaten-track parts of Australia we could see with it. Places you're just not getting to in a hot hatch.
They say that boys never grow up, their toys just get bigger and seeing the endless possibilities of having a rig like this in the garage has shown us just how true that is. The folks at Mazda have already kicked our imagination into overdrive with the list of stock accessories on the BT-50 Thunder, however, if you're keen to take your dreaming to the next level, we've put together a hit-list of the must-have accessories to get your dual cab adventure-ready. From factory options to the odd aftermarket essentials, this checklist will have you conquering every inch of Australia.
---
---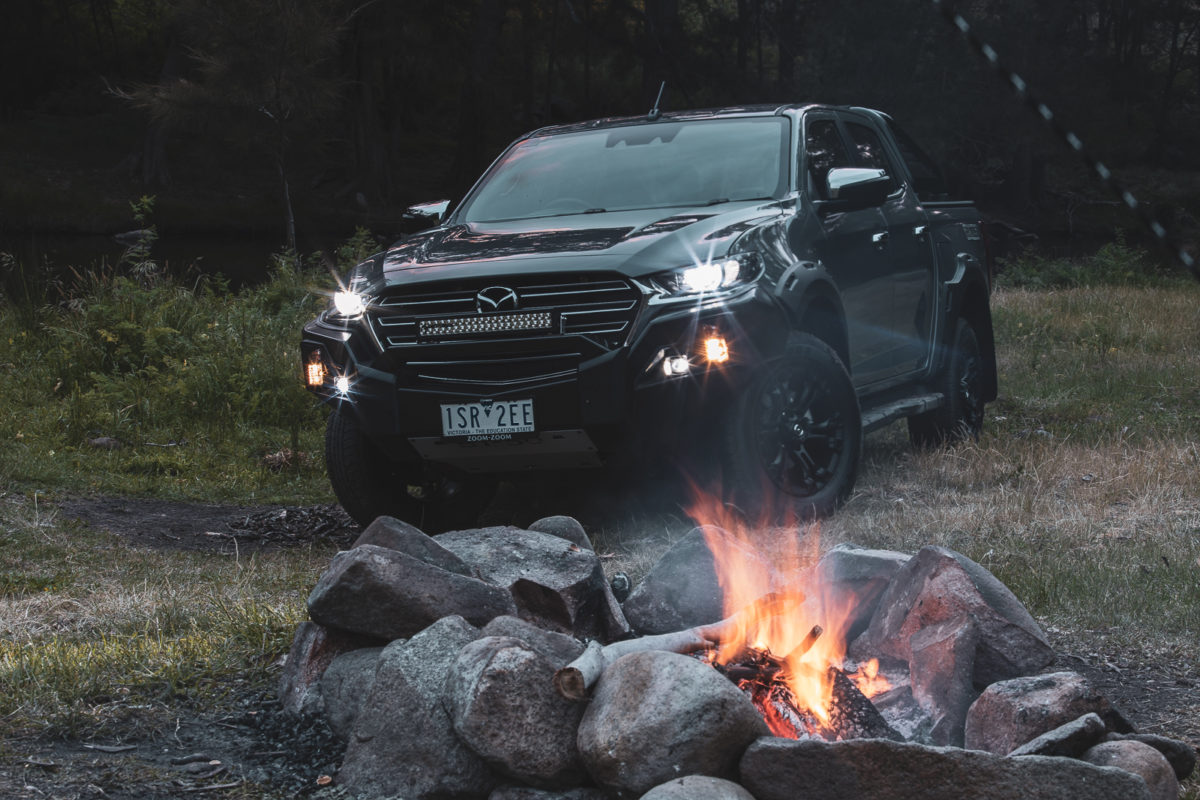 While the Brand-New Mazda BT-50 Thunder is as about a complete package as they come off the shelf, there's a handful of boxes worth ticking before you take delivery – especially if you plan on getting off the beaten track. We've crawled through the dealer options list and pieced together a quick shopping list that are both practical, and just plain nice to have.
Essential options worth ticking
Whether your aim is to keep the resale value up, or just to make your rig a nicer place to be, scuff plates inside the doors are really a smart way to keep your ute looking good. If you have fitted a Towbar and are towing anything over 750kg, our electronic trailer brakes is the best braking system you can get. An in-cab controller helps you dial them in perfectly and will look factory fitted.
Often overlooked, there's just no reason not to add the tailgate assist kit, which will make your tailgate feel as light as a feather – a must for those loading on the go. We didn't even know these were a thing but for just a couple hundred bucks the Mazda dealer can install LED work lights inside your tub making it easy to find what you're looking for. Finally, if you want to run a camp fridge all night you'll need a dual battery system, but even a basic power outlet in the tub will mean your fridge will be ice cold as long as your ute is running.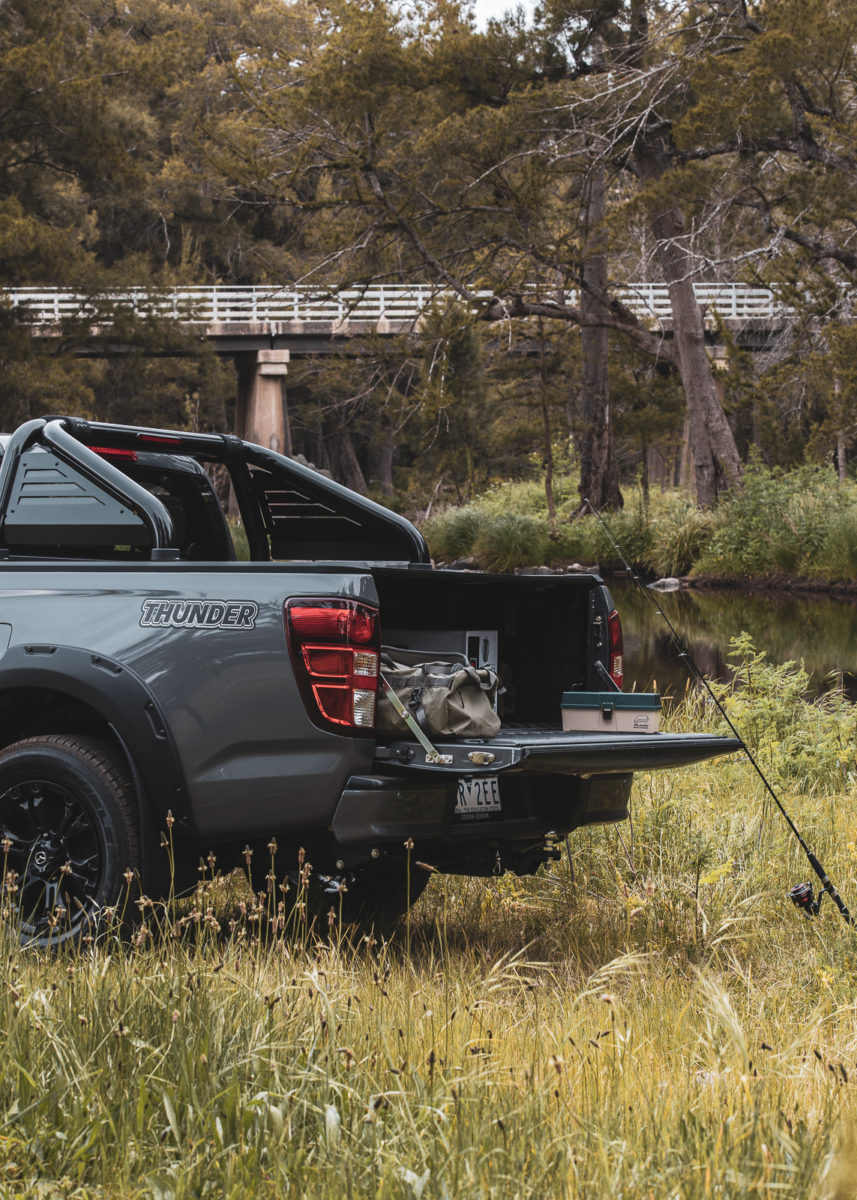 $5k in the kitty
If you're eyeing off a BT-50 Thunder like ours or considering a refit for an older rig, the first $5k of your budget is going to look pretty similar. It's all about beefing it up so it can take a few hits and making sure you don't get yourself into too much strife.
Modern dual cabs are pretty epic at water crossings already but for an extra $1,000 you can do incredible aquatic things in your pride and joy with a snorkel. If you plan on occasionally parting the Red Sea, it's also an option worth ticking.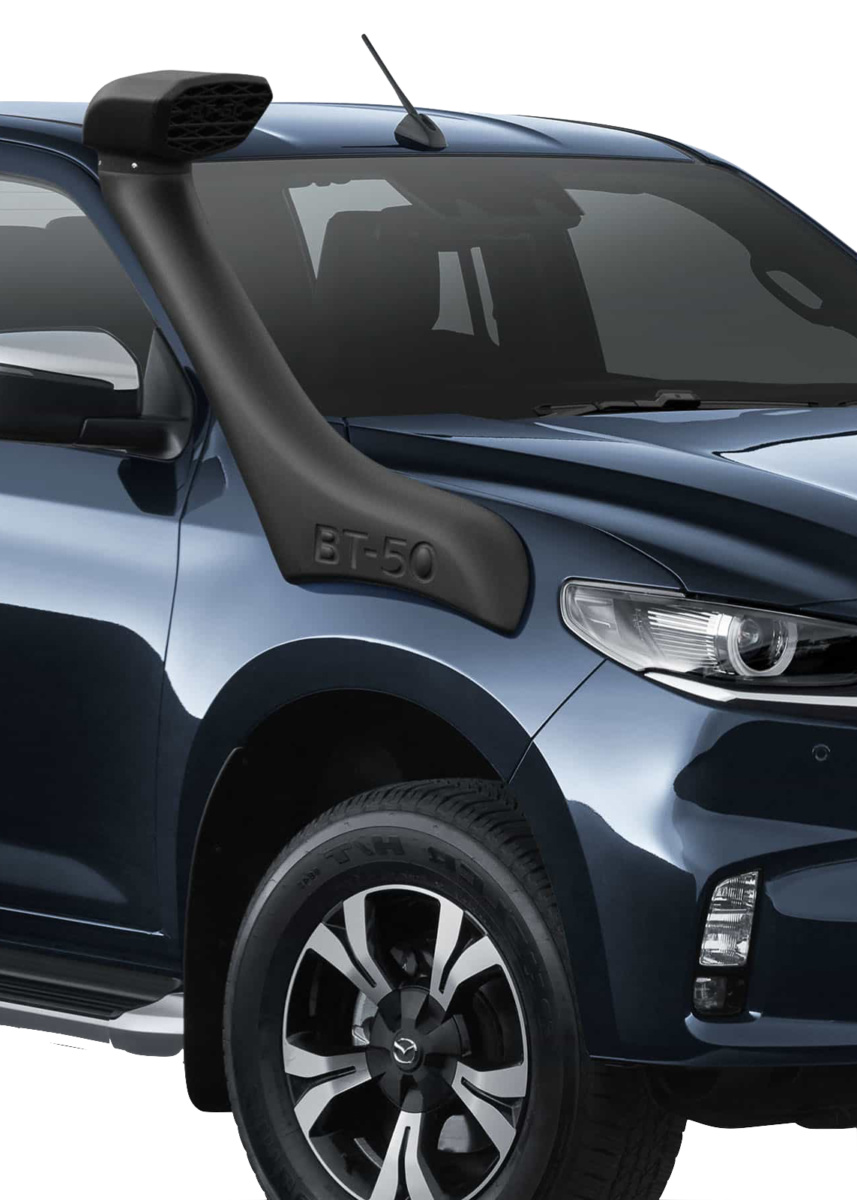 At the top of your priority list is always going to be a bull bar up front, and for a couple of good reasons. If you're travelling at night or well off the beaten track animal strikes are a real possibility. Bull bars armour up not only your sheet metal but your headlights and radiator as well. You can expect to pay around the $3,000-$4,000 mark for a bull bar supplied and installed. The BT-50 Thunder comes with one standard, or you can get one factory fitted to your regular Mazda BT-50 if desired. The dealer will make your life easier with warranty, too, and you'll be good to go from day one.
$10k in the kitty
The first round of upgrades we've made to our utes have not only made them more capable off-road, but have made them more practical tools to have around the house. Our next round of tweaks are really going to turn that practicality up.
---
---
The Brand-New Mazda BT-50 Thunder runs a solid set of road-biased Bridgestone Dueler H/T tyres and a rear locker from factory standard, so that means the only thing that can stop it off-road is the tyres not holding up their end of the bargain. More aggressive All Terrain or Mud Terrain tyres are worth trading a little on-road comfort and noise for a little more off-road ability. Have a think about your needs, and budget, because a top shelf set will set you back $2000-3000. A small price to pay for unlimited confidence.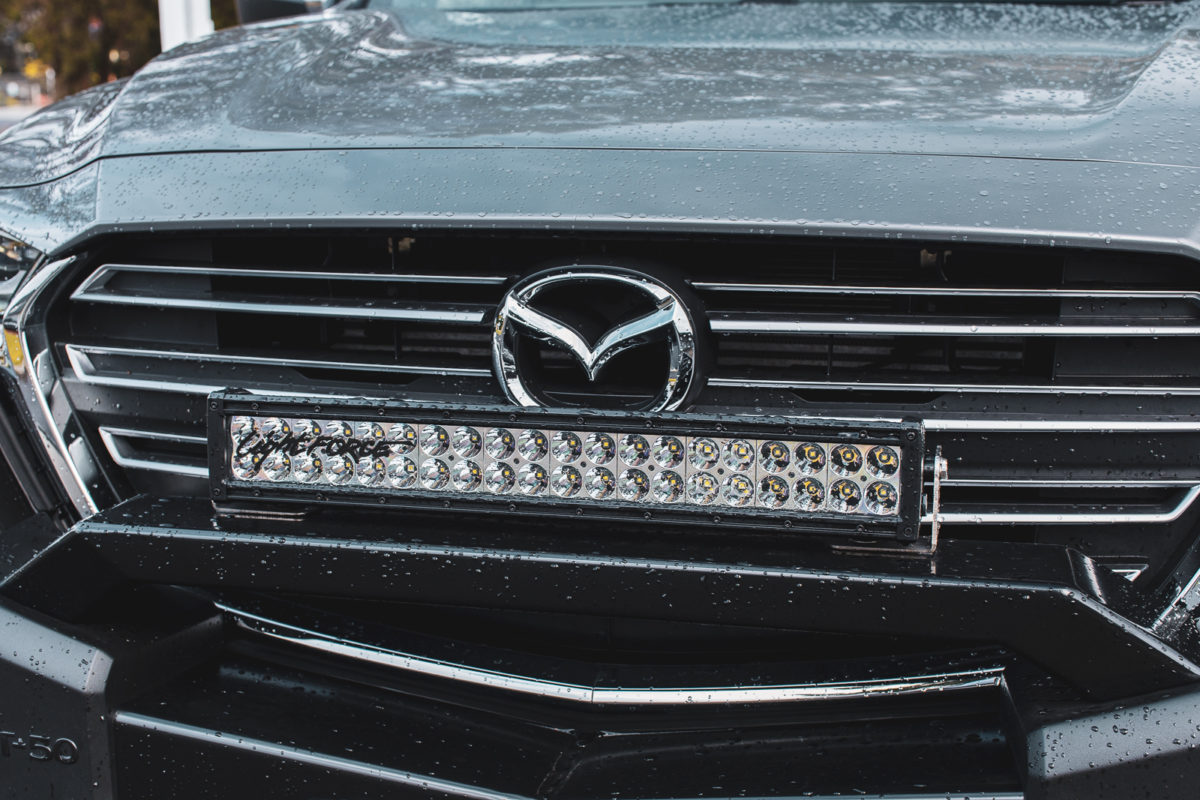 Following rubber, head up to the front and fit a set of driving lights to that bull bar. BT-50 Thunder owners can enjoy a pre-fitted LightForce LED high-beam driving light for seriously remote travel. A setup such as this can light the road up like daylight up to a kilometre in front of you, so your eyes are straining far less, and you're far more likely to spot any wayward kangaroos hanging around next to the road before they give you grief. The Brand-New Mazda BT-50 is too pretty for a punch in the face.
Lastly if you intend to spend any loose change on anything else, it's got to be a dual battery setup. If you can't option it from new, an aftermarket unit will set you back between $1,000-$2,000, perfect for the 12V fridge to keep the camp beverages chilly.
Finally, if you're planning a rough and rugged journey and want to keep your BT-50 Thunder tub spotless, it's worth considering swapping it out for a flat tray in steel or alloy, which is far less likely to get damaged when you tip it into a dirt embankment on your adventures. Expect to spend around the $2,500-$5,000 mark depending on your preferences. When you get back to the city, swap your secure and stylish tub back in.
The Big Spender
You must be feeling pretty proud of yourself by now. Friday afternoon with the BBQ going, a cold drink in your hand looking at an absolute specimen of a BT-50 Thunder parked in the driveway. It looks a million bucks and goes twice as good on the job site and the campsite. Talking about campsites, a set of roof or tub racks will be required to accommodate a luxury tent setup from the likes of Feldon Shelter, taking the hassle out of pulling up late at night.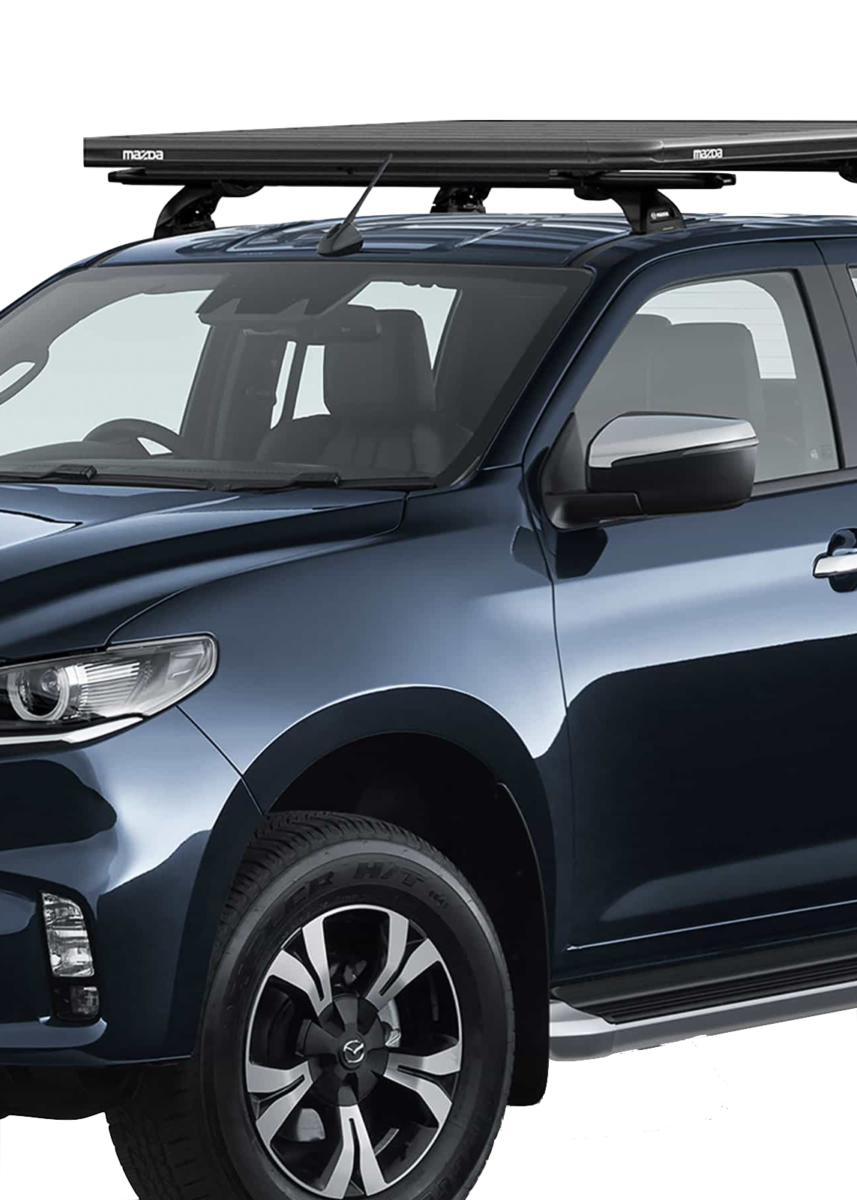 So what's next? Well, with a bull bar protecting you up front, it's time to worry about your sill panels. The factory side steps are tidy little numbers for getting in and out of your rig, but they're not going to hold up to too much abuse off-road. A pair of heavy-duty rock sliders will give you peace of mind when the track turns pear-shaped.
Finally, a 40-50mm suspension lift is going to increase your ground clearance and load-carrying ability if you're doing serious work. It'll also give you some room in your wheel arches to slot in a size or two bigger mud tyres making your rig an animal off-road and the envy of all the other blokes at the boat ramp. Just have a yarn with your dealer before you fit up too much gear, it'll make life a lot easier on the warranty front, and Mazda has plenty in that department.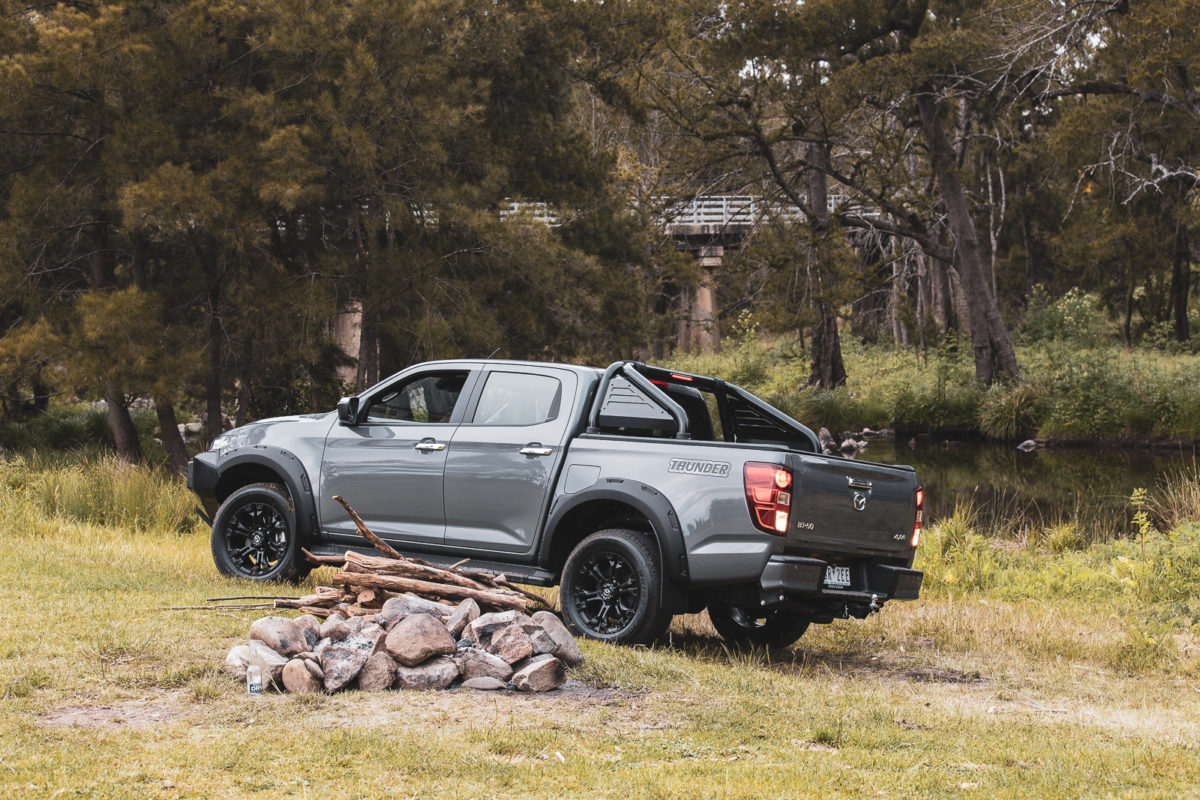 This article is proudly presented in partnership with Mazda. Thank you for supporting the brands who support Boss Hunting. 

NOTE: Some of the accessories featured in this article are aftermarket, thus compatibility with the BT-50 Thunder will need to be checked.