If 2017 wasn't the year Jaguar Land Rover became an undeniably dominant force in the automotive industry, then 2018 will most certainly be it. Coming hot off the launch of the stunning Velar, and the F-Pace becoming the fastest selling Jaguar in the brand's history, it appears Jaguar Land Rover can do no wrong. And with the impending local launch of the E-Pace, all electric I-Pace and the unveiling of the Range Rover SV Coupé at Geneva in March, as well as the all-new Defender on the horizon, there's no doubt in my mind that both brands will command lofty positions atop the wish lists of excited buyers in Australia.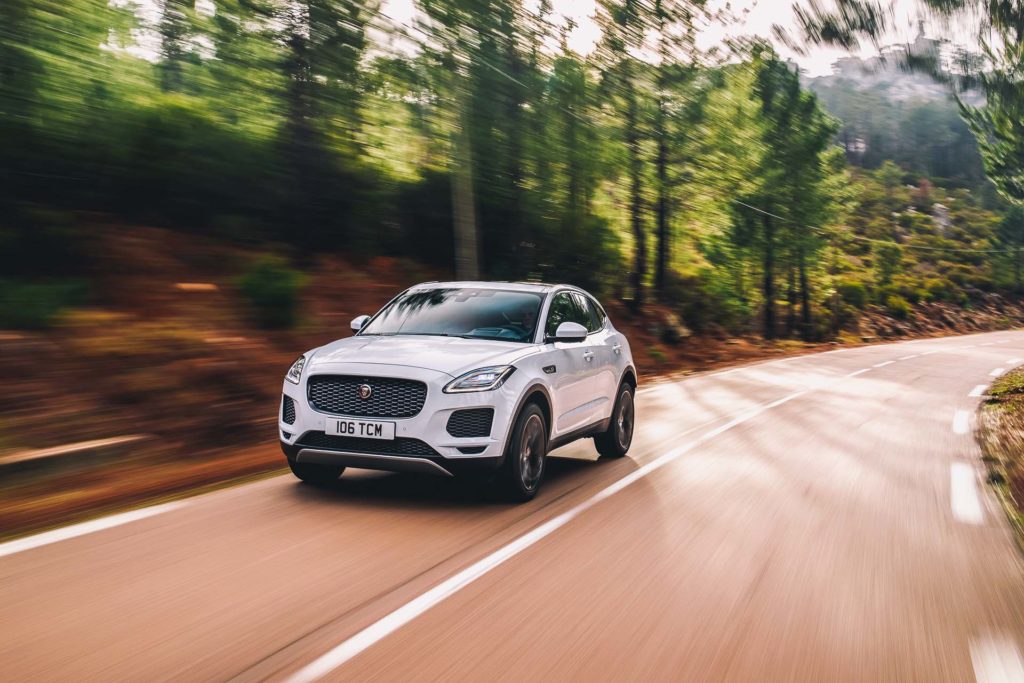 With Jaguar recording a meteoric rise in sales thanks to their World Car of the Year winning F-Pace SUV, it only made sense to introduce a sportier, more compact, more affordable model, and launch it in the middle of the Tyrrhenian Sea on the enchanting island of Corsica.
And what does such a launch entail you might wonder?
---
---
Media groups from all over the world arriving in Paris on Business class flights, overnight stays in luxurious accommodations, Range Rover transfers, charter flights to Mediterranean islands, endless food and booze and the chance to drive the brand new Jaguar E-Pace on one of the most fantastic stretches of road on the planet.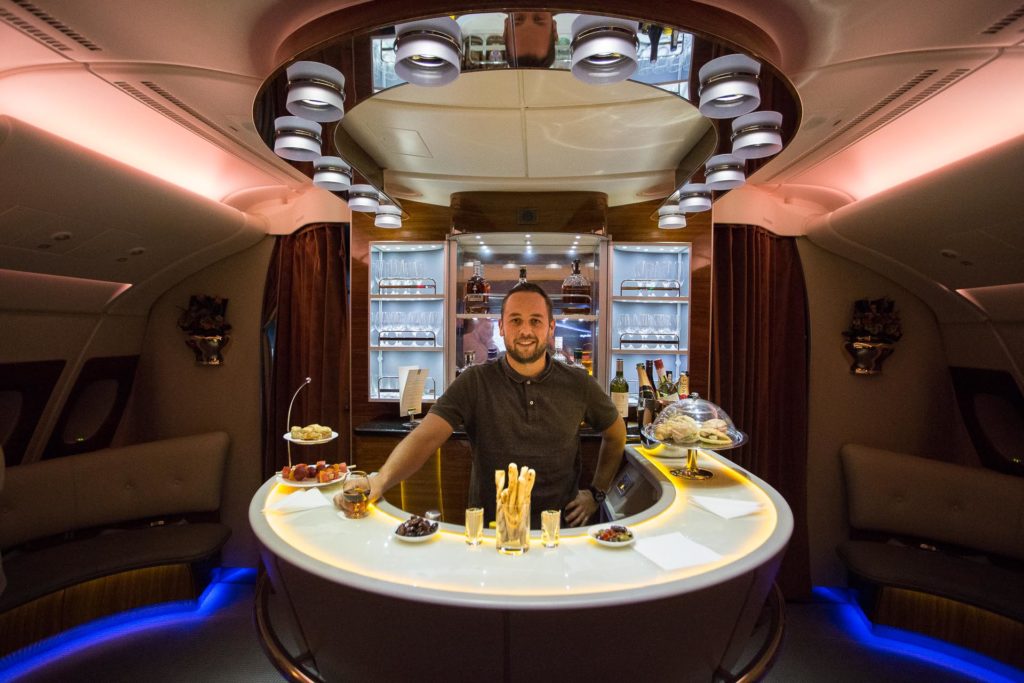 It doesn't just sound good; it sounds incredible.
It was. And it needs to be.
Because to excite the consumer, the brand must first excite those who judge it. In this case, a handpicked selection of Australia's top motoring journalists, and myself, with an aim to attract the lifestyle buyer – brand aware, young, stylish, ambitious, and active.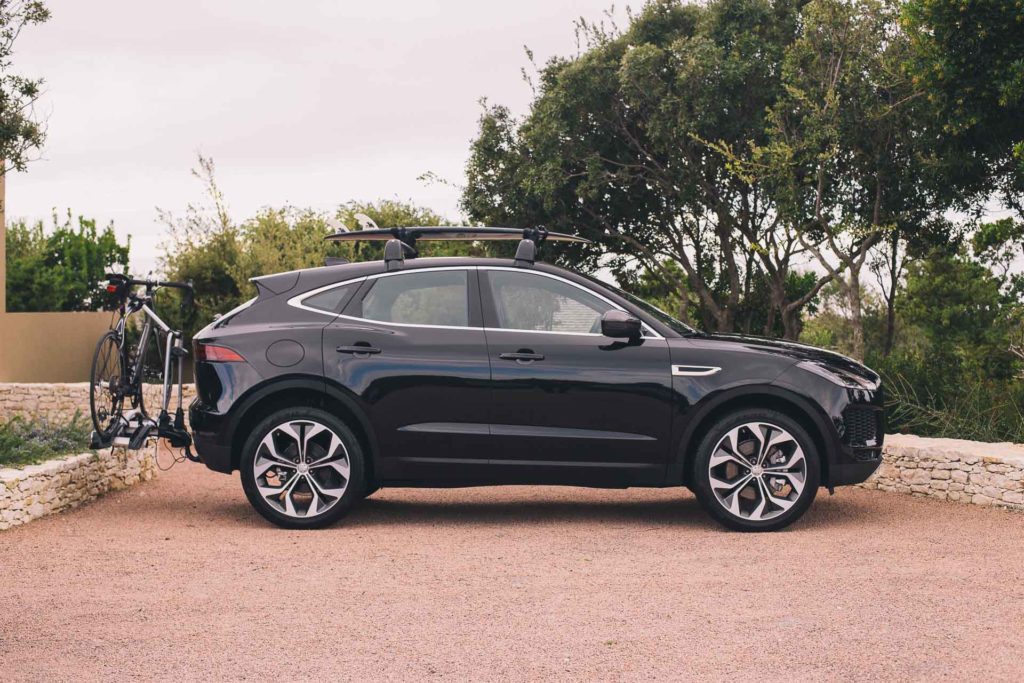 To say Jaguar impressed me is an understatement, and it wasn't just the no expense spared launch. Jaguar built initial E-Pace hype by using the car to perform a Guinness World Record Barrell Roll, with a party to celebrate the successful completion. They also commissioned a favourite artist of mine, Chris Labrooy, to deliver a series of digital illustrations and graphics to further bring the Jaguar E-Pace to life.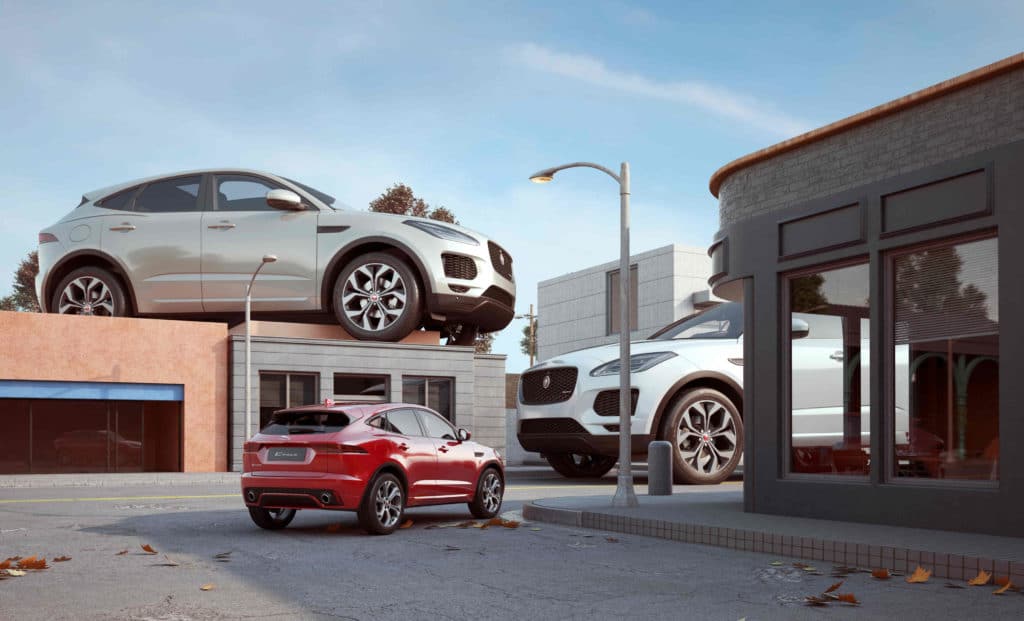 And if this wasn't enough, photographed the E-Pace on location an used it as a vehicle to tell the stories of local artisans and craftspeople delivering it in a handsome hardcover take-home book. It appeared that every aspect of bringing the Jaguar E-Pace to market had been considered, and I was charmed by all of it, even before I drove the car.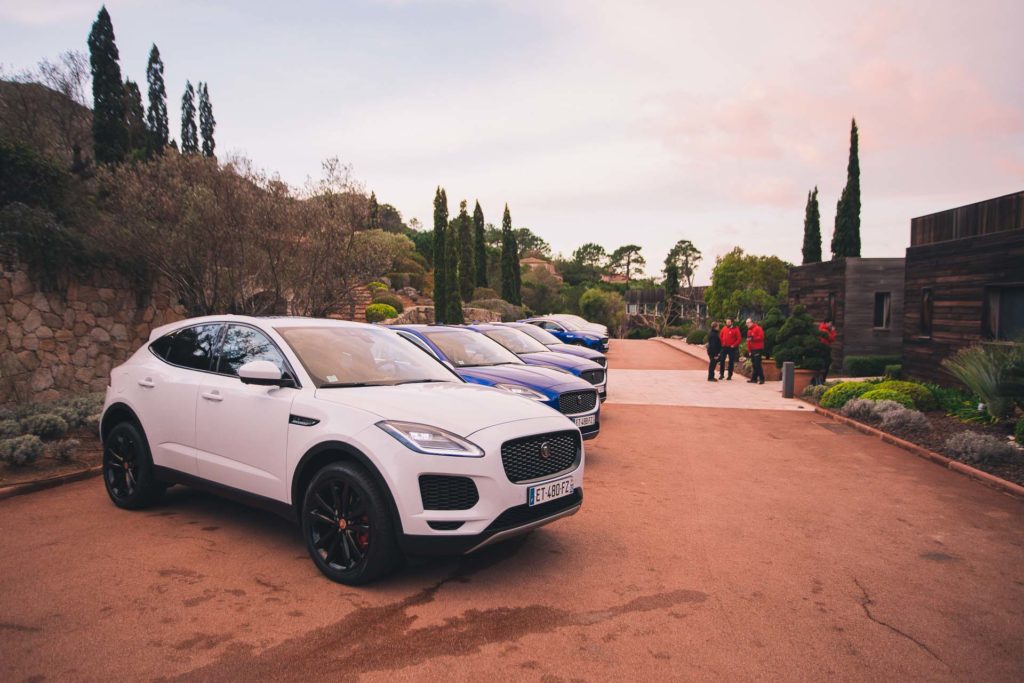 After a rocky ride into the island and a diversion that cost us three hours of driving on the first day, we piled into a fleet of E-Paces with the town of Zonza on the GPS, 80km of winding roads away, kicking things off in a Yulong White E-Pace S D240. E-Pace Buyers will have a choice of the baseline E-Pace or a sportier looking E-Pace R-Dynamic which provides a subtle body kit, sports seats, steering wheel paddles, front fog lights, tailpipe finishers and a handful of other interior and exterior enhancements. The differences aren't dramatic, but once you're aware of them, it's clear they enhance the car visually. Whether it's worth the extra $4-6k, is entirely subjective.
---
---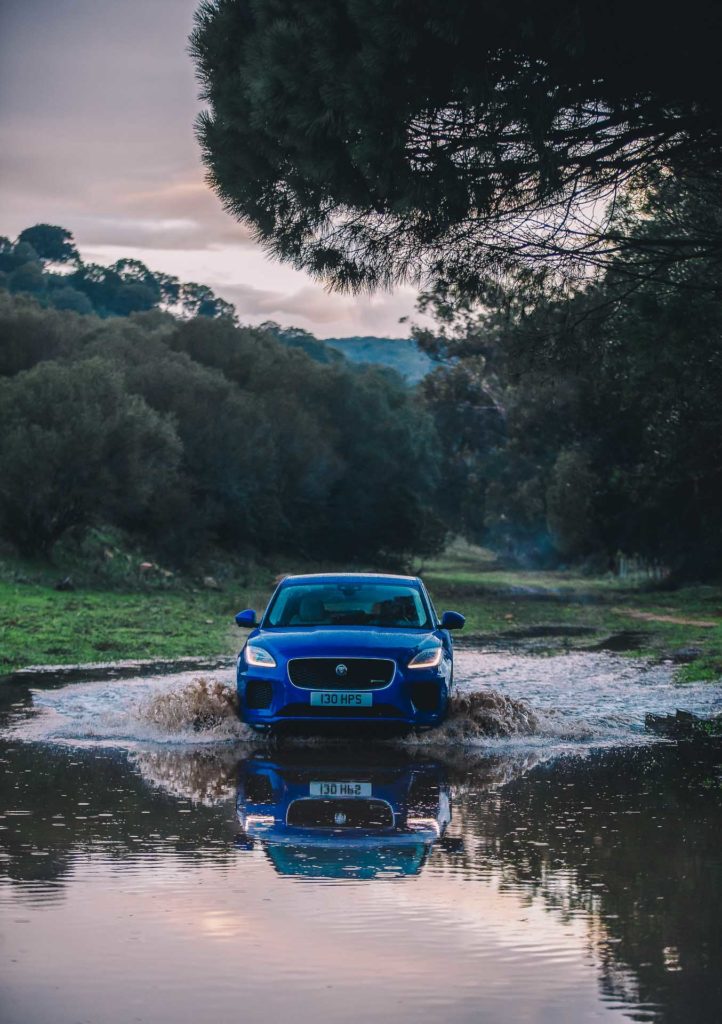 From there, Land Rover's familiar S, SE and HSE specification packs are introduced depending on your features wish list. Interestingly, we didn't drive anything but second tier S spec models, and they were all lovely, optioned with an array of extras like the Panoramic sunroof and JLR's famous Black Pack and Meridian Sound. As usual, it's a bit of a jungle, so I suggest working out what you want and looking at their individual costs next to what's included in the price of a higher spec SE or HSE model.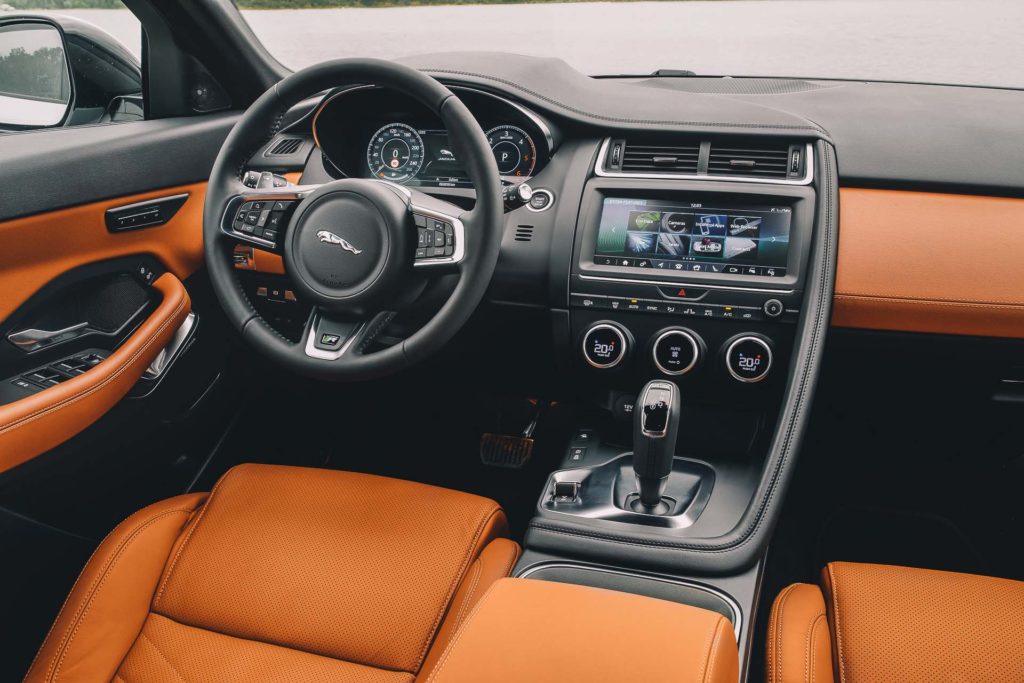 The most significant E-Pace call you'll have to make is in the engine bay because both the 177kW D240 (240HP) diesel and 221kW P300 (300HP) petrol units we sampled are cracking options with a marginal difference in price, and personally, I'd be sacrificing specification packs in favour of engine choice. Both engines variants debut Jaguar's new 'Active Driveline' all-wheel-drive system which gives the car a sportier rear wheel drive feel under normal conditions and can transfer almost all the power to the rear wheels when you're giving the Jaguar E-Pace a crack.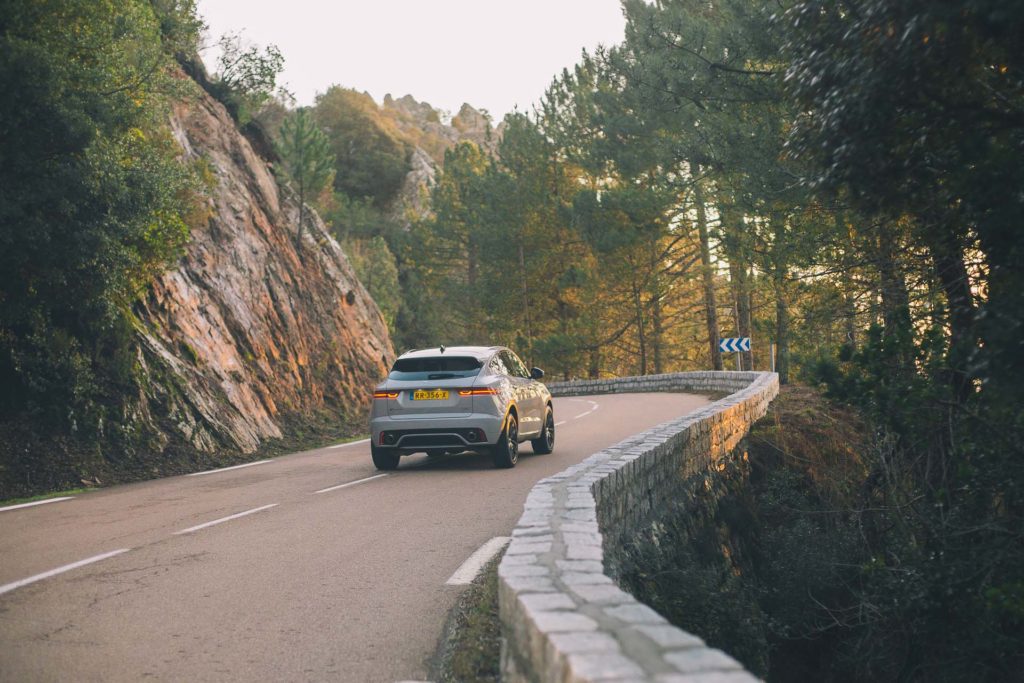 I didn't push the D240 as hard as I would have liked too but managed to get a spirited uphill drive under the belt before Rich took the reigns for a fantastic stage through the mountains. I sang the praises of the new Ingenium diesel when I tested the Disco Sport, and this 177kW variant is at the top of the spectrum equipped with sequential turbochargers producing a substantial 500Nm of torque. At times we found it a little laggy, but we were driving it like a sports car, not like a compact SUV. I kept having to remind myself we were in an SUV, which is a credit to the job Jaguar of done blurring the line between the two. Out in the open, the D240 with its nine-speed transmission was a pleasure, smooth, powerful, quiet, efficient and extremely capable.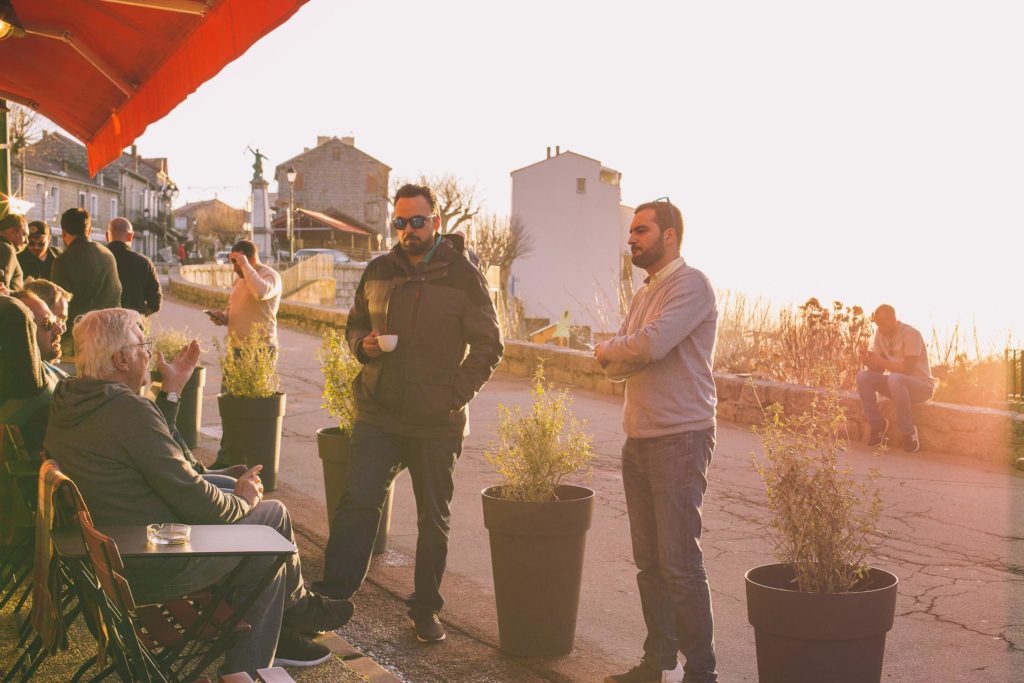 The next morning I found myself at the wheel of a Caesium Blue R-Dynamic P300 as we turned onto a death-defying stage of The Tour de Corse Rally, and quickly found out just how enjoyable the E-Pace could be. The petrol engine offers incredible amounts of low-end torque to propel you out of corners, and with the car's Dynamic mode engaged, the steering and throttle response work in absolute harmony with the Active Driveline system – which is a superb piece of engineering might I add.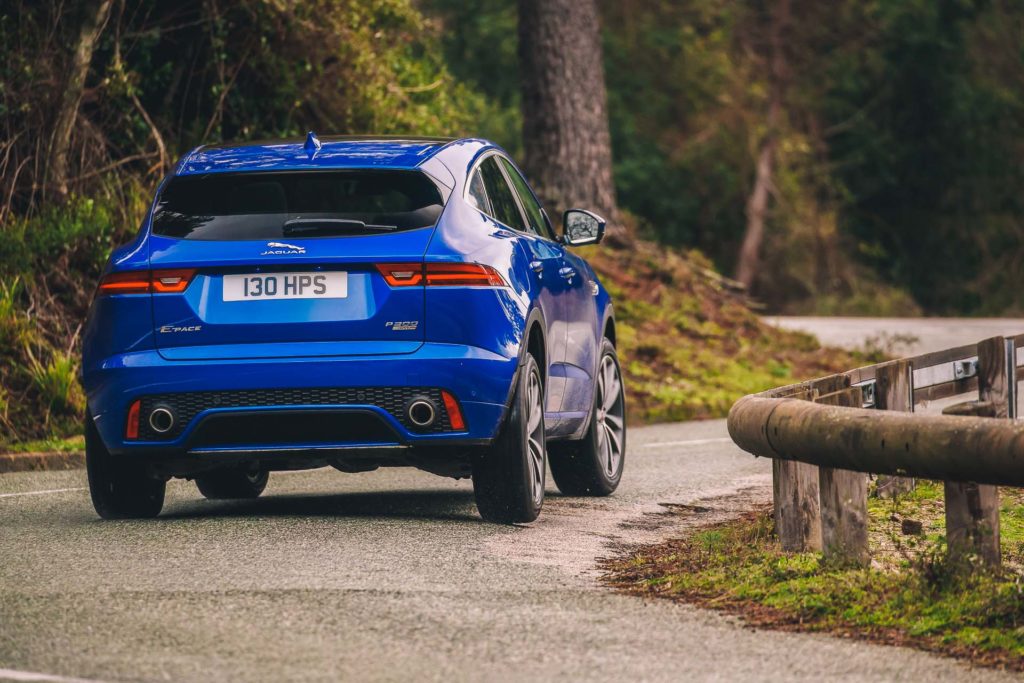 I was sliding the E-Pace around corners, and it was as if the car was egging me on, and I couldn't stop smiling. Even under heavy braking, the E-Pace remained stable and composed, ready to be tucked into whatever turn lay head. The only issue I had was that the seats weren't sporty enough to hold me in! I think it's safe to say it was the sportiest drive I've ever done in a Sports Utility Vehicle.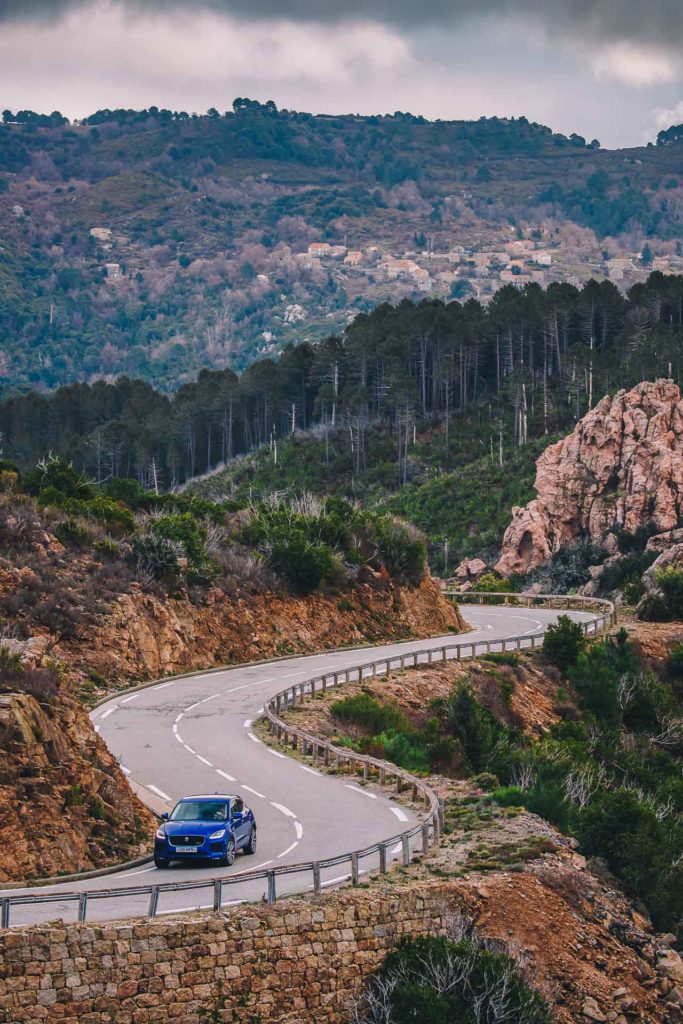 What's so compelling about this package is that on top of thrilling performance, you get practicality! Space for five adults with comfortable back seats and plenty of headroom, a huge adaptable centre console, a 577-litre boot or 1141 litre space with the rear seats folded down and a towing capacity of 1,800kg. There are heated front seats, a 4G Wifi hotspot, a waterproof and wearable 'Activity key' for keyless entry, and more USB ports than you can poke a charging cable at. Buyers will also be lured by Emergency Braking technology with pedestrian detection and an innovative pedestrian airbag, to handle a worst-case scenario.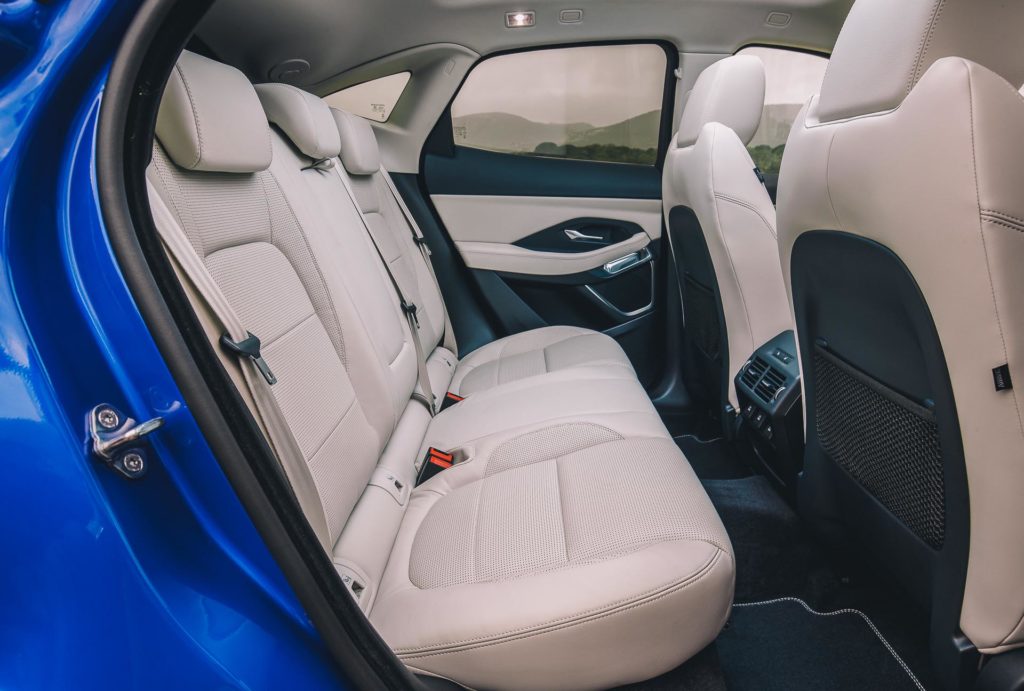 To cap it all off, the E-Pace is lush to be in and it looks great, taking design cues directly from the F-Type with tapered rear windows and muscular haunches giving it a powerful presence on the road. Personally, I think it's the best looking car in its class.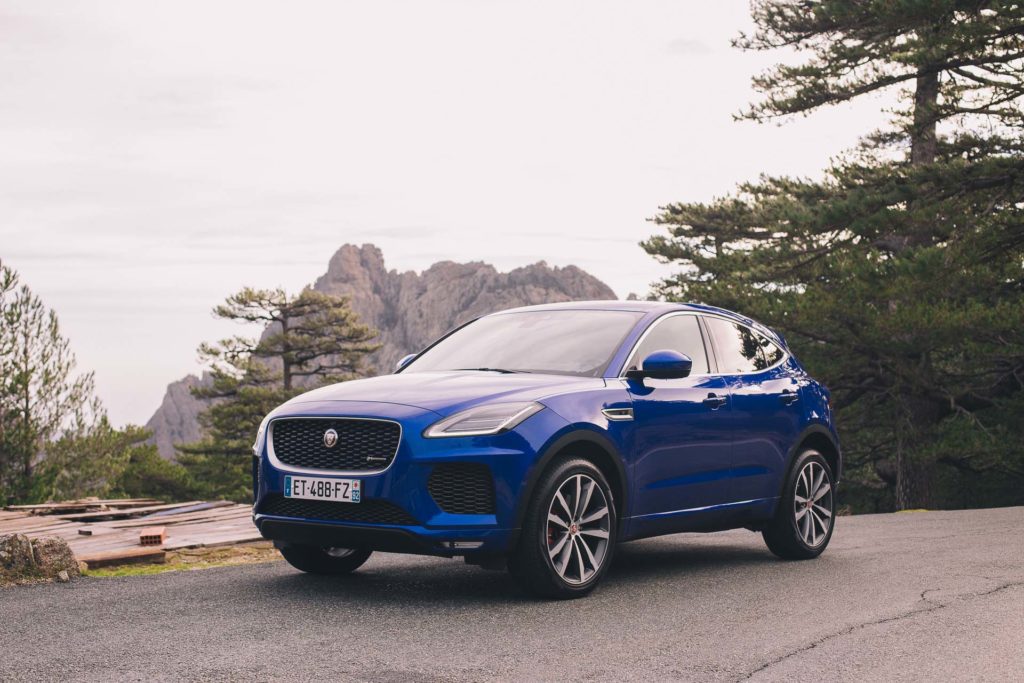 With a wrap sheet like the one I've just described and a price of $64,020 for the E-Pace S D240 and $70,226 for the E-Pace R-Dynamic S P300 (plus on-road costs), the E-Pace is going to be a formidable contender, if not the undisputed champion of the small luxury SUV segment, a segment it may well redefine once people realise how rewarding it is to drive.
---
---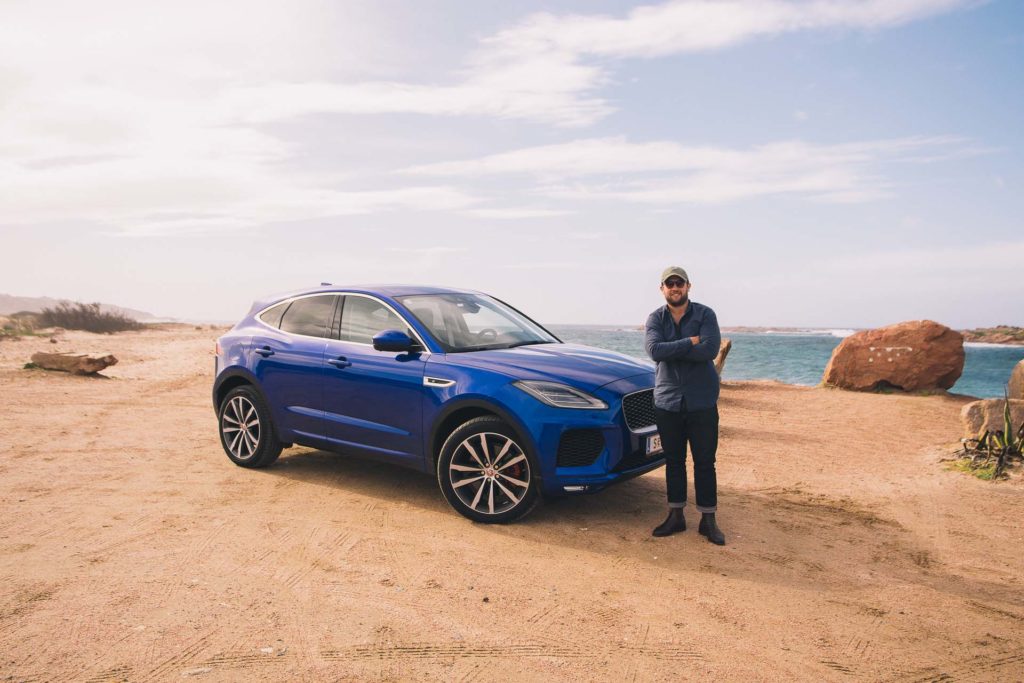 The E-Pace will arrive on Australian shores in March. Head to Jaguar for more information and stay tuned for a little clip from my trip!
If you want to learn how to best spec out your E-Pace, head here.