Hoonicorn vs The World is coming back to YouTube for season 2, though not without a few changes. In terms of the car itself, Team Hoonigan have added paddle shifting to the SADEV sequential transmission, bars to the roll cage, a new halo bucket seat, prototype VF503 wheels from American Racing, an all-new livery, as well as "a few 'beep boops' to give it a little more go." In terms of the driver, the famed 1,400 horsepower Gymkhana Mustang won't be piloted by Ken Block – it'll be his 14-year-old daughter, Lia Block, behind the wheel.
Before you get up in arms about a minor being handed the keys to such a beastly rig, we just have to say: relax. Aside from her status as motoring royalty, Lia Block is far from your ordinary 14-year-old. At the same age when kids in just about every continent aren't even eligible to apply for their learner's permit, young Lia was already learning how to drift in Ken's 1978 MK2 Ford Escort from Vaughn Gittin Jr himself. A few years prior, at the spritely age of 11, she was earning podium finishes driving UTVs in the Lucas Off-Road Racing Series.
"I hadn't planned to race the Hoonicorn again since my contract with Ford expired at the end of 2020, but at the same time, Lia was taking a very serious interest in racing," says Ken Block.

"So the stars just aligned to make this opportunity happen. We got to keep a Block in the Hoonicorn… just a different Block."
---
---
RELATED: The Real-Life 'Halo' Warthog Packs 1,060HP
"The first time I got in that car, I was scared I would not be able to drive it – because that thing wants to kill you," admits Lia Block.
"They were trying to figure out who was going to drive the Ford since [Ken] couldn't, and when they asked me, I was like, "I dunno!" It happened very, very fast."
"It's not like we threw her in this car with no skills," reassures the elder Block.
"We have been able to build this toolbox of skills that she has now been able to apply and get more experience."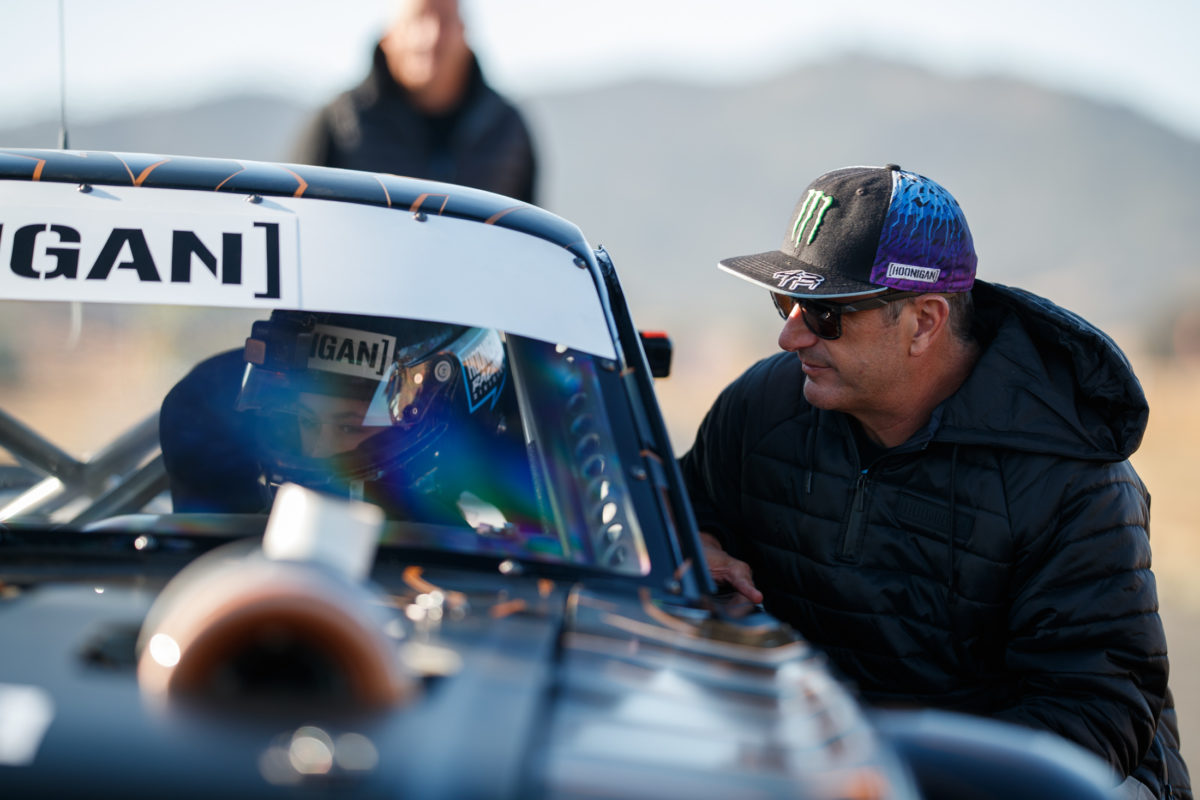 Lia's first challenger is none other than US Nationals NHRA champion Alex Laughlin in his ridiculous 4,000-horsepower Pro Stock Hemi C6 Corvette (see: below). In coming episodes, she'll burn some rubber drag racing against other rather zippy whips like the Tesla Model S Plaid, as well as one of the world's fastest Nissan GT-Rs. And by all accounts, beyond Hoonicorn vs The World, Lia Block intends to pursue a rally driving career.
"Rally is definitely really fun – I've always loved the dirt," she tells Bloomberg.
---
---
"Physical and mental endurance, as well as picking racing lines, reading maps, patience, aggression, and regulating fuel levels, are all of critical importance."
I guess you could say this makes Lia – snickers – a chip off the old Block.
Check out the first episode of Hoonicorn vs The World featuring Lia Block now.