'As one door closes another opens' the saying goes. When Holden closed the doors on its car making late 2017, most believed it was the end of the road for an Aussie favourite; the affordable, high-performance sedan. However, around the same time Kia arrived and kicked the performance door wide open with their game-changing sledgehammer called the Kia Stinger 330S.
Great name and it packs serious mumbo; 272kW/510N from its 3.3 litre V6 with not one but two turbochargers.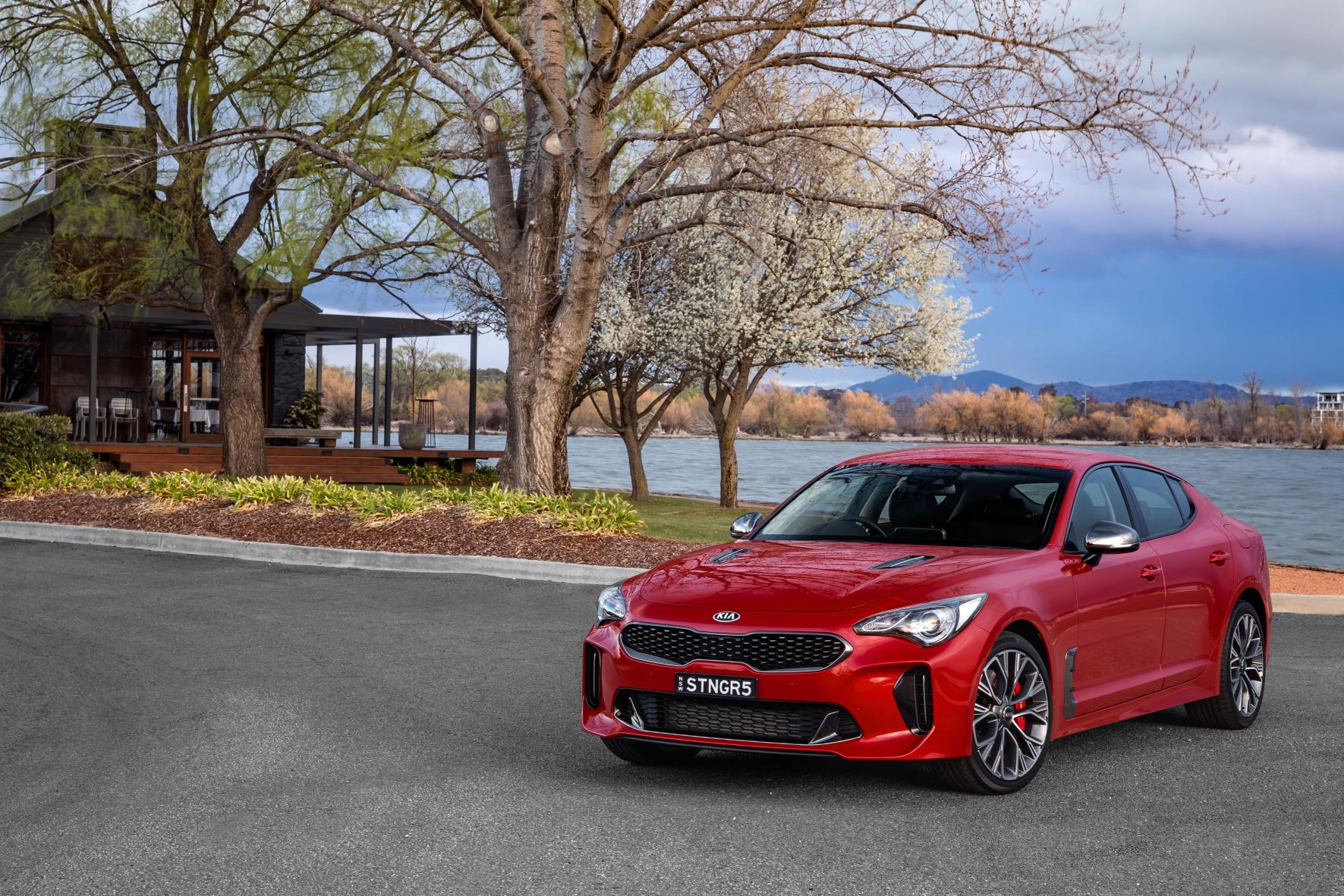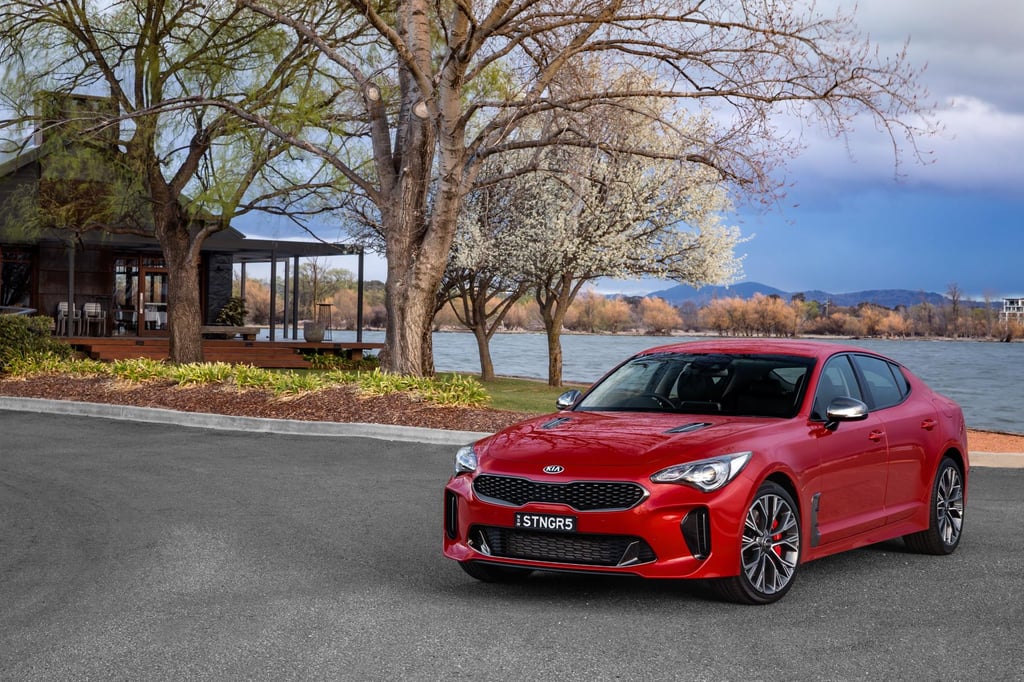 Zero to 100km/h is done in under five seconds, making it quicker than the last hot V8 Holden, the SSV Redline.
Best of all, it's under fifty-grand, making it amazing bang for your buck.
We spent a week getting to know the Kia Stinger 330S, the $48,990 entry model of the V6 bi-turbo range and stunning performance aside it's a typical Kia, meaning it's well-built, and loaded with tech, features, safety and creature comforts.
And does it turn heads! Many who took a look smiled or raised an eyebrow when they saw the Kia badge as most were betting it was a new Mercedes, BMW, VW or Audi at first glance. That's not entirely surprising considering the Kia Stinger designer and chief engineer cut their teeth at Audi and BMW respectively and the Stinger's primary target is Europe.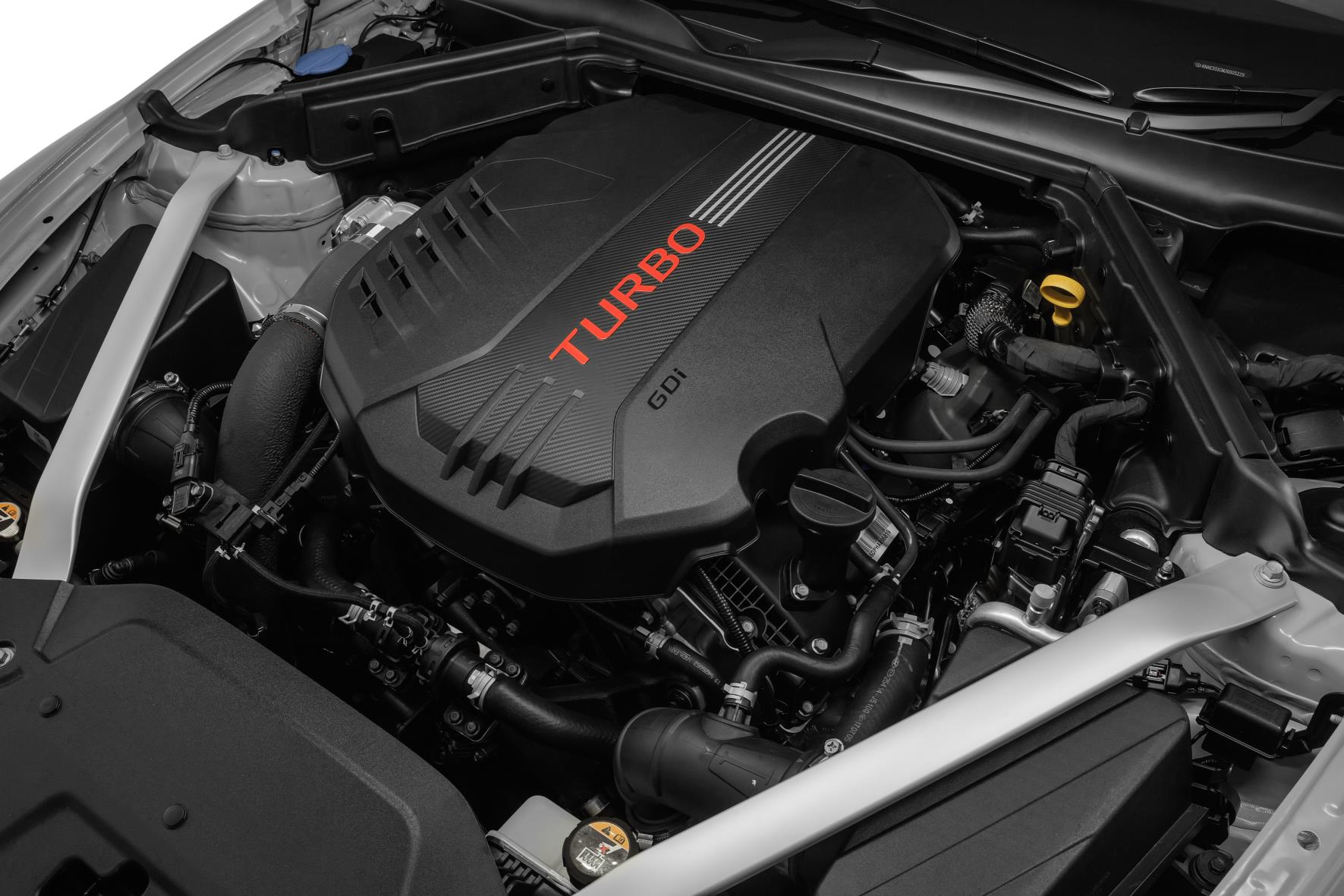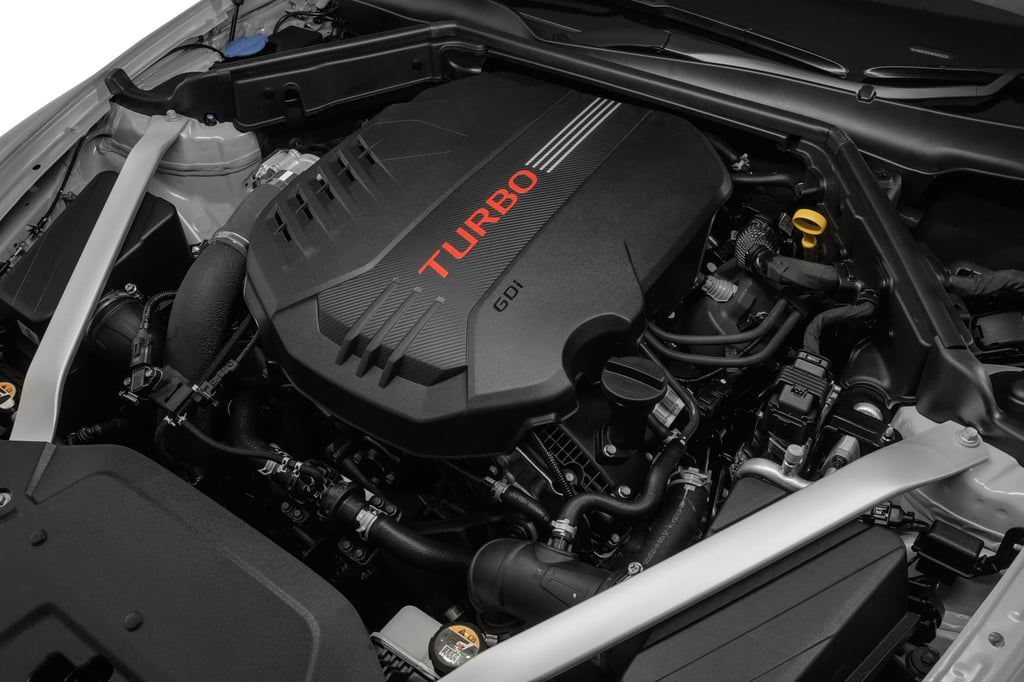 According to Kia, the Stinger's styling inspiration comes from the Gran Turismo fastback classics of the 60s and 70s.
Everything about the Kia Stinger S exterior shouts power. It's aggressive and muscular with a low-slung roof, long bonnet and broad stance.
It sports the Kia signature grille and has large air intakes under the front bumper. More vents are found in the wide front guards, plus two (blanked off) on the bonnet. A distinct waistline runs along the car's flanks, and its bulging rear guards taper inwards at its tail. Under the rear bumper a diffuser has four large exhausts neatly exiting and under the guards are 18-inch alloys tailored with low profile Conti Sport tyres that partly conceal the meaty discs and red Brembo brake callipers.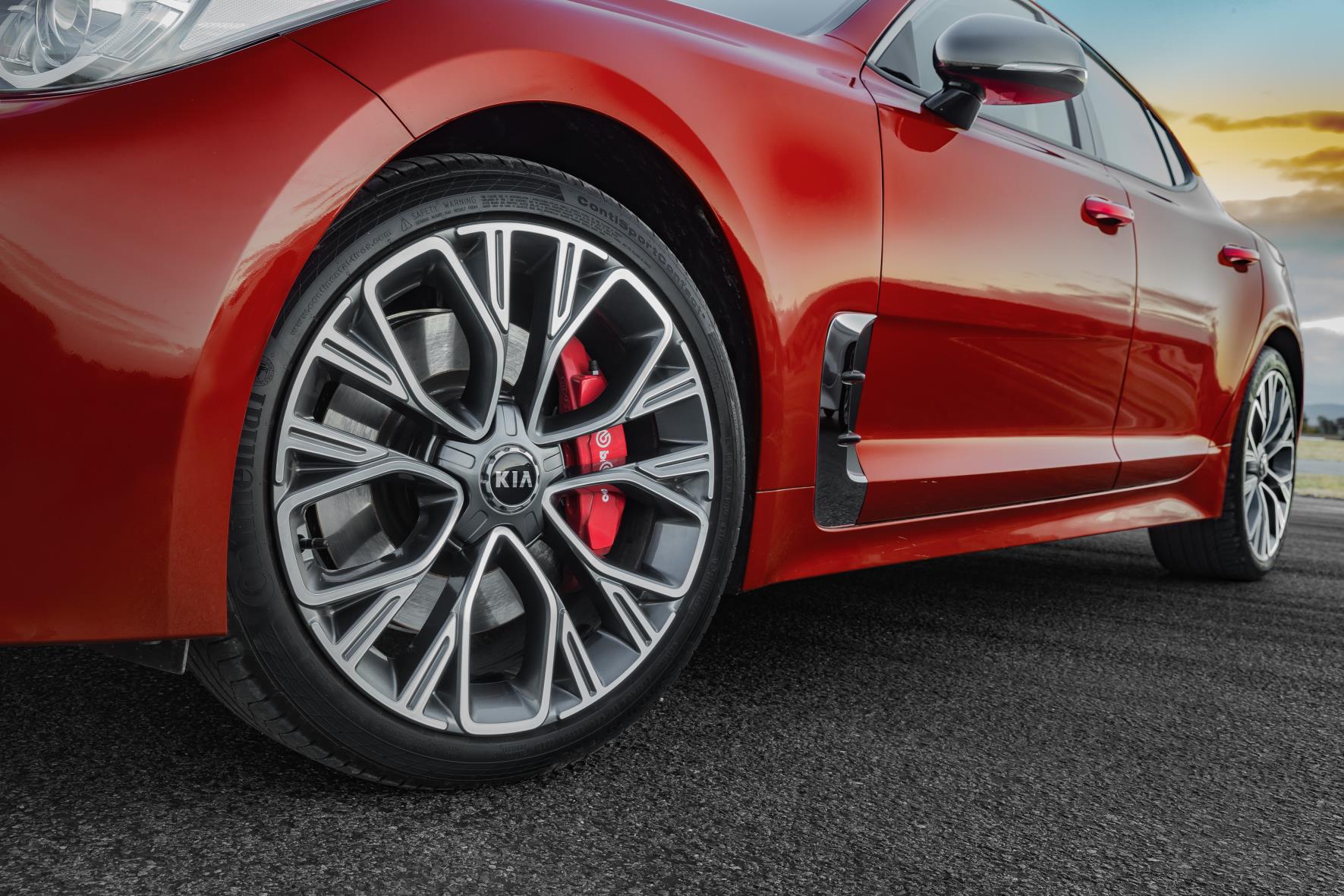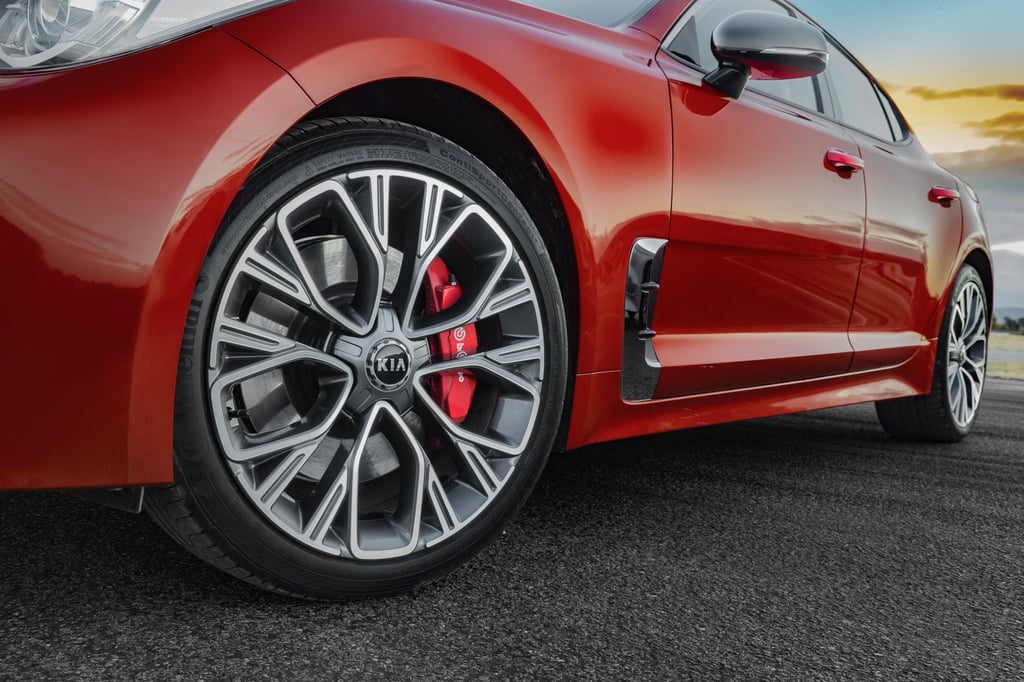 Heavily angled front and rear glass separate the swooping Gran Turismo roofline. I think it looks fabulous and yes, very European.
Inside the Kia Stinger 330S, the cabin is a classy upmarket affair and comfortable for four adults and five on short journeys. Although it's impossible to pick from the real thing, faux leather is flung over the super comfy and supportive seats, the driver's getting electric adjustability.
The centre dash houses controls for the powerful air con and rich, full sounding audio system, plus the three large round air vents, that remind me of the C-Class Benz.
Integrated into the centre dash is the 7-inch infotainment touchscreen featuring a reversing camera with guidelines, Satnav, Apple Car Play, Android Auto and digital radio.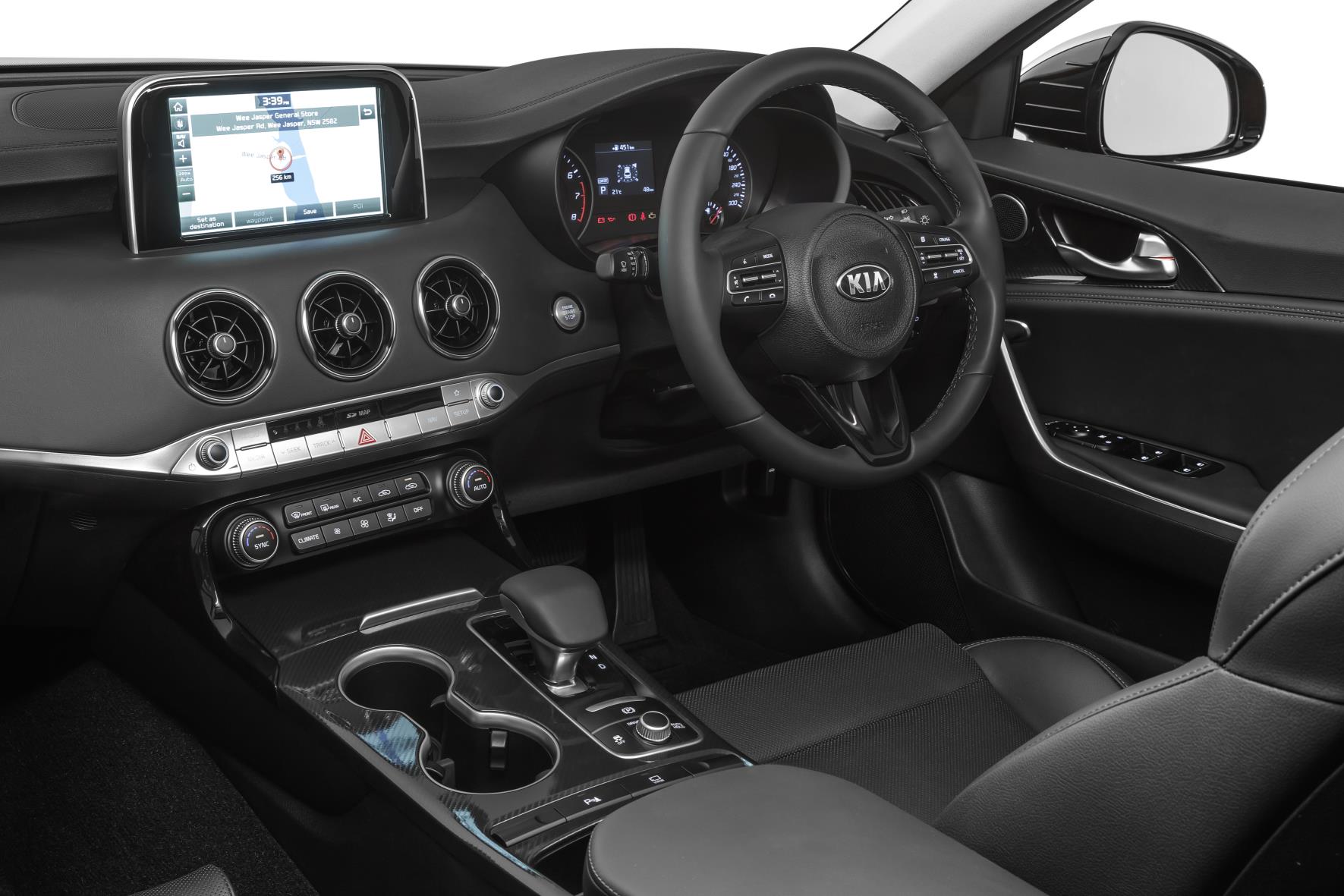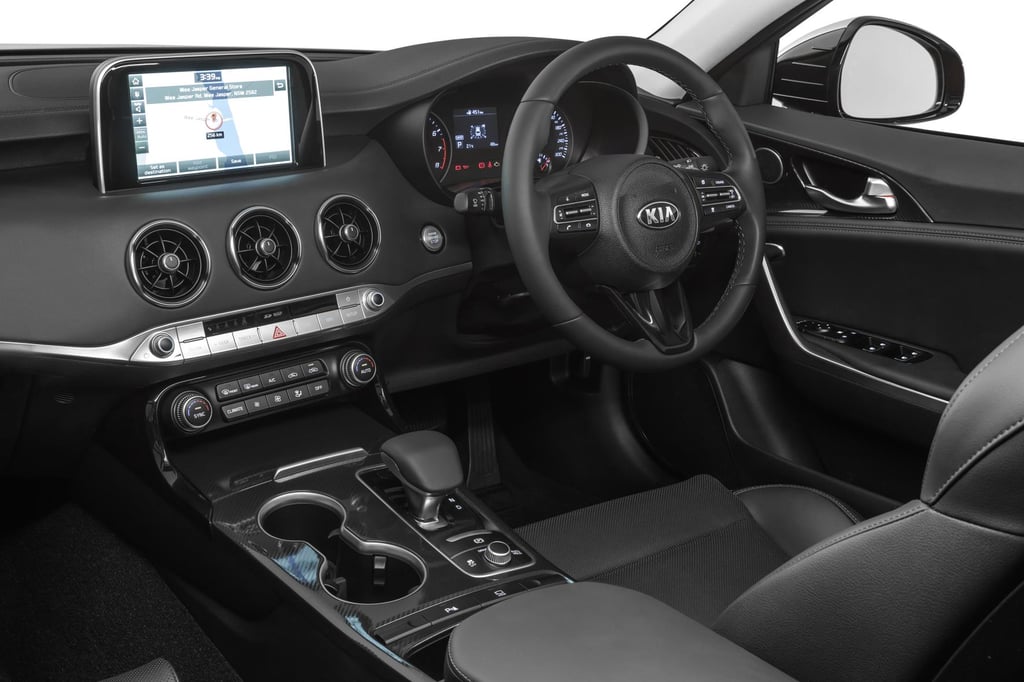 For me, the driving position is absolutely bang on. A low set seat has you peering along, not down on the bonnet. The relatively tall centre console, with gear shifter, handbrake switch, cup-holders, knick-knack draw and Drive mode dial provides a feeling of extra cossetting. The sports steering wheel, with paddle shifts and other controls, has plenty of adjustability.
Now it's time to let it off its leash.
Prod the throttle and the analogue speedo flies deep into three figures in no time, with upshifts through its eight gears lighting fast. Gezzuz it's quick.…. and it feels it too. But, like most turbos, it lacks a decibel laden soundtrack to match its considerable speed. A bit like a current F1 car.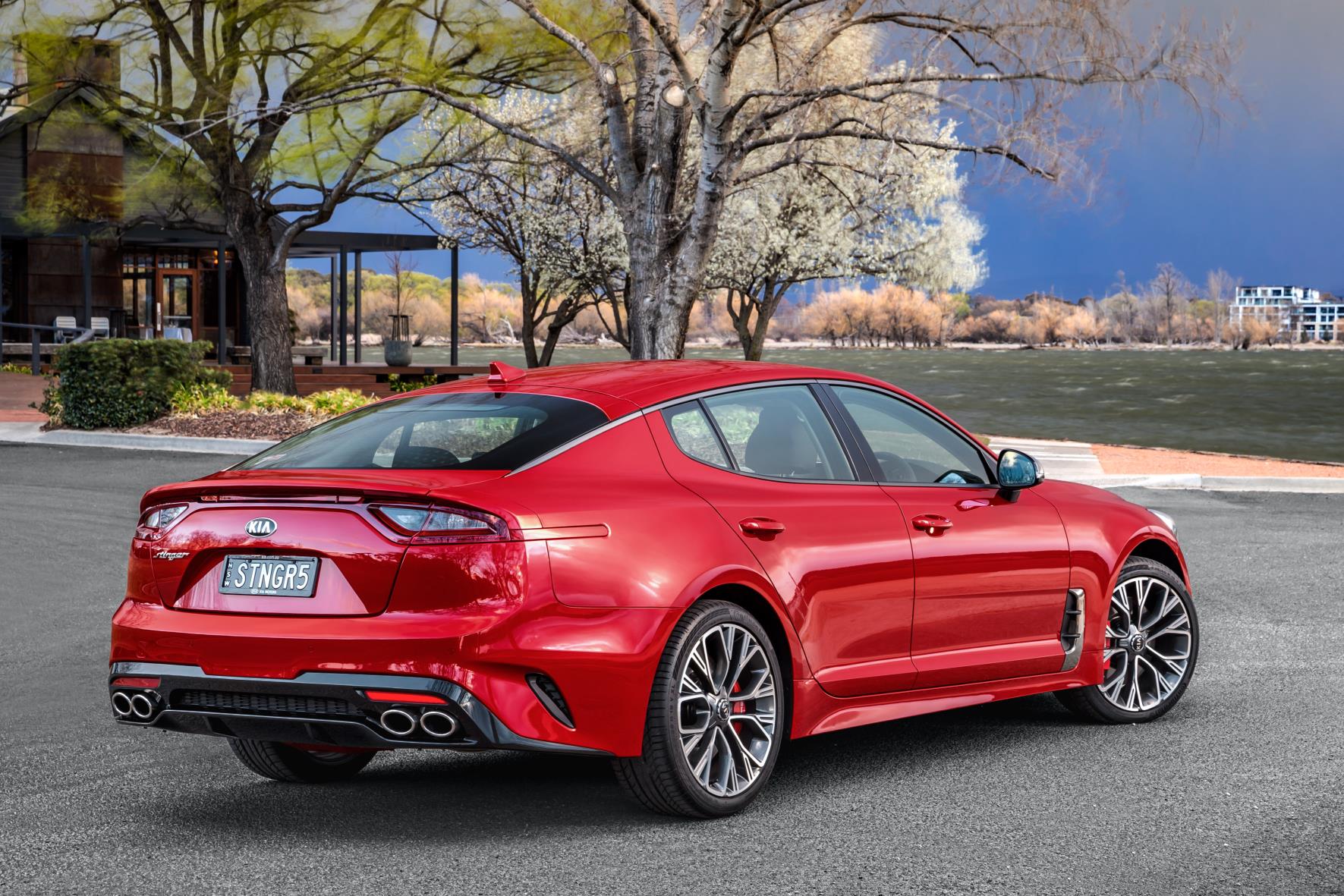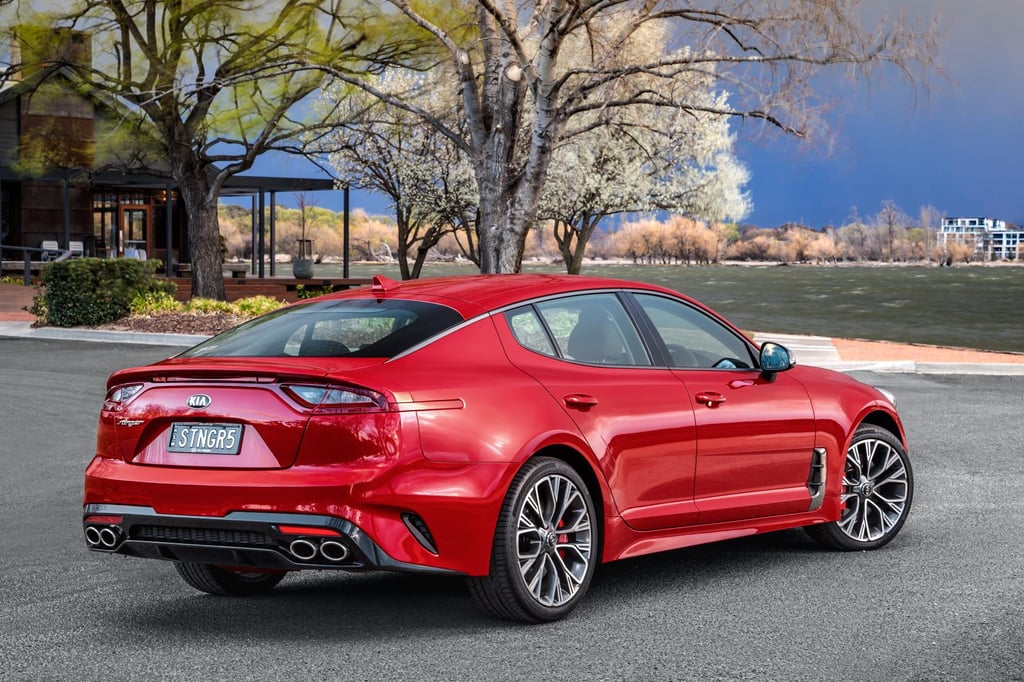 Over the years Kia has invested in local suspension experts to Australianise their vehicles and its paying handsome dividends with the MacPherson strut front and double wishbone rear suspension dealing with potholes, dips and corrugations without disrupting the Stinger's outstanding ride, regardless of which of the five drive modes are selected. Impressive.
The Kia Stinger's long wheelbase not only contribute to its ride but its excellent dynamics and body control as well. It enjoys a good gallop and is lively and entertaining to punt. Chuck it at a corner and the 18-inch Conti Sport tyres glue it to the road. I like how the rear squirms under hard acceleration when exiting bends, like the traction control has dialled itself to 'fun' and the way the meaty Brembos efficiently wash off speed. If you miss driving powerful rear-drive sedans, you are in for a treat if you get your hands on the bi-turbo V6 Kia Stinger.
Slightly blunting the enthusiastic punt are the lack of sport or manual change mode with the auto gearbox. It has the paddles and would amp up the wow factor a few more notches. And while we're at it, the steering feels a tad over-assisted; but that's one area that can't be Australianised.
While enjoying oneself behind the wheel, it's reassuring to know the Kia Stinger S has comprehensive safety armoury. Protecting you are anti-lock brakes with emergency brakeforce distribution and brake assist, electronic stability and traction controls, vehicle stability management, hill assist, active bonnet pedestrian protection, LED day running lights, seven airbags including a driver's side knee bag, front seatbelt pre-tensioners and load limiters should things get tricky.
What's also reassuring is the Kia Stinger 330S comes with a seven-year warranty.
The Kia Stinger's blend of value, performance, refinement and style make it a must drive.
For more information about the Kia Stinger 330S, click here.
Check out a GTS Stinger being put in drift mode here.
By Mark Higgins