Presented in partnership with Lotus Cars Australia.
Ever admired a Lotus cruising down the street and thought "nice looking little sports car, but surely they can't be that fearsome?"
You're not alone.
---
---
For me however, that all changed one Monday in February when the team at Lotus Cars Australia handed me the keys to a Lotus Evora 400 sports car and said "we'll see you at Bathurst for a track day on Wednesday we have it exclusively and are celebrating our 70th Anniversary this year."
Launched in 2015, the Evora 400 is probably the least known sports car Lotus makes – but it's also the best, the most practical, the easiest to get into with low side sills (very un-Lotus- like) and sits at the higher end of the Lotus stable, coming in at nearly $200k, above the Lotus Elise and Exige ranges. From the fiery exhaust note to the price tag, you're well and truly talking supercar territory here – so how does it match up?
From a 'daily driver' perspective, the Evora 400 has all the bells and whistles one could wish for in a car.
Entertainment system? Check. Heated seats? Check. Reversing Camera? Check. Air Conditioning? Check. Alcantara interior? Check. Cruise Control? Check. Two tiiiiiny back seats? Check.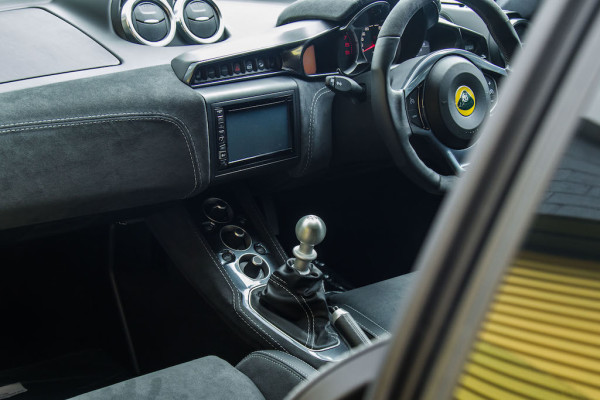 It's 100% road legal, and it has a real manual gearbox which is becoming unusual these days. Under the hood (or bootlid really) is a mid engine, 3.5 litre, supercharged V6 engine which has this effortless surge of oomph from standstill with 298kW and 410Nm of torque.
In standard exhaust mode (it has a switchable exhaust mode) it's as quiet as your average sedan, has enough ground clearance to get over speed bumps, and all in all, having driven it around Sydney for two days, is a very viable daily driver.
But to see where the Evora 400 really shines, we had to drive to Bathurst to join the exclusive Lotus Only Track Day at Mount Panorama. Lotus Cars Australia actively encourages its owners to get out to these types of events to enjoy their cars. It got underway on a Tuesday afternoon where we turned up to see almost 100 Lotus owner drivers from around Australia for registration and scrutineering, followed by an owners dinner with guest speakers including professional race car drivers who were there for mentoring and coaching.
---
---
Wednesday morning saw us back at the track for some early morning coffee, private drivers briefing, some final adjustments made to the cars (the only adjustment to our car being the fitting of stickier R spec performance tyres), and before we knew it we were on track with a whole battalion of Elise's, Exige's, and Evora's from various generations split into groups based on experience level and speed to maximise safety and enjoyment.
I'll spare you all the gritty details as to not ruin it for you, but if you've got a little petrol in your blood and have never been to a track day, I dare you to visit one of these track days and just stand by the barrier and listen to the guttural drone of Lotus after Lotus absolutely fly by. They hold at least 3 exclusive days each year as well as attend other track days each month, so owners get to use their sports cars all year round. Ever thought of doing Targa? Lotus Cars Australia has it's own exclusive group you can join, and they're even heading to Phillip Island later this year to be a support category for the Australian Production Car Series. Yes, everyday blokes like you and I can be a race driver for the weekend.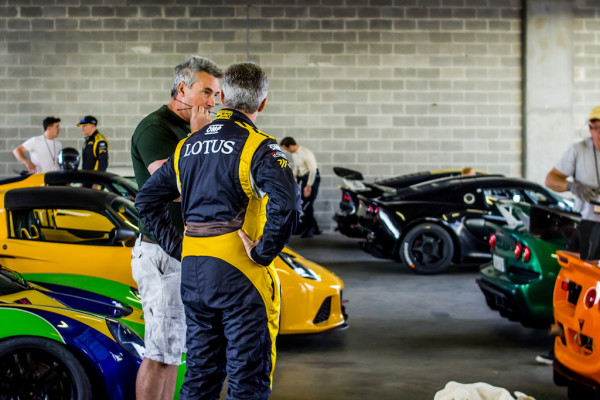 But I digress, get into the drivers seat of the Evora 400 around a track and you instantly feel like you're Kimi Raikkonen, the exhaust chirping as you downshift hard into each sweeping bend, which the 1400kg whippet handles with ease, even for a novice like me. I had read some of the reviews on various car sites about the Evora 400 and while you can sometimes feel a little dubious, it lived up to its reputation, it's a drivers car, real manual gearbox and all.
It quickly turned into a day I'll never forget, but what really stood out for me was the accessibility to genuine motorsport that these Lotuses offer your every day punter. Sure it's not the cheapest car in the world (they do have the Lotus Elise for under $100K or used ones for even less), but in a sport that can see costs skyrocket out of control very quickly, the Lotus Evora 400 is a package that you can easily drive from home to track and have a few hours of pure excitement, with relatively little cost or time put into it. Better yet, Lotus Cars Australia encourage you to get out on the track and regularly host events like this one.
Want to experience how a Lotus handles? We've teamed up with the guys at Lotus Cars Australia to give you the chance to take one of these cars for a half day spin. To enter, simply answer these questions.