You can't get much more outlandish on Sydney's roads than this convertible McLaren. For the average joe out there, this is the 570S Spider, a half-million dollar weapon in a striking 'bumblebee yellow.' If you're after its exact figures on horsepower, kilowatts or torque, you'll find those staggering numbers over at last year's launch piece. This is not that kind of article.
For two twenty-something fellas whose collective worth of their everyday whips wouldn't even scrape the surface of such a price tag, the ample amount of turning heads – each with their own presumptions of how we got this car – became the unintentional theme of our weekend with the 570S Spider.
The general thought process of most onlookers seemed to be an admiration from guys, and a polite head turn and smile from girls. A clear distinction. So we decided to embrace this stereotype to the maximum, engaging in a little social experiment by parking the ludicrous whip directly opposite our local coffee shop at Sydney's Maroubra Beach on a busy Sunday afternoon.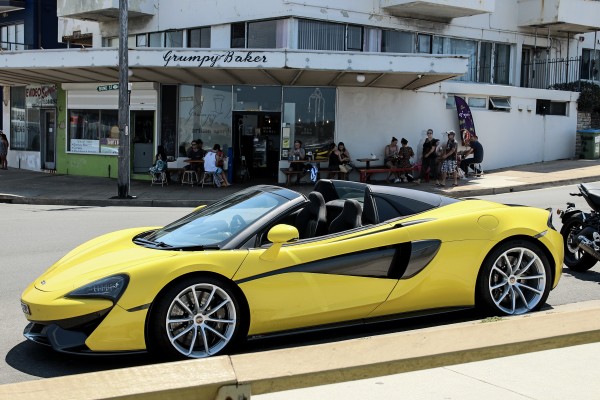 What we got asked
"Bitcoin?" – Was both a question asked by many younger onlookers, and also the answer we returned when asked how we got it.
"How much did this set you back?" – But not asked in the same way you would a pair of sneakers. It was usually from an early thirties bloke with a bit of contempt in his voice as his kid sat behind the wheel and asked for a photo.
"OMG can you take me for a spin?" – No. Suddenly the high school acquaintances you haven't spoken to since 2011 chirped up.
"What do you do for a living mate?" – Some interesting deductions can be made from this question. Guys (usually a fair bit older than us) were immediately querying our career paths, likely to compare with their own or quiz us for some form of tips or advice without actually asking for it, subsequently damaging their own egos.
"You've got a small dick." – Not exactly a question but it was too good to leave out on technicalities. Such a statement, or anything relating to the size of our genitals, always originated from males, never females – basic psychology suggests that such statements would stem from either (a) a primitive jealousy prompting one to justify the lack of McLarens he owned or (b) a desire to impress his comrades with his eighth grade-like jokes. Nonetheless, we were fascinated, but unfazed. At the end of the day, we were the ones in the McLaren.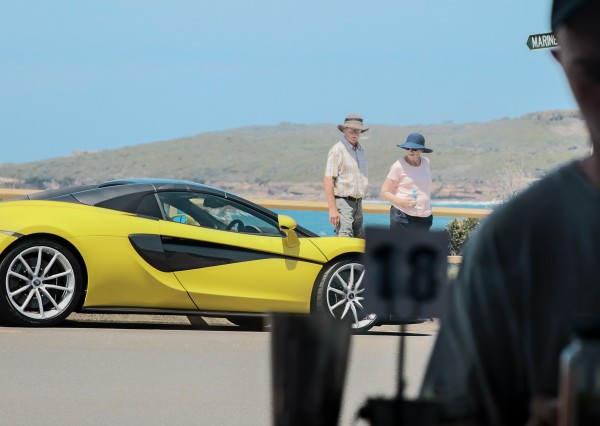 Trends we noticed
At least 60% of people we spoke to over the weekend thought our parents bought it for us, though it wasn't until we told them we didn't own it they admitted it was their first thought. On some occasions, we were inclined to continue the ownership facade to see what reactions it prompted. In other situations, we felt the need to explain what the deal was so that no poor soul was left feeling inadequate for the rest of their weekend by comparing their own successes.
Heroes in other, less expensive sports cars – who normally wouldn't pay you the slightest notice in a Honda Accord – in fact, sought attention from the naughty McLaren, putting their window down to compliment the car. On the flipside, when we got behind the wheel we automatically became different people. We laughed off Mercedes AMG's and Ford Mustangs when face to face with them – it was like we adopted an alter ego we weren't aware we had.
The attention we received was incomparable to our daily lives. Part of us loved the fact that we thought that people labelled us as kings, but it was somewhat overwhelming – hearing the conversations of other cafe-goers diverting to make us the subject, along with the attention of their eyes. One late-thirties bloke with two young kids did nothing but stare at us the entire time we ate with a blank look across his face, seemingly searching for answers or perhaps reevaluating his own life choices that took him on a path that didn't include a McLaren.
People also expect you to be quite an abrasive driver, but they're pleasantly surprised and overly appreciative when you let them cross the road or give way to them in a parking complex.
One Friday night we rocked up to a party in Bondi. The crackling exhaust was enough to turn heads of the party-goers on the balcony above, whose initial feelings of curiosity turned to looks of confusion and a general sense of 'what-the-actual-f*ck' when someone they knew got out of the car. At the party, the car provoked a sense of interest in what we did, how we did it, and a universal request to 'hook them up' should we ever need any copilots.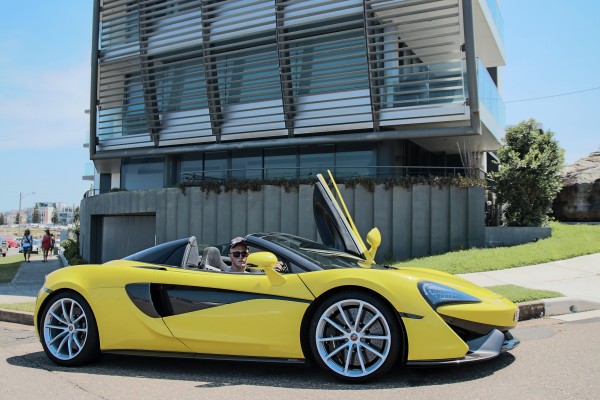 Final thoughts
The McLaren 570S Spider is vicious. Our previous review of the 570 Sports Series' GT variant properly confirms that a Formula 1-born automaker has made roadworthy weapons, bringing explosive force and laser-sharp handling. We received an uncanny amount of attention throughout the weekend, letting us see things through the eyes of a minted supercar owner. The experience of operating such a spectacle of engineering through the suburbs of Sydney was unrivalled, but one that no articulation could ever do justice.
A massive thanks to McLaren Sydney for the weekend whip, for a full look at the Sports Series range, head over to their website.
Words by Lachy Gordon & John McMahon.