Would you believe it if I told you that the 2022 Porsche Macan is the same SUV that debuted in 2014? Nearly eight years have passed, during which we've seen three "facelifts" (2016, 2019 & now 2022 respectively), but its platform has essentially remained unchanged.
This platform – which the Macan shares with its Volkswagen Group brethren, Audi's Q5 – is the same mid-sized SUV we've come to know and love. And seriously love, for that matter. It was only in 2020 that the Cayenne finally pipped the Macan as the most popular new Porsche globally measured by units sold. Both of which, I'm sure you've clocked onto, are SUVs, much to the dismay of purists and protectors of the sports car realm alike.
But interestingly, when it comes to Australia, the throne still belongs to the Macan. Porsche delivered 2158 units in 2020, thrice as many as the Cayenne (791), and I'm confident those figures will hold steady when 2021's numbers land very soon. Why? Because for a country who's collective lifestyle could not be more suited to a luxury mid-sized performance SUV, there really is no better brushstroke than the Porsche Macan.
---
---
I came to that conclusion myself when I drove the (then) new Macan S around the backroads of rural Victoria at the national press launch in 2019. Pretty, poised, and presenting a near-unfaultable package on the road, the previous version of the Macan was a helluva lot of Porsche for a starting price of less than $100,000. And I was pleased to discover more recently that not much had changed three years on.
As our twin-engined Agusta 109 made its final banking turn over Sweven Estate, the base of operations for last month's press launch, I spied all three specs – the Macan, Macan S, and Macan GTS – sitting patiently on the property's massive cobblestone driveway below. Punching through a cloak of light mist and humid summer rain, we eventually touched down for an immersive eight hours of familiarisation with all three variants.
Before I embark on a dissection of the upgraded Macan, allow me preface it with a rather unsurprising spoiler alert; as far as all-in-one entry points go for a respected and reputable performance brand, it really, really, doesn't get much better than the Porsche Macan.
What's more; this is the final Macan we'll see before the next generation lands in all its electric glory come 2023.
So What's New In 2022?
The 2022 Porsche Macan is meaner, more agile, and more eager than ever before. Two new drivetrains replace their predecessors – the more powerful of the duo is also found in Audi's RS4 and RS5. This internal combustion swan song consists of a spritely 2.9-litre bi-turbo V6 and an impressive 2.0-litre inline four-cylinder with a single turbo charger.
Aesthetically, from the standard Macan right up to the GTS, this is a car that never fails to deliver. More focused lines on the bonnet lead to a chiselled and redesigned front end, with the lower front and rear aprons now finished in the exterior colour of choice. Porsche's Dynamic Light System (PDLS) comes as standard, complementing the eye-catching presence of the wrap-around rear light bar we first saw on the previous update. As for its volumptuous backside, the only major difference is the perforated rear diffuser now in 3D form, making the entire car's profile appear closer to the ground, and thus, more athletic.
My only gripe with the updated interior is the deletion of Porsche's classically tactile controls. The centre console is now purely made up of touch-sensitive surfaces, bar a few temperature toggles. It took me a while to embrace Porsche's flight deck-esque array of button and switches, but now they're gone, their absence was all I could think about. Perhaps less isn't always more.
---
---
Finally, by standardising a lot across the range for this final petrol Macan, my job has only been made harder. But when priced at $84,800, $105,800 and $129,800 respectively, each have their own tricks up their sleeve to sway their respective buyers and budgets.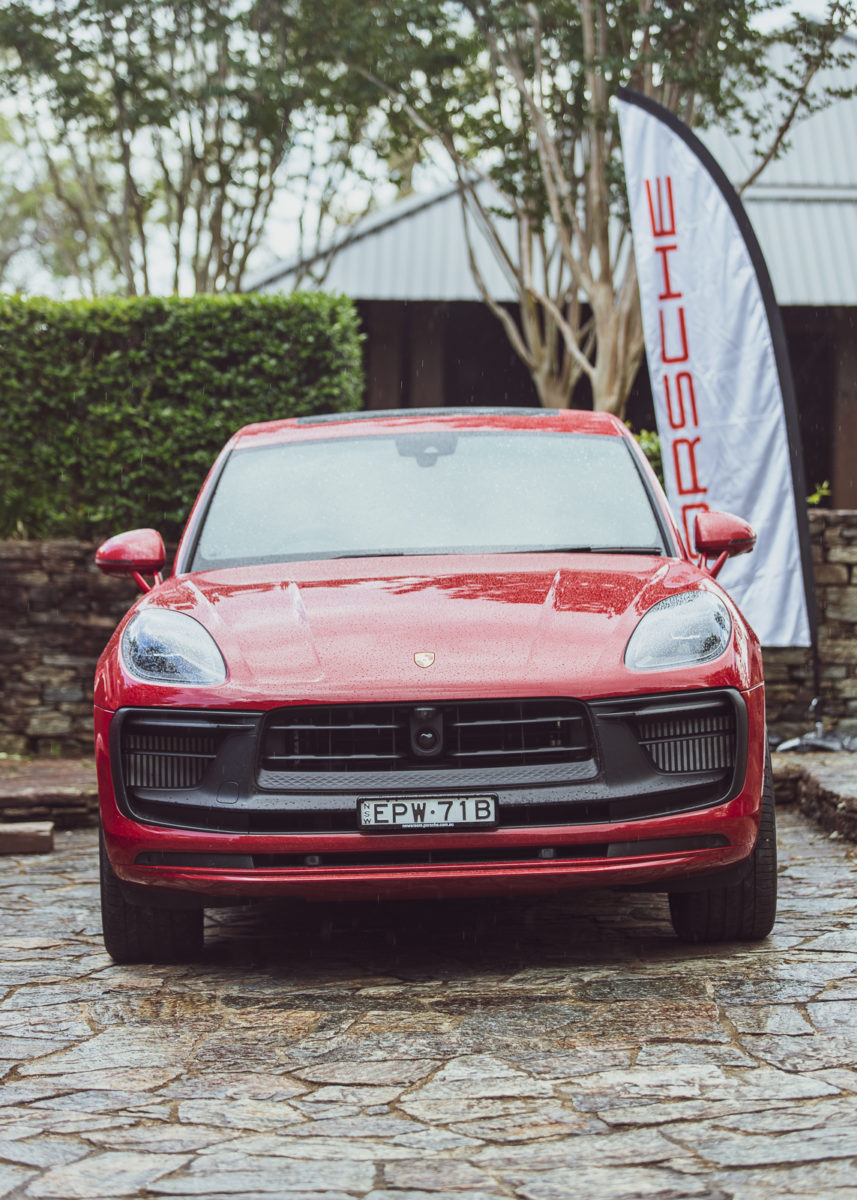 Porsche Macan GTS
I didn't hesitate a single second when offered the opportunity to begin our drive day in the GTS. While it might not have the gravitas of the iconic "Turbo" badge, the GTS is nevertheless a punchy operator, as one would expect from any range-topper. And while Porsche has cut the Macan Turbo from your New Year's wish list entirely, they've essentially just transferred the 324kW V6 over to the GTS, so no love is really lost there. I didn't find the extra 44kW of power over its predecessor necessarily noticeable on the winding roads down to Wiseman's Ferry, but its posted 4.3-second to 100km/h time is a hard one to argue with.
Porsche's Traction Management system (PTM – standard in all Macans) has been dialled up for the GTS, and this extra level of dynamic confidence was instantly at the mercy of my lead foot when teasing the accelerator coming out of the corners. For those who really care for the details, essentially a new PTM interaxle lock management feature makes its debut in this version, giving priority to the rear axle when distributing drive, therefore increasing cornering speed potential.
A height-adjustable sports air suspension and Porsche Active Suspension Management (PASM) damper control system both come as standard equipment in the GTS, and full credit to them. While the steering is definitely on the more fluid end of the brand's spectrum, the ride is wonderfully smooth – almost magic carpet-like. We dodged potholes, gravel, fallen tree branches and unsealed roads. Nothing thrown at the new Macan could make it come unstuck.
Other additions you'll find come standard when parting with your $130k are 21-inch RS Spyder Design wheels in matte black, similarly blacked-out quad tailpipes (that sound awesome) and rear spoiler, a special GTS rev counter, and the (otherwise optional) Sport Chrono dial on the steering wheel.
The final piece of the puzzle for the GTS is your choice of taking it one step further with the GTS Sports package. This includes all the little upgrades the regular punter wouldn't even notice – think performance tyres and better torque vectoring. The diehards can read more about it here if they so desire.
Overall, the GTS is a near-faultless offering that ticks-all-boxes, but pitted directly against the forthcoming Macan S, the incremental edges in performance and luxury don't quite justify the price jump.
Porsche Macan S
Here she is, the expected sweet spot in the range. In short, the Macan S has plenty of punch with just enough of the fancy bits to make you feel really happy about being in it. The same 2.9-litre bi-turbo V6 from the aforementioned GTS sticks around, replacing the Macan S' previous 3.0-litre single turbo engine with an additional 20kW of power (280kW in total). With the optional Sport Chrono box ticked, it'll still do the dash an admirable 4.6 seconds – shaving a sizeable 0.5 seconds off the outgoing model.
---
---
Despite the Macan and Macan S featuring steel coil springs, the latter has Porsche's Active Suspension Management (PASM) system as standard, meaning you really can't split hairs between the ride comfort of the S and the GTS. If anything, the Macan S is a little smoother around the edges, but fear not, you won't be compromising on its enthusiasm to hunt for the apex and push higher on the rev counter.
Rolling off the production line as standard, the Macan S does plenty of things well. But to make it even better, the premium package will award you with heated front and rear seats, adaptive headlights, and an upgraded 14-speaker audio system. Those who enjoy a spirited drive every now and then may as well tick the Sport Chrono option, too.
Aesthetically, you'll find the 20-inch Macan S wheels in highly polished Dark Titanium the most obvious upgrade, and the quad tail pipes can be finished however you like them (for an added cost though, of course).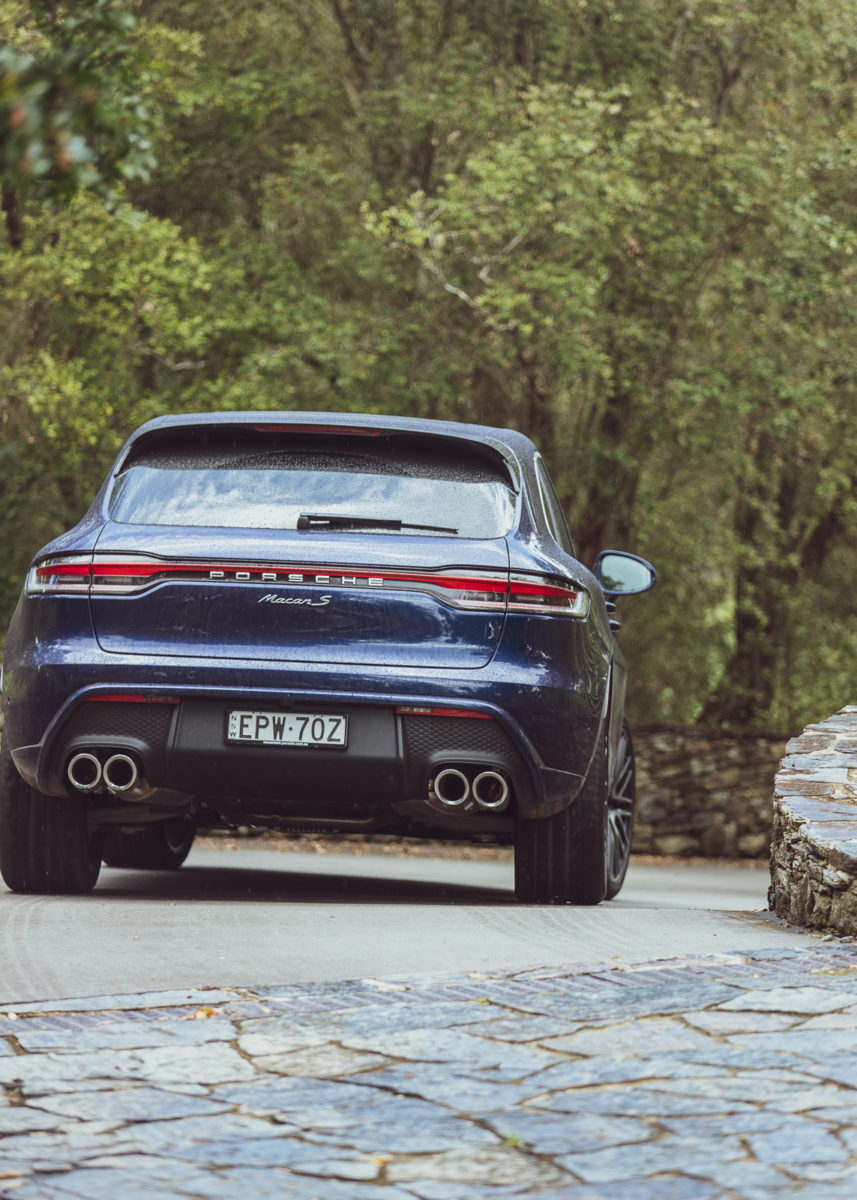 Porsche Macan
I'm not here to knock the entry-point to the range. It is, after all, the base canvas from which the two aforementioned specs can craft their impressive offerings. And up until this point during our drive day, I'd be thoroughly spoilt, perhaps beyond the point of no return. I'd already made up my mind, the Macan S was the pick of the bunch.
But there are a few notable mentions before we call it a day. The Macan's newly developed 2.0-litre turbocharged inline four cylinder makes its debut in the 2022 base model, and thanks to a larger turbocharger, it can still deliver an admirable 195kW of power and 400Nm of torque.
The rear seating space will suit most couples or small families alike, yet its snug legroom and only just manageable head space (I'm 6'5) is a little less tolerable in the base model, which lacks the a few of the niceties and assorted trimmings like premium leather.
Aside from that, you'll be pleased to know that the ride comfort is nonetheless where the base Macan still shines. Even if you don't tick the box for the optional PASM system, you'll still be blessed with one of the more forgiving mid-sized SUV driving experiences on the market.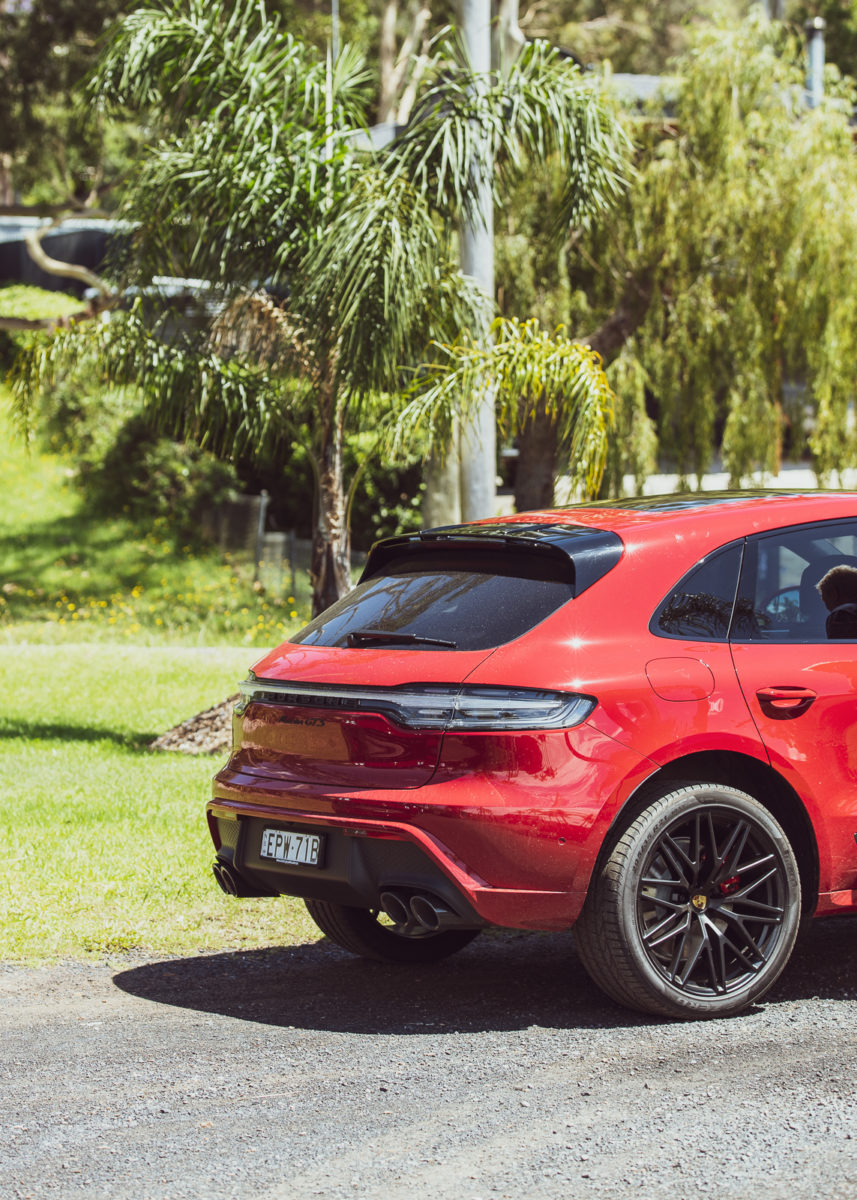 It's all-electric from here
If you didn't pick up on it before, this Macan as we know it will be the first and last generation. In 2023, we'll hail the arrival of an all-electric Macan on a brand new platform.
---
---
It's been a pleasure year after year, with this last internal combustion iteration being no different.
The Macan's indisputable precision, welcome practicality, and commendable touches of classic Porsche luxury at an astonishing price point of $84,800 (the next four-door model Porsche, the Cayenne, starts at $128,100) make it the sharpest and sportiest Macan ever.
As previously warned, it is very, very hard to look past.
And with that being said, one shouldn't try not to look at the Macan as an act of treason against Porsche's true sports car identity, but rather as a door ajar moment; a chance to embrace an iconic brand with an impressive all-around product that can dance the line of performance and practicality no matter the spec you choose.