Referencing James Bond isn't reserved for devout fans of the character – it comes part and parcel with being a bloke. In my line of work, I've been able to savour a handful of Bondesque moments – driving an Aston Martin to Stoke Park Country Club, where Bond plays golf with Goldfinger, ranks right up there. However, it was my recent adventure with Nissan Go Anywhere that had my senses shaken and my yearning to explore stirred. A charter jet to a military airport in Morocco 100 clicks west of the Albanian border, a camouflaged Chinook, a vehicle with the name 'Arctic Truck' and a drive through the very desert Spectre was filmed will do that to you.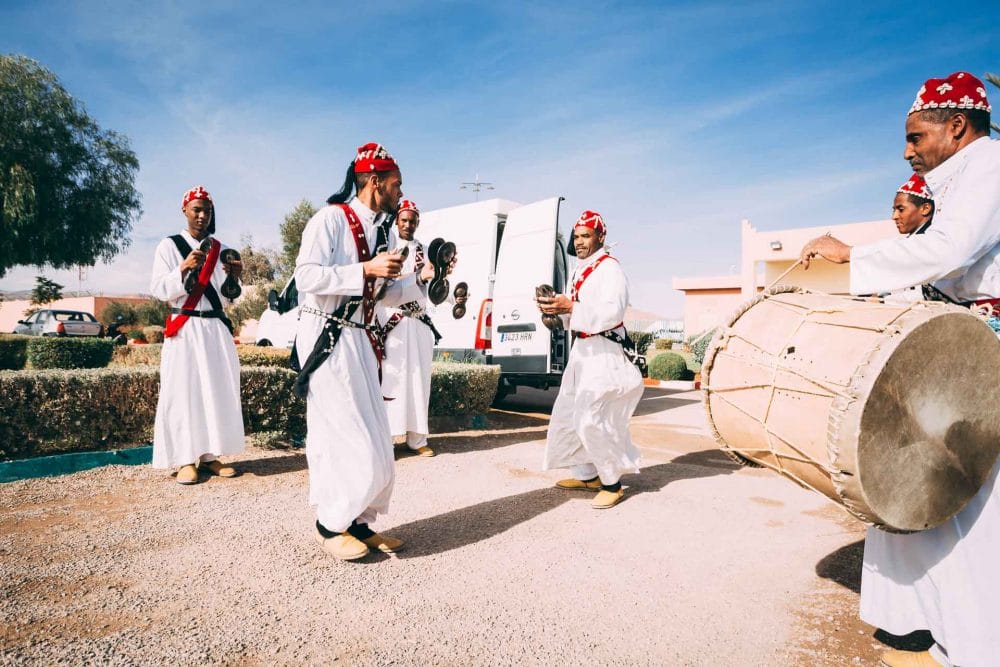 Unlike Bond, who would've produced one of various passports to a pretty immigration officer waiting to be charmed, our trip began with a stern and lengthy cross-examination, followed by an enchanting performance by a local dance troop before bundling into 30 odd Nissans for a journey into the city of Errichidia and the desert beyond.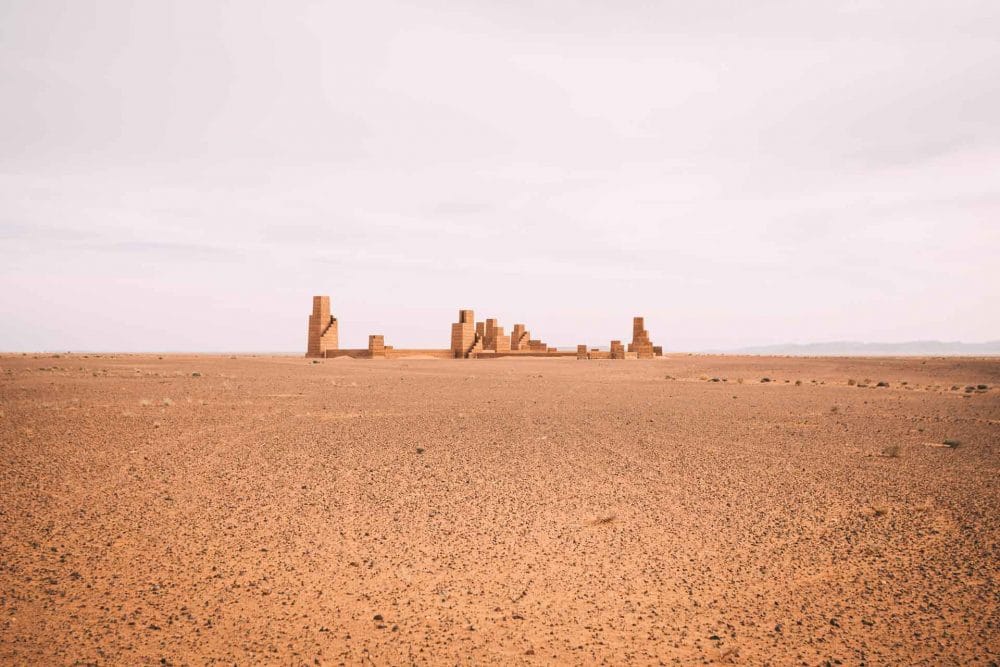 In our convoy were four vehicles, the iconic Patrol, American built Titan pickup, Navara Arctic Trucks "AT32" and the brand's latest full-size SUV offering, Terra. Our scenic route to the Kasbah found us cruising past decked out military Hummers as we entered Errichidia, then snaking through its streets and heading towards a remote village on city limits.
---
---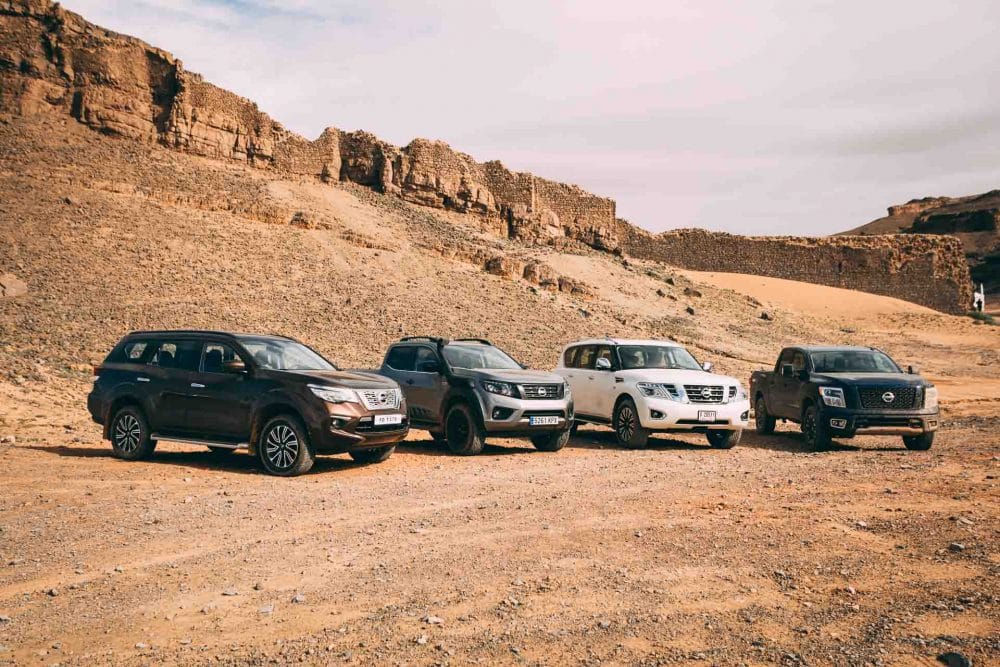 The scene that greeted us when we turned onto the dirt was more authentic than I could have ever imagined – primitive structures built from mud and hay, without doors and floors, framed by palms and smiling children. As I pointed the full-sized Titan pickup through the narrow pathways, I absorbed as much of my surroundings as I could, while wide-eyed kids ran alongside us and climbed into the trays of the Navarras in front of us. It became abundantly clear that we were in for some unique experiences over the coming 48 hours.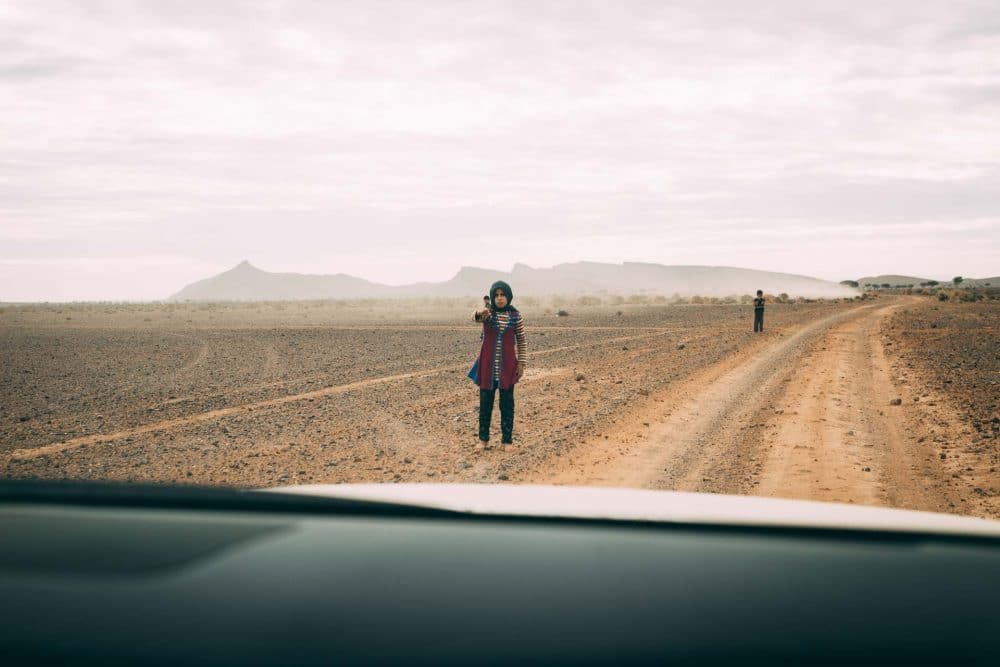 Our first afternoon was merely a chance to get familiar with the four cars while the landscapes and the locals dazzled and intrigued us. It wasn't until the following day did we begin to experience the capability of Nissan's 'Go Anywhere' fleet. With weary eyes, we arrived at the Xaluca Hotel in the city of Arfoud, also known as "the Door to the Desert" and retreated to our sleeping quarters, complete with fossil basin, Moorish tiles and rugs upon rugs.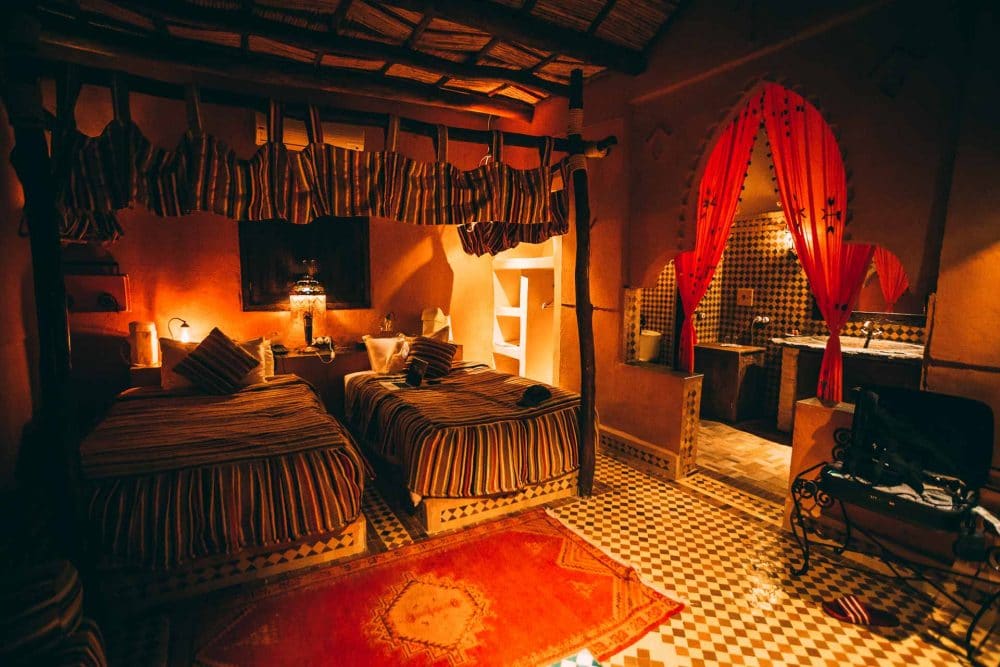 Our first morning began with a briefing of the four vehicles by their respective specialists. With insights gained and eager to get on the road, we jostled for our car of choice – first up the Patrol.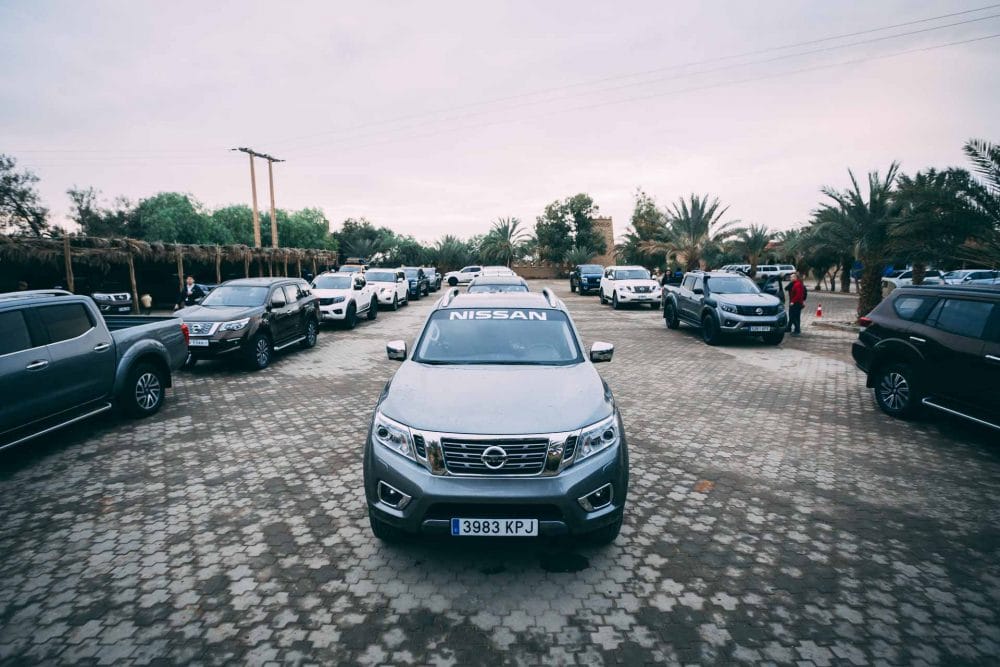 I must confess that there's nothing about the modern Nissan Patrol that pleases my eye. Once the imposing patriarch, the overall aesthetic of the Patrol has softened significantly as it has evolved. I can see the design language they've carried forwards, but the lack of muscular angles both outside and in (the curved dash in particular) make it look weak and dated. The spec of the cars we drove, shipped in from Dubai with its flashy light tan leather interior and chrome accents around the grille, vents and taillights only added to my distaste. I'm told Nissan sells just shy of 50,000 units in Dubai a year compared to Australia's 1000, so they probably care little what myself or the Australian motoring press have to say about it. At least we could all agree that it has a beautiful engine, and although at times felt heavy and like it struggled to get the power onto the sand, is as capable as anything when fulfilling its 4×4 role and a pleasure to commute in on the road.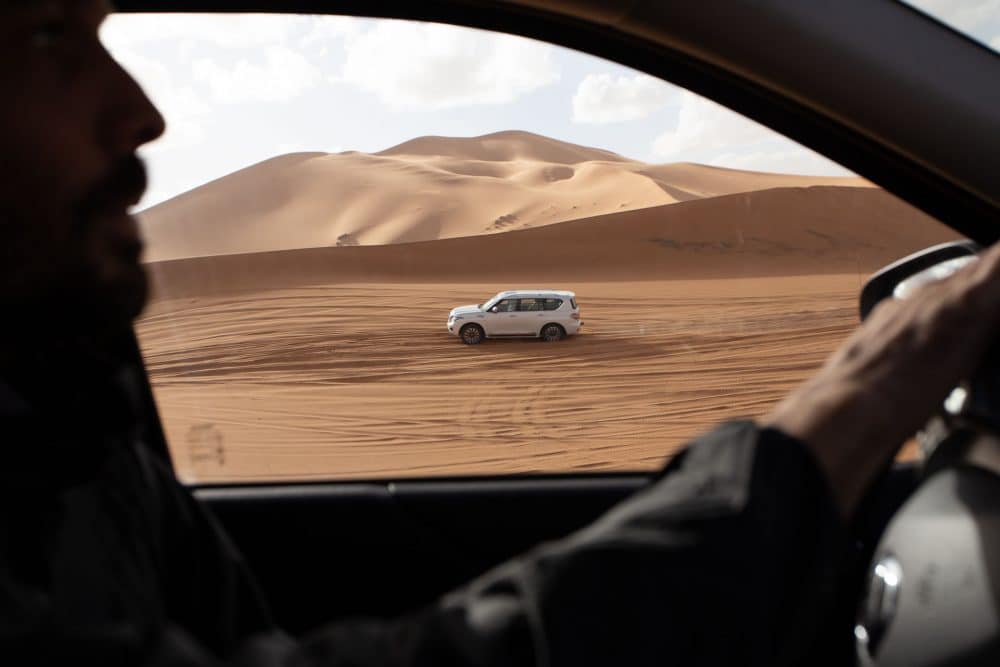 It's a darn shame we don't get the Titan full sized pick up in Australia because it's a beauty. Where the Patrols falls so short for me on design, the Titan picks it up in every way. Distinctively American in style, and size, although without too much more heft than a Ranger Raptor, the Titan is as impressive to drive as it is to explore. Every inch of the vehicle has been considered, from additional lighting at the rear of the tray (in case owners need to do paperwork on the tailgate in the dark) to a deployable rear step, concealed/lockable storage under the back seat for your rifle and 16 cupholders for all the delicious drinks one could dream of.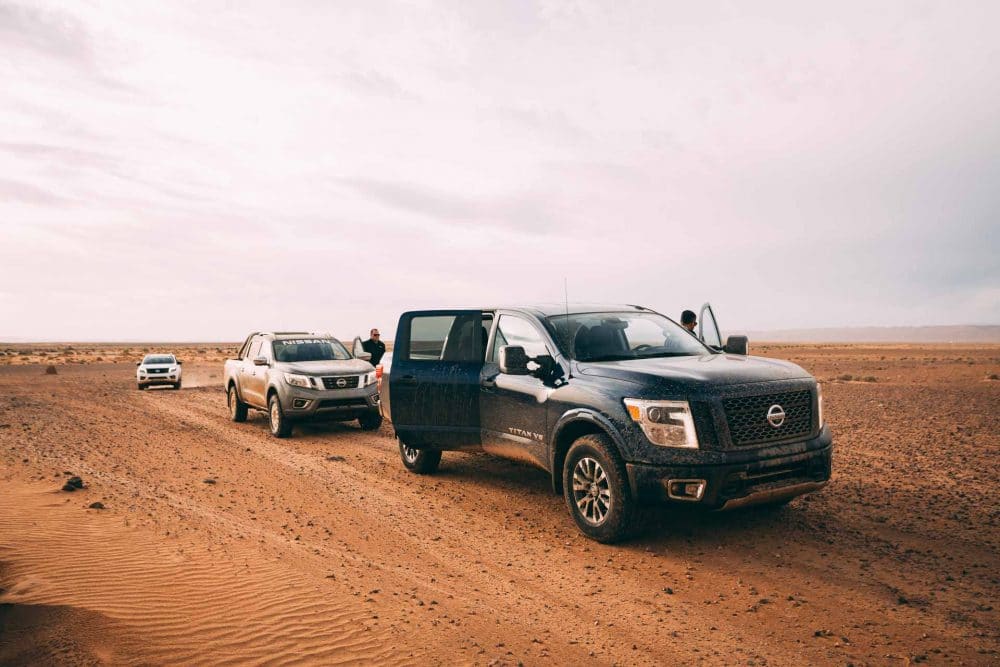 The combination of height, driving position and power, coax a guilty fondness to the big American truck. There is a wonderful dominance about it without ever feeling too disconnected from the surfaces below. Without a doubt, my favourite moment of the trip was behind the wheel of the Titan, going flat out across the desert in squadron-like formation as dust and stones erupted from the earth. In the dunes, the Titan's capability was unmatched. Even at the hint of a possible bogging, plant the foot, and the big unit emerged with ease – I can't imagine anything phasing it.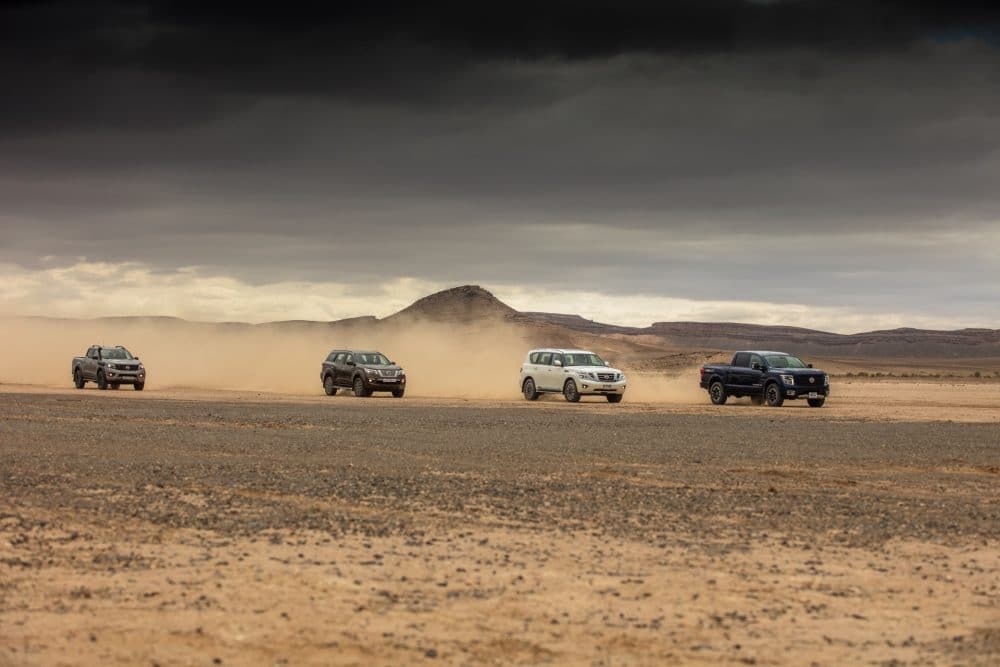 While I savoured the opportunity to drive and enjoy the Titan, it was the Navara AT32 and Terra that required focus, foreseeing confirmation that Australia may get them both, and thus prospective buyers might value some real learnings.
---
---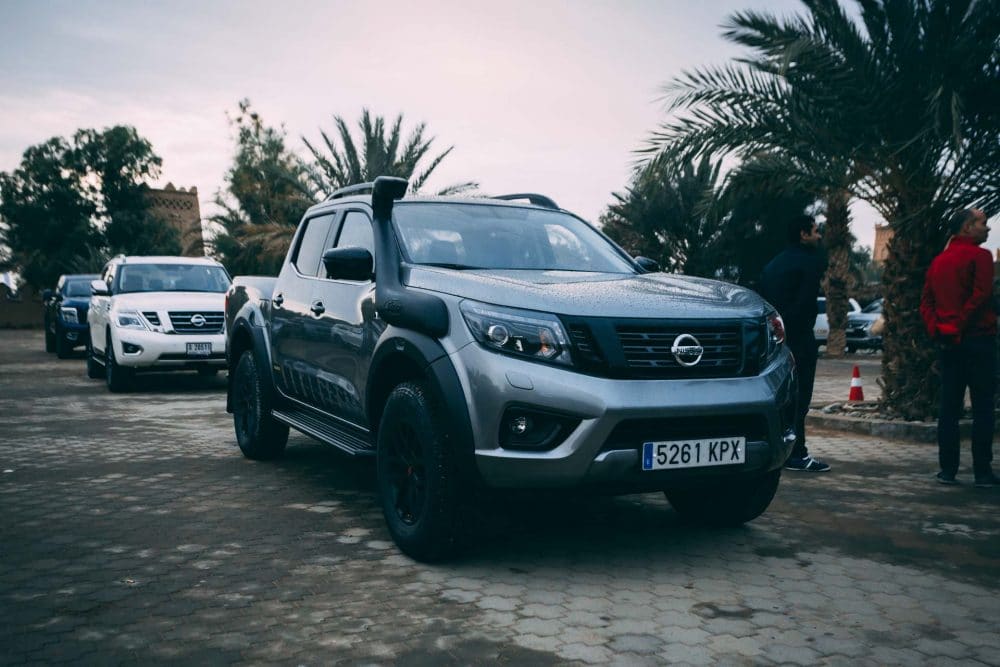 The Navarra AT32 is the manufacturer's first collaboration with Icelandic offroad specialists 'Arctic Trucks' and is the top spec package for the Navara N-Guard which was unveiled in Septemeber in Germany, designed for customers who want a superior pickup for off-road adventures. While the 140kW 2.3-litre twin-turbo-diesel engine doesn't get any more power in the AT32 iteration, it gets a bunch of extra gear. This includes an extra 40mm of ride height, additional underbody protection, optional snorkel and front diff lock and, what will attract the majority of buyers, a serious but stylish appearance attributed in most part to the Arctic Trucks 17inch wheels and arresting 32-inch tyres.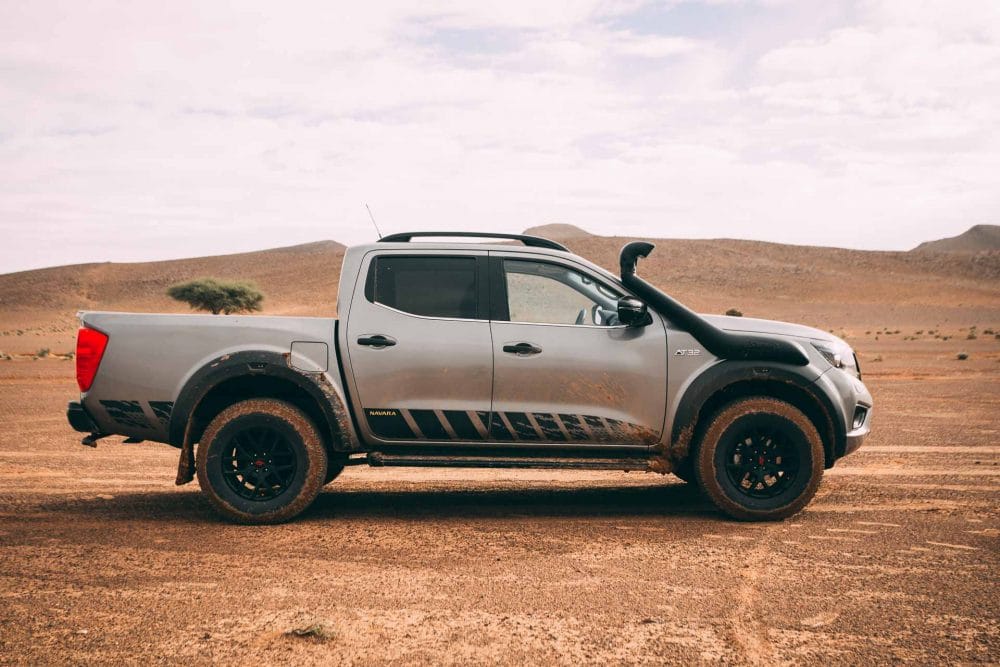 Outside of the sand, in which the AT32 offered enough, but not an abundance of torque to overcome hairy situations we didn't test the AT32 to the limits I would have liked to see it handle or experience from a driver's perspective. It tackled plenty of loose surfaces and mud and did with ease, but so to did the rest of the fleet, with no situation setting the hardcore AT32 variant apart from the pack. This isn't to say I didn't enjoy driving it or being in it despite being noticeably commercial inside the cabin. If anything it just highlighted the capability of the Terra, which did everything as well as the AT32 in a full-sized family SUV.
If it does end up landing in Australia and gets a price tag starting below $50k, I think the Navara based Terra 4×4 while captivate many Australian buyers. The seven-seat SUV would arrive to compete with the popular Isuzu MU-X, but is a better-looking car, in my opinion, thanks to its pronounced bonnet and handsome side profile.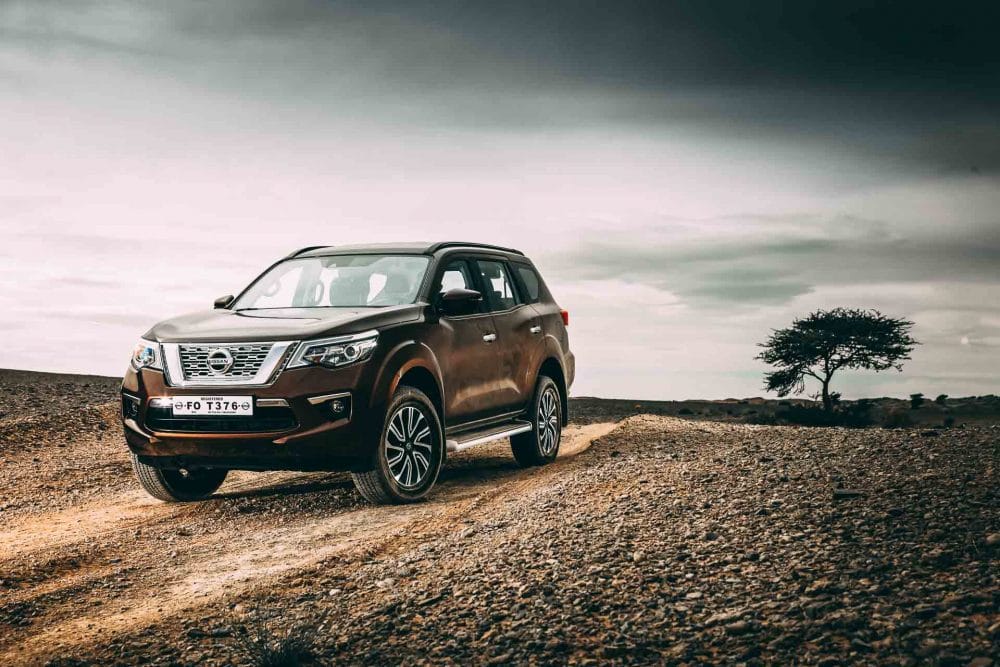 I found the driving position to be excellent and the steering assertive while the 2.5-litre four-cylinder single-turbo-diesel engine proved to be a capable powerplant both on and offroad. Inside I noticed how quiet the Terra was, which when combined with it's smooth and confident ride, made for a very pleasurable journey. Practical features such as its automatic tumbling forward rear seats, raised rear 'stadium' seating and switchable 2H, 4H and 4L modes with bona fide 4×4 ability convinced me the Terra would appeal to any family with an adventurous bone in their body.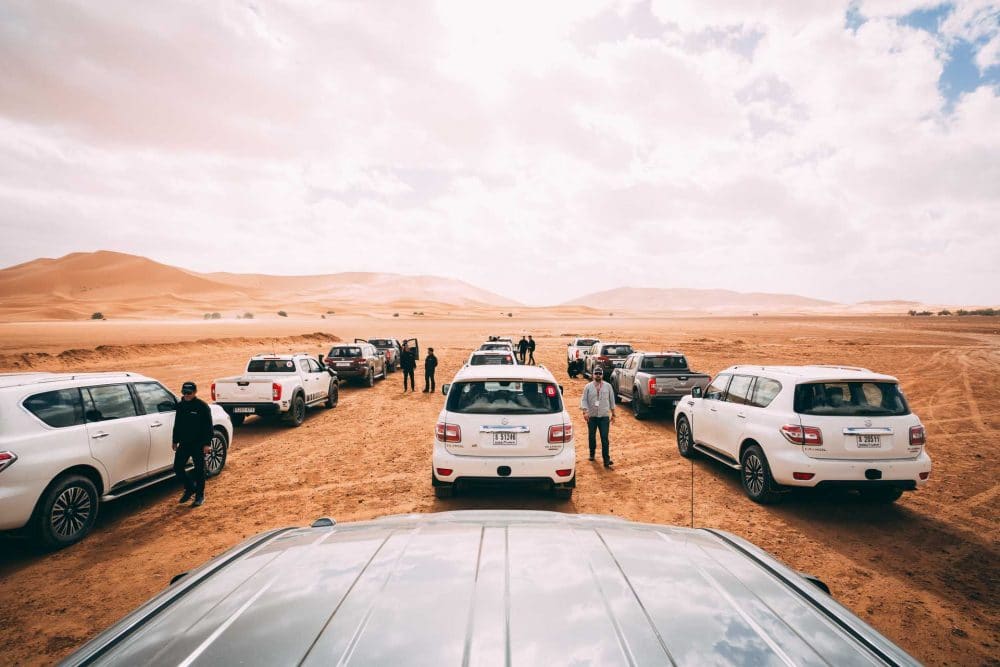 Our time in Morocco driving Nissan Go Anywhere latest and greatest was incredible, but with no confirmation as to whether Australia will receive any of the vehicles we drove, outside of the Patrol, I was left pondering the trip's purpose. Hopefully, we see the N-Guard, and with it, the AT32 arrive, as I'm convinced it will appeal to many. On the less extreme side of things, Terra impressed me at every turn, a truly liveable, accessible and capable family chariot. Even if Nissan doesn't fulfil their desire to bring either car to Australia, they can rest assured their first 'Go Anywhere' event was a mighty success, showcasing a range of vehicles that embody every letter of the phrase.
Check out our video from the Nissan Go Anywhere trip here. For a more tame offering, check out our experience with the Nissan Leaf.