In celebration of the marque's 70-year milestone on our sunburnt shores, Porsche has announced a very special iteration of the 911 GT3, creatively dubbed the Porsche 911 GT3 '70 Years Porsche Australia Edition.' Based on the very 992-series 911 GT3 with Touring Package it was introduced alongside today, this market specific set of wheels represents quite a tantalising proposition for domestic enthusiasts.
The Porsche 911 GT3 '70 Years Porsche Australia Edition' was developed by Porsche Cars Australia in collaboration with both the Style Porsche design team and the Porsche Exclusive Manufaktur customisation division, paying homage to one of the first two 365s imported to the country back in 1951.
Featuring a modern and metallic interpretation of the iconic Fish Silver Grey colour on exterior with Aussie flag badges on each B-pillar, this also marks the first GT3 to have a non-black interior. Instead, it sports Graphite Blue leather bucket seats with 'Madraskaro' chequered inlays, Crayon stitching, and the Porsche crests on the headrests.

Over to the dashboard and centre console, the trim inlays are painted in Fish Silver Grey metallic with 'GT3 70 Years Porsche Australia Edition' black lettering on the former and '70' embossed on the latter. Porsche's off-white Crayon can be spotted on the multi-function performance steering wheel's 12 o'clock marker, gear shift, and all throughout the cabin. Other visual touches you won't see in combination elsewhere range from the black brake calipers, dark silver alloy wheels + Fish Silver Grey Metallic outer rims, to the illuminated sill plates (which also read 'GT3 70 Years Porsche Australia Edition').
---
---
RELATED: New Porsche 911 GT3 Revealed – Australian Delivery Confirmed
Given how the 911 GT3 with Touring Package has been used as a template, under the hood, you can expect to find the same naturally aspirated 4.0-litre flat-six engine – which is also used in the vanilla 2022 GT3 – capable of generating 375kW and 470 Nm of torque. In terms of transmission, both a six-speed manual and seven-speed PDK dual-clutch automatic are available upon request.

Top speed should also be similar if not improved. For reference, Porsche claims the regular 2022 GT3 can clock top speeds of 318 km/h (auto) and 320 km/h (manual); 0-100 dash times of 3.4 seconds (auto) and 3.9 seconds (manual).
"Every time we embark on one of these projects I always look for a little bit of meaning, a little bit of authenticity behind it," says Grant Larson, Style Porsche Director of Special Projects.
"In this case of 70 years of Porsche Australia, it's almost a romantic story about how it all started – a chance meeting of Porsche test driver Richard von Frankenberg and Norman Hamilton on the Grossglockner Pass in Austria… who, by means of a handshake, signed a contract in November of 1951 to be the Australian importer for Porsche – only the second market outside of Europe after the United States.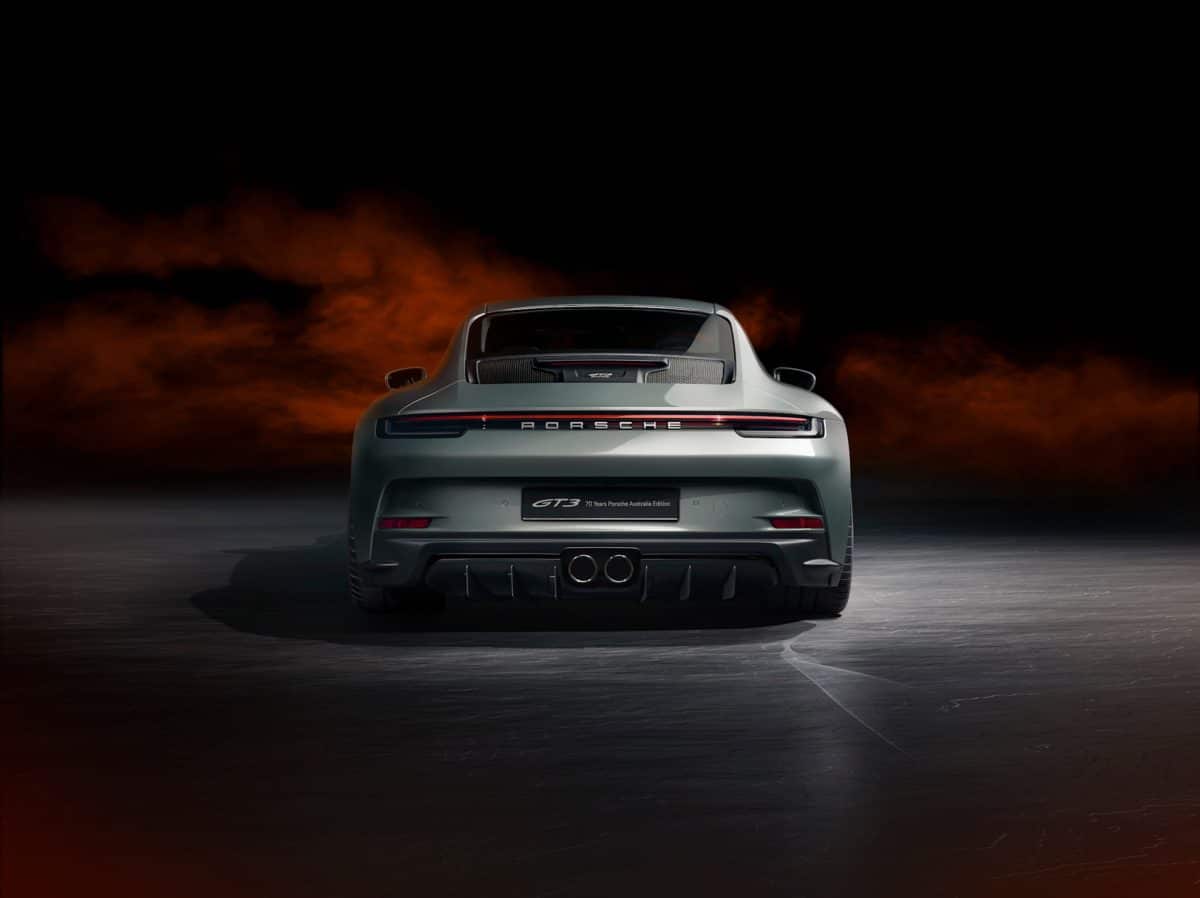 "Exclusivity and customisation have been synonymous with Porsche for decades," says Sam Curtis, CEO & Managing Director of Porsche Cars Australia.

"It is fitting that this special edition features exclusive elements that link back to one of the two first Porsche sportscars imported to Australia by Norman Hamilton 70 years ago."
The Porsche 911 GT3 '70 Years Porsche Australia Edition' is currently priced at $494,400 with first deliveries scheduled to arrive towards the end of 2021. According to CarAdvice, only 25 examples will be produced (allocated through the Australian Porsche dealer network).
Check it out via Porsche Cars Australia's official Instagram gallery below.
---
---