What do you look for in a sports car? Some preference the fastest, others the most exotic, and unsurprisingly, most look for a particular badge.
I feel like if I had the cash to splash on a top-tier performance car, it would be easy to get stuck in the rut of knowing what you want to buy before you've actually driven it. This unfortunate habit would mean that many of the automotive industry's premium offerings for just as much value (if not more) would struggle to even get a start. And you'd just be lying to yourself.
Character is undoubtedly the defining factor that sways me towards (or away from) a car. Numbers and aesthetics look good on paper or in front of a camera, but if you don't enjoy an inexpressible excitement every single time you step into the vehicle – do they really matter? No other car I have yet to drive can comparatively trump the electric character of the untamed 2018 Jaguar F-Type R-Dynamic.
---
---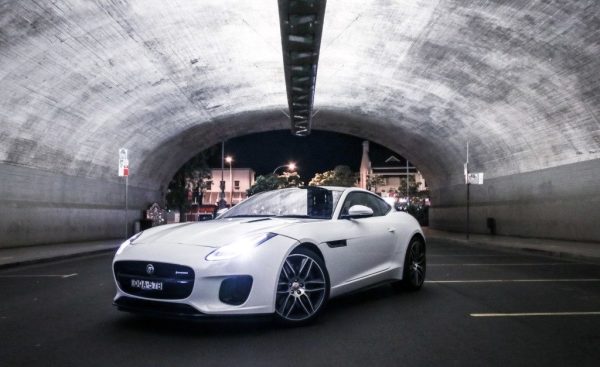 And this isn't even the top-of-the-line offering from the F-Type range. To cut the small talk, the F-Type looks like a supercar, it drives like a supercar and it sounds like a supercar – so why can't it be? It will forcibly remove your ability to construct complete sentences when first behind the wheel. It's pure excitement and a small dash of fear concocted into a euphoria you didn't know you could experience. Clocking in at just over $200,000 AUD, it's worth every single cent, I'd even argue you got away with a steal.
Let's touch first on the natural talking point of anyone who has ever seen this weapon in the flesh – the soundtrack. Despite bellowing from a 3.0-litre supercharged V6, the F-Type has enough vocal chords to make a baby cry when it roars through a tunnel and any adult ask if that rude noise just came from a V12.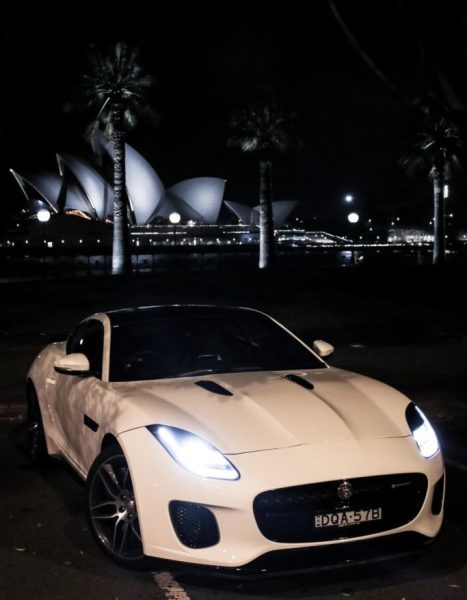 The F-Type isn't quick – well it is, but not by its competitors standards – though it doesn't even matter. With every change up of the gears it snorts loudly. When you lift your foot off the accelerator it gurgles and burps with a distinctly addictive F-Type sound that is the car's way of daring you to give it more. The simple and smooth eight-speed ZF automatic gear box takes the unnecessary technicalities out of a complex, dual-clutch laptop reliant drivetrain. You've basically got two options. Sport (standard) or very sport (R-Dynamic), and that's the way a car like this should be.
This aforementioned R-Dynamic mode engages even more sports car lunacy, most notably opening the exhaust valves permanently and allowing the needle to flick even higher up the rev counter. Should you decide to turn the active sports exhaust off (we can't think why you would), the F-Type still sounds impressive.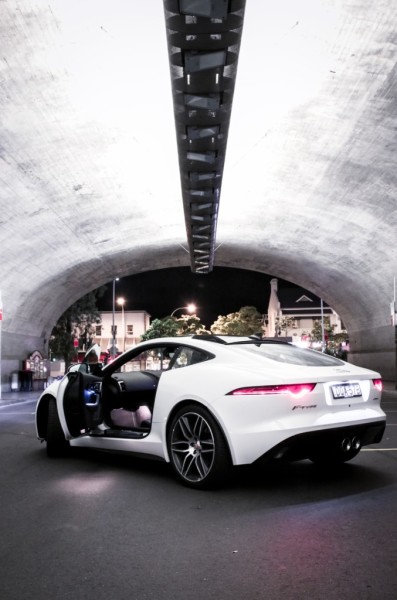 As far as the drive is concerned, it's all kinds of thrilling and even slightly mad. A active chassis linked to the power distribution gives the impression you're behind the controls of a road-mounted missile that's never going to miss its target. When the traction is off, it handles like many sports cars do with the traction on. This control and confidence lets the driver squeeze every drop out of it without ever feeling uncomfortably dicey.
Aesthetically, it also happens to be one of the most beautifully looking cars ever made. It's got more curves than a voluptuous underwear model and a rear end to the same effect. The centre-mounted twin exhausts complement the beautiful alien-like brake light design and in our opinion the white on black colourway is the only paint job offered by Jaguar that we actually rate.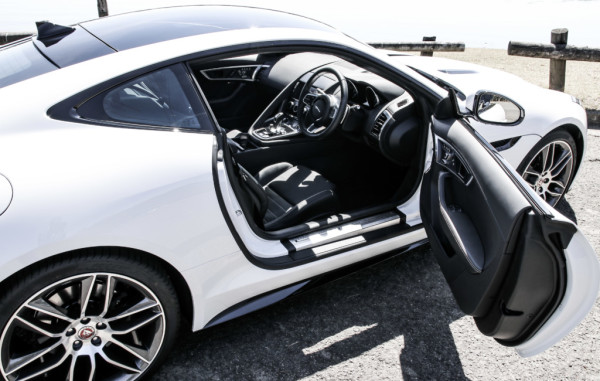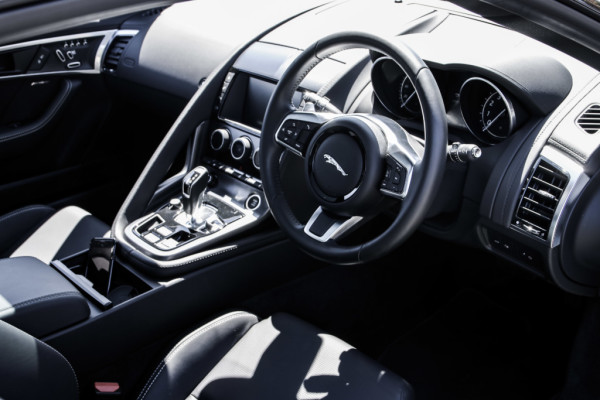 There's no compromise on the interior either, meaning that the F-Type isn't all show, but also prioritises driver experience as much as it does looking like a 10 from the outside. Despite being an optional extra, the panoramic roof is a must have as it opens up the channelled and enclosed cockpit to convertible-esque lighting, making your time in the vehicle all the more enticing.
---
---
As far as practicality is concerned there are a few hiccups (though none that can't be overlooked). The boot space is shocking if you're carrying a spare tyre. If you live in metropolitan areas or within half hour's drive from a Jaguar Land Rover dealership, then you can forego the spare if you so choose. If you're anywhere else, however, your Sunday drive will be over without a replacement on hand. The ride is also not the most comfortable on the market, but seems to be mitigated by speed, so there's that – you just have to drive fast.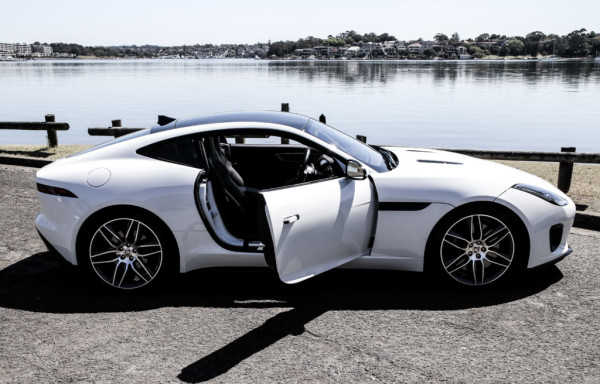 I can't comprehend why there aren't more of these vehicles on the road. Why would you buy a Porsche 911 when you can get one of these for a similar price, turn a lot more heads and enjoy an (arguably) more unique and powerful vehicle? It's bold, daring, slightly devilish and that epitomises my brief love affair to a tee. The V6's big brother SVR V8 variant is considerably more coin for not much more hype. At no point driving this car did I ever think, alright, this is fun, but I wish I had something more exciting.
You can explore the full Jaguar range over on their website, and keep and eye out for the all-new 2.0-litre turbocharged entry-level little brother of this V6 starting at a mouth-watering $107,000 AUD.
2018 JAGUAR F-TYPE R-DYNAMIC COUPÉ
Price: Circa $200,000 depending on how many boxes you tick.
Engine: Intercooled 3.0-litre Supercharged V6
Power: 280KW @ 6,500rpm
Torque: 460NM @ 3500-5000rpm
Transmission: Eight-speed ZF Automatic
---
---