What are your immediate conclusions when you think of Range Rover? I know that until last week my personal presumptions included key words such as 'pristine', 'black and white' and 'outside an Eastern Suburbs café.'
And yes, for the most part a Range Rover is almost all of those things, wrapped up in a bow and parked nicely on a Woollahara driveway as I write this.
Though that doesn't mean it can't be something more, and I plead you to take a leap of faith in the Range Rover's tough Land Rover heritage. By this I'm referring to the Range Rover's supreme point of difference against its luxury-bound competitors in the mid-sized SUV market – and that's durability.
---
---
What I did not expect to be doing at the national press launch for the 2018 Range Rover Velar was putting these immaculate, brand new +$100k soccer mum whips under the pump in some of the gnarliest off-roading I've ever done.
While the affluent urban infatuation with these vehicles resonates with the mountain of evidence to corroborate it (over 400 preorders nationwide), the new Range Rover Velar can confidently set itself apart with its triumphant ability to actually climb this mountain.
We'll circle back to this later on. It was quickly clear that customisability is undoubtedly the Velar's second greatest asset – you'll struggle to find any two that are the same – which in all honesty caught me off-guard in an semi-overwhelming first few minutes behind the wheel. I was privy to three variants of the Velar (out of the six different engine types in total) beginning with the mighty R-Dynamic P380 SE.
It's important to note the almost daunting price discrepancies between the entry-level model and the Velar's fully-specced flagship naturally come hand-in-hand with the unprecedented levels of customisation available. The base engine starts at a comparatively achievable $71,550. Customers first choose their power preferences from here upwards, followed by their preferred options. The First Edition Velar (to be discontinued following the vehicle's inaugural year of production) will set you back a mammoth $168,862. It was later revealed that should you tick every box on the list after picking this flagship vehicle, it's effortlessly likely you'll be looking at a figure above a cool $200,000.
Once I had familiarised myself with the P380, the complexity of each vehicle's nuances slowly began to unravel. The petrol variant's supercharged engine offered punchiness into the winding roads climbing out of Sydney westwards towards the blissful Blue Mountains. The fluidity of the Velar's steering was pleasant in an urban environment and just as supportive in a more rigorous trial that included some harsh corners and overtaking at sizeable speeds.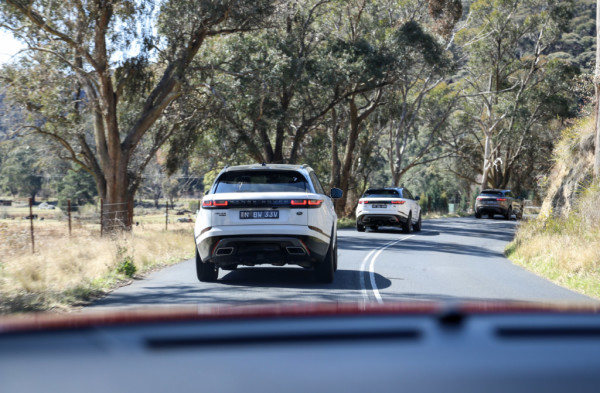 Since the Velar's Sydney launch last month I had yet to be convinced on the front profile of the vehicle. In all honesty, the jury is still out on this one, yet after staring at the back-end of it for a day and a half I can confirm its rear aesthetics grew strongly on me. Colour schemes had also been a touchy subject personally. I have only ever been convinced on a murdered-out Range Rover, which was perhaps a defensive mechanism to distance any affiliation with the soccer mum stereotype. What I was almost instantaneously drawn to as we stopped for lunch was the feisty confidence of what JLR call "Firenze Red." It was much to my excitement, then, that the R-Dynamic D240 SE of the same colour was to be our impeccable canvas to paint in mud and dirt in the aforementioned off-road segment of the drive experience.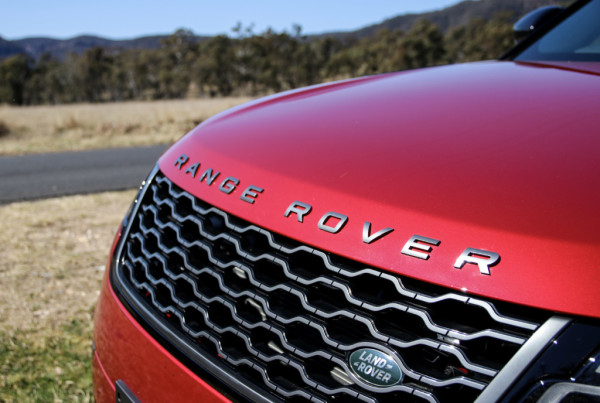 Turning off the highway outside Lithgow and burying ourselves deep in the raw bush of the Greater Blue Mountains area was met with boyish excitement by everyone. As the Velar rolled over the crest of the first hill, plowed into the Coxs River and boosted up the ridge-line on the other side, I consistently found myself asking "Holy shit, are we actually going to do that with this car?"
---
---
It turned out my hesitations were a naïve lack of faith in Land Rover's true ruggedness found at the heart of the Velar, which gradually oozed beyond its luxurious façade as we went on. These things held their own, and they did it exceptionally well. If you still lack conviction when it comes to taking one of these cars off-road, rest assured that the Velar has bigger balls than you do, and will demonstrate accordingly by taking over the difficulties of the off-roading experience on your behalf. The Velar's impressively intelligent All-Terrain Progress Control manages your driving experience – sort of like an off-road cruise control along upwards and downwards inclines, but with automatic braking – so you can focus solely on steering.
This off-road-for-dummies feature was surprisingly impressive and I can only hope will prompt customers to give it a go themselves. It may, perhaps, be a little too ambitious to think that a decent portion of Velars will see dirt beyond a gravel estate driveway.
As I stood in front of the Parklands Country Gardens during the evening's purple twilight hours, the Velar rested majestically outside the main dining room. This uninterrupted one-on-one moment with the vehicle couldn't have been more opposite to the manic Sydney launch event packed with cameras and bodies the month prior.
This time it was just me, the car, and a natural silence. It was in that moment I ultimately submitted to the hysteria that is Range Rover.
People are hesitant towards what they don't fully understand, and prejudice is a hard thing to shake. With this car, however, Jaguar Land Rover have profoundly re-calibrated my perceptions of the sub-brand.
It'll therefore be no surprise that the Range Rover Velar will be one of the most successful newborns for JLR among its already loyal and dedicated following, while also likely swaying those on the fence, myself included, with well-deserved ease.
The 2018 Range Rover Velar is now in showrooms nationwide.