On the day I picked up the Tesla Model X P100D, it had been exactly four months since I returned the mid-sized SUV's little brother, the infamous Model S.
Using these two vehicles as metaphorical bookends, my time behind the wheels of other high-end automobiles had been numerous and stacked with variety. From the latest BMW M4, to the Range Rover Velar and every Ford Mustang in between, my mind was blissfully distracted, but always subconsciously fixated on one vehicle – the Tesla.
It was the one that got away, and I needed closure.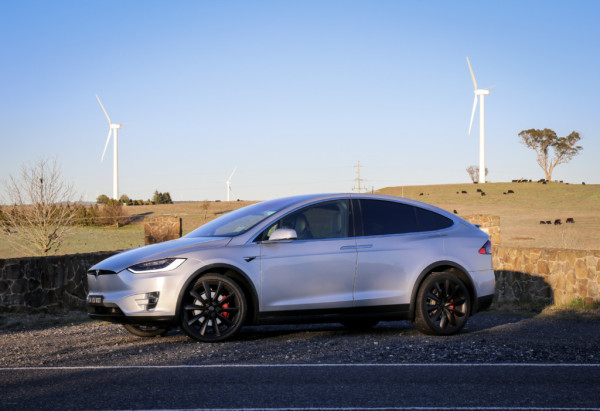 As the calendar days slowly crept towards my reunion with Tesla in the form of a brand new Model X P100D, I began to feel that same intangible excitement that no other car has given me to date.
I may as well stop this all right here and let you go test drive one of these bad boys for yourself. There are no words I can muster to convey to you how mind-blowing these vehicles are.
They will re-wire your perceptions of electric cars – hell, cars generally – from the day you put your foot down on the accelerator and every day thereafter. Seriously, go do it.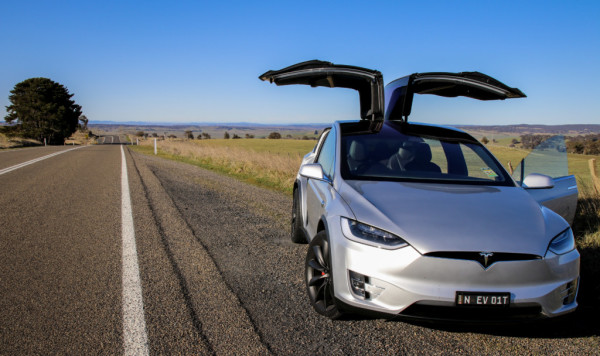 Okay, welcome back. Let's continue with the rest of the review's ramblings.
The biggest takeaway from the Model X in comparison to the 'S' is its size and weight, probably the two most significant factors with ripple effects on just about every design and performance comment to come.
Let's touch on performance first. Despite being a mid-sized SUV the P100D variant can still beat a Lamborghini Aventador SV in a quarter mile drag – that's thanks to a 0-100km/h time of 3.1 seconds achievable in 'Ludicrous Plus' drive mode. Dual electric motors and a big-ass battery heating itself to optimum launch capacity will peel your face off when combined with the lack of differentiation between the torque and acceleration.
The Model X definitely doesn't hug the road with that Formula 1-esque confidence sported by the Model S, although that's to be expected given its SUV profile. Where it can easily win points over the latter is with its unintentional homage to the 1960's Mercedes-era falcon wing doors.
What is a very inconspicuous SUV at first is quickly the car park's biggest head turner as the two doors dramatically open on an elbow-like hinge upwards. They won't open if there's not enough room (a sigh of relief from us when we realised we parked next to an Audi RS6 Avant). This is extremely rare, however, as the sensors inside the door frame calculate the distance needed both horizontally and vertically, meaning almost no opening manoeuvre is the same and no space impossible, as the car will adjust to this accordingly.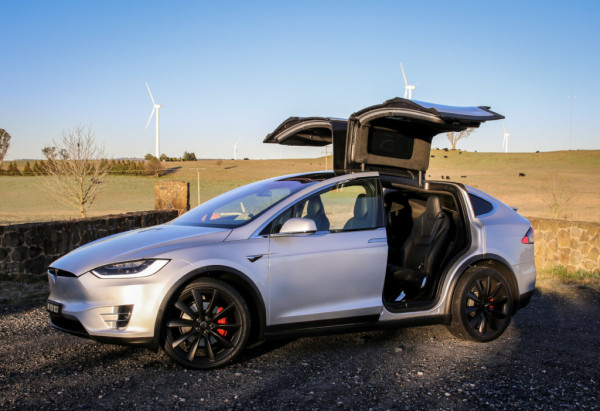 Automatic driver and passenger side doors are also a novelty that never wears off, presenting themselves open each time you approach the vehicle. Once inside, space is a luxury, and not something you'll be short on. A massive helicopter cockpit-style panoramic glass windshield is unlike anything you've ever experienced, and skylights overhead of the middle and rear passengers complete the natural lighting experience.
Our specific model had a six-seat configuration, with an optional centre console, black leather interior and was offset with a carbon trim. It is possible to squeeze a seventh seat, though be mindful that your average at best view out of the rear mirror will disappear entirely.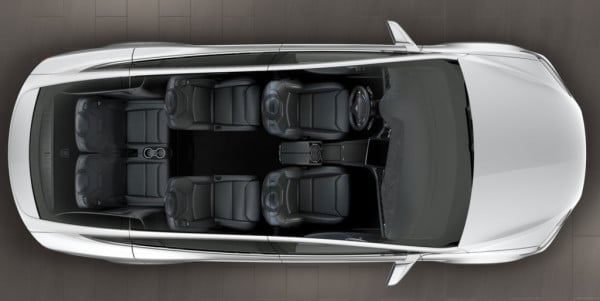 This is a geeky car. Think a few dozen nerds in a room together with millions of dollars at their disposal to build their dream whips. The Model X, as you would expect then, has about every bell and whistle you could imagine. The HEPA air filter boasts a self-contained 'bioweapon defence' mode – less likely for an actual bioweapon attack and more so for that huge road-train spewing out plumes of exhaust straight into tailing traffic. 'Model Xmas' is another can of worms entirely, one you can only really watch, not read about.
It's almost inconceivable to account for every aspect of intelligence this car can claim. For instance, say you actually owned one of these things and you had a notably steep driveway down to your waterfront mansion. If the Tesla needed to automatically raise the suspension for ground clearance, it would program this into the car's navigation, so every time thereafter you entered your driveway the Tesla will realise this and adjust accordingly. It will even go one step further and notify other Tesla's in the area to do the same should they find themselves at your house. We thought that was exceptionally cool.
Charging proved difficult on this occasion, I'll be honest here. It came down to two things – a bigger car meant more energy needed, and the charging infrastructure was noticeably lacking on the route we took. This route (south of Sydney then in-land), was chosen intentionally to push the limits of the battery and dissect the practicality of actually owning one of these cars.
Bottom line, it's not quite practical. Yet. You get the same anxious feeling as when your iPhone is running low on battery, but blown out to a much bigger scale with bigger complications if you run it right down to single digits. On one occasion we left our accommodation with 96% charge, and proceeded to flog it back and forth along country roads filming and shooting content for about 2 hours. In that time we covered no more than 100km (admittedly yes, we weren't driving in the most battery-conservative manner), but we returned to the local supercharger with a mere 28% remaining. Again with the same iPhone analogy, this thing is just a huge battery. When the morning temperatures were hovering around zero and we were putting it to the sword consistently for a good couple of hours, it didn't last very long.
If you plan your trip with military-like accuracy and have no time restrictions for charging, this car can indeed be taken out of the city. We assume if you can afford this spaceship, however, you'd simply take one of your other three or so cars should you be after an impromptu, destination ambiguous adventure. For a breakdown on charging specifics, shoot over to our Model S review.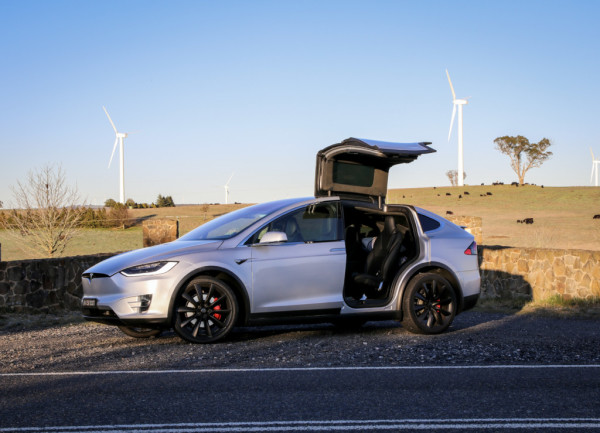 The Model X's design won me over, with its performance still admirable despite my lack of conviction with the battery power on this occasion.
The spine-tingling roar of a V8 will undoubtedly trigger your senses – no arguments here – but a Tesla creates an entirely new sensory experience altogether.
If it was closure I was after, I can only say I got half way there. With each drive it leaves you wanting more, and that's fine by me.
That's enough of this, just go test drive one yourself. Now.
2017 TESLA MODEL X P100D
Price: P100D circa $280,000 depending on options, smaller batteries available.
Engines: Dual AWD electric motors
Forward Power: 259 hp @ 6,100 rpm (193 kW)
Rear Power: 503 hp @ 5,950 rpm (375 kW)
Forward Torque: 249 nm
Rear Torque: 649 nm
Transmission: Single-speed
Fuel use: Zero