American muscle. You really can't beat it.
We've had the opportunity to drive a few 5.0 litre V8 engines during our time here at Boss Hunting, but none of them quite have the same grunt to them as a Ford Mustang GT.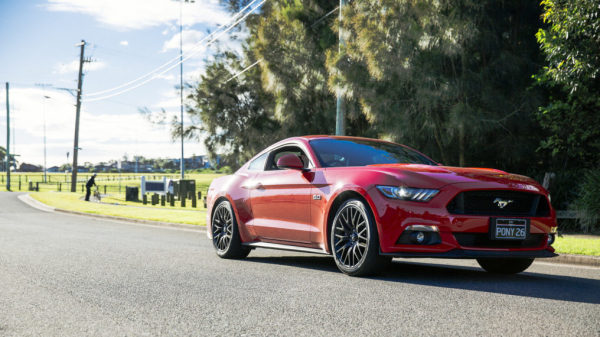 If you've spent time in the United States, the sight of a Ford Mustang is as common as a Holden Commodore here in Australia. Though with the Ford Mustang only recently arriving on home shores for purchase, we thought it was about time we get behind the wheel and put the classic to work since you'll be seeing them around town more often.
---
---
I'd usually finish a car piece with the price tag, but if you don't mind I'm going to swap it around and kick it off with the numbers. Why? Because just under $65,000 is a bargain for a powerful sports car here in Australia. We're not getting paid to plug Ford, I'm being genuinely honest. Bottom line, value for money, this beast ticks every box.
If you're under the age of 35, have some cash to splash, and are after a whippy yet powerful sports car, I can't think of a reason why you'd look any further.
Insurance and up-keep will naturally hit you where it hurts every so often, especially if you're planning to drive it the way it was built to be driven. Though if you can accept this and bite the bullet – boy, you're going to have a hell of a lot of fun.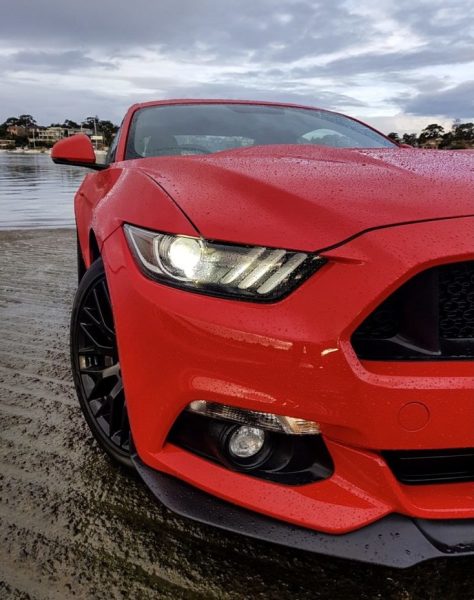 The sixth-generation Ford Mustang GT is classic not just in the sense of its historic prestige, but rather its relatively unchanged construction since the 60's. The massive 5.0 litre V8 engine still dominates the tank-like front of the car, with fierce rifle-style sights running down the bonnet towards the mean face of the vehicle.
The 'Fastback' variant of the GT – Ford's non-European way of saying 'coupé' – channels the huge 435-horsepower straight to the back of the car. Being rear-wheel drive, the front of the car aggressively makes itself known when you put your foot down, the 530 nm of torque rearing the car like a pony before a gallop, a feeling that will easily put a smile on anyone's face.
The GT is heavy, that's for sure, but it's surprisingly not sluggish. To give it a good grand touring workout, you'll want a space with snaking corners broken up with short straights. The gear shifting paddles at 9 and 3 behind the wheel come in handy for those not in the manual variant of the car, still leaving some excitement within the control of the driver.
The GT absolutely destroys steep hill climbs, just make sure you've got the windows down to enjoy the spine-tingling roar when it does. It's not a bad highway drive, either. Whatever you've got planned, the handling options (including Normal, Sport, Race Track and Wet) give you the freedom to tailor your day on the road to the conditions, with drivers able to toggle steering and traction individually if they so choose.
---
---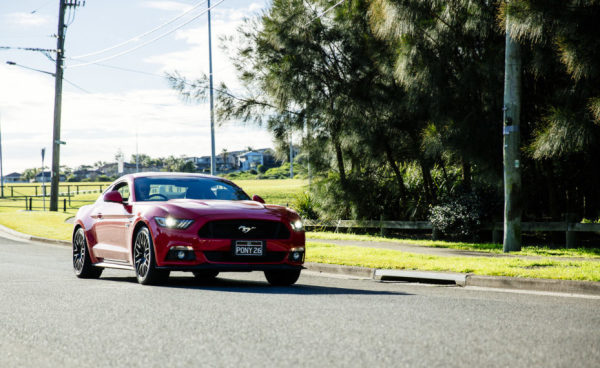 Unfortunately, the launch control and line-lock features found on their American counterparts aren't available here. Although, Ford have just released officially customisable performance modifications for the Mustang, including the FR3-M9 Track Handling package with lowering coil-springs, assembled front struts, upper strut mounts, rear shocks, sway bars, rear toe links and toe-to-knuckle bearings. If you're not looking to track-orientate your car, minimal yet slick black-tipped exhaust systems add extra visual drama and a short-throw shift-kit for the manual version will bring a little more fun to the party.
The interior is pretty much what you'd expect from an American muscle car, I don't need to extrapolate too much further on this. The dash a slick design, the rather large 'infotainment' screen making up for other design flaws like the lack of a digital speedometer and too many buttons on the steering wheel.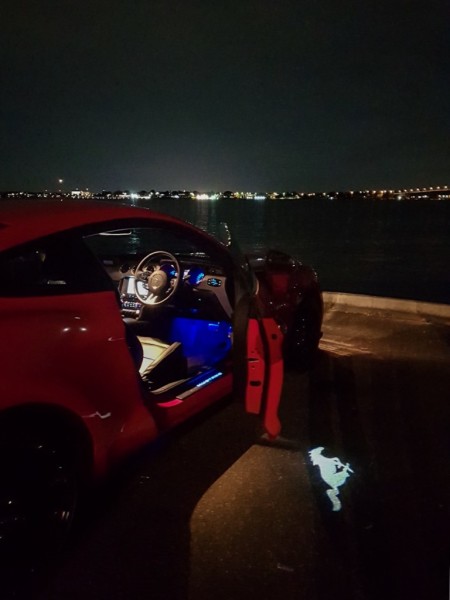 Though what Mustang review would be complete without a mention of the 'pony' projection lights onto ground after dark, which were fun for the two weeks we had the vehicle, but would probably warrant a few snarky remarks from mates and strangers alike after a while.
A few other things to consider would be how quick the (slightly smaller than average) 61 litre fuel tank disappears – yet if you're buying a Mustang, fuel efficiency is not going to be make or break for you. Being a rear-wheel drive car, the 'Stang is incredibly fun, yet it's also one to watch out for. With such immense power shooting straight to the rear of the vehicle, this makes corners dicey even in the best conditions and with the computer fully functional.
We also hope you prefer transporting things rather than people, as with ample boot space you're no more restricted than your standard family sedan. The back seat all but disappears behind the driver, however, and that one's non-negotiable. So let's say it's a three person car at the maximum.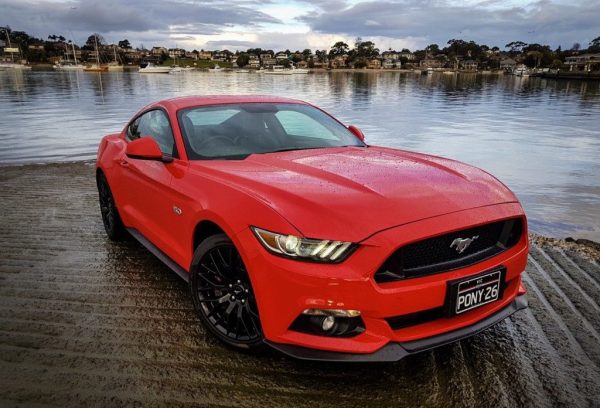 That aside, if you're willing to compromise where it probably doesn't really matter anyway, the Ford Mustang GT is fun. That's the only word necessary. It's fun to drive, fun to look at, it's fun turning heads and it's fun being behind the wheel of such an incredible sound.
If you've got the disposable income and are in the acceptable age bracket for someone who would own a bright red Mustang GT, you couldn't find a more fun car for the price tag.
2016 Ford Mustang GT
Price: Starts at $62,555, plus on-road costs
---
---
Engines: 5.0-litre V8
Power: 306 kW @ 6500 rpm
Torque: 530 nm @ 4250 rpm
Transmission: 6-speed auto (optional), or 6-speed manual
Fuel use: 13.1L/100 km (manual) 12.6L/100km (automatic)