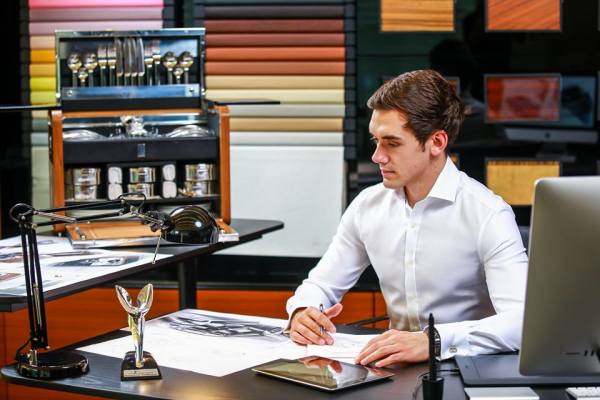 Ask anyone from Rolls-Royce what makes their vehicles special and they will all tell you the same thing: bespoke. Each and every car that rolls off their Goodwood production line is painstakingly personalised, right down to the finest of details; something the British marque has become synonymous with. The company's bespoke designer Michael Bryden oversees all of Rolls-Royce's one-off requests and, at just 26, Bryden is forging an illustrious career with one of the world's pinnacle super-luxury brands. We caught up with him at the opening of Rolls-Royce's new Melbourne Showroom, the largest in Asia-Pacific outside mainland China, to talk all things bespoke.
You're nearly 27, so can you tell us a little bit about being so young in an industry that tends to be dominated by older heads?

The design studio at Goodwood is actually quite a youthful team, the majority of us being in our mid-to-late late 20's. Of course there are a couple of more senior figures but it's generally a very youthful studio, something which I think is starting to show in more of our recent bespoke projects, which are becoming more contemporary and unexpected for the brand.
What's a typical day like for a Rolls-Royce bespoke designer?
We're based in the Goodwood design studio in the south of England, and I'm usually in the studio itself sketching and creating photo-realistic visuals for customers or technical design schemes for projects that are a little bit further forward. Generally I have a number of one-off design projects on at any given time, but a typical day will be working on one of those one-off projects. They involve a customer design meeting at Goodwood, where customers from the UK and around the world visit the factory and see how our cars are made, giving them the chance to walk the production line themselves. They get to appreciate the level of skill and craftsmanship that goes into each and every car we build and that's something our customers love doing during the commissioning process, so they can really see the level of detail we go to.
From there, I get to meet customers in what's called the Charles Rolls Study (appropriately named after the Rolls-Royce co-founder). In the study we sit down, have a coffee and just chat about their project—cars they've already got and how they're going to use this one—before we take them through to the connecting room, the Henry Royce Atelier (again named after the Rolls-Royce co-founder) which is sort of an extension of what we have in all of our showrooms worldwide. It's there that a higher level of bespoke samples surround our customers, allowing them to assess not only some of their options but examples of some of our previous one-off projects, giving them inspiration for their project if they're still unsure of what they want. We've also got what we call "speedforms" in the atelier which assist customers with our fully customizable colour range, allowing them to combine up to two paint colours together in a single or two-tone (something that's become more common with the Ghost and Wraith range) colour pattern to see how it might look.
How long does the whole bespoke process usually take?
It's usually around a 6 to 12 month timeline, but it varies depending on how complex the project is. We try to be as quick as is possible, especially if we're having the car built for a special occasion like a birthday or an anniversary, but it's heavily dependent on how complex the initial design process in the studio is.
Can you talk to me a little bit about your design fundamentals?
I'm obviously not exactly a "full on" car designer. I specialised in yacht design while I was at university and also worked in a private aviation studio for a little while in London, working on one-off projects on different platforms, which has put me in good stead for the area that I work in now at Rolls-Royce.
Among all your bespoke projects, are there any that stick out in your memory because they struck a chord with you?
Just yesterday (at Zagame Rolls-Royce Melbourne) we were putting together a Black Badge for a customer and it was amazing, pretty much exactly what I'd specify on a Black Badge with a really cool play on colours. But in terms of really different and extreme bespoke that we've done recently it would have to be a car we created that was matched to a customer's superyacht. It was a Phantom Drophead Coupe, which is a model we no longer make but the project was great because it had custom livery and paint to match the yacht. We even developed a feature for the boot, so the trunk space had a storage section underneath the floor for deck shoes so when you get to the yacht, to kind of aid that transition between land and water, you'll be able to switch from the shoes that you have on to something you can wear onboard without damaging the yacht's deck. Very different and very cool.
Lastly, what's your favourite Rolls-Royce? Classic and modern?
I'd probably have to say the 1952 Silver Dawn that we took inspiration from for the new Dawn, and then for modern it'd have to be the Wraith Black Badge at the moment. It's quite an amazing car and one that I've been fortunate enough to drive, and spending a day with it is just fantastic.
The new Rolls-Royce Melbourne Showroom, part of the Zagame Automotive Group, is now open and is located at 420 Swan St, Richmond.