The world's most recognisable name in luxury motoring now comprises, depending on your generosity, as many as seven models. The Phantom accounts for four of those and Rolls-Royce happily accepts that—saloon, long-wheelbase saloon, coupé and convertible. Then there's the "smaller," cheaper Ghost, although such things are of course relative in Rolls-Royce terms. The Ghost's derivatives are perceived by Rolls to be individual models rather than what they would call market variants. There's the Wraith coupe, a car that Rolls can't quite bring itself to call sporting—despite it being as dynamic as you'd want a Rolls to be—and now there's this.
It's called the Dawn and Rolls says it's "not a Wraith drophead," contrary to media speculation. Rolls-Royce first unveiled the Dawn at the 2015 Frankfurt Motor Show, with the first Australian owners taking delivery in the second quarter of 2016. The iconic British car maker says 80 per cent of the Dawn's exterior body panels are unique (from the often-compared Wraith), something we noticed much easier in the flesh on our weekend with Goodwood's new mark.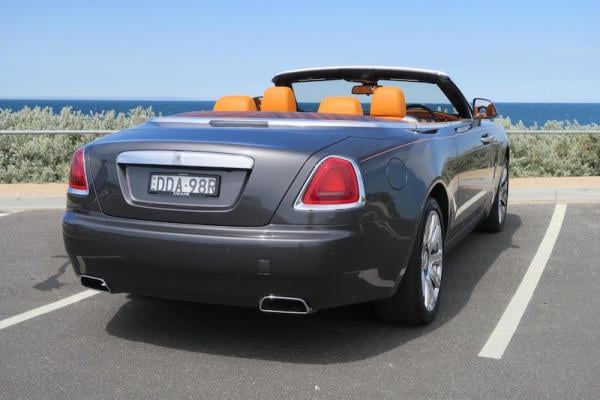 Under the Dawn's bonnet sits a familiar twin-turbocharged 6.6-litre V12 producing 420kW at 5250rpm and 780Nm at 1500rpm (down 45kW and 20Nm on the Wraith's outputs). The whopping powerplant launches the 2560kg beast from 0-100km/h in 4.9 seconds, all paired with an eight-speed automatic transmission that drives the rear wheels to a top speed electronically limited at 250km/h.
Whether cruising along Beach Road on a Friday afternoon or sitting in Glenferrie Road traffic, the Dawn effortlessly graces the road like a cloud, yet is happy to manoeuvre with every bit of V12 storm when necessary.
Goodwood calls the Dawn 'the world's only true modern four-seater super-luxury drophead' and we wouldn't disabuse them of this notion. With a host of bespoke engineering and a glorious deep azure paintwork finish offset with aluminium detailing and giant 21-inch alloys, it's fair to say ours glistened in Melbourne's early Summer sun. Inch-thick bespoke lambswool carpets set the luxury mood, while the finely-striped macassar-wood veneer encircling the cockpit and rear deck helped evoke the classic Silver Dawn of the early 1950's. It's these features that R-R customers continue to return to the brand for, and help the Dawn avoid the finish of lesser luxury cars, while also dodging bling.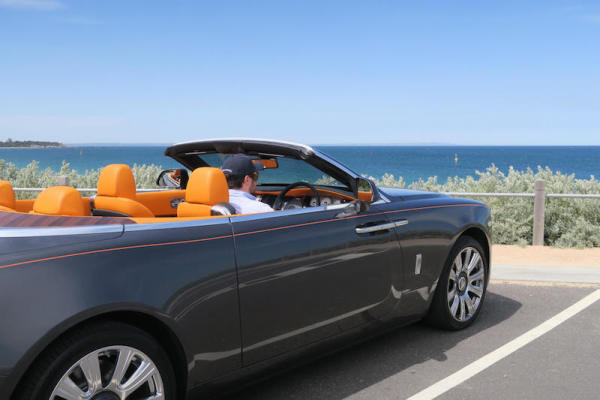 The Dawn proves Rolls-Royce's commitment to being the most customer-focused luxury car maker, so don't focus on CO2 emissions or around-town economy. Nothing looks, feels or behaves like a Rolls, so anyone in the price bracket must consider this the new era of Rolls soft-tops.
$104,000 more expensive than the Wraith coupe, the Rolls Royce Dawn is priced from $749,000 on the road.