When you think of large sedans you instinctively think of Holden, Ford and Toyota. After all, that's what we've all grown up with. I bet none of you thought, Skoda Superb.
Well reset your thoughts, because if you want a great value large car with a good dose of luxury, then look no further than the Skoda Superb.
And if you drive or ride in one, you'll sit there, look around and be amazed.
Cos that's how I felt the first time I sat in the Skoda Superb 162 TSi. To be honest, I didn't know what to expect, but I was very curious, which is why I drove it. And I'm glad I did.
A friend has a Skoda Octavia RS wagon and raves about it and while the smaller, sportier Octavia has proven to be a giant killer in the Targa Tasmania, the large Superb, is the one slugging it out against the Aussie cars.
I'd seen the Superb on our roads before and saw many during the Tour De France. I was tempted to simply jump aboard the new-look Superb and drive off, but I resisted and instead got acquainted with a slow walk around the gleaming white TSi 162 and was deeply impressed by its styling with hints of both BMW and Audi.
It's a fuss-free design that's beautifully executed, with clean crisp contours, an etched beltline, large glasshouse area and a touch of swoopiness to its silhouette. Its premium appearance certainly belies the $42,190 (+on-road costs) price tag.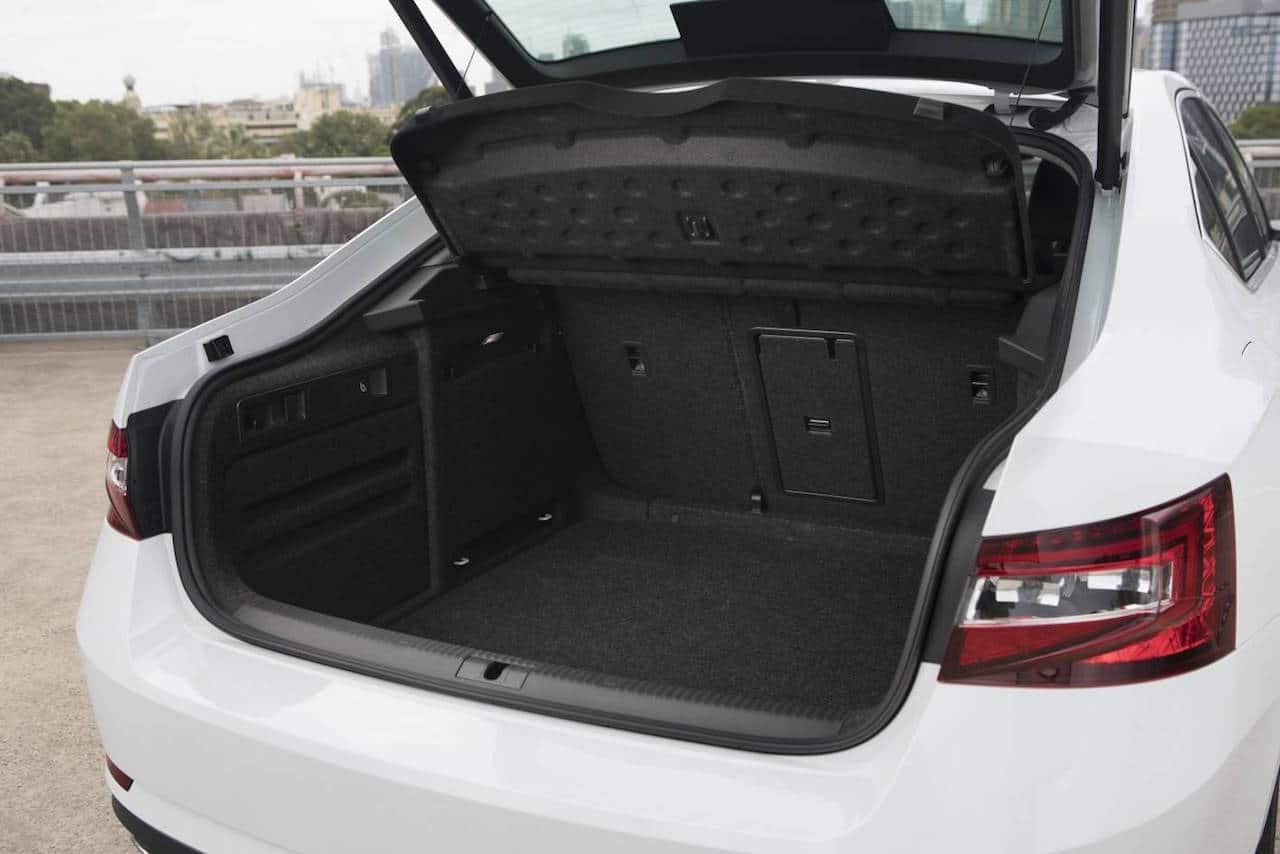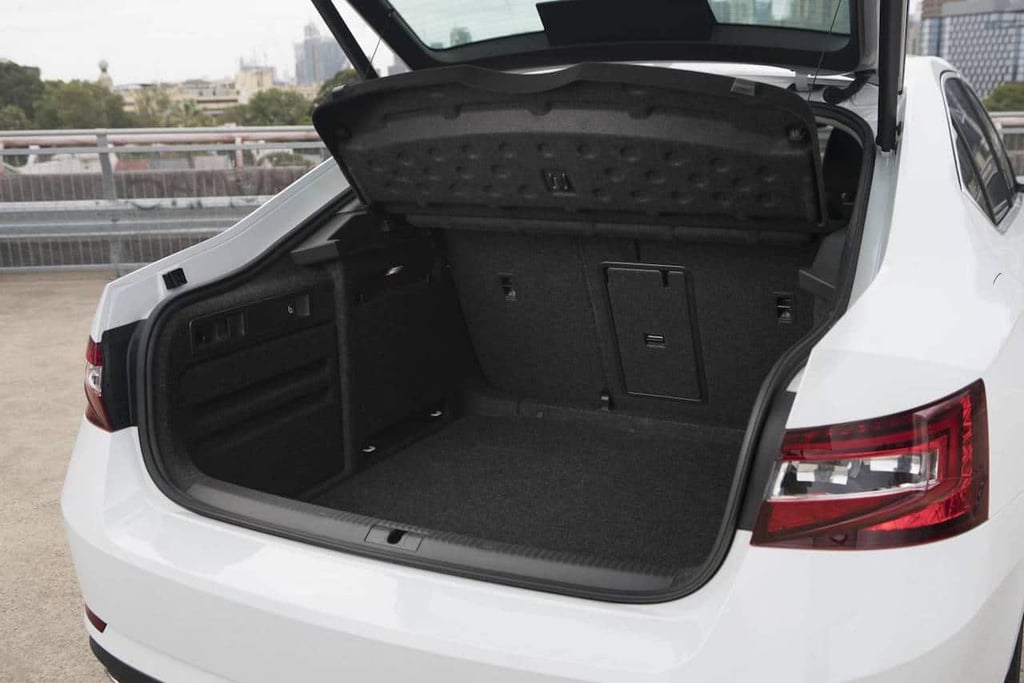 I wasn't the only one impressed with the look of the big sedan, that's actually a hatch. You read correctly, a hatch. The crafty crayon twirlers at Skoda's design centre have penned a sedan that is, in fact, a hatch. Hidden beneath the large glassed hatch is a 625-litre boot, that's bigger than most kids swimming pools. And that was jus the start of the many surprises and delights I discovered during my week with the Superb.
The first thing you notice inside is the colossal amount of leg and head space in both rows. I've travelled business class on long haul flights with less legroom. Not surprising, some of the switch gear and the infotainment screen have a familiar VW look to them. Soft touch surfaces are used throughout, the overall fit and finish is excellent and the library quiet interior is as tight as a drum. The dash layout, large analogue gauges, digital trip computer, and infotainment system featuring Apple carplay and Android auto are all a breeze to use and the 12-speaker 610-watt audio system gives your music a new lease of life.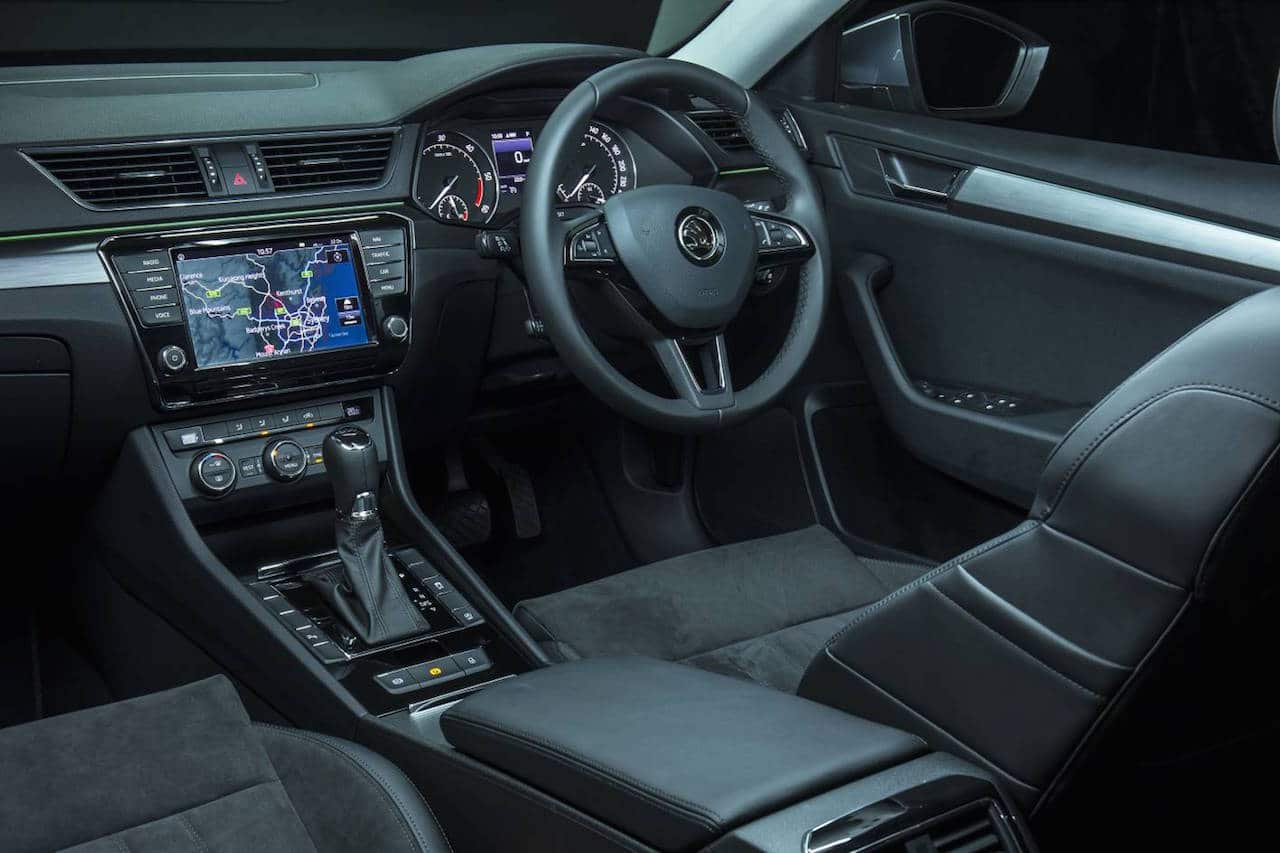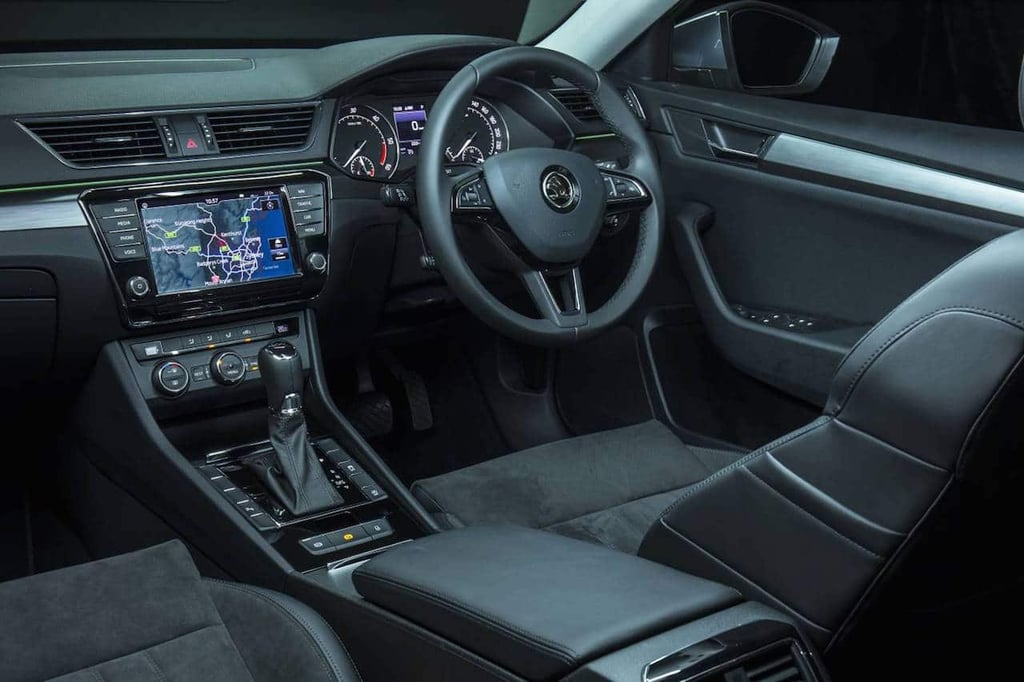 The electrically adjustable, (with three memory settings) heated AND cooled front seats are exceptionally comfortable and supportive as are those (also heated) in the rear.
Powering the entry-level Superb is a direct-injected and turbocharged 162kW/350Nm four-cylinder engine with zero to 100km/h taking 7 seconds and a top speed of 245km/h. With all that torque under your right foot from just 1500rpm,  overtaking and climbing hills is effortless. Driving the front wheels, the six-speed DSG gearbox changes swiftly and seamlessly but can be a bit jerky at take off. A flick to Sport mode made a big difference to its responsiveness and brought out the best in the drivetrain, keeping everything in its sweet spot.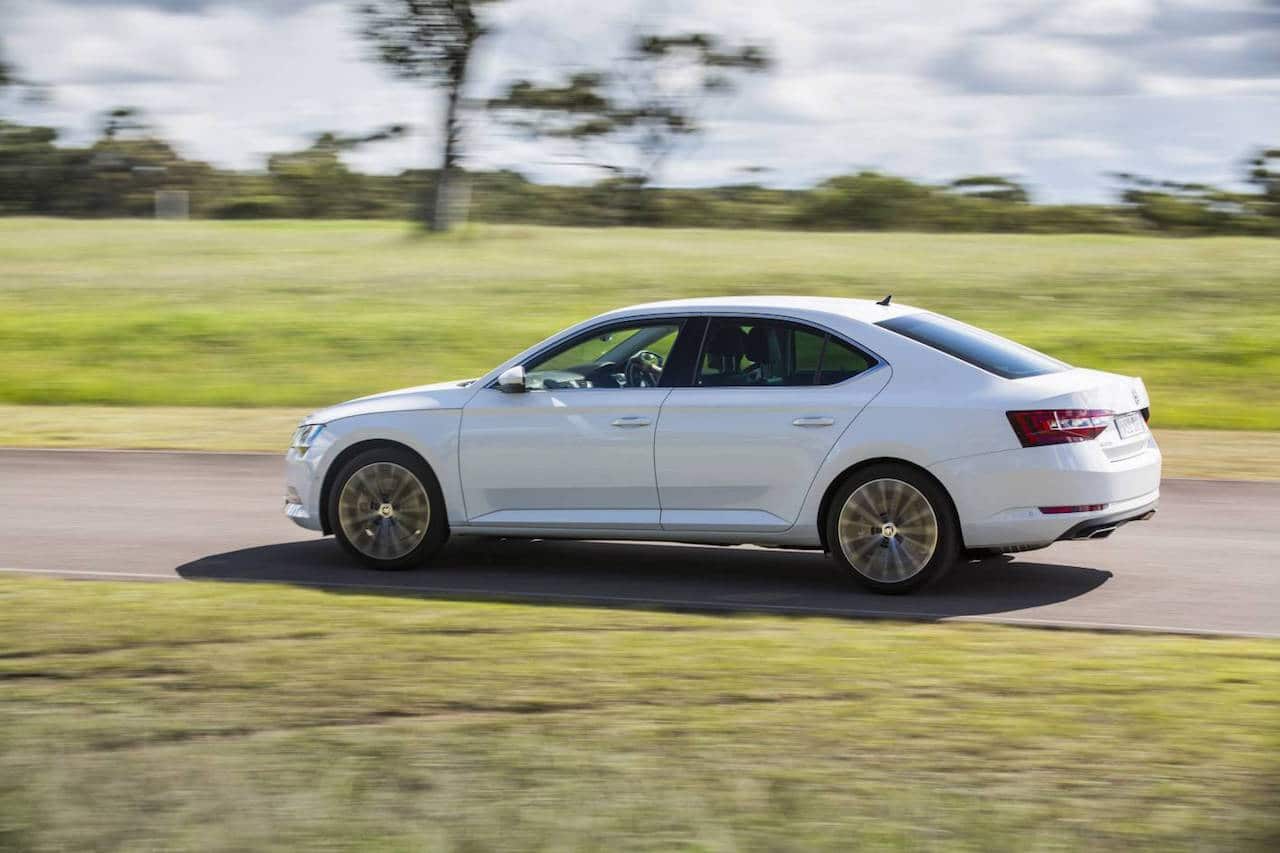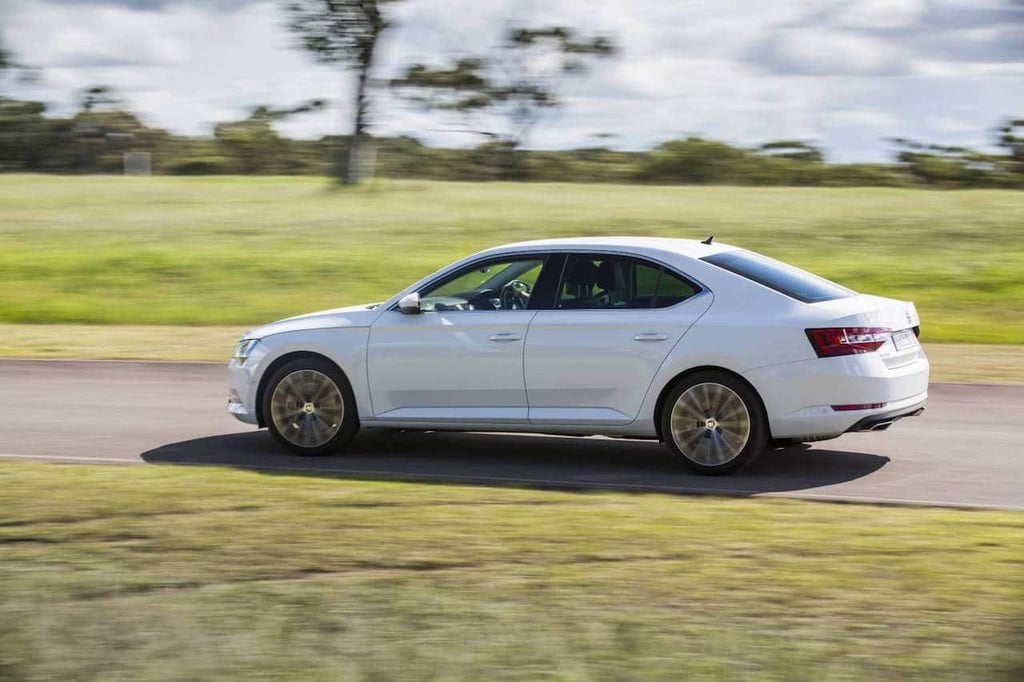 What's more, the Superb's amazingly economical and after a week of driving on all types of roads and conditions, I'd racked up 750km and still had another 230km to empty. By my rough estimate, its fuel range will easily take you from Sydney to Melbourne with a fair bit left in the tank.
The Superb's 18-inch alloys, long wheel base, MacPherson strut front and multi-link rear suspension flattens bumps and blemishes, giving those inside a limo-style ride.
Despite the softish suspension set up, handling is decidedly impressive, aided by the electronic diff lock that gently brakes the inside front wheel when cornering. It points well and tackles corners in a reassuring, competent manner and is unfazed by mid-corner surface irregularities. Although the steering is too light for my liking, it still provides a reasonable level of feel and feedback.
On the safety front the Superb gets a five-star ANCAP safety rating with a comprehensive armoury of features including stability and traction control, radar guided cruise-control, nine airbags, reversing camera, electric park brake with hill hold, integrated emergency brake assist, tyre pressure monitoring, auto headlights, rain-sensing wipers, parking sensors front and back, plus adaptive and cornering headlight functions.
Now we get to the clever stuff that really impressed me the most.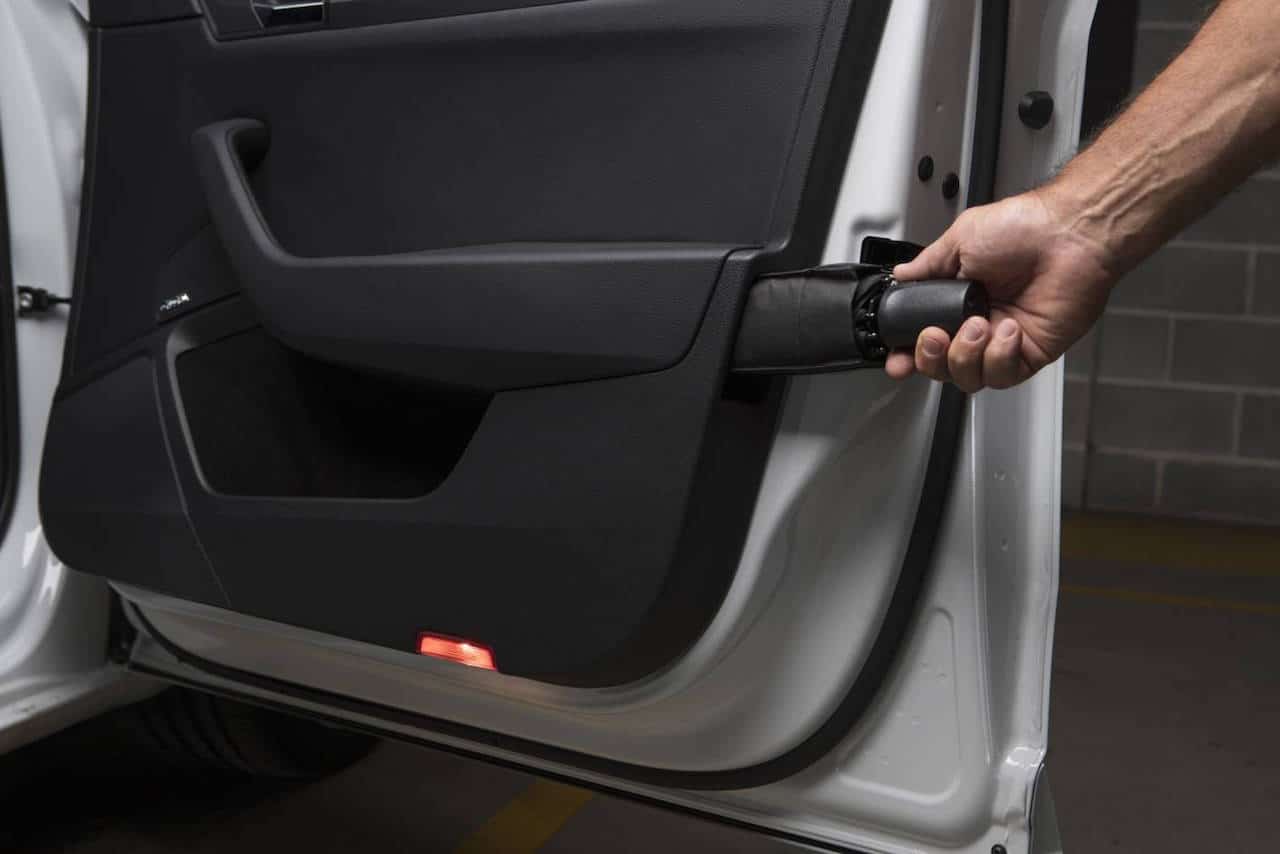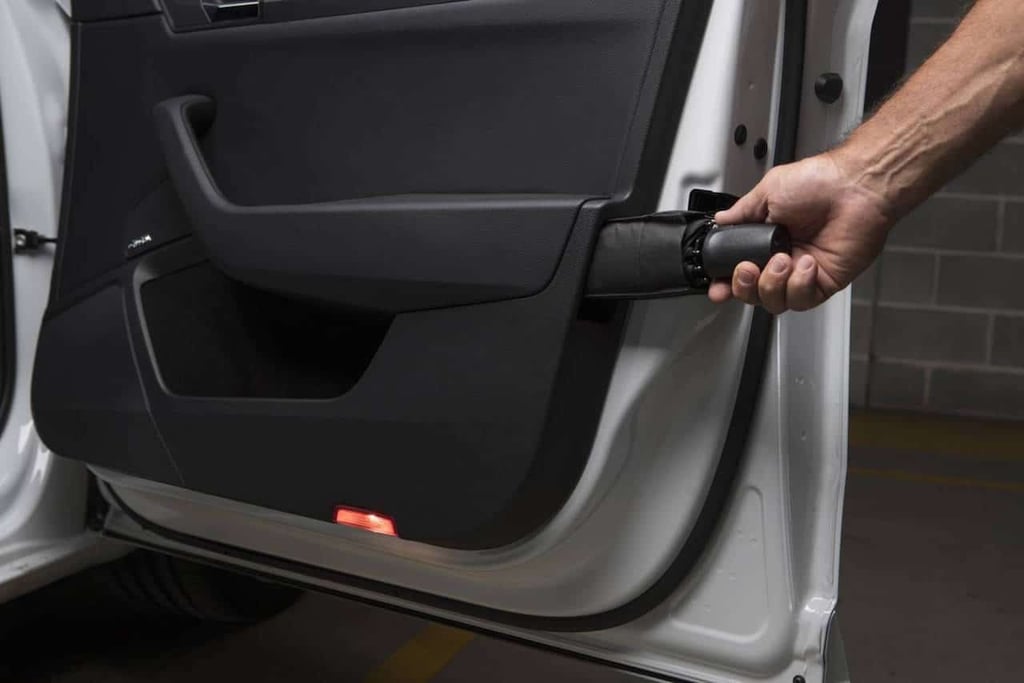 Here we go…built into each of the edge of the front doors are umbrella holders complete with black brollies and in the driver's door pocket, a small rubbish bin with spare liners in the glovebox. Back seat dwellers can clip a two-way plastic bracket to the stays of the front headrests to cradle a smart phone or tablet or you can mount it in the cupholder section of the rear armrest. Then there's the light that illuminates the boot and unclips to become a portable torch.
At the windscreen base is a clear plastic parking ticket holder and at the bottom of the dash, a semi concealed and lined, coin and credit card holder.
You can play the part of a celebrity in the back seat, by raising the blinds on the side and rear windows. A second set of electric passenger seat controls are on the inside of the seat, so those in the rear or driver can adjust the legroom. On the upper side of the driver's seat is a small pocket for pens or a smartphone.
The three-zone air conditioning pipes air through the centre console and glovebox. And finally, as you leave, the Superb emits a chime and the dash lights up to remind you to take your phone.
The Skoda Superb mightily impressive from every angle.
It is astonishingly good value, hugely spacious, good looking, drives well and is packed full of cleverness and features. Go and see for yourself.
For more information on the Skoda Superb head to the Skoda website.
Check out the Volkswagen Tiguan Sportline for another Volkswagen Group pick.
By Mark Higgins