2017 is a big year for Ferrari. The Italian marque celebrates it's 70th anniversary, having debuted the 1.5-litre, V12-powered 125 S back in 1947, and to celebrate 70 years of continuous V12 production they're celebrating with the successor to the F12berlinetta; the brand new Ferrari 812 Superfast.
Having been initially launched three months ago at the 87th Geneva Motor Show, we were lucky enough to attend the car's Australasian debut at North Melbourne's heritage-listed Meat Market yesterday, joining guests at a sit down lunch hosted by Ferrari Australasia CEO Herbert Appleroth. The spectacular layout featured a mini-evolution of Ferrari V12's, with a Daytona, 550, 599 GTO and 612 TDF all lined up showcasing some the very best 12-cylinder models ever adorned with the Cavallino Rampante.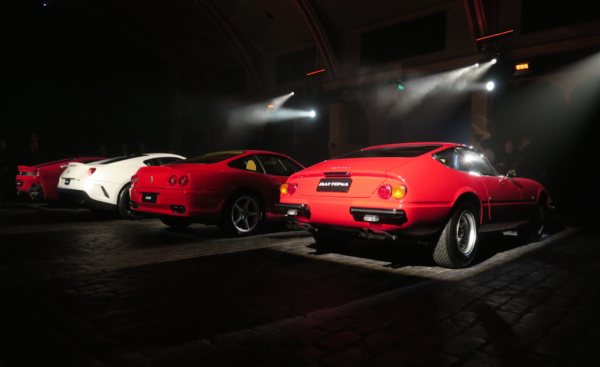 While anything Maranello produces is always in demand, the 812 Superfast appears a worthy successor to the F12 in its own right, with its asking price of $610,000 some $80,000 lower than the retail price of the F12 at $690,745. Impressive considering the car's official stats, which Appleroth proudly stated before the official unveiling – "The 812 Superfast is the fastest, most powerful Ferrari in the marque's 70-year history, reaching 0-100 km/h in just 2.9 seconds." While largely a development of the F12, the enlarged and reworked version of the company's naturally aspirated V12 now displaces 6.5-litres, developing 588kW and 718Nm of torque. The front-mounted engine drives through a seven-speed dual-clutch transaxle at the rear, while the 812 is fitted with electronic power steering, a first for Ferrari. This works in tandem with rear wheel steering to produce a car the company claims is a full three seconds a lap quicker at the company's famed Fiorana test track.
---
---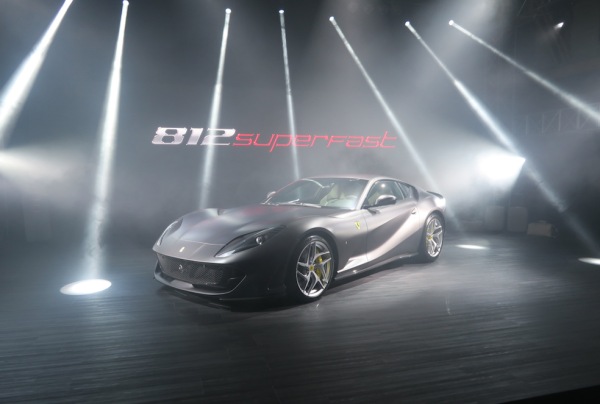 "The engine delivers the kind of thrilling, top-end performance that is an exclusive characteristic of Ferrari's noble V12 heritage," says Appleroth. But don't expect to be able to pick one up soon, with the Ferrari boss explaining that the order bank for the 812 is "1.5 times" the country's full model-life allocation from the factory. "There's no guarantee they'll get a car," he explained, revealing demand around the world has been "quite similar." Regardless, the 812 Superfast ushers in a new era in Ferrari 12-cylinder history, with Maranello developing a car for clients demanding the most powerful and exclusive Ferrari in the lineup, all at a cost significantly less than its predecessor.
Ferrari 812 Superfast specs
Engine: V12 – 65°
Displacement: 6,496 cc
Bore and stroke: 94mm x 78mm
Power: 588kW at 8500rpm
Torque: 718Nm at 7000rpm
Maximum revs: 8900rpm
Compression ratio: 13.64:1
Length: 4657mm
Width: 1971mm
Wheelbase: 2720mm
Front/rear track: 1672mm/1645mm
Kerb weight: 1630kg
Weight distribution: 47/53 front/rear
Fuel tank: 92L
Transmission: Seven-speed F1 DCT with E-Diff3 and 4WS
V-Max: 340km/h
0-100km/h: 2.9sec
0-200km/h: 7.9sec
Braking distance 100km/h to zero: 32m
Fuel consumption: 14.9L/100km