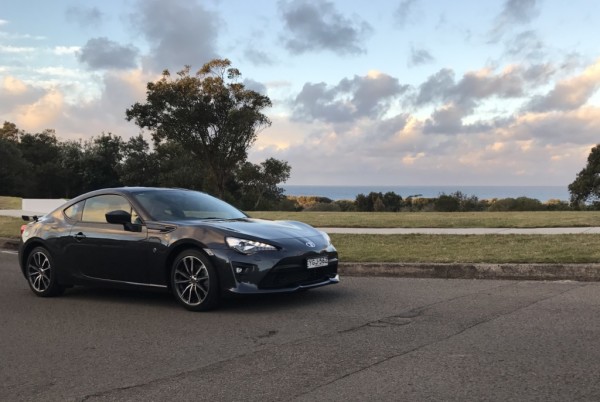 According to Toyota, the basic concept of the Toyota 86 was to deliver a raw driving experience. The aim was to fuse driver and car to create an experience reminiscent of motoring's glory days; they wanted to build a car where the driver can control everything themselves and actually feel something when they are behind the wheel. Essentially, Toyota wanted to build a car for real drivers, and that is exactly what they have done.
I was first introduced to the 86 at Townsville's Reid Park circuit, during the second round of the Toyota 86 racing series. The T86 series is a one make, grass roots orientated series, that sees up to three professional drivers mentor and compete against a potential field of more than 35 passionate drivers. Historically, money has unfortunately been a necessity when it comes to getting a start in motorsport. However, like similar one-make series, the T86 series demands competitors adhere to a strict car setup, ensuring that driver talent, rather than team budget, is key to winning. The concept behind the 86 series then, is that it provides any passionate drivers with the opportunity to race. Basically, if you purchase a Toyota 86 manual model produced before August 2016, you are already half-way there.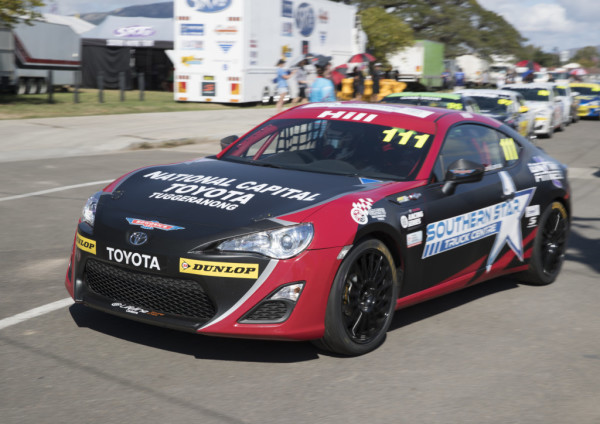 Taking into account pricing for the 86GT mandatory package (starting price $30,790) and estimated costs for the other required components, if you choose a used 86 GT (manual) as your base vehicle, a race-ready car, complete with Dunlop Extreme performance Direzza Z11 rubber, plus initial race entry fee, you could be on the grid for less than $70,000. It's a pretty cool initiative that is providing many young aspiring drivers with a platform from which they can launch their careers.
I travelled to Townsville back in July in order to see the 86 in action and to get a first-hand experience of what the vehicle is capable of with a professional behind the wheel. Before racing kicked off for the weekend, I was fortunate enough to ride shotgun with a young driver named Harry Bates. Harry is the son of former Australian rally champion Neal. Neal also happens to be the man responsible for designing the racing components behind the Toyota 86. Harry, like his father, is a rally driver, but he was kind enough to take me for a spin in the 86.
Harry is a very polite, well-spoken and unassuming character. He's also an absolute animal on the track. Obviously, the car Harry was driving was a bit different to the one I tested myself, I was driving the normal model and the vehicle Harry was driving had the race specifications designed by his dad (I also tested the GTS, which has a few different features, but I'll get to those later.) Despite these difference, the skilful yet slightly unhinged hot lap with Harry was the perfect introduction the 86 before I took it through its paces on the streets of Sydney.
To be perfectly honest, I'm not a real driver, but when I was driving the 86, I really felt like I was. The first thing you notice when getting into the 86 is just how low it sits. The low flat bonnet signals the presence of the 2.0L Boxer engine beneath. The 86 GTS is powered by Boxer technology with Toyota's next-generation D-4S Direct Injection. The 86's FA20 (auto) engine produces 147kW of power and 205Nm of torque while the FA20H engine produces 152kW of power and 212Nm of torque – in layman's terms, it's a smaller engine, but still a whole lot of fun. This car isn't made for a flashy sprint from a dead start, its strength is in its handling at speed.
The low positioning of the engine means a low centre of gravity, ensuring that when Harry was attacking hairpin turns on Reid Park, body roll was negligible. Even off the race track though, when cornering on regular roads I could feel the benefits of the racing design; the fun, nimble dynamics of the car meant you could really drive it, without losing control. With a front engine rear-wheel drive you can choose between a 6-speed triple cone synchro manual transmission or a 6 – speed automatic transmission. Handling options also include the choice of track control and sport mode. I did hit the track button from time to time, just to allow myself to feel a bit more when cornering, but if we're honest the ride is exciting enough as is.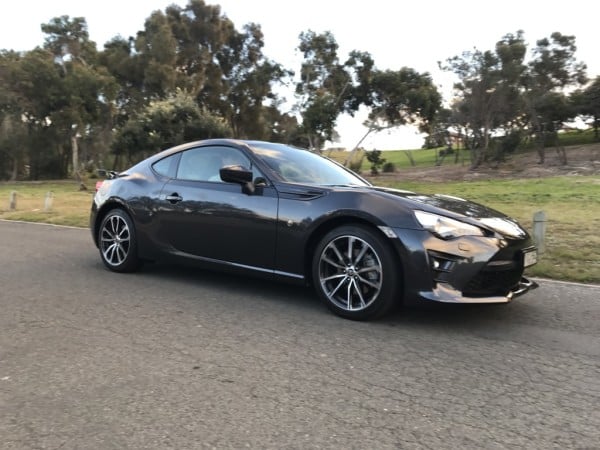 Again, even without the race specifications, the 86 has a performance orientated cockpit, with bolstered racing inspired seats that hug your body for stability. Even the steering wheel adds to the racing dynamic: To enable fast steering inputs, the 86 is fitted with the smallest diameter steering wheel in the entire Toyota range.
When it comes to differences between the GT and GTS, as I said it is all in the features: In addition to a 6.1″ Touchscreen Audio with Bluetooth and Music Connectivity, the GTS comes with a 4.2" colour Multi information Display, steering wheel controls and Satelittle Navigation with SUNA Traffic Channel. The GTS also boasts climate control and seat warmers, which were both super handy in these winter months. The GTS also gets bigger alloy rims, an updated trim, leather interior, rear spoiler and a different instrument cluster that includes a G sensor – allowing you to map when you are breaking heavily or accelerating faster during your drive.
In terms of appearance, when creating the 86, chief engineer Tetsuya Tada's goal was to capture the spirit of Toyota's racing heritage without imitating it. So, for inspiration, he had a Toyota 2000GT brought into the room where the designers were working on the 86. Due to this, with its low curving bonnet in some ways the 86 is reminiscent of the 2000GT, although this characteristic is not quite as pronounced on the new 86. In fact, when it comes to imitation, the 86 is essentially a hybrid of former Toyota classics. It has the front-engine rear-wheel drive layout of the Sports 800, the streamlined aerodynamic beauty of the 2000GT and the endless potential for customisation of the AE86.
On the topic of customisation, one of the more popular options is to install the 18″ Alloy Wheels made from cast aluminium. If you wanting your 86 to stand out, these can give the car quite a bit of a different look. If you are after a bit more of a wild ride, you may also want to install the Sway Bars to make it more rigid or the Lowering Spring Set if you're after a bit more wiggle. If you really want to pimp out your 86 there are a few other aesthetic customisation options including interior illumination, a silver interior panel and an alloy wheel lock nut set. The rear park assist feature with sensors might also be a good move if you're regularly parking in the city.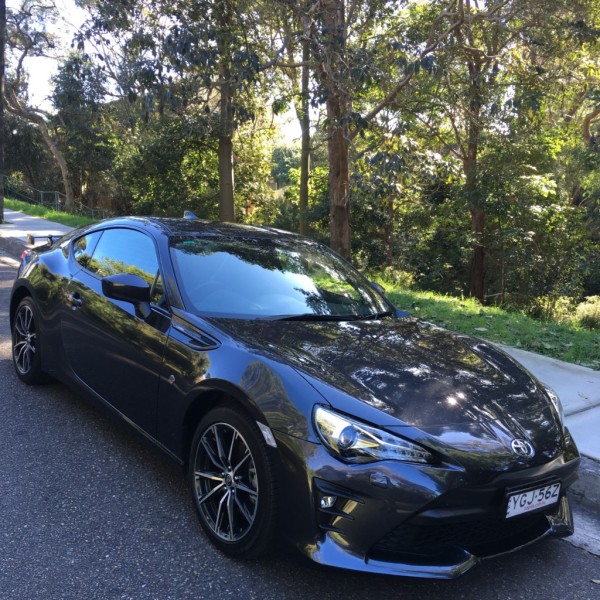 Not surprisingly, being a Toyota and having 2.0L engine, the 86 was great when it came to fuel efficiency – especially considering the way I was driving it most of the time. The 86 did offer a few other surprise benefits though. The 86 is a deceptively small car. In terms of height, yes, it is low to the ground, but on first glance it doesn't seem that small. However, the nimble physique meant that when it came to parking in tight spots around the city the 86 had an unsuspected advantage. The high quality of the reverse camera compared to others I have experienced assisted in this as well.
It could just be laziness on my part, but the smart entry and start system was also a favourite of mine. In the mornings, with a laptop in one hand and a coffee in the other, the smart entry system meant there was no need to juggle these items whilst I fumbled through my pockets for my keys – instead I just got in and went.
As stated with a starting price of $30,700, the 86 is not overly expensive nor is it ostentatious in its appearance. It looks good, it drives amazing. That's what the 86 is. A real car, for real drivers (or people who want to feel like they are one). If you fit into this category and are looking for something that gets you excited to run errands, then I highly recommend this little pocket rocket.
2017 Toyota 86 GTS
Price: Starts at $30,790, plus on-road costs
Engines: 2.0-litre 4-Cylinder Boxer Engine
Power: 152 kW @ 7000 rpm
Torque: 212 nm @ 6400 rpm
Transmission: 6-speed auto (optional), or 6-speed manual
Fuel use: 8.4L/100 km (manual) 7.1L/100km (automatic)