Cars built for adventure are at the heart of Australian culture, but Australia's transport emissions per capita are 45% higher than the global average. We love getting rough on the weekend, so how can we do that but still keep our conscience clear at the same time?
Aussie startup Jaunt is on a mission to convert one of the most iconic cars in history, the Land Rover Defender, into a community built, state-of-the-art electric vehicle that'll form the basis for an eventual car rental network across Australia.
Salvaging the thousands of four-wheel-drives on farms and in back sheds, Jaunt hopes to install an electric motor and place these sleek and silent dream whips in some of Australia's most pristine locations.
On March 3rd, Jaunt launched its crowdfunding campaign, which offered Australians the chance to play an active part in creating Jaunt's first fleet of the coolest electric vehicles on the planet – that look and feel like what you'd expect from a great Aussie adventure 4WD, without harming the environment.
Dave Budge, Jaunt creator and CEO, dreams of a 100% clean energy future and believes Jaunt will make a positive impact on Australian tourism and motoring industries.
"Jaunt is one small piece of Australia's future tourism and transportation puzzle, a piece that sparks the imagination. We believe the desire to get out of the city, to explore, for four-wheel drives even, can be a catalyst for transforming our relationship with normal vehicles into something that has a positive environmental and social impact."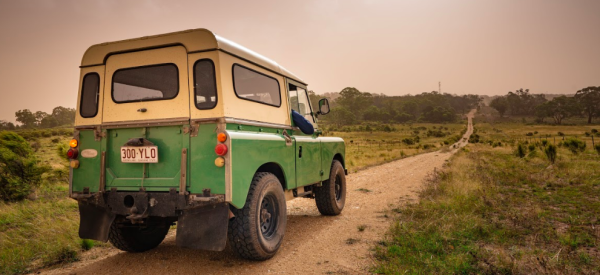 Jaunt isn't re-inventing the wheel entirely. They'll use a combination of the most state-of-the-art Electric Vehicle components including Tesla Model S battery packs and a NetGain Hyper9 AC Electric Motor that puts out 100kw of power and 235 Nm of torque from almost 0rpm – making Jaunt an incredibly smooth and powerful drive. For more on crowdfunding options head to Jaunt's website.
Their biggest hurdle might be maintaining all the Defender's off-road capabilities, including wading depth, as that's not something you can brush over when considering the combination of electricity and water.
For our similar thoughts and surprises on the possibilities of electric 4×4's, have a read of our review of Jaguar's all-electric compact SUV, the I-Pace.