The more time you spend looking at zippy watercraft, the more you realise not all jet skis were created equal. Take, for example, the Maverick GT Jet RIB and Energy Platform. As the latest brainchild of polymath Nico Sell – Founder & CEO of T3MP3ST Energy Platform – the Maverick GT jet ski is both a groundbreaking piece of technology and a vehicle born for good old fashioned excitement.
Sell lives up to her surname as a serial tech entrepreneur, having recently sold her latest company Wickr to Amazon earlier this year. She also happens to be a self-described "white-hat" hacker who's big into action sports like snowboarding and – you guessed it – tow-in surfing.
The mission was to build a personal watercraft that could double as a tow-in vehicle for big surf spots like the Mavericks, while fitting into a RIB hull to become a people-carrying tender with some style to it; and as if that wasn't enough, something that runs completely silently so as not to disturb marine life.
RELATED: Hyundai Creates Epic Dune Buggy That Can Transform Into a Jet Ski
Suffice it to say, the mission was a success. The two-seat Maverick GT houses a 350-horsepower H3X 3-D-printed electric engine capable of achieving approximately 70mph (112 km/h) at top speed with enough torque to navigate surf up to 100 feet (30 metres) – making it the perfect big wave companion. Capable of converting into a boat by attaching to a custom-designed RIB, it boasts a range of 50 miles to 100 miles (80 kilometres to 160 kilometres).
US superyacht designer J. David Weiss was instrumental in the creation of the sleek-looking rig. The startup assembled a number of heavy hitters from the technology, military, boating, yacht design, and marketing sectors to develop not just a personal watercraft, but also new energy applications. Eventually, T3MP3ST hopes to manufacture its own lithium-ion batteries.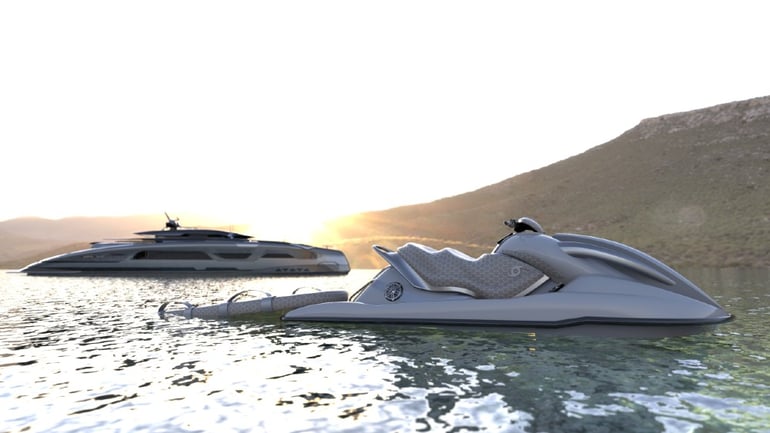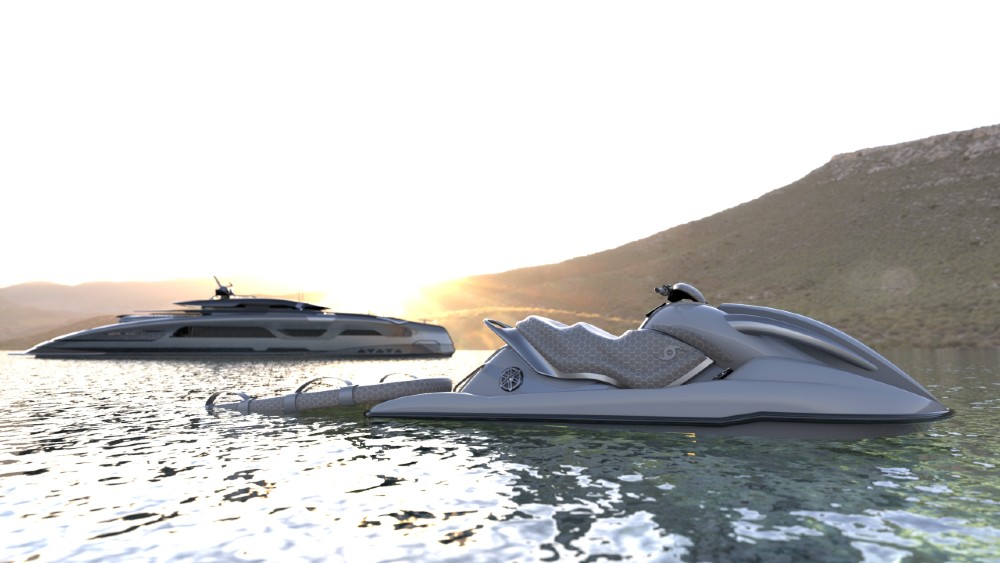 For now, they have to rely on its current 100-kWh modular battery. Roughly the same size as those found within a Tesla Model 3, the batteries are designed to be swapped in and out of the Maverick GT's carbon fibre body, allowing the jet ski to be used for extended periods. The recharge time to 80% is 45 minutes, with the bonus functionality of offering power to cars, trailers, and even homes if necessary.
"I built the jet ski to solve this problem for myself," explains Nico Sell.
"I built the company to solve this problem for everyone."
The forward RIB section – which the ski slides into – is being constructed by a rigid-hulled inflatable manufacturer in France, offering an additional pair of 25-horsepower motors. Depending on your needs, it can come in a barebones tow-in version for hauling surfers, a party version with eight seats, or a fishing version.
Complete with its advanced electronics, fly-by-wire steering, and digital display, this bad boy even features a "cinema" mode, to record all of your surfing or fishing action. Sell really wasn't kidding when she referred to it as the "world's smallest yacht."
The Maverick GT jet ski alone will set you back $150,000 (AU$209,500). The full RIB package, on the other hand, comes at a rather hefty price of US$500,000 (AU$698,600).