What if I told you that maybe – just maybe – it was possible to own a 2001 Ferrari F430 for just $21,990 $19,000?
"No expense spared…"
"Beautiful styling and design…"
---
---
"Don't let it go at this price!"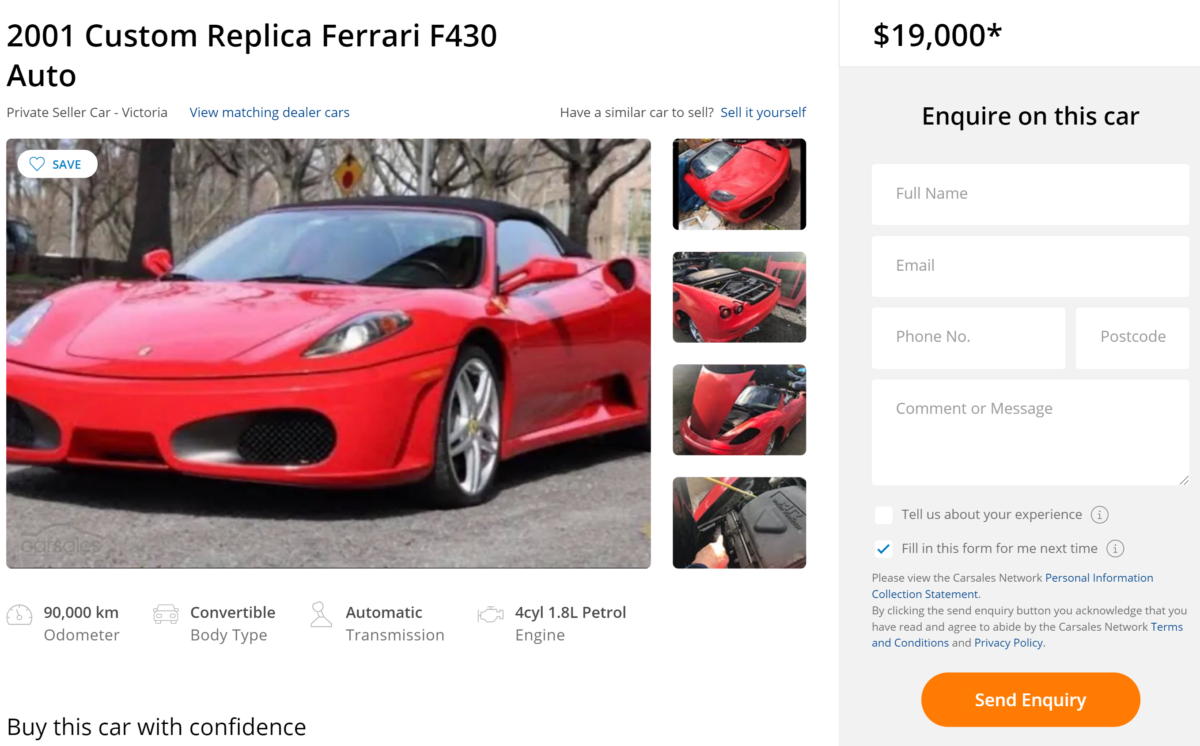 Sounds tempting, no? Well if by "no expense spared" old mate means every expense spared, then the common denominator becomes this laughable replica of a Ferrari F430 currently listed on Carsales for $19,000.
Not only is it a completely bullshit F430 – despite the misleading promo image on the listing implying otherwise – it's got to be one of the worst Ferrari replicas we've ever laid eyes on.
Actually, no – one of the worst sports car replicas FULL STOP that we've ever laid eyes on. And we've seen a few shockers in our time.
Absolutely zero preparation or thought has been put into this abhorrent body kit that looks as if it was thrown together quicker than a Father's day present for my stepdad.
RELATED: Laughable 'Porsche 356' Replica Is The Worst We've Ever Seen
Despite being advertised with a 4.3-litre Ferrari eight banger, this kit car actually sports a 1.8-litre four-cylinder from its 2002 Toyota MR2 host. I know – shock horror.
---
---
Unsurprisingly, you'll be hard-pressed to find its roadworthy certificate, which, much like its wheels (that are hidden under the massive body kit), are non-existent. And to answer the question "Previously Written Off?". Surprise, surprise… the answer is yes.
What we can tell you is that you couldn't pay us $19,000 to take this car off your hands if you tried.
Lay your own eyes on the beast below and check out the full listing for yourself over at carsales.com.