There has been a lot of hype surrounding Ford's heavyweight performance utility vehicle the Ranger Raptor. Bridging the gap between the hall-of-fame treasured American F150 and the domestically popular top-of-the-line Ranger offering, the Ranger Wildtrak, this demonised hybrid of both brands injects some brutal and bullish characteristics into a product now available in the Asian-Pacific market. These cars will sell like hotcakes, and Ford clearly hope they will given the money poured into the operation to dramatically launch this car to the world.
So did they get their money's worth? A brief jaunt on the Northern Territory's second largest cattle station ripping through dustbowls and sending jumps was a necessary excursion to pass judgement on a vehicle we flew all the way to Thailand for back in February.
What we didn't do, unsurprisingly, was actually drive the Range Raptor in a setting you'll soon find them in. We didn't try and park it underground at the local Woolworths or attempt to navigate a Surry Hills backstreet – tasks that are already a mission for the size of the current Ranger offering.
---
---
Nevertheless (you can probably sense a slight disappointment in my tone of voice), it was fitting that a car pretty much solely built for a single, high-speed off-road party trick was launched in the middle of nowhere, on some of the harshest and most unforgiving terrain the continent has to offer.
With such hype (partly Ford's own doing) comes an appropriate level of scepticism. I can confidently confirm the Ranger Raptor is the most capable car I've ever driven off-road. The 4000km2 property of Tipperary Station just outside Adelaide River was the dream playground for a few boys and their toys – offering quarry hill climbs, a high-speed rally course and the odd crocodile-infested river crossing.
So I found myself behind the wheel of the Ranger Raptor for the first time ever in the same environment which chewed up and spat out the car during its brutal pre-launch R&D testing phase. The ultimate test, I suppose.
The primary difference from the Ranger, aside from the aesthetics, is without a doubt the Raptor's off-road tuned suspension. Working in tandem with the specially-built Fox Racing Shox shock absorbers this car can withstand even the hardest of uneven ground at speed, eating up every hit and bump the outback could throw at it.
While the everyday bloke's warranty won't be honoured if they decide to 'jump' their Raptor, it was quite an experience to hit a dirt ramp at 100 kilometres per hour – get all four wheels off the ground – and then land like nothing had happened at all. No broken necks, no whiplash, no sore bums – and more importantly, no broken car. That's the kind of shit you only see in movies, and we probably came off better than your average stuntman.
During our time on the station, we put it to you guys via Instagram stories on @bhofficial as to what you were keen to know most about the Ranger Raptor. I've decided to take some of your best questions and assemble my thoughts together for this slightly alternative review of one of the most anticipated cars to drop in Australia this year.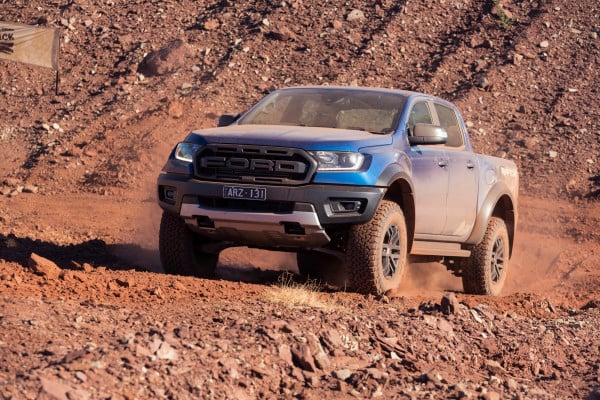 You asked, we answered
@ejpm90
---
---
They're huge, yes, but I was almost expecting something a little bigger. Despite measuring 150 mm wider and 56mm higher than the Ranger, when you're sitting up behind the wheel you don't have any stark perceptions of a larger road presence than you do in the Ranger. Its interior cosmetics aren't overly different from the Ranger – at least from the driver's seat – so perhaps that took the edge off any 'daunting' apprehensions towards the car's size. It's worth mentioning the Ranger Raptor is just over 100 kilos heavier, too, and boasts a ground clearance of 283mm – the most for any dual-cab on offer in Australia.
@scottswindells
The Wildtrak – the Ranger's spec'd out top-of-the-line offering – is staying. It's the premium example of the best selling 4×4 in the country for 2017. The new Ranger Raptor will sit above it, as will its considerable jump in price.
@bailz771
It depends almost entirely on what it is you're after in a utility vehicle. The interior, as eluded to above, is almost a spitting image of the Ranger. Aside from a technical suede finish for the seats and Raptor branding around the place, there's not really a whole lot that's different. You'll be buying this car for the theatrics, but paying for its engineering. It's a frat boy's weekend dune buggy. Regardless of the price difference, they'll be flying out of showrooms faster than they can make them, I can assure you.
---
---
@jakegolman
You're kidding. The Nissan Navarra (with an X-Class invisibility cloak) is almost as comical as this question. At least from what I've been told – I'll admit I haven't driven the Merc – but it's like comparing apples and oranges. Two very different buyers.
@phillipsie
The Raptor can bench 2.5 tonnes from the integrated tow-bar and 3.8 tonnes from the dual tow hooks. Less than the Ranger due to the unique suspension set-up.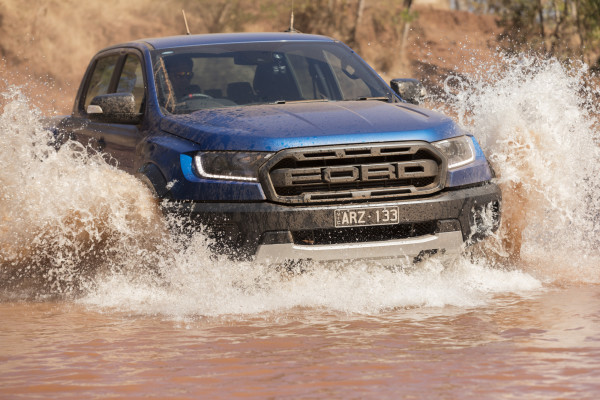 @james_sho
The Ranger Raptor sports a 2.0-litre four-cylinder turbocharged diesel engine that produces 157kW of power and 500Nm of torque. A 10-speed automatic gearbox turns over the notably smaller engine and it can be played through the gears by large and sturdy magnesium paddle shifters. Ford wouldn't give anything away, but if a V6 variant does come to the Ranger Raptor within the next couple of years as rumoured, this car could be near-perfect.
@_harrisonkayy
At first, I'll be honest, quite underwhelming. Driving out of Darwin as a convoy towards the station wasn't made easy by a lack of torque while at speed, particularly when trying to overtake road trains. That being said, it's probably the only time a ute like that would have the need for such punchiness. Once we took this thing off-road all the pieces of the puzzle started to make sense, but I do think it should have considerably more grunt for a car bearing the Raptor badge.
@gator_12
They do not. When it comes to 4×4 off-roading these days, we're sorry to say, it doesn't make sense to have manuals when computers pretty much do it all for us. They'll also spend the majority of their time, as mentioned, bombing around suburbia. The manual shifting was a novelty sliding through S-bends on dirt, but on some occasions when changing under throttle or ripping through more than one gear when downshifting it didn't quite cut the mustard, sometimes skipping a gear entirely.
@samclift7
---
---
Yeah, you should. These things truly epic, I've never driven anything more capable than the Ranger Raptor. Anywhere I would ever want to go, this car will go with me – hell, it'd be able to go places and do things I would even be hesitant to do myself.
@nicksmith0102
"As good as?" Not sure what was the better question, this or the X-Class.
@andrewgoyen
They start at $74,900 (plus on-roads).
---
---
@scottswindells
They're already on sale. I was chatting to the head of a local Ford dealer in South Sydney recently and he said his first batch of orders were already allocated. They'll be rolling out on the roads from October onwards, but you better get in quick or you'll be stuck with lengthy wait times as seen during the Mustang's initial release.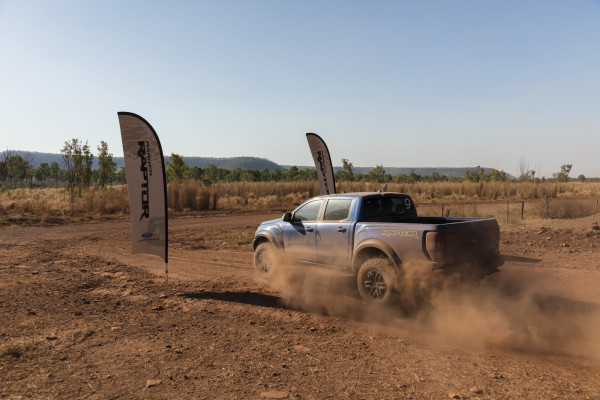 Verdict
The Ford Ranger Raptor is beyond impressive, and I'll say it again – it's the most capable car I've ever driven. It gives you a confidence that you can do anything because it pretty much can. It is, however, a considerable amount of coin for a capability that'll likely never be used to its full potential.
This argument could be countered with the same logic of an engineering nerd that buys a Porsche GT2 RS because he knows it can do unspeakable things at the Nordschleife-Nürburgring. He'll never even come close to driving it how it was built to be driven, though he knows it can handle it, and for him, that's worth the money in itself. I can respect that logic.
Most buyers, however, are buying this because they want to be the biggest fish in the sea. While it's not a luxury car, the price tag could have also afforded it a slightly more luxurious interior. Ford should have guessed that no Raptor owner will ever get their car as dirty and bashed up as we did, so a little luxurious love to make the daily driver feel like they're in a $75k car as opposed to the slightly plastic Ranger would have been a nice touch.
The only significant room for improvement I can pinpoint would be the gearbox, but its an issue you'd assume will straighten itself out with a new engine option further down the lifespan of the Ranger Raptor brand. Other than that, I can't wait to see these bad boys on the road, and I can't wait to try and park it underground at my local Woolies.