2019 will be exciting for the underdog family sedan that blew people's minds last year. It's just been announced that 800 Kia Stinger GTS's will be released with a host of party tricks up its sleeve, the most notable of which is a variable all-wheel-drive system.
While a 365 horsepower Kia Stinger GT is available with either rear or all-wheel drive, this new GTS version will close the gap between both to offer a variable system which Kia calls 'Dynamic All-Wheel-Drive'.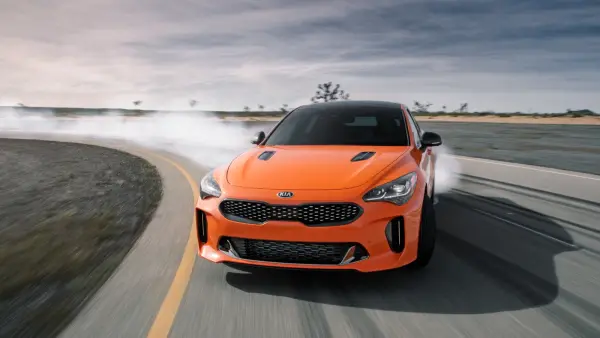 Drivers will have the choice of these three options:
---
---
Comfort mode: 60 percent of power to the rear for the feeling of stability
Sport mode: 80 percent of power to the rear for more spirited driving
Drift mode: up to 100 percent of power to the rear wheels and holds gears without upshifting
This new D-AWD system seems like a no-brainer. You can drop your kids off at school in the comfort and safety of full all-wheel-drive and then let the beast loose as you tear out of the school carpark.
The Kia Stinger GTS will also receive a mechanical limited-slip rear differential to help find even more traction between the rear wheels, as well as a host of features like Kia's Slip Control, Counter Steer Detection and Stability Control.
Australian pricing and availability has yet to be confirmed, but expect both to be quite exclusive given the 800 unit production limit.
RELATED: The Lexus LM is a private business class cabin on wheels