Lewis Hamilton is living the dream. The recently crowned five-time F1 Champion earns over $50 million USD a year, has been linked to some of the most beautiful women in the world and travels across the globe as part of his job on the daily. So what does a man who drives for a living do with his spare time? Collect cars of course.
Hamilton is an avid autophile with a curious collection of vehicles the majority of us will never get the chance to drive. While his first car was a relatively pedestrian Mini Cooper, Hamilton eventually upgraded to the more stylish Mercedes-Benz C200. Since beginning his lucrative Formula 1 career Hamilton's tastes have grown with his paycheck and his collection is now a diverse array of impressive supercars and limited releases.
To celebrate Hamilton's recent title win here's a look at the most interesting cars in the champion's varied collection.
---
---
Ferrari 599 SA Aperta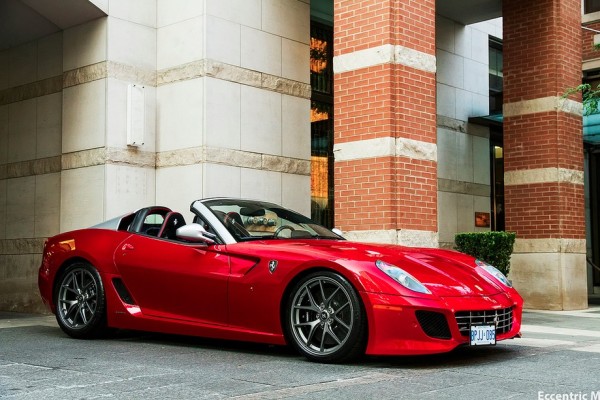 Hamilton's a big Ferrari fan (their road cars, at least) and owns a number of the Italian stallions. Although he recently sold his Ferrari 599 GTO – the first luxury car he ever purchased – Hamilton has no desire to get rid of his 599 SA Aperta. Only 80 of these cars were made and at the time of its release in 2010 the 599 SA Aperta was the fastest road car Ferrari had ever created.
TechArt Porsche 997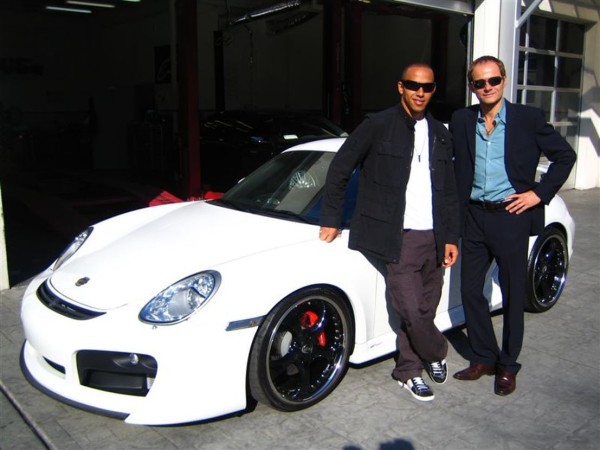 No car collection is complete without some version of a Porsche. In Lewis Hamilton's case, it's the TechArt 997, a standard Porsche 997 that's been extensively modified by independent German automobile company TechArt. Aside from being fitted with a body kit and modified interior, the engine has been upgraded from a 3.6-litre to a flat 6 with a larger turbocharger, making it ideal for tearing up the autobahn.
1967 Shelby Mustang GT500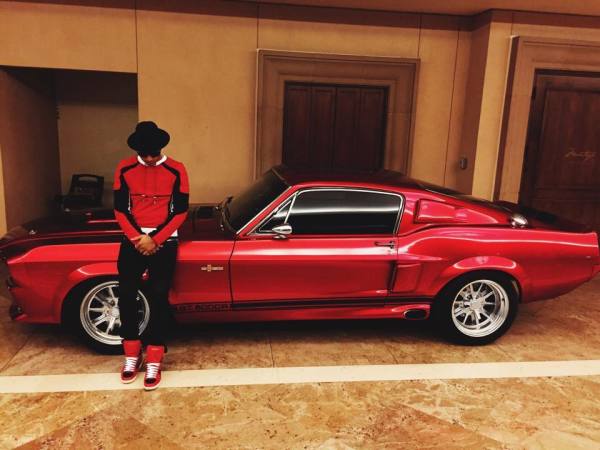 A classic looking sports coupe from the 60's, Lewis Hamilton's Shelby Mustang has a custom paint job but is far from one of his favourites. In an interview with The Sunday Times, Hamilton said this about the vehicle; "I got a '67 Shelby Mustang GT500, because I'd seen Steve McQueen drive a Mustang in Bullitt. Beautiful car, but a heap of junk. The company did a good job on the paint job, but the rest of the car just isn't very good, so I never drive it." Whack!
Pagani Zonda 760 LH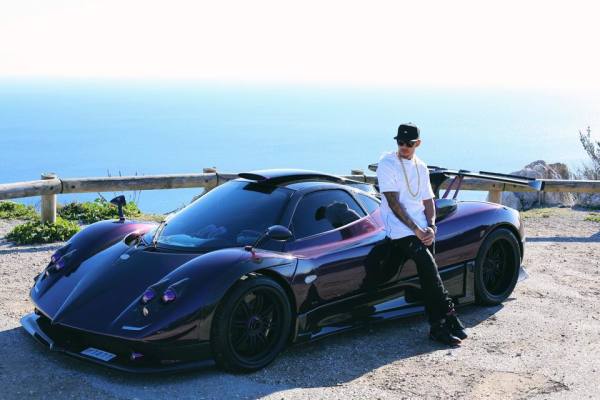 The Pagani Zonda 760 LH was specially made for Hamilton by Italian hypercar manufacturer Pagani. Modelled after the Zonda 760 RS, the sports car comes in a unique shade of purple with a manual gearbox instead of the sequential one, as requested by Hamilton. Despite the car being made to his specifics, Hamilton told The Sunday Times "The Zonda is terrible to drive! It's the best-sounding car I own, but handling-wise it's the worst." At least it looks good.
For this weeks #monacomonday its a special one !! We have Lewis Hamilton driving his insane Pagani Zonda 760LH through monaco 👏 👏 Video via LKhorizon #lewishamilton #supercarsoflondon pic.twitter.com/zhk1XX5ark

— Supercarsoflondon (@SupercarsofLDN) January 29, 2018
---
---
Mercedes Benz G 63 AMG 6×6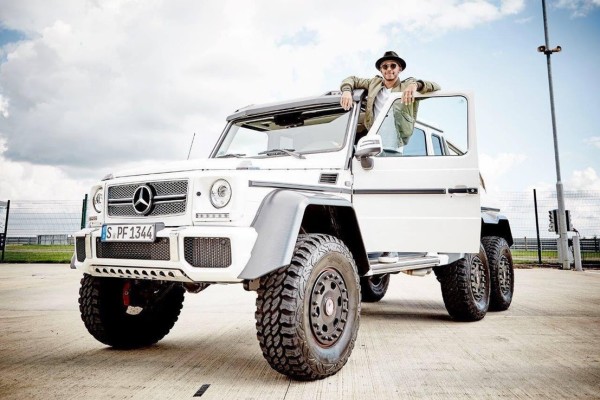 It's not all fast cars and classic sports coupes dominating Hamilton's garage. The Englishman is known to love getting off-road and there's no better whip than a Mercedes G 63 AMG 6×6. This six-wheel mountain of steel not only looks impressive but can navigate pretty much any terrain known to man.
McLaren P1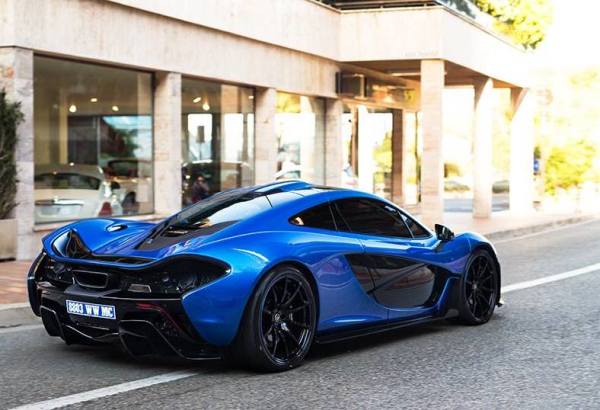 Despite now driving for Mercedes, Lewis Hamilton still has a fondness for his old team and owns a limited edition sports hybrid McLaren P1. The blue beast utilises hybrid power and Formula 1 technology to reach an incredible top speed of 350 km/h. McLaren certainly liked the fact Hamilton still drives their cars, expressing their pleasure with a cheeky tweet.
Hey @LewisHamilton! Nice to see you still like McLaren cars, old friend! #P1 pic.twitter.com/5gq36Ykz6C

— McLaren (@McLarenF1) May 18, 2015
Ferrari LaFerrari/LaFerrari Aperta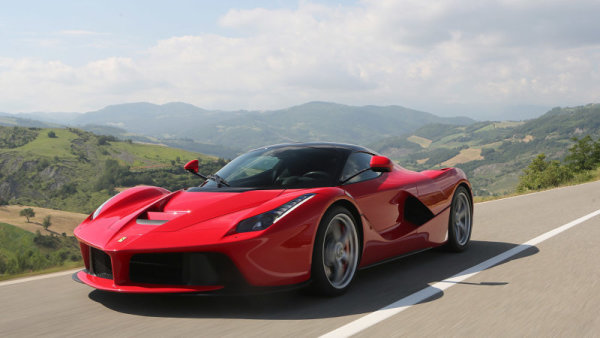 Hamilton is known for owning two versions of each car in his garage and this certainly extends to his love of Ferrari's. The five-time champ owns a white LaFerrari Aperta – which can retail for up to US$10 million – and a red hardtop he's known to cruise around the streets of LA in, as evident in the video below. We still can't believe he owns one of each.
Shelby Cobra 427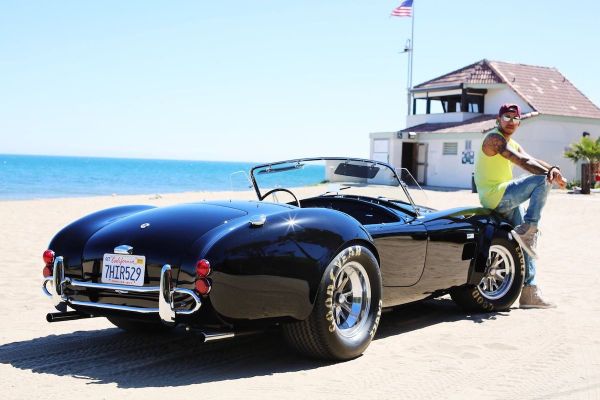 As well as his Shelby Mustang, Lewis Hamilton also owns two Shelby Cobra 427's. The 1966 model he keeps locked in his garage in near perfect condition while the 1967 model is the one he's known to get out and about in. The Cobra is an American classic and not a bad car to have for your Sunday ride (or keep in your garage for a healthy re-sale one day). Hamilton, thankfully, can do both.
---
---
Mercedes SLS AMG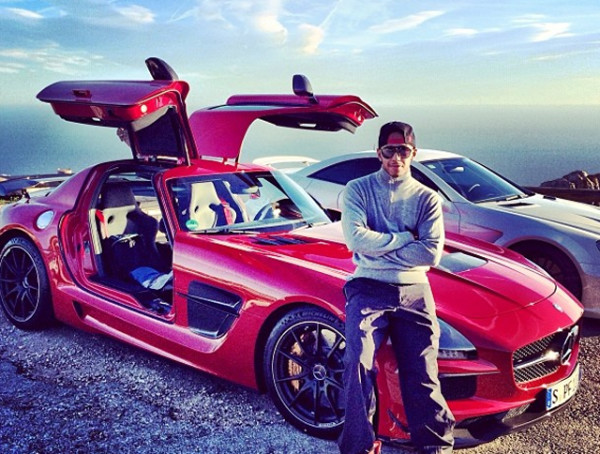 Considering he races for Mercedes you'd assume Hamilton has a number of Mercedes in his garage, but none quite as tricked out as this one. While it might look like a standard SLS AMG, Mercedes have gone to great lengths to improve the car, increasing the 6.2-litre V8 engine to 622bhp, giving it a top speed of 315 km/h.
RELATED: How Leonardo DiCaprio makes and spends his millions