When it comes to the touring abilities of McLaren's new GT, there's a good chance I'm among the most acquainted in the world, handed the keys for a very grand, 1,700 kilometre, McLaren GT review.
In 2015, McLaren launched the 570GT, a supercar with a leather-trimmed touring deck – a shelf behind the seats – accessible from within the cabin or via a neat rear hatch. The McLaren 570GT was praised for its unique usability, combining the sporting prowess of its more driver-focused siblings with functional spaces for luggage and increased cabin comfort. Ultimately, however, it was still built for speed – with luggage as an afterthought.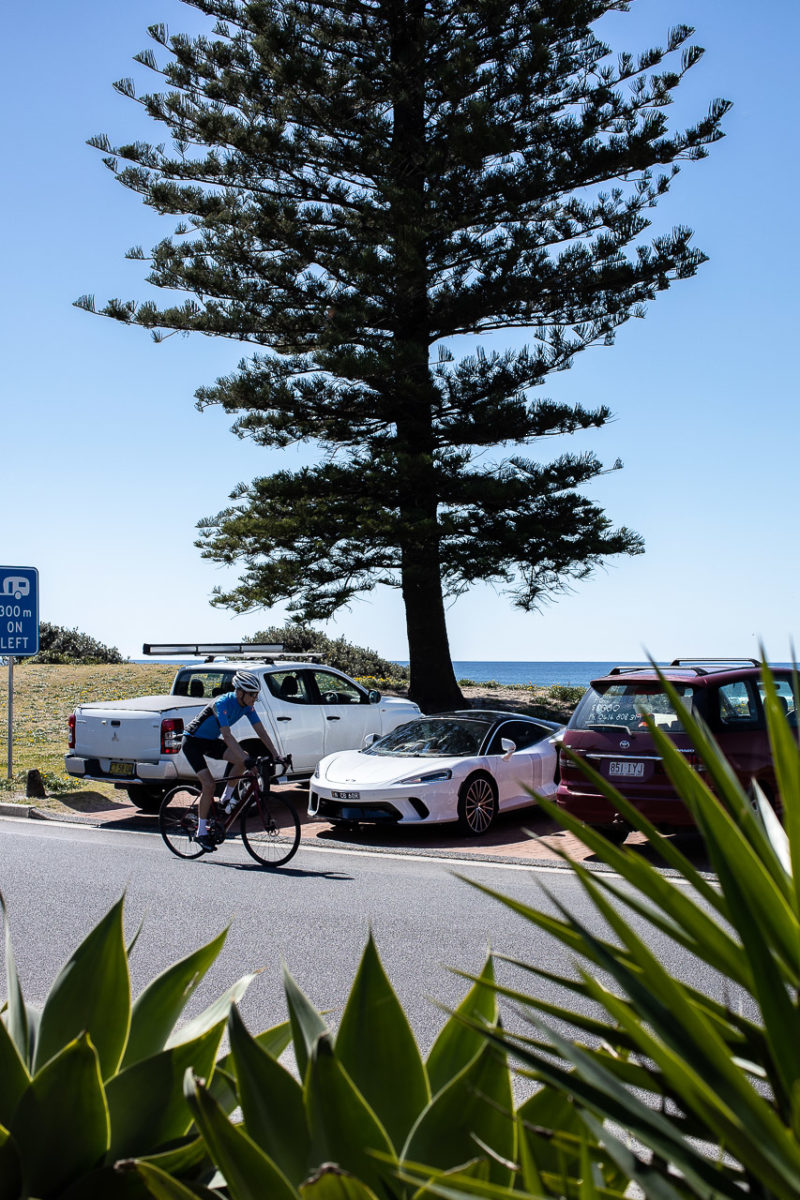 For the McLaren GT, which was first revealed in May 2019; the brand took the GT moniker into the next dimension. They extracted the intelligent spaces of the 570GT and created a new car, one that shared the same performance pedigree of its predecessors – but tuned it to deliver a more graceful drive – perfect for longer journeys.
---
---
As a big fan of the 570GT, I was eager to test the new GT's touring credentials. Fortunately, the generous folks at McLaren agreed to loan me a car for the 9-hour slog from Sydney to Byron, allowing me to share exactly what I enjoyed about the brand's innovative mid-rear engine supercar, and of course, those that I didn't.
Design
In our Lunch Run, I was positively vocal about the design direction of the McLaren GT – I really do think it's the best looking car the manufacturer has built since the P1. I think my biggest gripe with the brand is how similar their cars look, and despite having driven almost all of them, I still struggle to tell them apart. Not anymore.
Firstly, new, distinctive headlights frame a striking bonnet and raised front end which transitions into a sweeping roofline – that continues gracefully over the rear – and morphs into a subtle spoiler. The panels across the entire car are noticeably smoother and uninterrupted – angles and ridges, like those on the bonnet, are used sparingly and more effectively. Cavernous side and rear air intakes and the GT's wonderful hips, sitting above glorious 21-inch wheels, are best admired from the side mirror while eating highway kilometres.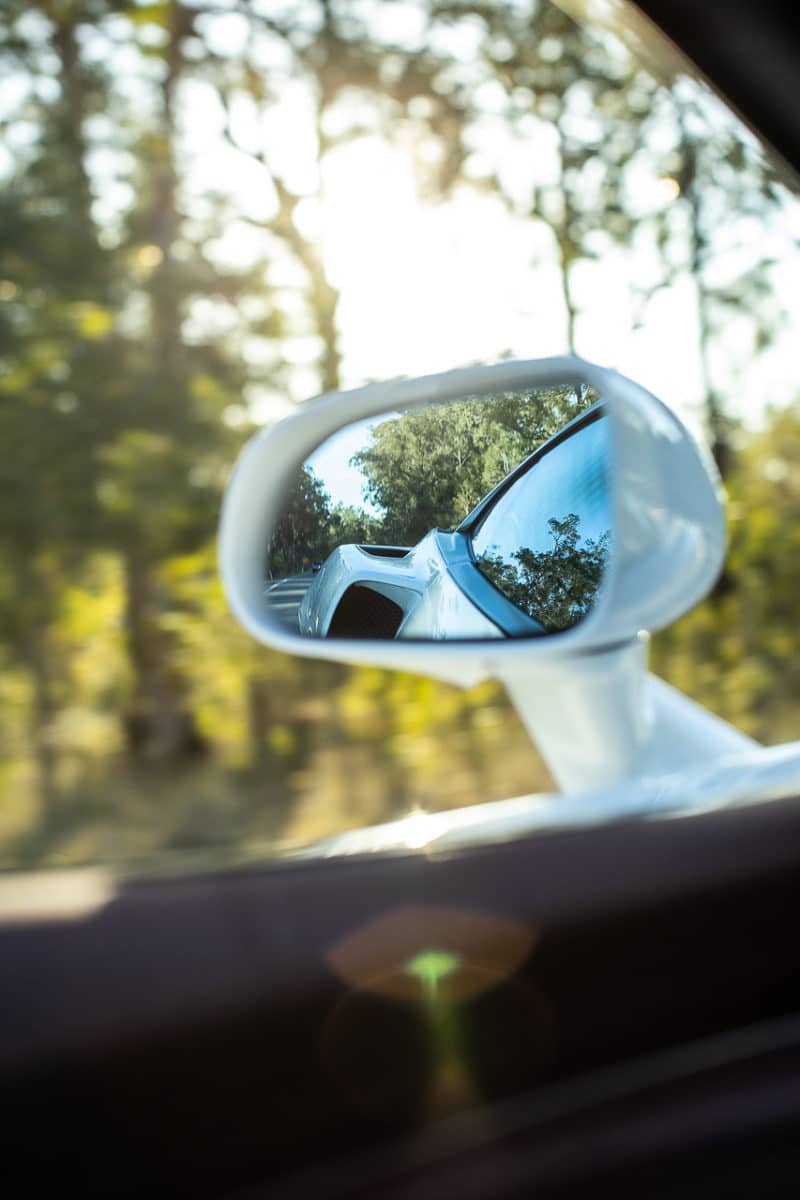 Space
The pièce de résistance – functional, usable, space, concealed beneath an electronic (optionable) tailgate no less. For those who desire a supercar of this ilk, that can stash a duffel, a small suitcase and other accoutrements, there is no substitute for the GT – it exists in a category of its own. Even from the side – with the door open and the seat pulled forwards – the deck and the shelf beyond are an easy reach away.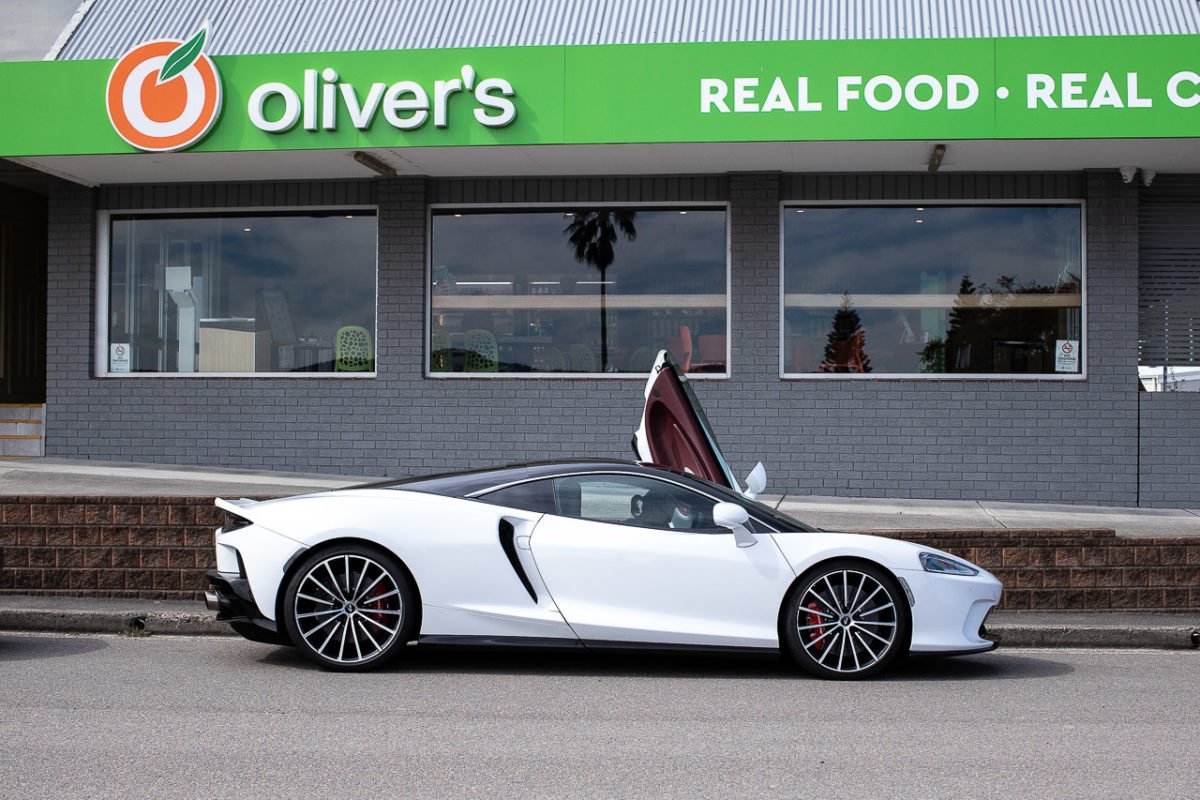 However, maximising the car's 570 litres stowage; comprised of a 150-litre frunk and 420-litre rear cargo bay, which is designed around the position of the engine and exhaust system below it, is a rather awkward affair. McLaren claims a golf bag or two pairs of 185cm skis and boots, as well as luggage, can be carried with ease. I find this hard to imagine unless of course, you opt for the optional matching luggage set at AU$22,500 – a potential must-have if you plan on frequent tours. Outside of the boot and leather-clad deck, the cabin features a host of thoughtful nooks and crannies for other personal items – a veritable luxury in a car of its sporting calibre.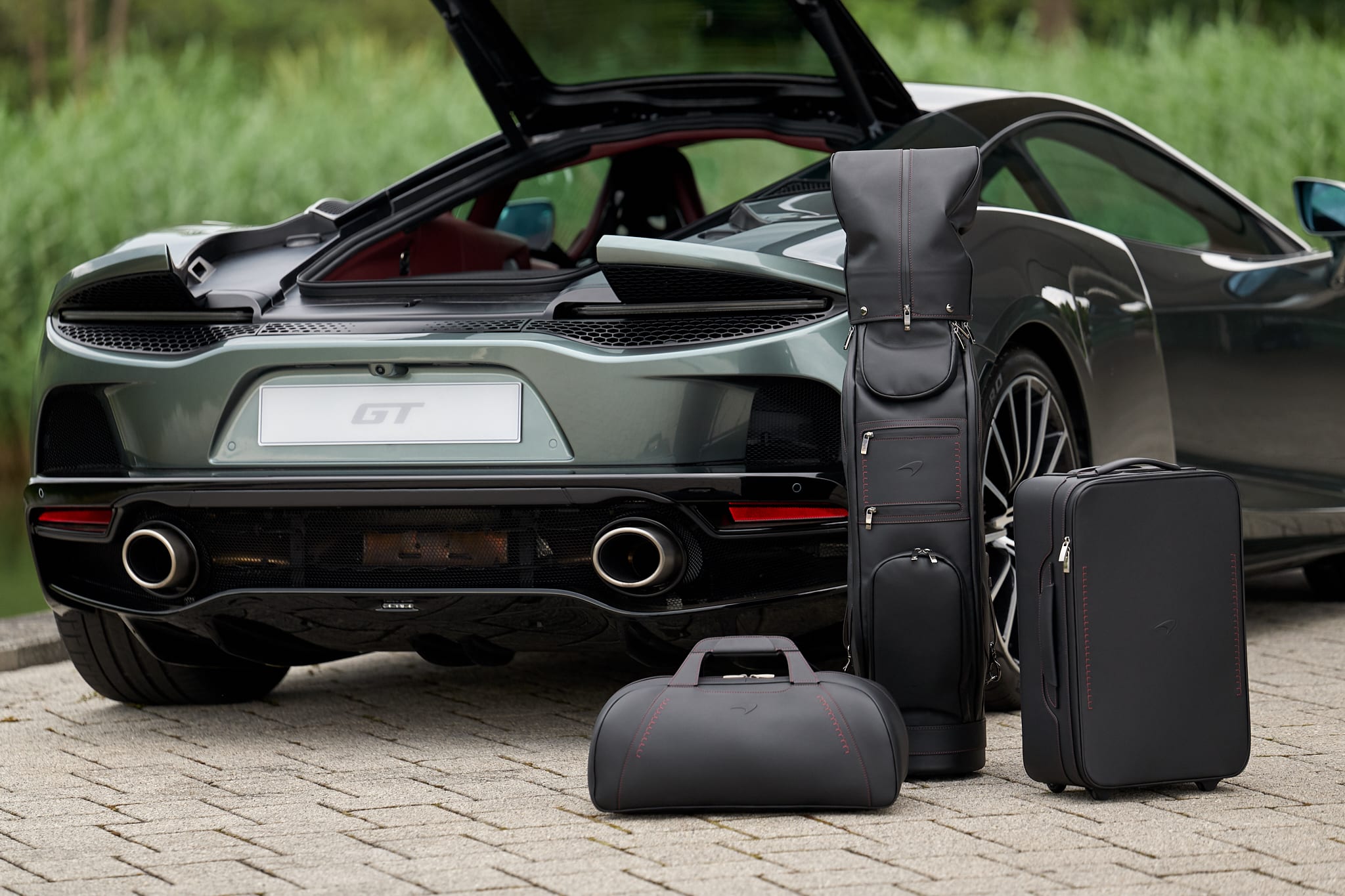 Cabin
McLaren's exemplary use of the word 'cosseting', fits the GT's cabin to a tee. Beyond the standard interior specification, buyers can choose either a 'Pioneer' or 'Luxe' interior package, each distinguished by signature colour themes and use of Alcantara or soft grain leather. Complementing brushed aluminium and swathes of sumptuous burgundy leather, stitched to perfection, was McLaren's customisable, ambient lighting – a dulcet addition to evening driving – as well as an updated infotainment system.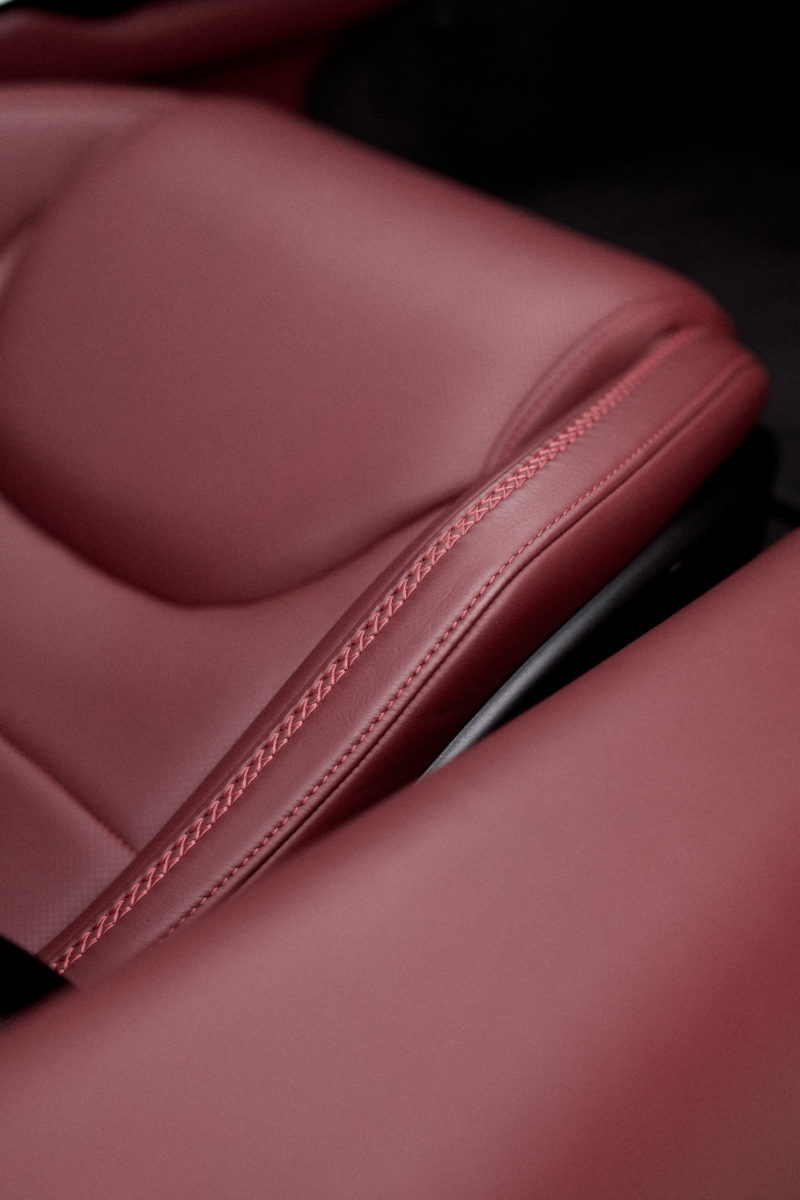 The new system is good but not great, with Bluetooth far from seamless and the integrated navigation showing trip times over an hour longer than the iPhone. My car was also optioned with the lovely 1200W, 12-speaker Bowers & Wilkins speaker system, which will tickle the fancy of any audiophile, although there's no Android or Apple Car play to make the most of your Spotify playlist.
---
---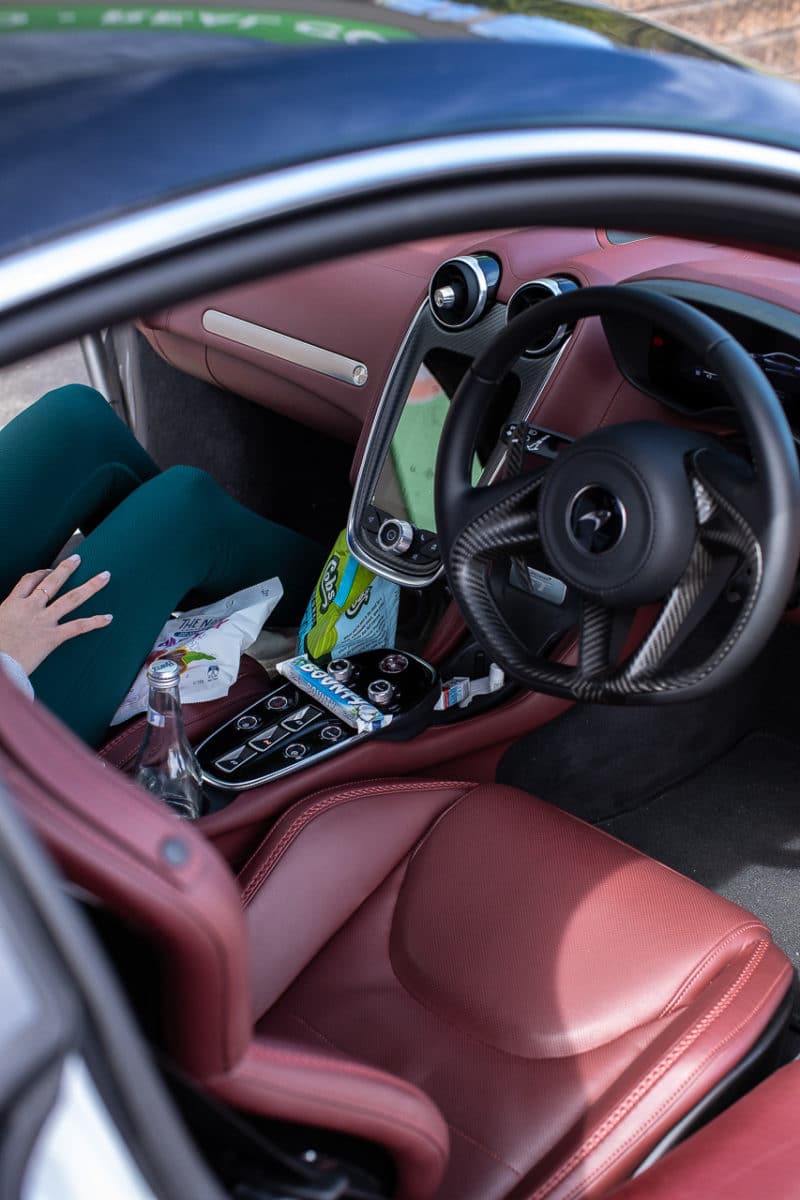 Coasting along in comfort mode, there's no denying the driver's seat is a refined and peaceful place to be. The optional Electrochromic Panoramic Roof, which allows you to control the amount of light accessing the cabin, adds a further sense of space and harmony. Ultimately, however, the McLaren GT is still too performance-focused for long trips. Yes, the power-adjusted, 'comfort' seats are a step in the right direction, but they're competing with massage seats in the Continental GT and I don't need to tell you where you'd prefer to be for a few hours.
Usability
Living in Sydney, it's easy to forget just how much attention a car like this receives but a long black in Bulladellah serves as an instant reminder. Despite being the most reserved looking of the McLaren stable, lifting the GT's dihedral doors garners admirers from near and far. Are dihedral doors unique in this segment for a reason? I think so. They may fit with McLaren's modern design ethos, however, paired with the recessed opening mechanism, they really are a two-handed affair. Which doesn't bode well for additional attention or an arm full of snacks.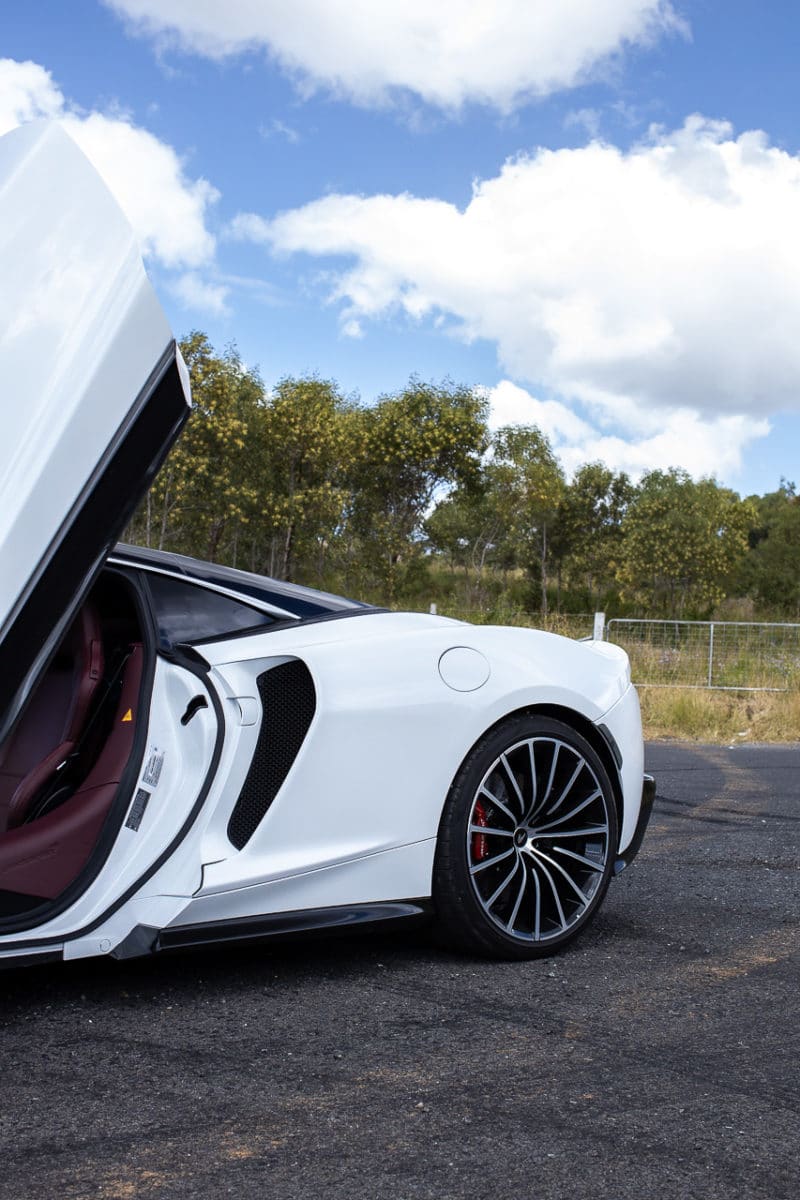 Ride and ride height, on the other hand, are surprisingly good. A new Proactive Damping Control suspension system, that predicts and learns the road surface ahead, provides remarkable levels of comfort for highway kilometres. So good, in fact, you forget you're in a supercar. Consumption from McLaren's 'most fuel-efficient' car is also commendable – with the lowest reading I witnessed on the highway sitting at 7.2l/100km – much lower than reported numbers of 11.9l/100km. Additional ground clearance, matched with the vehicle lift kit, resulted in not one scrape on the front diffuser during my whole trip – an unbelievable achievement for those familiar with the anxiety involved in piloting such vehicles.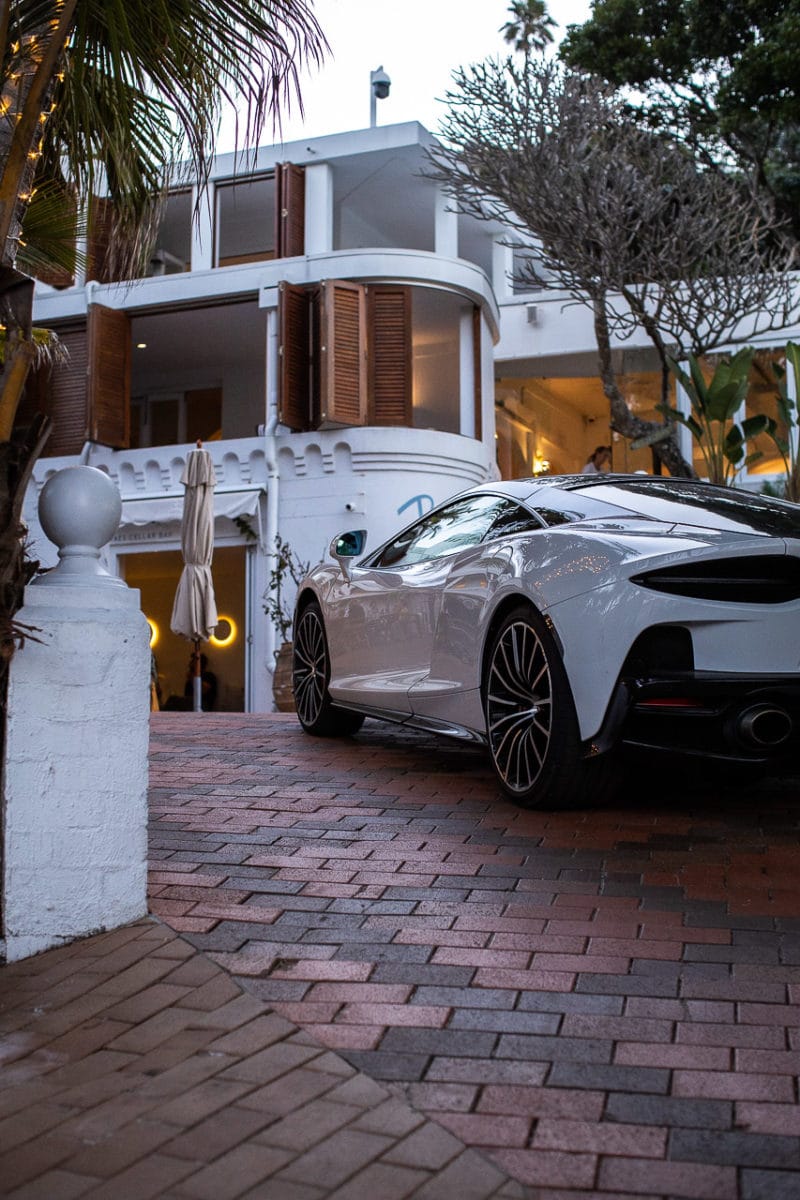 Drive
If you're looking for a GT and spirited driving not only falls within your remit but tops the list priority list; there's a solid chance that the McLaren GT is the car for you. Sporting the 720S sourced 840T, the 4.0-litre twin-turbocharged V8 engine is capable of sprinting to 100km in 3.3 seconds and delivers 456kW of power in an unprecedented manner for McLaren. Instead of antagonising and taunting you, willing your foot to smother the accelerator, the GT waits to be called upon. When you do call it, the surge of graceful torque is unrelenting.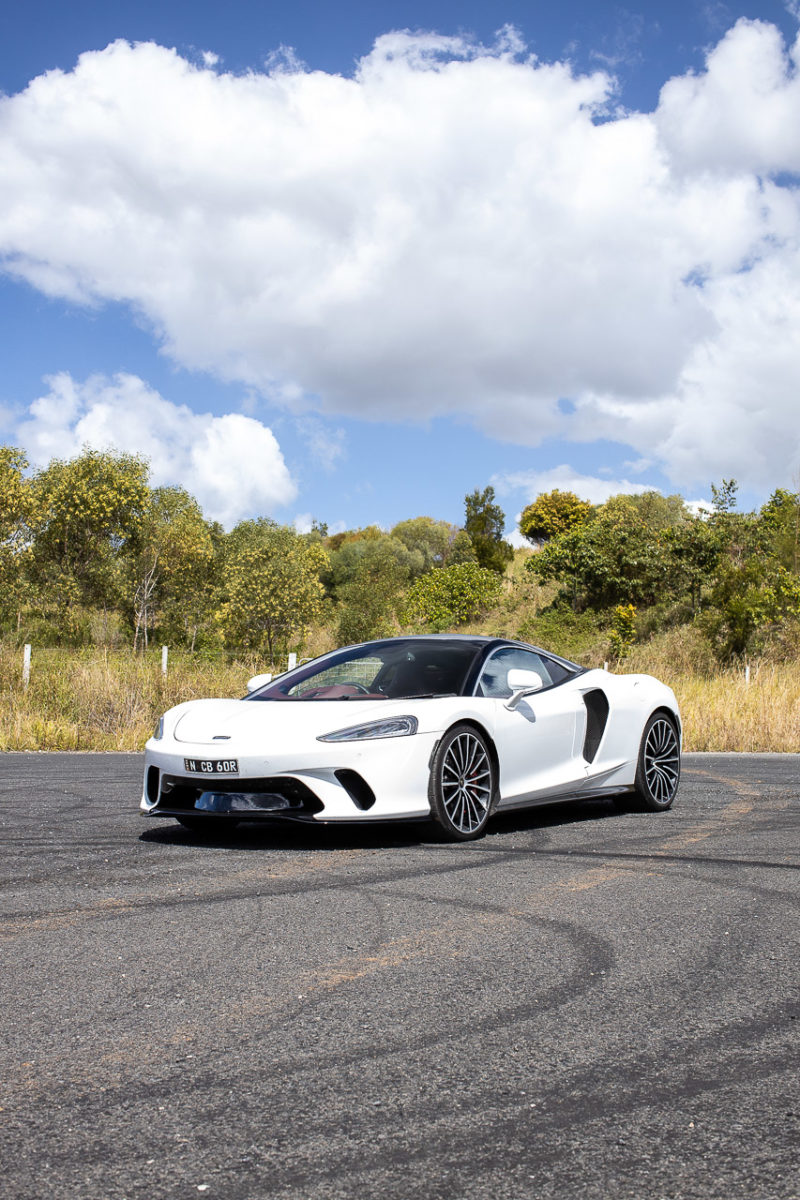 In the hills of the hinterland, the GT with its carbon underpinnings attacks corners as only a McLaren knows how. The hydraulic steering is blisteringly responsive and the driving position is as good as it gets. Snaking through the outskirts of Mullumbimby, the tree-lined roads forming a canopy overhead provide the perfect acoustics for the active exhaust system, which almost never leaves Sport mode. The combination of steering, poise and torque is what driving dreams are made of. On the highway, a gentle caress of the right peddle will leave gawking 4×4 enthusiasts in their caked mud dust and have you at licence devouring speeds faster than it takes to clock the blue lights in your rearview.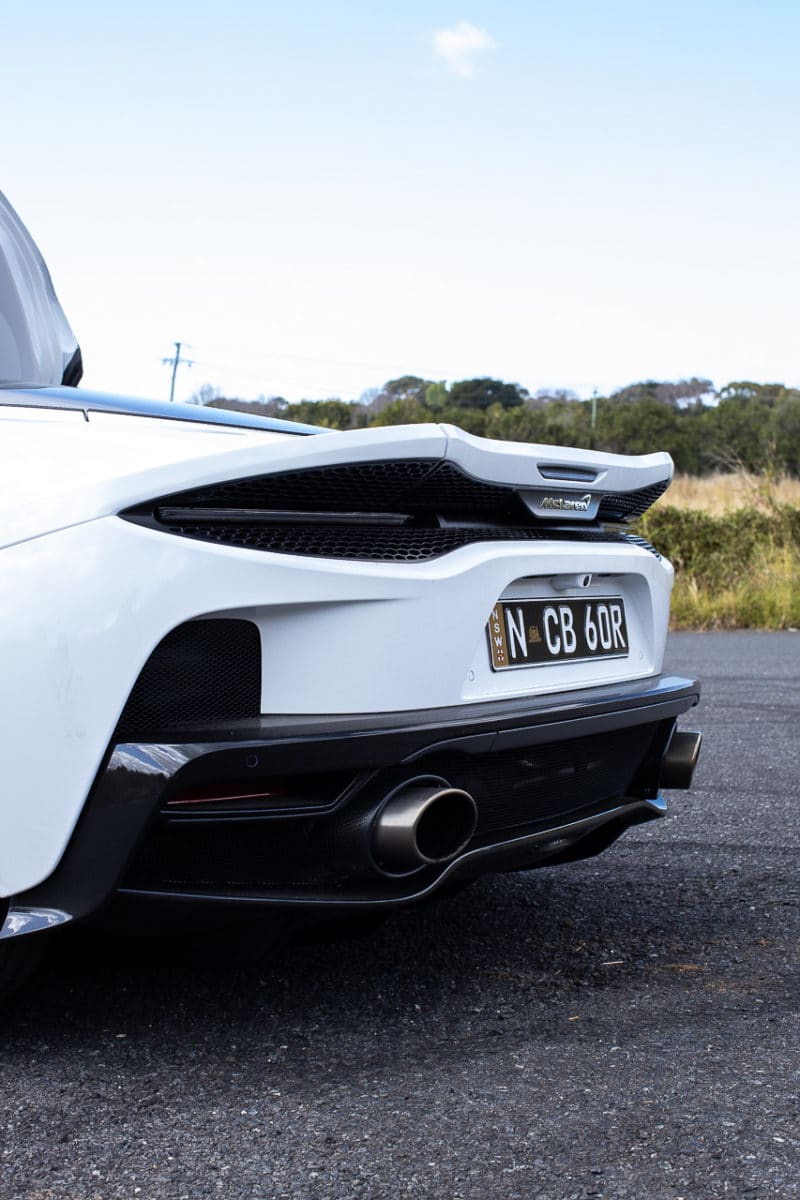 Conclusion
My aim for this McLaren GT review was to assess whether this car was fit for purpose. Sure McLaren can claim that it is "lighter, faster and more engaging" than its traditional GT rivals, but does that make it a) better or b) more suitable vehicle for touring. No & no. For weekends between South Yarra and Lorne or Sydney and Copacabana that finish with a tantalising blip into town, perhaps; but for extended journeys, it's still a McLaren supercar with basic driver assistance features taking a back seat to thrilling performance.