This will be the Rangey to end all Rangeys. You won't see this bad boy cruising the Eastern Suburbs.
German firm T.Fotiadis Design, whose modus operandi doesn't usually extend beyond luxury yachts and interior design, has decided to make the leap to automotive modifications with this mammoth of a vehicle.
From their headquarters in Berlin they've concocted this 6×6 monster dubbed the 'SLT.' This converted Range Rover, from their long wheelbase variant, will focus on ultra-posh practicality rather than performance as is expected from the AMG G63 6×6.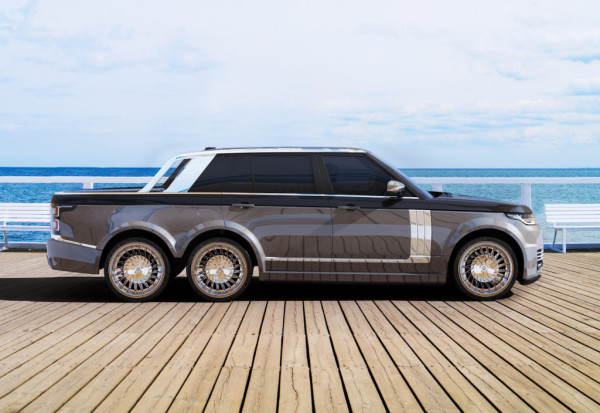 SLT stands for Superyacht Land Tender, with its function being exactly that; a mode of transport for high profile yacht clients and all their luggage between their charter and their land residence.
The weapon will clock in at some epic proportions, measuring 6.2 metres long, 2.13 metres wide, and sitting 1.85 metres tall.
T.Fotiadis have confirmed the Range Rover will naturally feature three axles bookended by six, 20-inch wheels. Under the custom body kit, customers will have the same powertrain options as the standard offerings from JLR including the 2.0-litre inline-4 married to a plug-in hybrid system, a 4.4-litre diesel V8, or a 5.0-liter supercharged V8.
The interior will feature seating from Foglizzo, complemented by only the essentials such as a wine chiller, airline-style and power-operated folding tables, onboard Wi-Fi, and LCD touchscreens in the rear.
Slated for a physical debut at the 2018 Monaco Yacht Show in September, the deposits can start coming in about three months from now.