In March 2018 I flew to Geneva for the global unveiling of the next-generation Supra in the form of Gazoo Racing Concept.
Months later in September, I found myself climbing into a camouflaged Toyota 'A90 Supra' at the Jarama Circuit in Madrid for a taste of the next iteration of the brand's most iconic badge.
Finally, last week, I was given the opportunity to drive the production GR Supra that both the Gazoo Racing Concept and A90 prototype had shaped, and where better to experience its pedigree and poise than Phillip Island?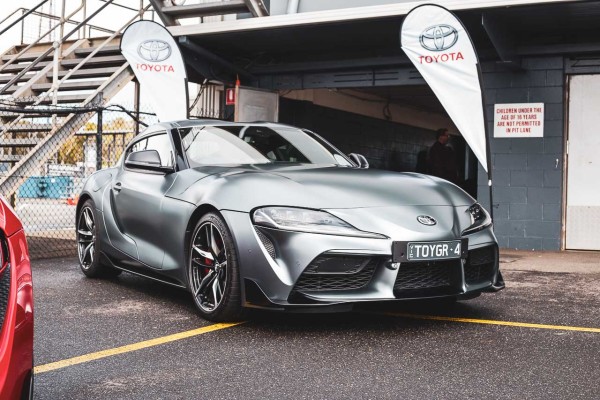 Back in June of this year, Toyota Australia's first allocation of 100 vehicles took just seven minutes to sell out – an additional 50 units were added and were gone a mere 22 minutes later. It's expected roughly 5000 customers will be vying for just 300 cars (including the 150 already sold) slated to enter the country in the Supra's first year on the local market.
Once punters are done reading the reviews from last week, however, I no doubt suspect there will be a whole lot more.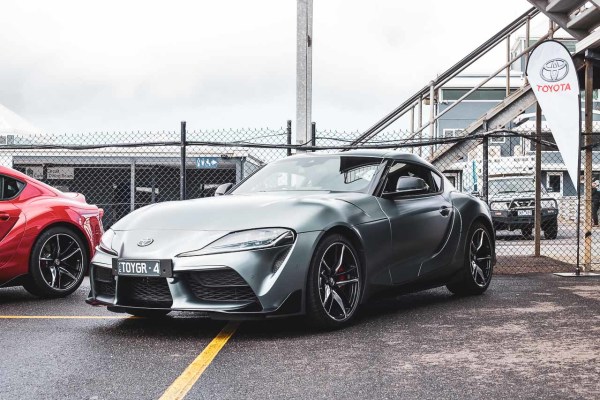 If you've ever travelled to Phillip Island in a helicopter, you'll agree that it really is the only way to go when venturing south from Melbourne. The morning in question, however, was anything but enjoyable, weaving, dodging and doubling back to avoid thick clouds. Mix in a few nervous faces and anxiety engulfed me. Fortunately, perhaps, it led me to the realisation I'd be happy to forgo my chopper privileges for the rest of my days.
A B&E roll and a quick briefing later, we were split into groups for either a road or track session, with a swap after lunchtime. As we readied for the road drive component, I observed the GR Supra for the first time in the flesh, sans camo. The matte Nurburg Grey is, without doubt, the most striking colour. The red looks good, but not as good as the yellow or the navy. For me, the white is a bit lacklustre and the black conceals the car's curves too much. In saying that, I'd climb into a helicopter again before I bought a matte finish car – absolutely everything damages it.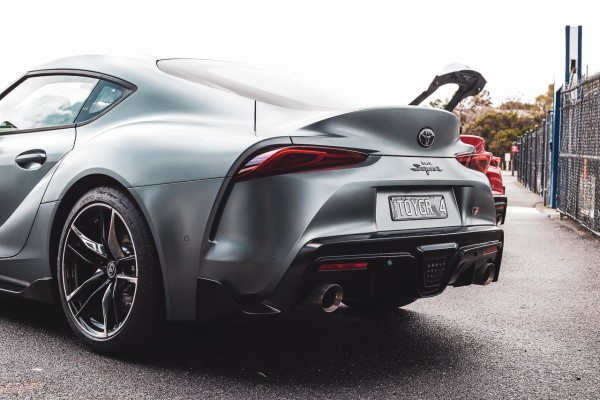 In terms of design, the rear, with its powerful diffuser, lovely ducktail and Supra badging, is undoubtedly the highlight, flowing down from the concave roof and onto those voluptuous hips sitting over 18 or 19inch rear wheels, depending on your choice of GT or GTS. I'm less enamoured of the clamshell bonnet, but it does appear to enhance the GR Supra's wide, low stance, which is willing and ready to pounce.
While there's a certain BMW presence in the cabin, I wouldn't call the cabin luxurious but more so premium, and thus perfectly in line with the car's purpose. With rake and reach adjustability the steering wheel is the perfect tool for the job and the low, central and confident driving position is exactly what you'd expect from what has been designed to be, first and foremost, a driver's car.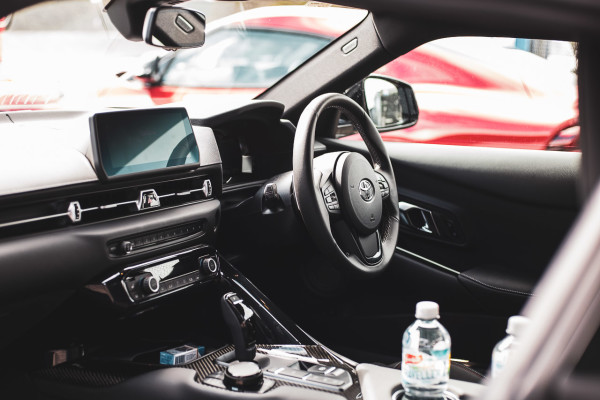 The seats are comfortable but purpose-built, offering plenty of adjustments (including additional bolstering for enthusiastic squirts) but I must admit that my lower back was on fire after our two-hour road drive – something I haven't encountered in a performance car for some time. No nonsense black leather arrives as standard with the option to add Alcantara or red leather as well as a 425w 12-speaker JBL system to the GTS model.
I was impressed with the prototype when I piloted it through a challenging stage of the Madrid Rally last September, so with an additional year up their sleeve, it only made sense that Tada Son and his team refined the tune and enhanced the overall package. What grabbed my attention first was the sound. The 250kW turbocharged 3.0-litre straight-six emits a formidable soundtrack, including those grin-inducing downshifts where the same engine from BMW provides less to cheer about.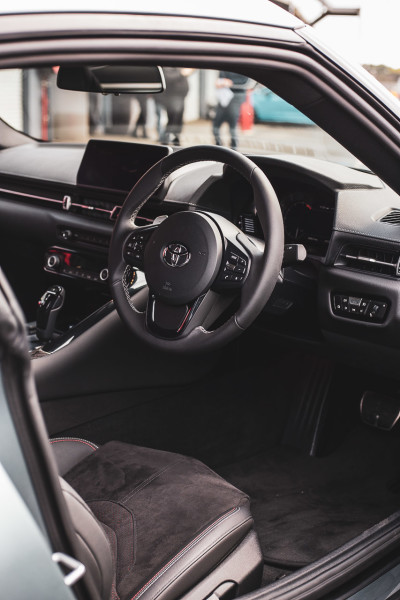 Driving modes have been simplified to Comfort and Sport, which can be individually tuned to the driver's desires. Comfort provides the perfect GT setup for the Victorian hills with light steering and a comfortable ride, while the shift to Sport tightens and electrifies the experience, without shifting your brain into 'how to lose your licence in 10 seconds mode'. I pondered the exclusion of an additional, more extreme Track/Corsa mode but concluded that if Toyota's Gazoo Racing team and Fernando Alonso deemed their calibration of 'Sport' adequate for use at Phillip Island, it was more than enough for us wannabes.
With only a handful of laps to find my feet, after years absent from Phillip Island, my first session was, for lack of a better word, shit – and no fault of the car. A couple of hot laps with rally driver Harry Bates later, and with it a chance to see the GR Supra closer to the limit than I'd ever get it, I was pumped for round two. Once I'd refamiliarised myself with the racing line, my second session was faster, flatter and infinitely more enjoyable.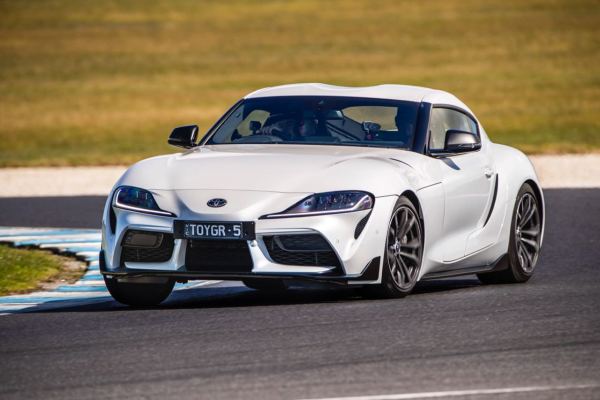 In Madrid, Toyota was (and still is) bullish on pushing the GR Supra's 1.55 "golden ratio", the ratio between the wheelbase length and the tread width, along with its perfect 50:50 weight distribution front to rear. While the Supra is agile and corners expertly, with well-weighted and precise steering, I wasn't blown away. On the track, I found both the suspension and braking softer than I expected and downshifts, at times, delayed. There's no doubt that she's quick, with a 0-100km sprint of 4.3 seconds and charging north of 230km/h on the straight while delivering 500NM of torque. This is plenty enough to pull you out of corners and the car was sensational once in them, hugging the Lukey Heights left-hander better than a sub $100k sports car should, but I never felt truly at one with it.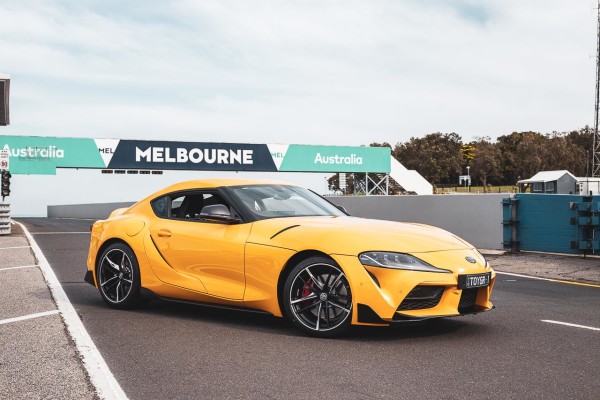 Perhaps the hype surrounding this car has left me feeling underwhelmed or I just don't see the value at $95k for the GTS model. Interestingly, the thing I liked the most about the car, the soundtrack, has already been questioned by Australia's first owner, suspecting it had been delivered with a different tune to what others are receiving around the world and possibly what we experienced on the day.
It's not that I didn't enjoy the GR Supra, it's a serious piece of kit, a lovely blend of GT and sports car (probably a solid investment too). I just found it a bit placid, or maybe I was confused – thinking that to truly love it, you have to be a Supra person, subscribe to the history and hype, in which case the choice is yours if you chose to acknowledge that it may, actually, be a tad underwhelming.