If you thought the standard Rolls-Royce Cullinan was big then be prepared to think again.
Klassen, a small car design technology group out of Germany, is already producing a stretch version of the brand new Cullinan that is expected to take up a grand 6.35 metres of asphalt. The group is previously known for modifying super luxe versions of Mercedes vans, armoring up S-Classes, stretching Range Rovers, and has at least one modified Hummer H2 you can pick up for about 400,000 AUD.
Klassen plans to add another metre to the middle of the standard Cullinan and armour the thing up, too.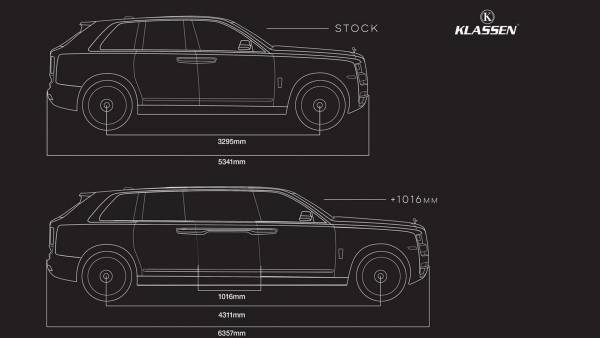 Check out the description on the vehicles for sale listing:
The limousines are armored to the highest levels of ballistic protection in level 7 (formerly B6) and level 9 (formerly B7). All KLASSEN ® limousines are available with stretched rear doors, raised roofs and options like armored glass-panoramic-roofs.
The exclusive interior is equipped with luxury partition walls and state-of-the-art technology like an iMac multimedia center with PC/Wi-Fi/CD/DVD, a Bang & Olufsen Sound system and also ambient LED lighting. All relevant functions can be controlled via an iPhone.
Once you place your order, Klassen says it'll take six months to finish up your Cullinan. No time to waste here.
RELATED: The $1.6 million bulletproof Mercedes G-Wagen stretch limo
Take a look inside the Cullinan from our preview of the vehicle back in July.