If you think it's hard work maintaining your tinny for weekend fishing trips up the river just take a minute to think about the costs involved in owning your own superyacht. Over the past decade, these behemoths of the sea have become the pinnacles of wealth and success for those with only the deepest of pockets.
These luxurious floating mansions are reserved for Russian billionaires, Saudi Princes and Hollywood celebrities, but if you're lucky enough to win the lotto you might be able to join the upper echelon of society and own your own superyacht also.
Of course, there's more to it than cruising the open waters and enjoying champagne showers with friends, with the yearly upkeep a sizeable chunk of the yacht's initial price itself. In 2015 insurance specialist Towergate released an infographic detailing the costs of owning your own superyacht. Using this as a basic model and correlating with Forbes' regular findings, here's a breakdown in Aussie dollars of what it costs to own and run your own superyacht.
---
---
The general rule? On average, owners pay 10% of the yacht's value in up-keep costs per year, not including crew wages.
Initial Cost Of A Superyacht: ~ $10 Million
The cost of a superyacht varies depending on the size and technology it comes with. Chelsea owner Roman Abramovich's Eclipse is a 533-foot monster that cost the billionaire $500 million, while America business mastermind David Geffen spent a cool $200 million on his 454-foot superyacht.
Most of us will never get near earning that sort of money, but if you somehow find yourself becoming a millionaire in the near future, you can purchase a fairly slick 100-foot superyacht for around $10 million mark.
Registering Your Yacht: ~ $2,500
Just like any normal vehicle you have to register your brand new superyacht. This is a very important first step as choosing the flag and country of origin you want to register your yacht in can give some great benefits, especially when it comes to tax cuts. The Cayman Islands is a favourite amongst the super rich due to its tax breaks and relatively cheap registration fee, especially when compared to the actual cost of the yacht.
Insurance: ~ $353,850
As well as registering your new nautical explorer you're going to want to make sure it's insured. As you can imagine, insuring something as expensive as a superyacht isn't cheap, so expect to fork out a few hundred thousand every year to make sure you're covered.
Dockage: – $942,000 (Purchase)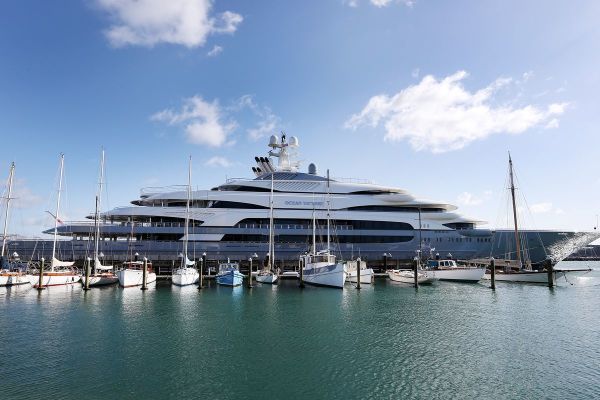 So you've got your yacht and it's seaworthy but now you're going to need a place to keep it safe when you're not sailing the seven seas. Unfortunately, you can't just dock at your local boat club so you'll have to find somewhere large enough to cater for your 100-footer, meaning even more expenditure.
The price varies from port to port across the world, with some docks charging up to six grand a night for casual slots. This 100-foot slot in Antibes is going for a lazy 590,000€ ($942,000) if you're in the market to buy.
---
---
If you want a spot in Port Hercules over Formula 1 weekend, you'll be looking at $35,000 AUD for a Zone 1 spot from May 20th till May 27th for our yacht size in question, which really isn't too outrageous.
Fuel: ~ $472,000
If you think everyday fuel prices for your automobile are expensive than you might want to turn away now. Using around 400 litres of fuel an hour, a 100-foot superyacht is going to set you back another half a million to make sure you don't run out of gas in the middle of the ocean if in use for the majority of the year.
Maintenance & Repairs: ~ $400,000
Like anything mechanical, a superyacht is prone to suffering wear and tear over the years. From routine maintenance to fixing blown motors and electrical equipment, the annual cost can be extravagant but is part and parcel of owning such an expensive toy.
Crew: ~ $876,000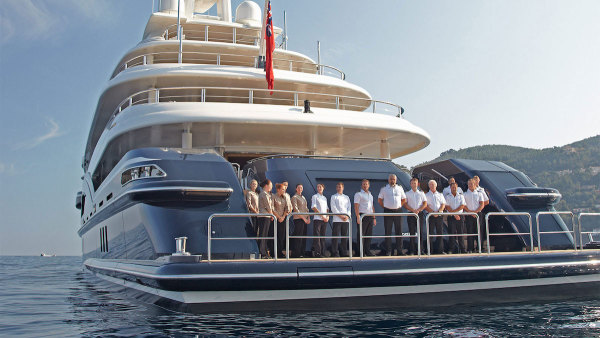 Unless you're a trained captain steering your own yacht and making sure the day to day running goes smoothly, you'll have to employ staff to over see operations. Captains cost roughly $1,400 per year per foot of boat – that's $156,000 or so to command a mere 100-footer according to Forbes.
Deckhands and stewards are relatively cheap at $40,000 to $70,000 per year which is supplemented with you shouting them accommodation and food, but a good chef will cost you at least $100,000 a year. You'll also need roughly one deckhand for each guest, and we're assuming you can comfortably fit 8 amigos. And did we mention an engineer? Because hey, we all know boats break down all the time. That'll set you back at least another $140,000.
Total: ~ $13 million
If you add up the initial cost of your 100-foot superyacht and your yearly expenses you're looking at roughly $13 million for the first year, then around $2.1 million every year after to maintain it (assuming you pretty much live aboard and minus the purchase costs of the berth & yacht). So the short answer? A fuckload. Maybe in another life.
RELATED: The 750-foot Project Valkyrie will be the world's largest superyacht