The Landcruiser has always been Toyota's number one 4X4, but what many people don't know is the Japanese automaker tried to flog off their own version of the Hummer in the mid-90s. Known as the Toyota Mega Cruiser, only 3000 examples of this heavy-duty 4WD were made exclusively for Japan, with a very limited number of those on sale to the general public.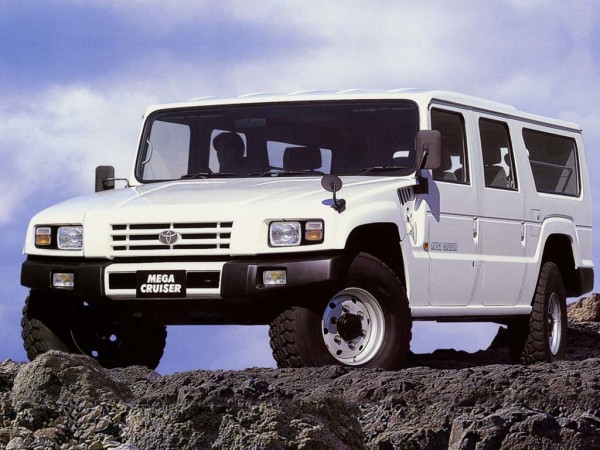 Originally built as an infantry transport vehicle for the Japanese Self Defence Forces, it's unclear why Toyota decided to sell the Mega Cruiser to the public, but it obviously didn't meet expectations, with the massive vehicle only in production from 1995 – 2002. I think the $223,000 price tag might have put many potential buyers off, especially as a standard Hummer was half the cost at that time.
Speaking of Hummers, the Mega Cruiser is modelled on the classic Hummer H1 and could easily be mistaken for Arnie's favourite transporter thanks to its very similar body shape. Inside it's a totally different story, with the dashboard made up of components from a variety of Toyotas, including a 70 series automatic gear lever and Camry electronic window controls.
---
---
The Mega Cruiser also has four-wheel drive with locking front, centre and rear differentials, fully independent suspension, a central tire inflation system for the rear wheels and 4-wheel steering. Under the hood is a four-cylinder turbo diesel engine (taken from a Toyota Coaster bus), producing a lame 153 horsepower and 380Nm of torque.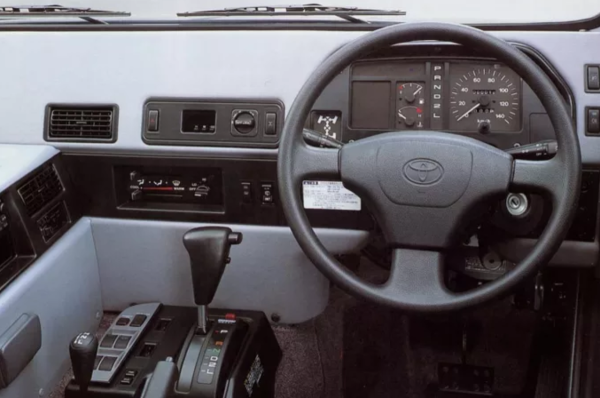 It's believed only 3,000 Mega Cruisers were made for the Japanese army, with another 149 sold to the public. Somehow one of these amazing creations has found its way to Australia and ended up for sale on Facebook.
A fellow by the name of James Sparkman is in possession of a 2002 model once used by the Japanese army. How he got his bands on this unique vehicle is anyone's guess, but he explains in the post that he believes this is the only Mega Cruiser registered in Australia. He goes on to list the specs, with the 4X4 fitted with a "bulletproof 15lb-ft engine, 4.1-litre straight 4 turbo diesel and a Toyota coaster 4-speed gearbox which gives this truck a top speed over 130km/h." The 10-seater has a military green paint job and appears to be in fairly good condition, with Sparkman hoping to fetch a healthy $89,000.
While the price is a little steep, considering how rare the Mega Cruiser might be, there's a fair chance the right car collector will pick this one up sooner rather than later.
RELATED: Someone's putting genuine 1980's Formula 1 engines in old Porsches