Pay attention to Christie's London and their annual Modern British Art Evening Sale auction event this March and you'll spot a fascinating headline piece, expected to fetch between £1.5 million (~AU$2.6 million) and £2.5 million (~AU$4.4 million). That is none other than 'Tower of the Koutoubia Mosque', painted in 1943 by Sir Winston Churchill and considered an historic piece of both political and artistic significance, most notable for being the only work that the former UK prime minister, an amateur painter, produced during the Second World War. It's being sold by current owner Angelina Jolie.
The Winston Churchill painting is of a panorama looking out to the Koutoubia Mosque, the biggest in the city of Marrakech, where the impressive building is backed by the rising snow-capped peaks of the Atlas Mountains, as well as pink and purple shadows which recede into the greenery of palms in the mid-ground. According to Christie's, the impressionistic brushwork was rapid and broken into separate dabs in order to render the fleeting daylight.
The provenance alone makes this a collector's dream if there ever was one. Not only did the Moroccan landscape painting end up being purchased by Jolie and then-husband Brad Pitt, but it represents a profound connection between Churchill and former US president Franklin D. Roosevelt. After all, FDR received this painting as a gift from Churchill after the two reportedly spent a few days together in Marrakech, where they stayed at the palatial villa of the American Vice-Consul Moses Taylor.
---
---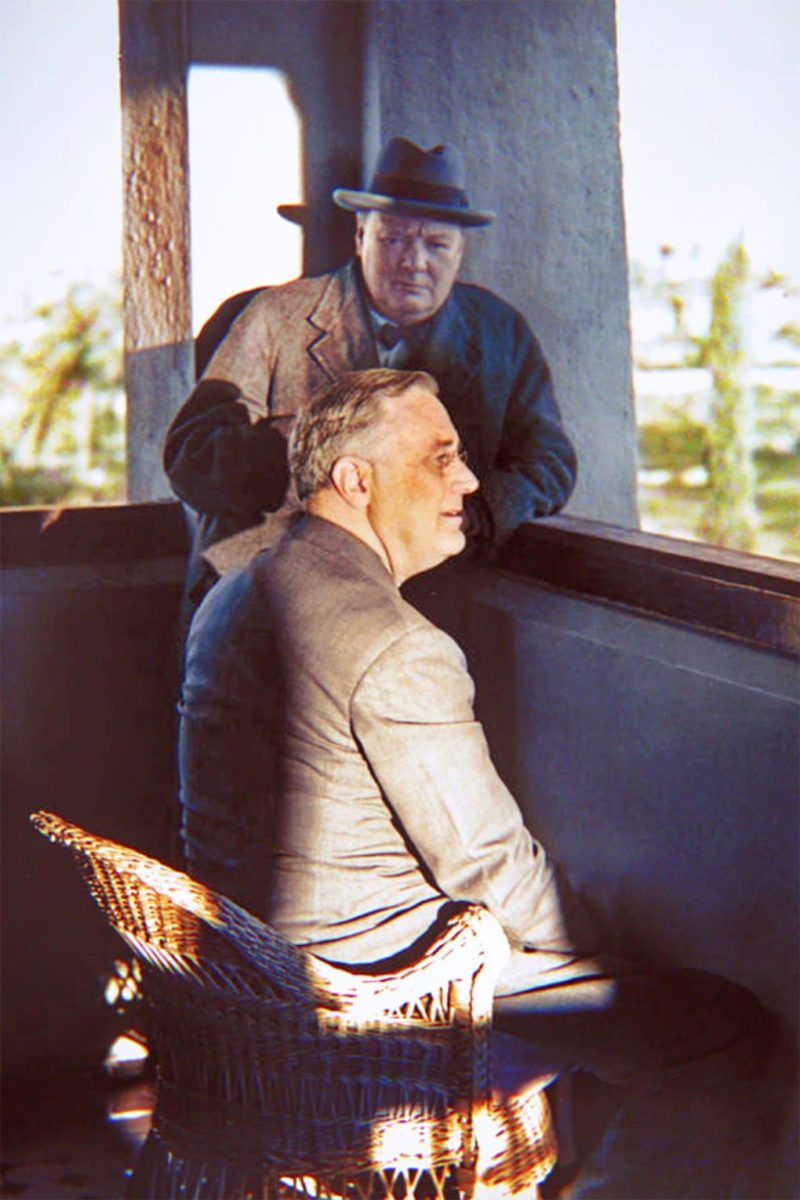 According to historical records, the meeting between Churchill and FDR followed the historically significant summit in Casablanca, where the Allies agreed to demand an unconditional surrender from Nazi Germany. Churchill allegedly suggested to FDR that they watch the sun set on the Atlas Mountains following the ten days of successful strategic military negotiations.
It was from that aforementioned villa that Churchill and FDR looked over the same Koutoubia Mosque depicted in the painting. In an ode to sentimentality, Churchill painted the vista the next morning from the villa's rooftop and referred to the result as "a cut above anything I have ever done so far". He eventually gifted the painting to FDR, apparently explaining it as "a memento of this short interlude in the crash of war".

As Christie's notes, Winston Churchill ended up creating around 45 paintings of Moroccan landscapes after his art tutor Sir John Lavery encouraged him to visit the country. Given that 'Tower of the Koutoubia Mosque' is considered his best, there's little wonder as to why the expected hammer price is so alarmingly high.
"Christie's is delighted to offer such a historically significant painting as the leading highlight of the Modern British Art Evening Sale", said Head of Christie's Modern British Art Department, Nick Orchard. "The work is expected to realise one of the top prices for Sir Winston Churchill's paintings at auction".
Two other Churchill paintings will also be up at the same auction. First, there's 'Scene at Marrakech' (circa 1935) with an estimated price between £300,000 (~AU$538,000) and £500,000 (~AU$896,000). The Modern British Art Evening Sale will also auction off Churchill's 'St Paul's Churchyard' (1927), which is estimated to fetch between £200,000 (~AU$358,000) and £300,000 (~AU$538,000).
Thinking of starting an art collection but can't quite afford a Winston Churchill painting? First make sure you read this article on how to curate the perfect personal art collection for your home.