Ask any codger hunched over at your local RSL nursing a schooey of Toohey's and they'll tell you the exact same thing: the NRL simply isn't what it used to be. At least not in the sense of 90s-style belligerence and on-field aggression. Not that we're exactly promoting unnecessary violence or anything, but you know…
One such incident that perfectly encapsulates the spirit of the old guard occurred during the third game of the 1997 State of Origin. An incident that would infamously go down in history as the 'cattledog' brawl.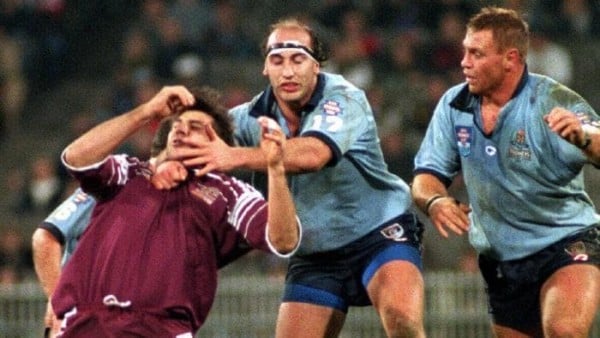 Back then, NSW coach Tommy Raudonikis had a certain code word. Like Soviet sleeper agents, this was intended to "activate" key players. And by that I mean the lads were prompted to start a fight. The first person to spring into action this time around was NSW's enforcer, Mark "Spud" Carroll, who drew first blood.
---
---
"The trainer ran on yelling 'cattledog, cattledog' – and I said to Chief [Paul Harragon], 'I've got the Cattledog.'"
RELATED: 6 of the Most Epic Sledges in Australian Sport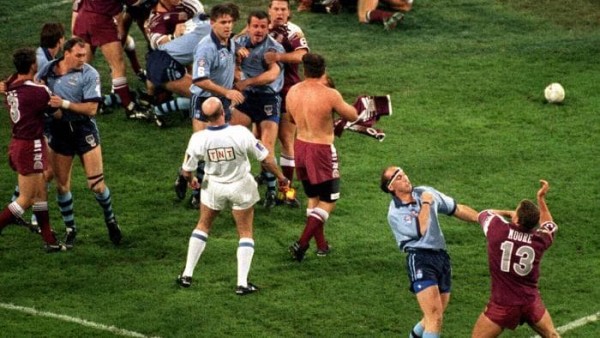 "The poor bloke that came on was Craig Smith from St George Illawarra… he's just come on and I just went whack. It's the best punch I've ever landed, on his chin, and that was the 'cattledog.'"
The donnybrook, however, didn't just end there. As any NRL armchair historian will tell you, a fresh-faced Andrew Johns would soon cop the belting of a lifetime – a wound salted by national broadcast, since immortalised within the annals of the sport and talked about to this very day.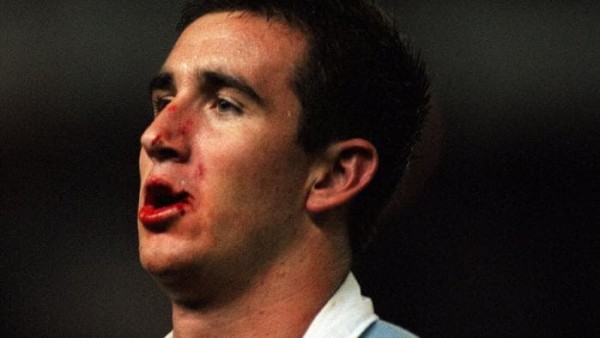 Johns famously threw hands with Queensland's Jamie Goddard, only to be knocked down in spectacular fashion. To his credit, Johns didn't just stay down and take it. But to Goddard's credit, he teed off like there was no tomorrow, beating the shit out of Johns without any notable physical response. Twenty-seven stitches were required for that hiding shortly thereafter.
"[Johns] got hammered by Tommy, saying, 'You're a such and such.' But he loved me," says Carroll.
"Every State of Origin, I still ring Tommy up and down the phone… I go 'Cattledog'. He always goes 'I love you Spud.'"
---
---
You can review the full brawl in the video linked below (the 'cattledog' call occurs around 2:06).
Then, read everything you need to know about the 2021 NRL Grand Final.