It's that time of the year again. Summer has crept up and some of us have left it a little too late. Life gets busy, it's no secret. And all the obligations attached can really hinder your Adonis potential. But there's a solution to all this that'll be sure to make working out fun, convenient – and get you the results you want.
Here are five workout apps to get your summer rig ready.
Centr, By Chris Hemsworth
Described as a "team-in-one app", Centr has quickly risen to prominence as a globally acclaimed for its fitness programs. Created by our very own Aussie golden boy, Chris Hemsworth, he set out to give us lowly mortals the same tools that made him a god amongst men.
Tap into the expertise of Hemsworth's own team. Holistic health and training coaches, nutritionists and mindfulness mentors, combined with all the tips and tricks he has learnt from his years of ascending to his current status through training. Daily workout resources range from boxing, MMA, to pilates, and yoga. You can opt to knock out a quick twenty-minute session or go the distance with a full forty minutes.
Price: The app is free to download for 7 days, with in-app purchases after your trial. Get it here.
Nike Training Club, By Nike Inc.
Inspired by the workouts of the world's best rigs (such as Cristiano Ronaldo and Michael B. Jordan), Nike Training Club has been hailed by sports scientists as the best fitness app on the market, with guaranteed results in both strength and physicality. The best part? It's completely free.
The Nike Inc. app is based on bodyweight strength-training. And with over 185 workouts to choose from, you certainly won't get bored. There are options upon options that cater for every level of fitness. The app is especially great for Apple Watch users, as you don't even need your phone to engage in a session. Drills, pause, and skips are all available within the touch of a finger.
Price: The app is free to download and use. Get it here.
Official 7 Minute Workout, By Johnson & Johnson
This Johnson & Johnson Official 7 Minute Workout is a critically acclaimed at-home-fitness app and is also recognised as one of the best currently available on the market. With over 3 million downloads worldwide, this app was specially designed by the Director of Exercise Physiology at Johnson & Johnson's, Chris Jordan.
This fitness regime is fast, quick, and effective, with every exercise based on rigorous scientific research. The app includes a variety of 22 workouts that range in duration and levels of fitness, starting from seven minutes all the way up to thirty. With an option of 72 exercises, you can adjust these with over 1,000 different modules to suit your needs specifically.
Price: The app is free to download and use. Get it here.
Fitness Buddy, By Azumio Inc.
For all you keto-heads out there, Fitness Buddy is your new best friend. This app is great for those committed to nutrition plans, like keto or paleo, as it prescribes fitness routines that go hand-in-hand for maximum results.
The app features an array of meal plans that are keto-friendly, with a number of top-rated workouts suggested by industry experts. If you want to start eating healthy but don't know where to start, Fitness Buddy provides you with a meal plan test with 8 different varieties. The best thing about Fitness Buddy is the ability to create your own workout from scratch, specifically targeting what you want to stand out.
Price: The app is AU$3.99 to download and use. Get it here.
Lose Belly Fat in 30 Days, By Abishkking Limited.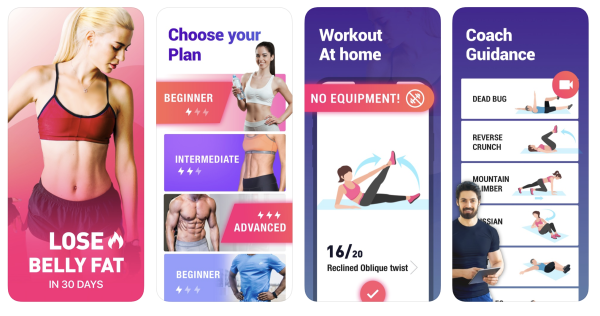 For those who want to get as shredded as they can after catching a glimpse of themselves in the mirror and getting physically mad at what's looking back, I suggest getting on the Lost Belly Fat in 30 Days app.
The 30 Day fat burner is great for beginners, with animations showing you exactly what to do. The daily workouts are only 10 minutes long, making it easy and accessible for the more time-poor individuals out there balancing work, pleasure, life, etc. The app also tracks your weight loss progress and targets all the different muscles to get you beach-ready in no time. As the reviews guarantee, a flat stomach can be achieved in only a few weeks, all from the comfort of your own lounge-room.
Price: The app is free to download and use with in-app purchases. Get it here.