Australia's Aron Baynes was victimised, pulverised and posterised as the latest victim of Blake Griffin during the first round of the NBA playoffs.
Baynes sat helplessly under the rim as Griffin not once, not twice, but thrice laid down the hammer in the space of just a few minutes.
Left on the last line of defence, trying to defend a human torpedo for his team is an admirable effort, no? Wrong! Suffering the NBA's greatest indignity drew no sympathy from fans or the US media, who revelled in his miserable night on the hardwood.
His Wikipedia page was quickly changed to: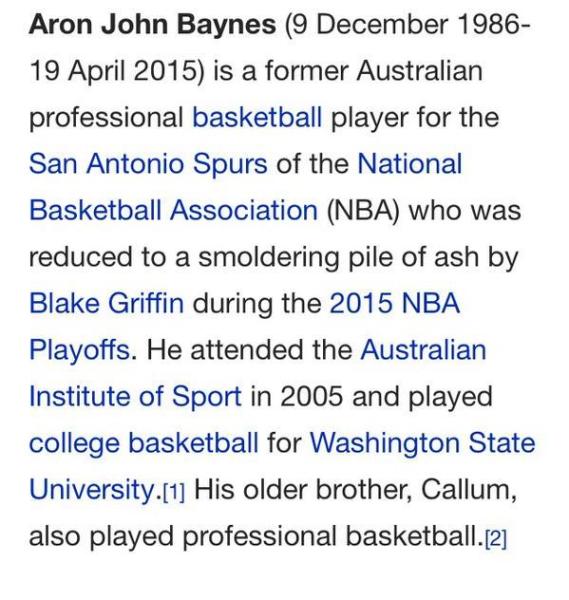 Here are some of the best reactions:
Aron Baynes now knows what it's like to be dunked on in the NBA JAM video game.

— InsideHoops.com NBA (@InsideHoops) April 20, 2015
Griffin-on-Baynes dunk in slow motion. http://t.co/kOcnFqwGhy It's a thing of beauty.

— HoopsHype (@hoopshype) April 20, 2015
Welp, Aron Baynes had a nice run in life.

— Zach Lowe (@ZachLowe_NBA) April 20, 2015
CLEAN UP ON AISLE ARON BAYNES

— Quixem Ramirez (@quixem) April 20, 2015
Aaron Baynes' family is crying right now.

— Shaun Powell (@Powell2daPeople) April 20, 2015
Baynes finished the game with five points and five rebounds, with the Spurs going down 107-92 in game one. Here's hoping he has a better game two.