Move over Matthew Dellavedova there's a new Aussie in the States. Former Parramatta Eel's star Jarryd Hayne is taking America by storm.
The long (in reality short) journey to the NFL began when Jarryd Hayne rejected a multi million dollar offer from the Eels and moved over to the states. Spurred by the help of NFL star Reggie Bush, Hayne was chasing his dream of playing in the NFL. He started to workout all over America with development coaches, rumblings of his talent leaked out only in small amounts. Noting the biggest adjustment to the USA as the "bland coffee", he spent hours catching punts from Australians with NFL experience like Sav Rocca and Mat McBriar, honing his craft, working on just getting just enough 'on tape' hoping NFL teams would take notice and give him the opportunity to try out for someone in the NFL.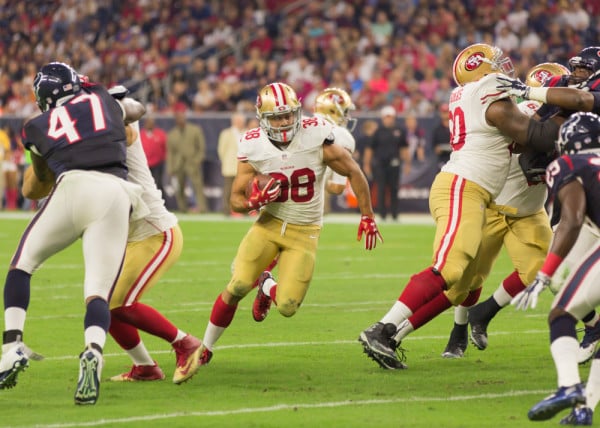 During the year Hayne was busy working out (2014) the San Fransisco 49ers longest punt return was for 23 yards. In only his second game against the Dallas Cowboys, Hayne came out and bested that number 3 times (23,34,27). In only two games of professional NFL football Hayne has a total of 258 yards, averaging 9.0 yards a carry, 21.6 yards per punt return and 33.0 yards per kickoff return. Those numbers are ridiculous especially considering the leagues leading rusher in 2014 DeMarco Murray averaged 4.7 yards per carry. (Murray just signed a contract worth $42 million)
---
---
With those ridiculous numbers and the underdog story attached, Hayne is quickly becoming the NFL's most talked about player this pre-season. His ability to break tackles and reach full speed in an instant has been in full view for the 49ers. Hayne is adapting to the game better than anyone thought and as NFL.com's Chris Wesseling wrote "The question has gone from whether Hayne will make the final roster to whether he becomes the one of the NFL's most effective return specialists"
Now it is only early in the running and there has been countless amounts of times where a player 'shows up' the pre season only to be cut, but Hayne is giving himself every chance with performances like the last two. Hayne believes he's still got improve in absolutely every aspect of the game (scary) and says that he's "just grateful for the opportunity".
Jarryd I'm just grateful I signed up for NFL Game Pass this season.